Q just dropped 4 posts – 3 on D5-related matters and 1 on the border.
Here is the border / caravan / immigration post, just to get that out of the way.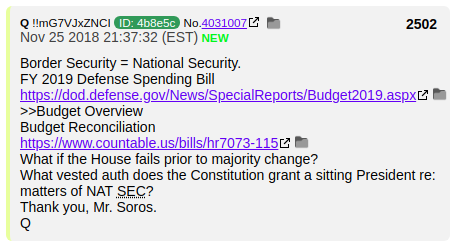 Or in text….
Q !!mG7VJxZNCI ID: 4b8e5c No.4031007
Nov 25 2018 21:37:32 (EST)NEWBorder Security = National Security.
FY 2019 Defense Spending Bill
https://dod.defense.gov/News/SpecialReports/Budget2019.aspx
>>Budget Overview
Budget Reconciliation
https://www.countable.us/bills/hr7073-115
What if the House fails prior to majority change?
What vested auth does the Constitution grant a sitting President re: matters of NAT SEC?
Thank you, Mr. Soros.
Q

Q Post 2502
Looks like Soros, Venezuela, Russia, China, and the Communist DNC just walked into a trap.  By turning the border into a legitimate crisis – their WET DREAM – they unintentionally turned it into a bona fide national security issue – perfect for our VSGPOTUS to deal with in a more straightforward and Communist-proof fashion. 
Notice how the Communists JACKED UP the problem, and then when it got here, realizing their MISTAKE, they tried to tamp down all messaging – all photos and videos?  Seems like they figured out too late that they got set up.
Trump Boomerang Effect.  The Democrat Fake News deserves no less.
Now we go on to those other 3 posts.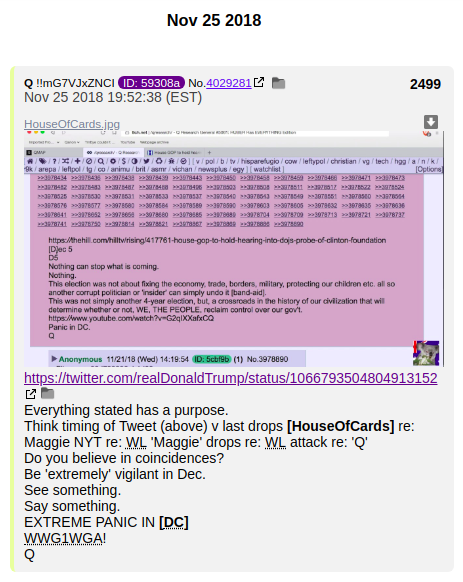 Here is the image of the referenced Q post within Post 2499, shown more closely.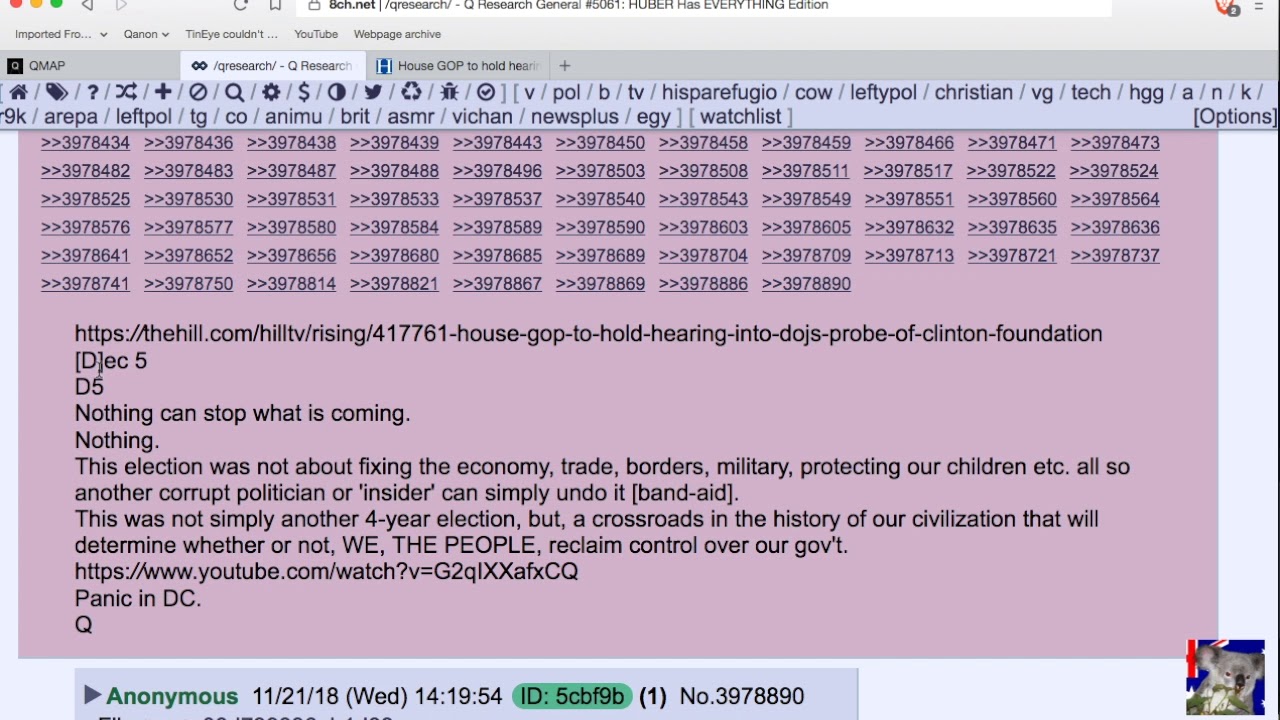 That post (the "Nothing can stop what is coming." post) contained a reference to the well-known "Trump vs. The Establishment" video.  The post also put the CLINTON FOUNDATION straight in the crosshairs.  WELCOME TO FBIAnon.  I always thought that FBIAnon was the beta test for QAnon.  Now I think they were more like Part A the warm up and Part B the SHOW.
Back to the rest of the post.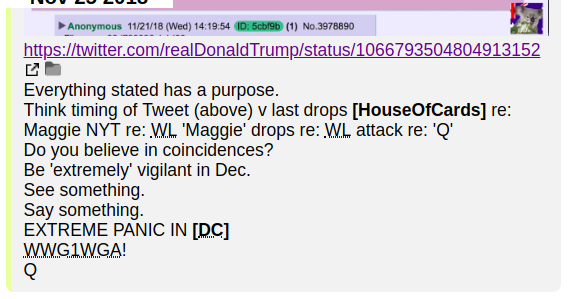 Or in text:
Everything stated has a purpose.
Think timing of Tweet (above) v last drops [HouseOfCards] re: Maggie NYT re: WL 'Maggie' drops re: WL attack re: 'Q'
Do you believe in coincidences?
Be 'extremely' vigilant in Dec.
See something.
Say something.
EXTREME PANIC IN [DC]
WWG1WGA!
Q

Q Post 2499
Note that a Trump tweet is referenced: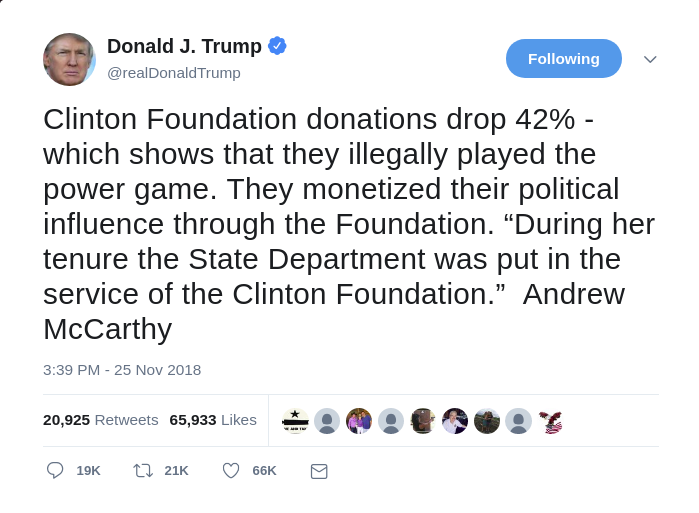 The same tweet as an active text embedding, for those who need text.
An amazing tweet.  Trump calls out the Clinton Foundation, and basically says (by quoting Andrew McCarthy) that the STATE DEPARTMENT was at its beck and call.
Remember who became Secretary of State AFTER Hillary's embeds RESISTED former SoS Rex Tillerson, in regard to providing evidence to investigators.  No such problems with Secretary Pompeo. Note that this picture was taken during questioning of Secretary Hillary Clinton.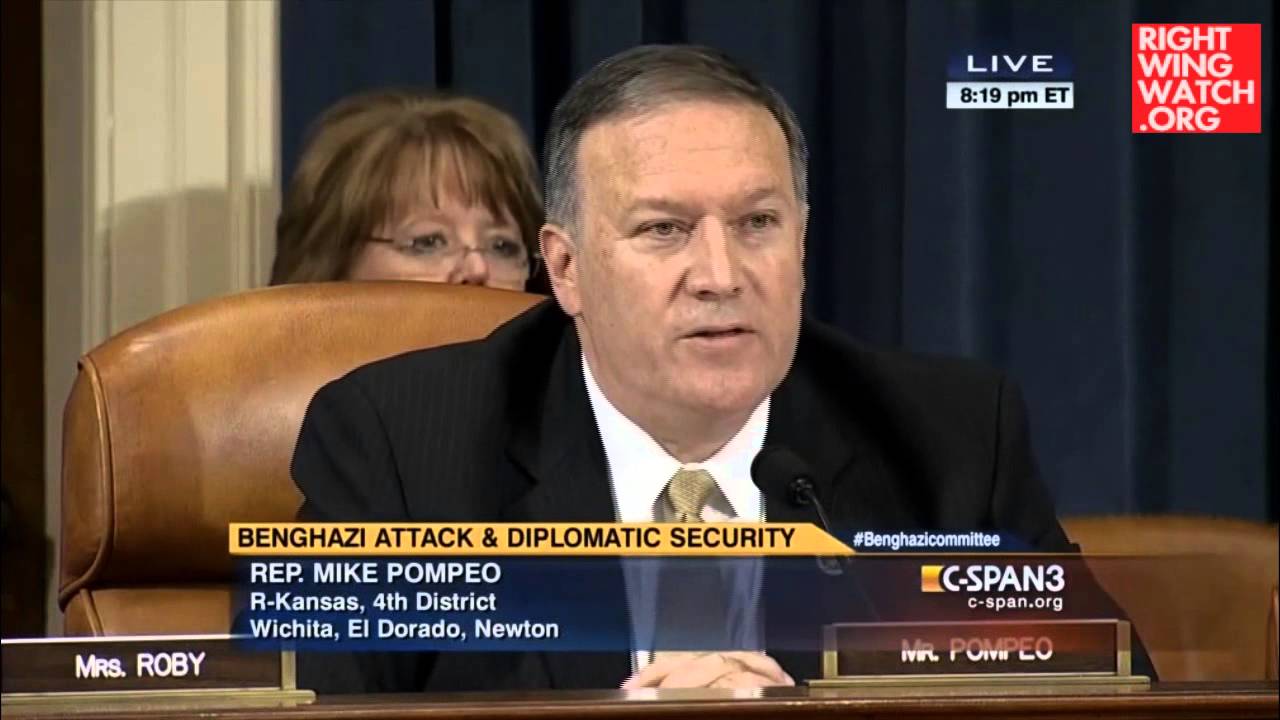 Now we understand ONE of the reasons that Tillerson was replaced.  The WITCH could not be prosecuted without STATE providing EVIDENCE to HUBER.
DONE.
Next, Maggie Haterman, the Politico flack ("Tee-em-up Maggie") elevated to the NYT just for Hillary Clinton's use before Hillary's ascension, is referenced.  Q calls attention to the timing of the tweets.
Maggie, Minion of the Hildabeast, was allowed to attack Trump, Q and the prosecution, and NOW Trump and Q drop bombs to show that THE MEDIA is not journalism, but (IMHO) DEFENDERS OF COMMUNISM.
Lastly, a very disturbing warning.
Be 'extremely' vigilant in Dec.
See something.
Say something.
EXTREME PANIC IN [DC]
WWG1WGA!
Q
"Extreme panic in [DC]"
This means the PANIC is bigger than it was earlier. The first "Panic" posts were made around 9/11, and those were "frisky" times.
Huber testifying.  Comey testifying.  Yeah.  This means a LOT of people are worried about skeletons in closets.
And THAT explains the WARNING to be "extremely" vigilant.
Thankfully, we have this EASILY WATCHED venue called The Q Tree now, don't we?
"See something.  Say something."  So much EASIER to do that, now that we're free of the troublemakers at CTH, is it not?  Why, it's rather remarkable in hindsight.  Maybe we're SUPPOSED to be here.
It's worth considering.
---
Next, the very monumental Post 2500.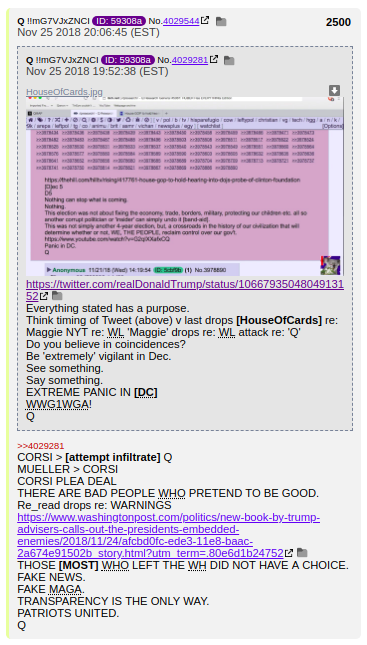 This post quotes the prior one, and includes THIS new section: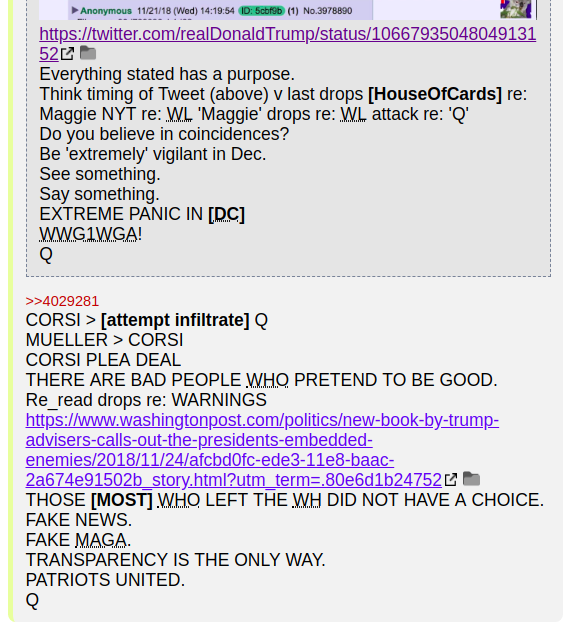 Or in text…
CORSI > [attempt infiltrate] Q
MUELLER > CORSI
CORSI PLEA DEAL
THERE ARE BAD PEOPLE WHO PRETEND TO BE GOOD.
Re_read drops re: WARNINGS
https://www.washingtonpost.com/politics/new-book-by-trump-advisers-calls-out-the-presidents-embedded-enemies/2018/11/24/afcbd0fc-ede3-11e8-baac-2a674e91502b_story.html?utm_term=.80e6d1b24752
THOSE [MOST] WHO LEFT THE WH DID NOT HAVE A CHOICE.
FAKE NEWS.
FAKE MAGA.
TRANSPARENCY IS THE ONLY WAY.
PATRIOTS UNITED.
Q

Q Post 2500
The post deals mostly with Corsi, who is stated to have attempted to infiltrate Q, and it looks like he was doing so on Mueller's behalf.  This is then linked up to the idea that many of the people who "left" the White House did NOT have a choice.  They were FAKE NEWS, FAKE MAGA. 
As Q says – TRANSPARENCY IS THE ONLY WAY.
Patriots united.  BOOM.
---
Finally, Post 2501.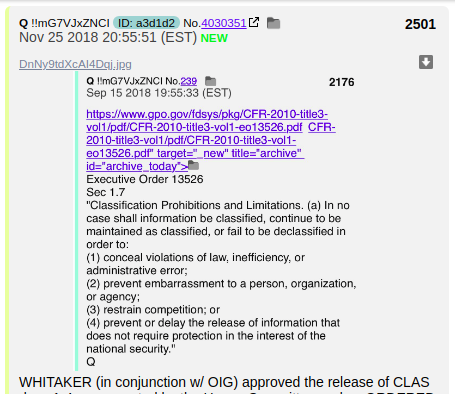 The first part reviews what we know about classification NOT being able to hide crimes, errors, inefficiency, etc.  Surprisingly, OBAMA make this Executive Order in 2010.  There is indeed a bit of karma there.
The second part is the new information: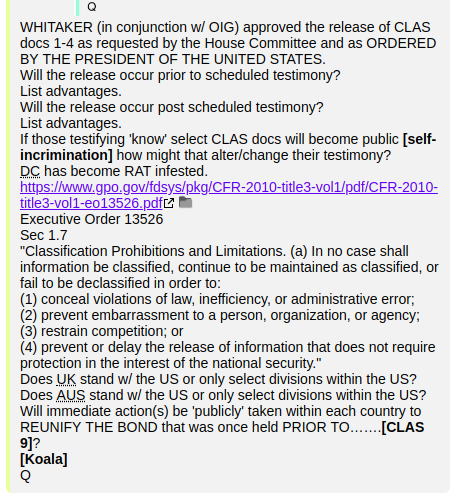 The big picture here is that Q is saying that Whitaker and the OIG (Horowitz) have approved the release of the FISA documents as requested by the HOUSE and ORDERED by Trump.
But will they be released BEFORE or AFTER the D5 testimony?  Yeah.  Think about THAT STUFF.  There is useful ambiguity here – which may INFLUENCE testimony.
Finally, the points of conflict with the UK and AUS are noted – that these countries were in truth only allied with PART of the United States – "selected divisions", as Q calls them.
The Dems?  Deep State?  Let me tell you, I actually *KNOW* about this selective collaboration – these "selected divisions".  I was never regarded as part of them – I do know that.  In fact, I was TARGETED BY and USED BY those "selected divisions" and their foreign allies.
So things are going to be interesting to me in particular.  VERY interesting.
I do NOT think that [Koala] means Cuddly Kudlow.  I know that much.  Pretty sure it's a PLACE and maybe a COUNTRY and maybe SELECTED DIVISIONS.
---
One final point.  Post 2499 references Post 2498 containing a link to THIS Maggie Haberman tweet: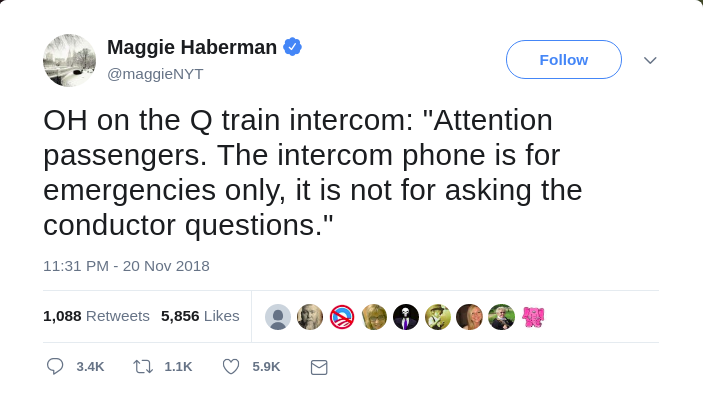 Or as an embedded tweet:
The basic meaning (where OH = "overheard") is as follows:
Overheard on the intercom in the Q train: "Attention passengers. The intercom phone is for emergencies only, it is not for asking the conductor questions."

Maggie Haberman, Twitter, Nov 20, 2018
Maggie MAY just be toying with Q supporters – the usual NYC snark.  I thought it was cute and funny.  But this woman is a friend of Hillary Clinton.  She can't be so stupid not to realize that Hillary Clinton is not a nice person.  So it could be a "code-speak" message.  And if it IS some kind of code, OH could be OHIO.  But I can't really see much more than that.
I'm interested in other interpretations.  This is somewhat unusual.  Maggie NYT may actually be passing information of some kind to somebody.  So your thoughts are appreciated.
That is all.  Let's discuss.
W/WWG1WGA