A while back, I caught WordPress rather stealthily suspending one of my favorite blogs – Fellowship of The Minds (FOTM).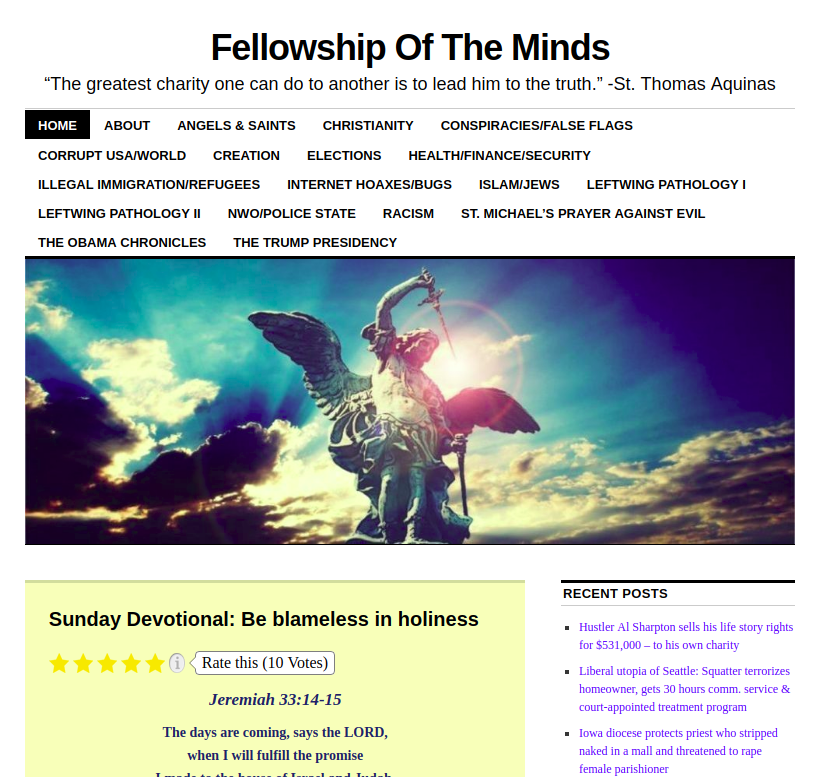 Instead of looking like what it looks like above, it looked like THIS: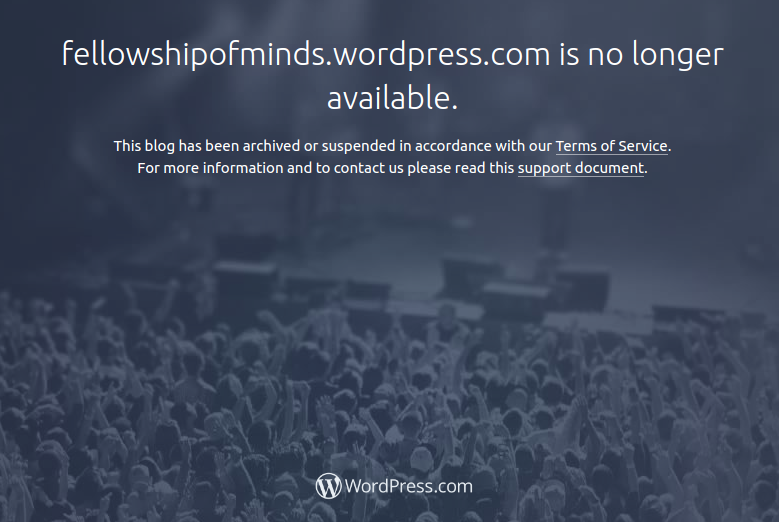 It turned out that FOTM wasn't the only blog that WordPress had very quietly shut down.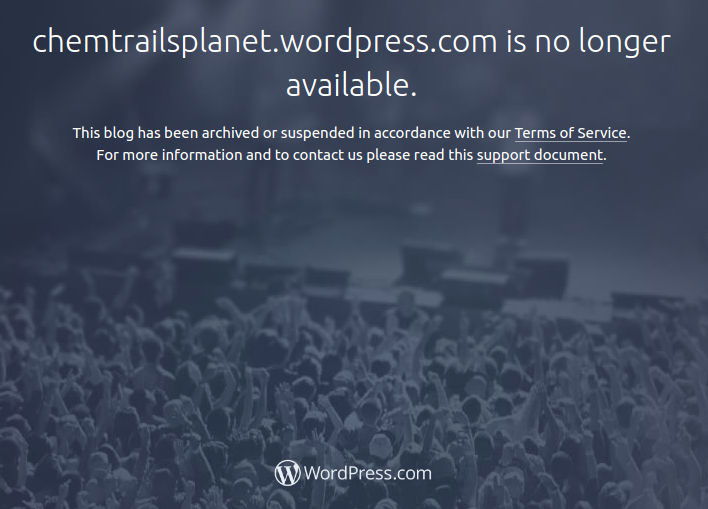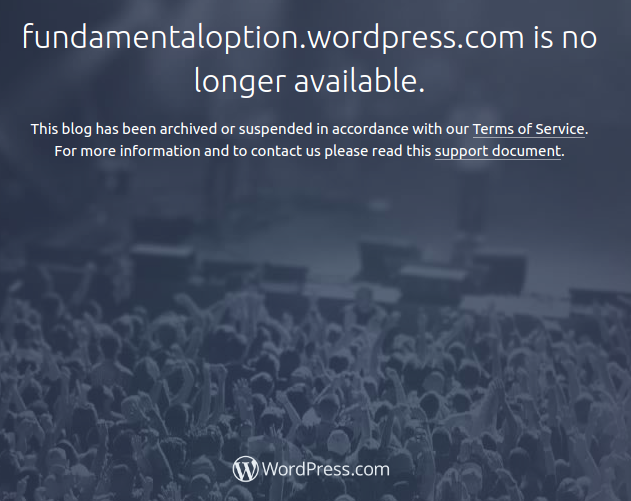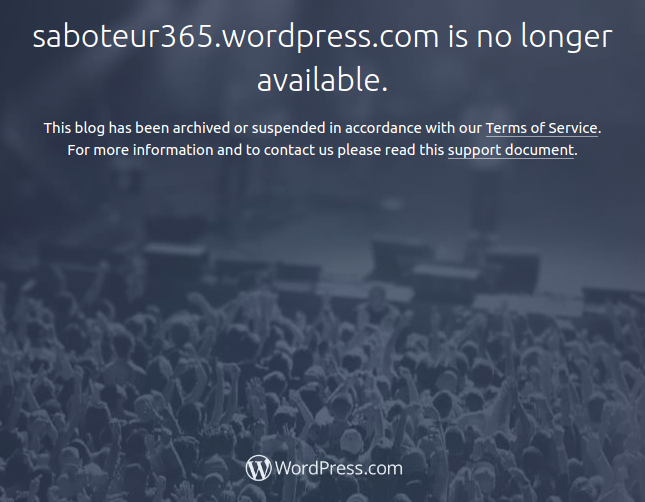 These were just a few of them.  It was happening all at once, with no fanfare.  Rumors spread very quickly that WordPress was quietly shutting down conservative blogs and sites which had been using their platform.  They were DEPLATFORMING people. 
Everybody had ASSUMED that WordPress was safe.  In the past, WordPress had even gotten a grade of "D" by one of the PC Police organizations, in terms of policing against "hate".  Nobody THOUGHT that would change.
I very quickly got on Twitter and started spreading the word.
Luckily, WordPress relented, and FOTM was back up within a couple of days or so, although nearly all their old links were destroyed. This was particularly unfortunate, given that FOTM had some of THE best reporting on Obama's roots as a long-term chess piece of THE SOVIET KREMLIN, and many old links were to the EARLIER version of THIS ARTICLE:
https://fellowshipoftheminds.com/u-s-physicist-tom-fife-obama-was-groomed-to-be-president-by-soviet-communists
…..featuring THIS video….
Whatever. At least the site and the video are back, despite somebody DEADLINKING IT.
At least it was over.
---
WRONG.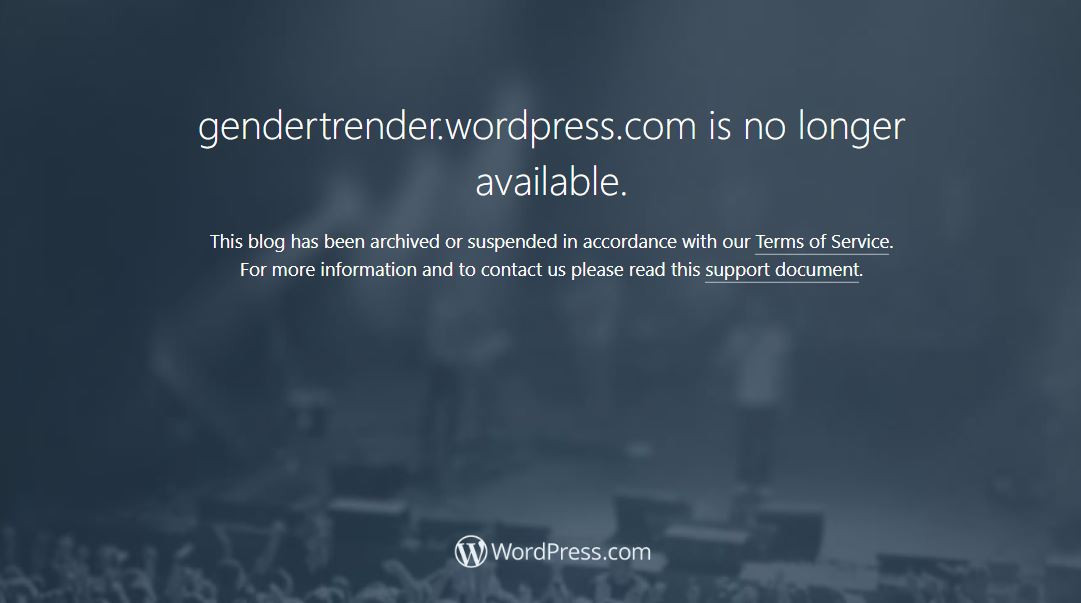 I was on Gab, looking at "geek posts" about upcoming Gab Developer releases, particularly those allowing Gab integration with WordPress.
Unfortunately, I ran into a large number of developers warning that WordPress was UNSAFE in terms of censorship, and that any work to integrate with it was RISKY.  That part I knew.  I had been one of the people exposing PAST censorship.  
However, there were other posters saying that WordPress was once again censoring viewpoints by suspending sites.   The website cited above, gendertrender.wordpress.com, really caught my attention, because THAT suspension was allegedly due to the site merely questioning the "trans narrative". 
That was interesting, because TWITTER had just announced that its terms of service had been modified to include prohibition of "deadnaming" – meaning failure to honor name changes of trans people.  An example is refusing to say "Caitlin Jenner", and saying "Bruce Jenner" instead. 
This may or may not be a problem for people.  I myself am a total historical nitpicker.  BRADLEY MANNING stole the documents – not CHELSEA MANNING.  I think that CONTEXT is important, and I absolutely refuse to doctor history for leftist politics.
It is just one very tiny step from saying that name changes must be honored NOW for trans people, to saying things like:
name changes for trans people must be honored retroactively
name changes for people like Obama / Soetoro must be honored permanently
referring to Obama disparagingly by his middle name "Hussein" is not allowed
use of Obama's middle name AT ALL must be policed for political disparagement
all use of names must be policed for political disparagement
welcome to the damned Soviet Union
Now, I have (in the past) kept my eye on the "trans" stuff by watching a trans-skeptical WORDPRESS site called "4thWaveNow".  That site tries to be non-partisan and even non-political, which IMO is rather difficult, since the trans agenda is largely if not completely a radical leftist artifact, but whatever.  It makes me more of an "ally" than a same-thinker.
4thWaveNow has TWO articles explaining the GenderTrender shutdown.
Very interestingly, WordPress has fought me all morning, trying to show you these links.  Earlier, I could not embed them, and had to alter them.  They would not show up in the preview.  Now, I can add them, but the software hides them from me until preview and ultimately publication.
Very weird.  Whatever.  Here are the links.  I literally cannot see them right now.
A very important point about all this.  Even when I copy and paste this stuff into the WordPress editor, the "embed" software looks at it, and decides that it's "OK" to make a link or even just post.  It would be no problem for them to add just a bit MORE code to argue with me about trying to "encode" a URL with (dot) or (colon).  Heck – with A.I., they can even police me trying to work around this stuff with REAL ENCRYPTION.  Can you imagine THAT?
I personally, could write such censorship code right now.
So there is nothing to say that code is not already there, waiting to be turned on.
You know – like it will be for GOOGLE if they write the censorship code for CHINA.
But let's set that aside for another time.
These two articles are very important.  The first article has discovered that WordPress is now FORBIDDING the publication of "former" names of "trans" people.  They are calling this "private, personal information".  They are basically saying that using the old name is a form of doxxing.  They don't appear to be consistent about this policy – YET.
The second article reports that a WordPress employee actually went into 4thWaveNow's reporting and EDITED OUT the old name of the trans person.
NOW – this is just ONE CASE that I learned of from these developers and other geeks on Gab.  There were others – a bunch of them – including THIS ONE, the banning of Jay Dyer – which was covered by the popular libertarian commentator Styxhexenhammer666.
It is now extremely clear to me that WordPress is going to begin policing for content in a huge way.  Their NEW ONLINE EDITOR which I am testing already seems to police content, or at least it is quite ready to do it, and acts all "suspicious cat" on politically incorrect data.  I do NOT trust the software, nor do I trust WordPress.
SO – I want you to think about this logically.
Assume for the purposes of this argument that Q is military intelligence
Military intelligence includes stuff like the NSA
Q says that "they have it all" – we sort of assumed that much already
Q says that massive censorship on all platforms is coming
People who would know about that are known to be under investigation
We were banned on 11/11/18
11/11/18 was the putative date of the military parade
The Fake News was highly triggered by this cancelled parade
"There may be some disinformation"
Obviously there is an interesting timetable connection
Sundance has contacts with important people and "sources"
Sundance seems kind of serious lately
2 + 2 = 4
He ain't the only one who is serious now
On the other hand, some incredible levels of popcorn may be necessary
I don't want to spell out any particular theory of what is happening, but I think it is very clear that we are in the middle of a huge propaganda war, that is JUST STARTING to get serious.
I have believed and still believe there have been MANY attempts to take down the Treehouse, and I think the other side will use ANY pretext they can.  Including "Q".
Anybody ON WordPress who is WATCHING WordPress simply HAS to be alarmed by now.
Earlier, when Sundance started to go negative on Jeff Sessions, I started to see that it was very possible that Sessions' liabilities were at that point exceeding his benefits, and that a NEW Attorney General, free of MUELLER TAINT, might even be a good idea.  I had even advocated that it might be strategic to FIRE Jeff Sessions – no hard feelings – in order for everybody on our side to WIN. 
Why, Jeff Sessions could even run for a seat in the Senate.  Or show up somewhere else.  But the point is, there would be MORE WINNING if we were flexible about things.
I likened it to firing on one's own positions with artillery, to stop an enemy advance.
Well, karma sure is a funny thing.
Gnome sane?  😉 😎 😀
We will be OK.  I'm a fighter.  I'm a SCRAPPER.  And with my own place here, and with a massive team of very sharp people, we can do a LOT of damage to the other side, while contributing ZERO liability to the shutting down of CTH on the "Q" pretext, which I can see on the horizon VERY clearly.
Trust me – they are going to SHUT DOWN ALL Q SITES. 
NOTHING CAN STOP WHAT'S COMING.

But they are NOT going to shut down the Treehouse because of us.  And that is a good thing, if we want to win.
There are VERY interesting historical analogs to this Great Awakening situation, by the way.  These are just patterns of human behavior – patterns of history.  But if you know them, you can see the development of things more clearly, and what options are available to us.
In that context, we have a role. 
OUR job is to stand up for what WE believe, and not budge one inch.
I am going to stand up.  And I hope that everybody here will stand up with me.
W