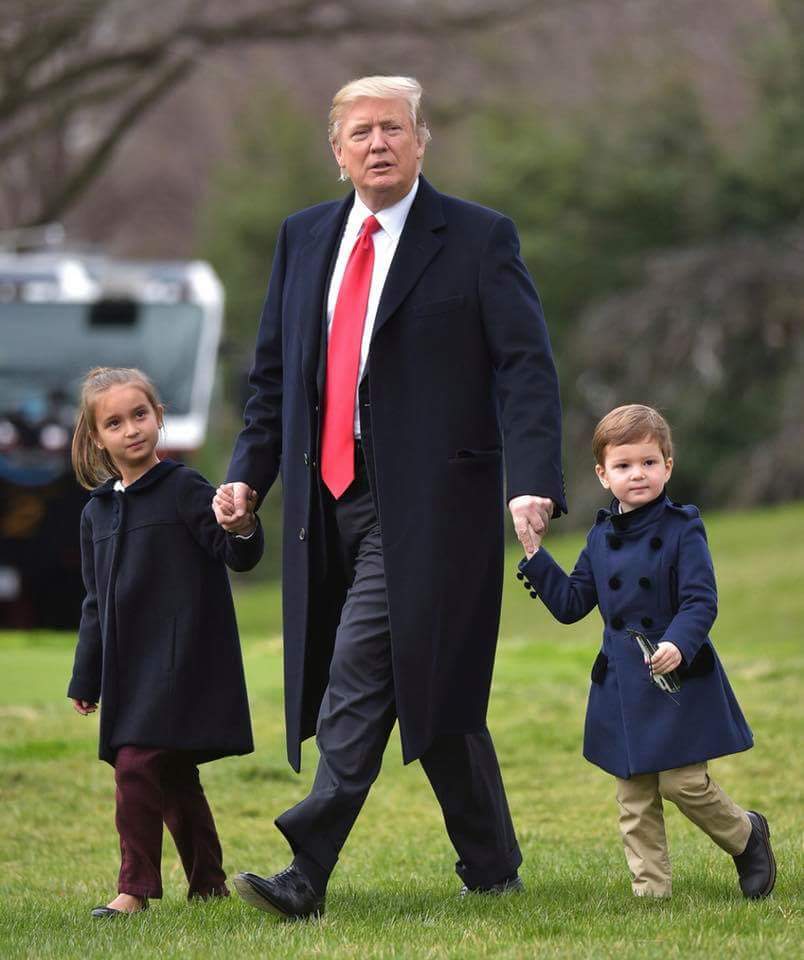 Flep's post on President Trump's Border Wall strategy was outstanding! Thank you, Flep. After reading Flep's post, I was eating dinner, looking around the world, and I started to make a list of things which have changed since we elected President Trump. "Things" which were big problems for most of my adult life. "Things" I thought would remain problems for my grandchildren. Suddenly, our big problems have evaporated. They're gone, or they're almost gone. Big things, like ISIS and the Caliphate, have practically disappeared.
Look around, and take note of what you see. Oh, and pretty please (!), chime in and add to the list in the comment section below!
Think about the great problems of the world or in America, since we were kids. "Things" that dominated headlines. "Things", about which, our parents complained. All those big problems we've faced in our lifetimes….
…..they're all being fixed.
It's simply astounding.
*** OPEC, dependence on middle east for oil = Done, overwith. Now, our President threatens them. Do you remember standing in line for gas during the OPEC embargo? I was a teenager. Why did it take so long to resolve the problem of energy independence?
*** Illegal Immigration = Avoided for 35 yrs+, and I swear, President Trump has them cornered and will not let Congress out of the room until they fix it…… or, by God, he will.
*** NAFTA = It cleaned out middle America and cost our country trillions. Wow, we were told those jobs were never coming back. We should, "learn to code". Yet, we have a President who made a deal for USMCA.
*** China = We could write a book on that one, but President Trump has the big Panda locked in the Lincoln Bedroom, and their economy is on life support. It might be time to make a deal. Can we think of anyone better to work on our behalf than Mnuchin, Wilbur Ross, Lighthizer, Navarro, Kudlow, and President Trump?
*** NATO = How long were we supposed to pay for the defense of Europe? 70 years? About damn time they were called to account. What a bunch of freeloaders! The press says, "President Trump offended our allies". By asking them to pay their overdue bills? Yeah, I had a friend like that…. once.
*** Iran = Almost all of us remember the 454 days of hostages AND the day they were returned under Reagan. Yet, Iran has been a problem ever since. President Trump doesn't like the Mullahs of Iran. Have you noticed?
*** Radical wealthy Saudis paying for terror = Wow, didn't see that being fixed in my lifetime, and yet, here we are. It's all in the sword dance, folks.
*** Tax reform and repatriation of money overseas = It's a big deal and needed to be done. First time in a generation.
*** The Communists running around Central and South America = We don't pay much attention to Cuba, Venezuela, and all the pissant dictators, but President Trump is sweeping out the cobwebs in our backyard. No foothold. We want good neighbors for the USA.
*** The EU = The European socialist unicorn is almost dead. The former eastern bloc countries want nothing to do with Merkel and the UK is running away as well. Has anyone seen Macron lately? Wow, in less than 24 months. What a spectacular turnaround.
*** DPRK = Did you EVER think we would see the 38th parallel restored to normal? South Korea and North Korea has a chance to merge? Maybe? President Trump has made huge strides towards peace.
Japan, Vietnam, The Philippines, Singapore's 94 yr old President told Chairman Xi to take his 20 billion dollar loan for an airport/infrastructure and "Go to hell", Taiwan, Egypt, Israel, Jordan, 54 Muslim Nations of the GCC = best buddies and new alliances.
We've never seen anything like this before. I'll say it out loud. We ASSUMED these problems were permanent. Yet, President Trump has shown us, there's a better way…., there's a better deal to be had, for America. I can hear President Trump's voice, whirling in my head, as he spoke to us from the campaign trail. He TOLD US this would happen and sure enough, it's happening!
Domestically:
*** The Media = Sure, they've been a pain in our side for our entire adult lives, but unmasked, as they are now? With their glaring bias? President Trump did it all by himself with a Twitter feed.
*** The Intel Community = After the fiasco of testifying to the House Intel Committee, and a new attempted media narrative of "Trump doesn't listen to his IC", President Trump called them all into his office today, for a lecture from Daddy. I found President Trump's defiance of the media and IC strangely comforting. He's not the kind of guy who would be taken in, blindly, with a claim of "weapons of mass destruction".
*** The FED = President Trump kicked the crap out of the Fed before Christmas. He took a lot of grief, but it worked. Fed has been grounded. Yes, the FED was wrong and President Trump was correct, AGAIN. Wall Street should send him a Valentine.
*** Federal Workers = He sent them home for 35 days. That kind of move hasn't been done since Reagan and the air traffic controllers.
*** The FBI/DOJ = Let's see how it all plays out, but a whole lotta rats no longer have a job on the inside. Ouch, and they're losing their security clearances when they leave.
*** ANWR = 40 years of effort, done, delivered.
*** Appropriation of government land = President Trump, under Zincke, was returning it to the people or states. Let's see what the new Sec does.
*** Deadwood in California forests = Exposed and a new agreement, loose, but in the works. Greeny/hug-a-tree types were exposed. 40yrs of bad policy in California and the Pacific northwest. Remember the Spotted Owl which killed our lumber industry and handed it over to Canada? Well, mills are popping up again in Maine and the northwest. How many jobs and families were ruined in that boondoggle?
*** Manufacturing = Did you know, the Bureau of Labor Statistics projected (Oct 2017) that the USA would lose another million manufacturing jobs from 2016-2026? Well, we lost 19K in 2016, under Obama. We've gained 500K under President Trump in 2 years. Total reversal. A generational reversal.
*** Regulations = Cut them. So much easier to do business in the current environment. It's better now than when I started my company, 24yrs ago.
*** Pricing for Defense Items, Pharmaceuticals, Air Force One, or the Jerusalem Embassy = Did you ever think we would see the President of the USA pick up the phone and call a CEO? To negotiate a price? Amazing.
We love this guy.


Let's not forget the judiciary turnaround = SCOTUS saved for a generation, the pipelines approved…, the War on Coal = ended, unemployment levels so low that the disabled are at their highest level of employment – ever, and so are felons, who are getting a second chance with the passage of the Crime Legislation Bill.
Yes, Reagan ended the Cold War and led us to economic prosperity by ending Carter's policies, but other Presidents, in between Reagan and Trump, have dawdled. We hire a chief executive to address the big problems. President Trump has no fear and walks into the fray, whereas others made excuses. President Trump is solving the problems of my lifetime, our lifetimes…., for the benefit of our children. I can't wait until he addresses education, full force. By the way, healthcare associations, have you priced them, yet? You should.
Glad we hired President Trump! We knew he would be good for America, but the past two years have been truly great. We never expected such spectacular results!
Take a moment. Look around the world or around the corner in your neighborhood.
Smell the sweet roses of success!