---
This very special Children Are Sacred SUNDAY
open thread is VERY OPEN – a place for everybody
to post whatever they feel they would like
to tell the White Hats, and the rest of the MAGA world.
---
Say what you want, comment on what other people said,
comment on people's comments.
Keep it civil.  Treehouse rules, but expect lots of QAnon.
---
See the January 1st daily thread for the rules of the road,
which are few but important.
---
Remember – your greatest gift to President Trump is FIVE WORDS:
I AM PRAYING FOR YOU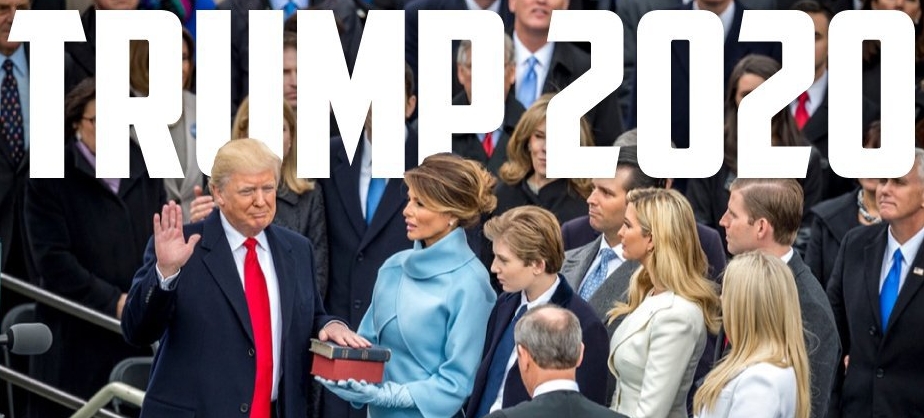 ---
---
Children Are Sacred
As the Q Drops recently hit hard and heavy on child abuse/exploitation/trafficking and @BardsOfWar was tracking Qanon with their usual intensity, the theme for today's Open Topic appeared with incredible clarity. I only pray I can do the topic justice.
https://twitter.com/BardsOfWar/status/1111225107542884355
There is likely no question among our Q Treepers that children are indeed sacred and all that is good/right/true in us reflexively wants to defend children from every threat and form of abuse.
One of the most disturbing and recurring revelations presented to us by Qanon has been to say how shocked we are going to be when we find out who has been involved in destroying the innocents. Those in entertainment, yes; education, easy to believe; but the leaders of the church???


"Those you are taught to TRUST the most…..
Dark to LIGHT.
Q"
Could it be true that many of those called the "shepherds of the flock" are serving a globalist cabal and betraying our children too? Can this be explained as coming from a sinister infiltration into the seminaries and training programs of all organized religions for almost 100 years–to crush the innocence and impose mind control on those genuinely called to leadership–so that Christians can be controlled for the benefit of the evil few pulling strings from behind the curtain? Where can we put our trust now? Could God have a plan that delivers His children from this horrific state of affairs?
Let's keep this in perspective while we process our shock. In our times those serving darkness may have their signature ways of stealing the innocence, childhoods and even lives of babies, infants, children and teens, but the threat is not new.
"The

Lord

said to Moses,
"Give the people of Israel these instructions, which apply both to native Israelites and to the foreigners living in Israel.
"If any of them offer their children as a sacrifice to Molech,
they must be put to death.
The people of the community must stone them to death.
I myself will turn against them and cut them off from the community,
because they have defiled my sanctuary
and brought shame on my holy name
by offering their children to Molech.
"
As I understand it, sacrifice to the god molech was made by placing a living baby on a metal altar and burning them alive. Much like what a saline abortion today does to a baby –in it's mother's womb.
But don't think that child abuse and sacrifice are only found in one or two people groups around the world. The abuse of the youngest of little girls and boys is found in groups as diverse as cannibalistic tribes in the jungles of Papua New Guinea to highly refined upper castes in the temples of India to Western-style orphanages and boarding schools found all over the world.
One famous emancipator of children enslaved for the pleasure of others–over 100 years ago–was Amy Carmichael, who not only rescued children out of temple prostitution, but then found a way to create a protected place for the children to be cared for and helped because they had no one else to do so for them.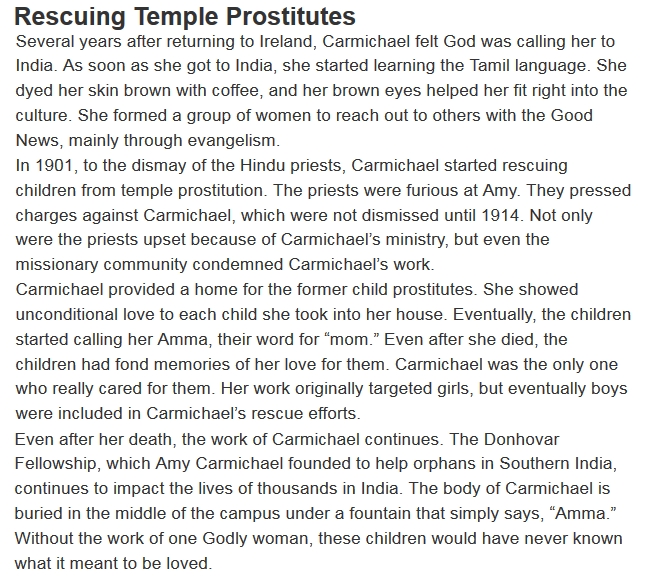 And that gets to the real heart of this issue. It is natural for parents to fall in love with their children and go to any length to defend their innocence, their safety, and to provide above and beyond all that is needed for them to thrive.
When that natural love is not in evidence, you get all kinds of horror to the point of people fighting for their "right" to commit infanticide.
---
"A newborn baby … to be EXECUTED! After birth!
That is why I called on Congress to immediately pass legislation
prohibiting the extreme late term abortion of babies!!"
---
WHAT IS WRONG WITH THESE PEOPLE??? HOW CAN THEY THINK LIKE THIS???
How could something so wrong be seen as right by any parent in any age? Seems that it comes back to information warfare–the battle space is in our minds.
---
"As the great Andrew Breitbart used to say, 'politics flows downstream from culture.' Everyone involved in conservative politics should say that every day, because we should be involved in conservative culture, not conservative politics. Politics is just a byproduct of the winners and losers of the culture war. How is culture determined? Through media, family, church, and college campuses. That's how culture is determined."
---
We know that our battle is not against people, flesh and blood, it's against mindsets that exalt themselves against the experiential knowledge of God.
---
"

Finally, be strong in the Lord and in his mighty power.

Put on the full armor of God, so that you can take your stand against the devil's schemes.
For our struggle is not against flesh and blood, but against the rulers,
against the authorities, against the powers of this dark world
and against the spiritual forces of evil
in the heavenly realms."
---
And we know that there is a spiritual blindness that we can only fight through prayer to God for those who are blinded. Prayer to the One who healed our own hearts from the same spiritual blindness.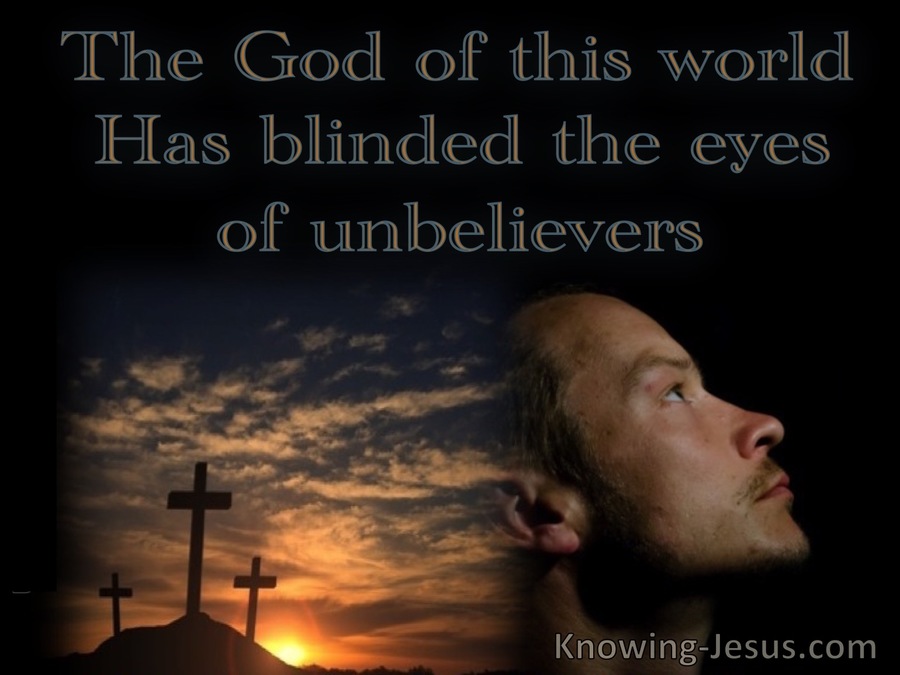 ---
This is the battle of the ages. We will not be moved from this non-negotiable truth.
Children are sacred.
Think*3
---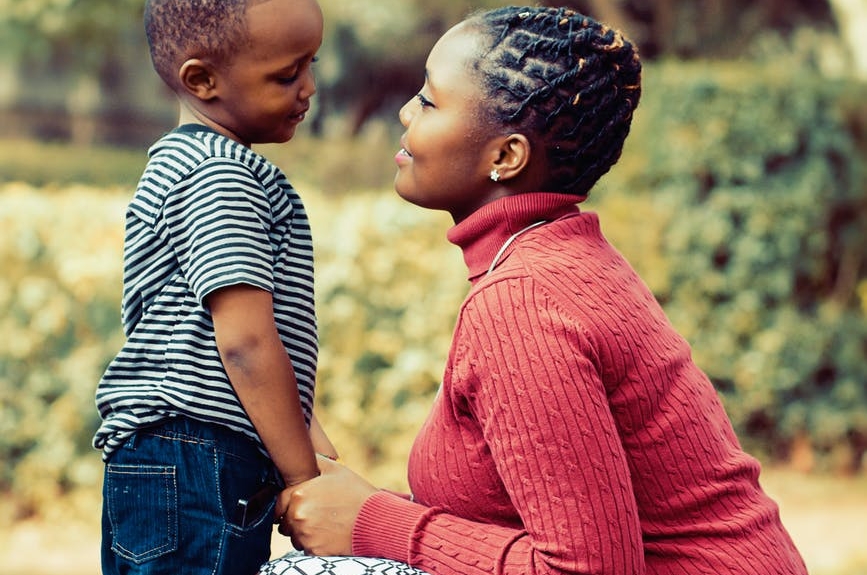 "Can a mother forget the baby at her breast
and have no compassion on the child she has borne?
Though she may forget,
I will not forget you!
See, I have engraved you on the palms of my hands;
your walls are ever before me."
---
Addendum: A comment yesterday by A Fortiori underscores one of the ways the cultural war has taken a wrong turn in our country. Families are no longer instilling the American virtues of self-sufficiency, self-education, and providing for your own in the same way we did when so much more of our people were outside urban areas.
A Fortiori says…
Wolfie — It should be obvious by now that part of the attack on the 2nd Amendment is an attack on masculinity.
There was a time in this country when boys, as they developed into men, would seek to become masculine. Thus, they would seek to be good providers, to care for things entrusted to them (including maintaining and repairing the machines they used and depended upon) and part of this meant learning to fish and to hunt.
Moreover, there was historically an expectation in the US that its citizens would be prepared to take up arms to defend our country. Thus, there were several reasons to learn to shoot well: to defend yourself, to defend those near and dear to you, to provide food and to defend our nation. Our culture and our educational system have undermined these notions, but I think they are worth reviving.
Teddy Roosevelt, in 1883, said the following in a speech entitled
"Duties of American Citizenship":
Of course, in one sense, the first essential for a man's being a good citizen is his possession of the home virtues of which we think when we call a man by the emphatic adjective of manly.
No man can be a good citizen who is not a good husband and a good father, who is not honest in his dealings with other men and women, faithful to his friends and fearless in the presence of his foes, who has not got a sound heart, a sound mind, and a sound body; exactly as no amount of attention to civil duties will save a nation if the domestic life is undermined, or there is lack of the rude military virtues which alone can assure a country's position in the world.
In a free republic the ideal citizen must be one willing and able to take arms for the defense of the flag, exactly as the ideal citizen must be the father of many healthy children. A race must be strong and vigorous; it must be a race of good fighters and good breeders, else its wisdom will come to naught and its virtue be ineffective; and no sweetness and delicacy, no love for and appreciation of beauty in art or literature, no capacity for building up material prosperity can possibly atone for the lack of the great virile virtues.
---