This WE WILL NOT BE SILENCED WEDNESDAY open thread is VERY OPEN – a place for everybody to post whatever they feel they would like to tell the White Hats, and the rest of the MAGA world.
You can say what you want, comment on what other people said, and so on.
Free Speech is practiced here. ENJOY IT. Use it or lose it.
Keep it SOMEWHAT civil. They tried to FORCE fake Orwellian civility on us. In response, we CHOOSE true civility to defend our precious FREEDOM from THEM.
Our rules began with the civility of the Old Treehouse, later to become the Wolverinian Empire, and one might say that we have RESTORED THE OLD REPUBLIC – the early high-interaction model of the Treehouse – except of course that Q discussion is not only allowed but encouraged, and speech is considerably freer in other ways. Please feel free to argue and disagree with the board owner, as nicely as possible.
Please also consider the Important Guidelines, outlined here in the January 1st open thread. Let's not give the odious Internet Censors a reason to shut down this precious haven.
---
And while the most important thing you can do is to be able to tell our President THIS:
I AM PRAYING FOR YOU!
It would also be PRETTY COOL to sign his birthday card!
---
AND WHAT TIME IS IT?
TIME TO….
DRAIN THE SWAMP
Our movement

Is about replacing

A failed

And CORRUPT

Political establishment

With a new government controlled

By you, the American People.

Candidate Donald J. Trump
---
Also remember Wheatie's Rules:
No food fights.
No running with scissors.
If you bring snacks, bring enough for everyone.
---
The commies are getting very OUT IN THE OPEN now….
Check out RED DIAPER SUE….
More about Natural News getting the boot from their LAST PLATFORM – Facebook…
….and more coverage from Breitbart….
I am rankled by all of this censorship, but oddly, it's the Natural News ban that just bugs the heck out of me.
This was done because of vaccines. THAT is where the "misinformation" censorship begins.
I'm a bit of a "Ben Carson type" on vaccines. I think they're awesome, but I really don't think we're being HONEST about both the benefits and dangers. We're not even being honest about the LOGIC of vaccines – how they work – why they work – and how close their powerful mechanism lies to the guts of the machinery.
Vaccines are like guns in a airplane. One of the best ways to take out hijackers. But if you don't admit that BAD THINGS MIGHT HAPPEN, TOO, you are LYING.
So – for a pro-vaxxer, I'm actually very sympathetic to the other side, and believe that it's not humane to force people to give vaccines to their children.
This was STANDARD LOGIC AND ETHICS back when I was a kid, in the early days of most vaccines, by the way.
Moreover, I think we have to be hyper-vigilant for the very FIRST sign of trouble in children getting vaccines, and to ASSUME – in an abundance of caution – that this may be some kind of dangerous sensitization. We must make extreme allowances for bad reactions to be taken as a warning sign against continued vaccination. Even if this means we are OVERLY CAUTIOUS.
But that's not the REAL REASON I care about Health Ranger's free speech.
This is very personal for me, because Health Ranger – meaning Mike Adams – the Natural News guy – is one of the few people in science that I still respect.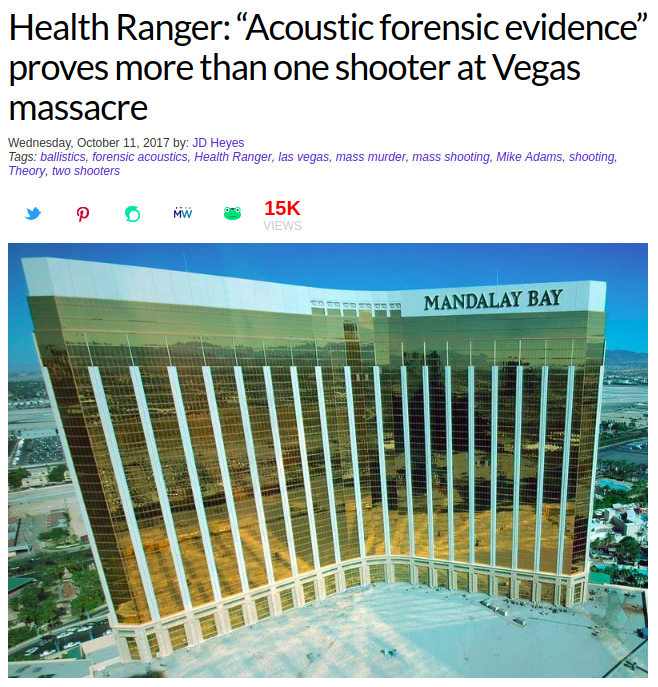 When the whole FBI was clearly lying through its teeth about the Las Vegas massacre, and the Communist Democrats and KGB-CIA were pouring out every kind of LIE and DISINFORMATION, a gadfly skeptic named Mike Adams, whose HOBBY was gunfire acoustic analysis, dared to PROVE (1) that most of the shots actually did come from a location consistent with the 32nd floor of Mandalay Bay, BUT (2) many of them DID NOT, and therefore there was a SECOND GUN.
His simple, solid line of evidence was never disproven – only mocked, stonewalled, and shilled against by people who did not approach the incident scientifically and skeptically, as did two misfits of science – Health Ranger and Wolf Moon.
Later, two lines of evidence for a second shooter emerged, fully consistent with both Health Ranger's distance predictions for the second shooter, and certain witness statements that SEEMED like disinformation, but now made sense. The FBI actually HAS those witness statements, by they way.
One of these lines of evidence was videographic – images of people moving in a predicted sniper location, and at a time (and place) in accord with those witness statements.
The other line of evidence I HAVE NOT REVEALED. It is AWESOME STUFF, too.
Why, you might ask. Simple. There was so much REACTIVE DISINFORMATION by DNC communists, and suppression of evidence by the FBI under Andrew McCabe, that I refused to let injustice get its grubby mitts on the final card proving them all to be LIARS.
I have held onto my discovery like a lost wallet, that can ONLY be returned to its rightful owner, because NOBODY CAN BE TRUSTED.
Someday, I will return that wallet, but not today.
If you wondered WHY I did the horrific task of reading ALL 58 Las Vegas autopsies, then I can reveal that now. I wanted to PROVE OR DISPROVE whether there was a second gunman according to the HR/WM variant of the theory. Alas, the forensic evidence publicly available in the autopsies HINTS slightly toward a second gunman, but does not definitively prove or disprove the idea with the data available to me.
However, I strongly suspect that there is plenty of physical evidence in the autopsies and other evidence to prove a second gunman from a second location.
I believe that any failure to pronounce a second gunman and the probable location is either disinformation for investigative / prosecutorial purposes, or evidence that FBI is too infected to function correctly in this case.
But the bottom line is this.
I am now of the opinion that the Silicon Valley censorship monopolies must be destroyed.
Utterly.
Smashed into a thousand pieces.
W