I love to remind people just how powerful DISINFORMATION is by this little fact from Soviet defector Yuri Bezmenov.
Watch the first few minutes, or skip straight to my summary.
According to Bezmenov, the KGB was roughly 85% about DISINFORMATION, DEMORALIZATION, and other "ACTIVE MEASURES" – and only 15% about "James Bond" espionage. Yuri clearly thought this was humorous, and though he predicted that many would not believe him, he could not suppress a smile when discussing it.
After everything I've learned, I not only believe Bezmenov was being incredibly honest about this bias toward "offensive psychological warfare" – I believe that 85:15 is a PROPER mix. Disinformation is simply too cheap and effective. It would be NEGLIGENT to fail to use it, or to use it enough.
And yet – well – I really despise disinformation. Because it is LIES.
So let's look at some real disinformation I ran into recently, and maybe you'll see why.
---
What happened can be summarized in a brief list:
Two of our fellow QTreepers brought a very interesting picture to me
The picture is a military unit patch very clearly connected to "chemtrails"
Searching for discussion of the patch, I found it FOR SALE
The site admits in a VERY gentle way to making fun of "conspiracy theorists"
NOW – this is where it gets interesting. but before I get to that part, I want to document what I just said, so that people can follow it clearly.
---
Here is where the conversation with boondocksaint1 and B.b.S.s.Saint began – or at least, where the conversation TURNED to the subject at hand.
https://wqth.wordpress.com/2019/06/29/dear-kmag-20190629-open-topic/comment-page-2/#comment-186459
We lived in MO for a while, went past clown airport, Evergreen Air was on the sign. There was also a town, full of high end homes that nobody occupied, called 'Evergreen'. There was a 'fortress' built into the side of a small mtn. just outside 'Evergreen'. The signs into the secured property surrounding that fortress had signs that said, you guessed it, 'Evergreen'. The property was also marked as 'US Gov. Reservation, no trespassing', Before we left MO, the signs all switched to 'Miranda Air'. ALL fronts for the Clowns. The patches on the aircrews read Don't Just Spray 'Em, Barium. The sum total of what is in those 'chem trails' is designed to kill us. I hope the 'white hats' do whatever they are going to do pretty soon, before it's too late!

Liked by you

Just in case there are any questions, barium is spelled correctly, it is one of the main ingredients in the chem spray.

Liked by you

Barium is pretty toxic stuff, except as highly insoluble salts like the sulfate (used in contrast agents). Wondering what form they are using. I will bet it's the sulfate.

Liked by 1 person

same

Liked by you
Now – see what came next – the KEY to this thing….
boondocksaint1's researcher here: here is what he is talking about the aircrew arm patch

Don't Just Spray 'Em….Barium #TeamChemtrailfrom flying

a close up of the patch

https://external-preview.redd.it/3DyzhDqQzuGNaSjQWLXlyHBWmiwZaeR1JYVTUSL1kVE.jpg?width=960&crop=smart&auto=webp&s=7ecb9a31503841aada2794eee90a28a31a233e44

Liked by you and 1 other person

Thank you! You do not know how cool this is.

This is beautiful. You have accidentally stumbled upon one of the most brilliant disinformation operations I've ever seen. This is, I believe, what Eric Schmidt based his "fake news" operation on.

Fake news was a seeded disinformation operation using bogus parody sites to "seed the clouds" on the internet, so that Google and the rest of Silicon Valley could justify censorship.

This is the same thing from the military world, though with a much different purpose – to OBSCURE THINGS.

They are hiding one or more of three things, IMO, all of which are highly classified.

What I can tell you is that this patch is phony. It is disinformation, and it is part of a disinformation operation masquerading as something completely different which does the same thing, in a kind of "double reverso".

They are "making fun of" the same conspiracy theories they are INTENTIONALLY GENERATING.

Making fun of something unreal with the intent that the humor is missed, so that it generates the non-existent thing – it just leaves me in a kind of crime-solver awe.

We are dealing with professionals.

It is absolutely beautiful. And – in an even greater form of "dark beauty", they are actually USING the same theoretical principles as cloud seeding. It transcends being HILARIOUS to being BEAUTIFUL. It is one of the most brilliant scams I've ever seen.

I am SO tempted to bust this, but if I do it wrongly, it risks bringing THREE highly classified programs closer to exposure. So I have to be very careful.

Annoying. But you've given me a REALLY GOOD NUKE. So I have to thank you. My own safety is now a little more assured.

SO – let me put it this way. If I lessened your belief in chemtrails, but increased your knowledge of REAL conspiracies and disinformation, but without telling you exactly WHAT they are hiding, would you be interested?

Post coming! 😎

Liked by 2 people

I will wait for your article, but those lingering, criss-crossing, spreading lines in the sky that change the weather and make me cough all the time are something. Silvery reflective skies that remind me of the old movie projector screens and make gray domes, I call them Hunger Game skies. My garden has not produced abundant or healthy produce for years now. I await your insights. I thin

Liked by 1 person
Now back to boondocksaint1…….
How do you explain seeing the patch in person? I DO NOT doubt what you say about the 'conspiracy theories', but an entire town & operation built on 'disinfo'. The patch I saw said the same thing, but may have been slightly different, but I wouldn't be surprised if the whole thing was designed to throw everyone off. these are, however things I have seen in person, & i guess it wouldn't surprise me.

Liked by you

Disinformation is cheaper than real weapons, in the same way that fake cellular phones in cars back in the '80's were quite affordable by any sleazy guy in a polyester suit, unlike the real McCoy, which were only affordable by "top dogs" like Donald Trump.

Even more beautiful (in a dark way) is how easy it is to get others to CARRY the disinformation forward.

Tonight, I am DISCERNMENT ITSELF, and I'm going to RAIN IT DOWN, to water the SEEDS OF UNDERSTANDING. 😀

Liked by 2 people

Can't wait, i'm all eyes & ears! I don't usually get fooled, but, it was quite an operation. be watching for your post.

Liked by you

I have some hardware duties I have to attend to before posting – cannot guarantee a post before morning, but hopefully a.s.a.p.
Here is the picture that we were talking about. The key element is a military unit-style patch with "Don't just spray 'em – BARIUM!" around the edges – with a picture of a jet laying two trails behind it, flying over a tombstone with a cross on top, and the tombstone is engraved with a typical periodic table entry for the element barium (Ba), including the atomic number (56) and the atomic weight (137.327).
The picture was obviously taken INSIDE a plane, with the cockpit instrumentation serving as the background to the patch being held up in somebody's left hand.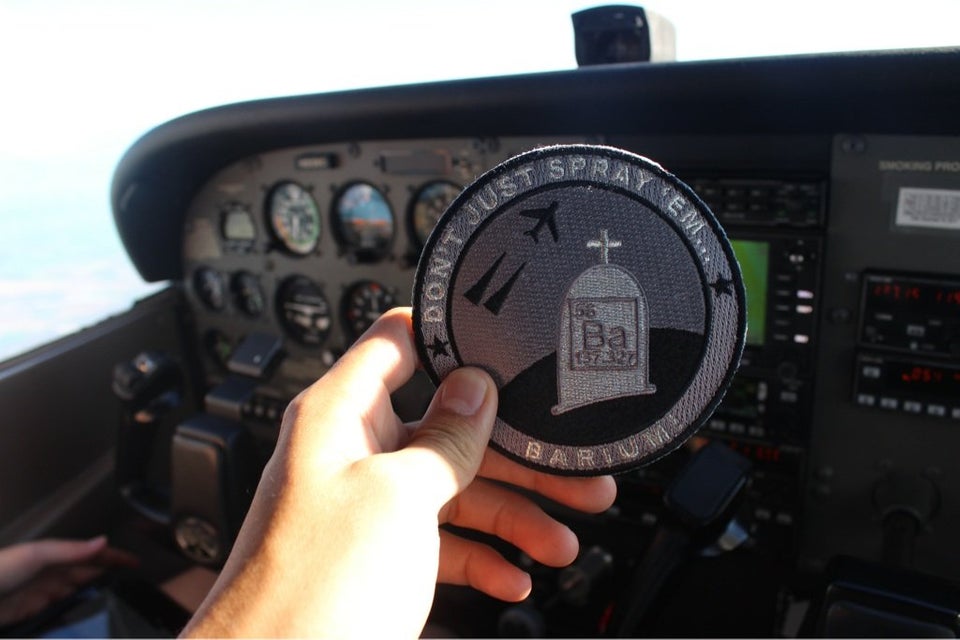 NOW – here is the place where that picture came from – a discussion on reddit:
NOW – here is a very similar picture of the EXACT SAME patch being held up, but with a different background – the exterior of a plane. This is from the page I found online.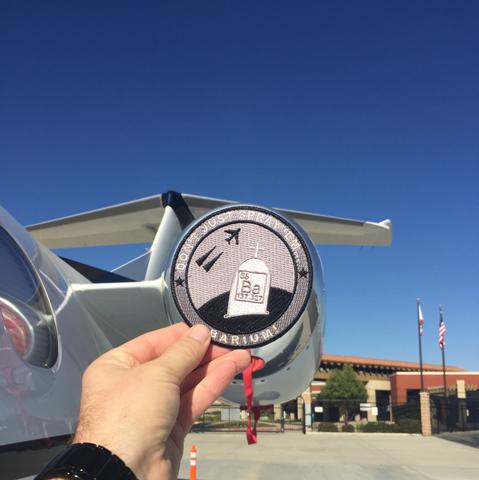 Note that it's the same patch, held up in almost the same way.
So where did I find this patch? A site called "Team ChemTrail"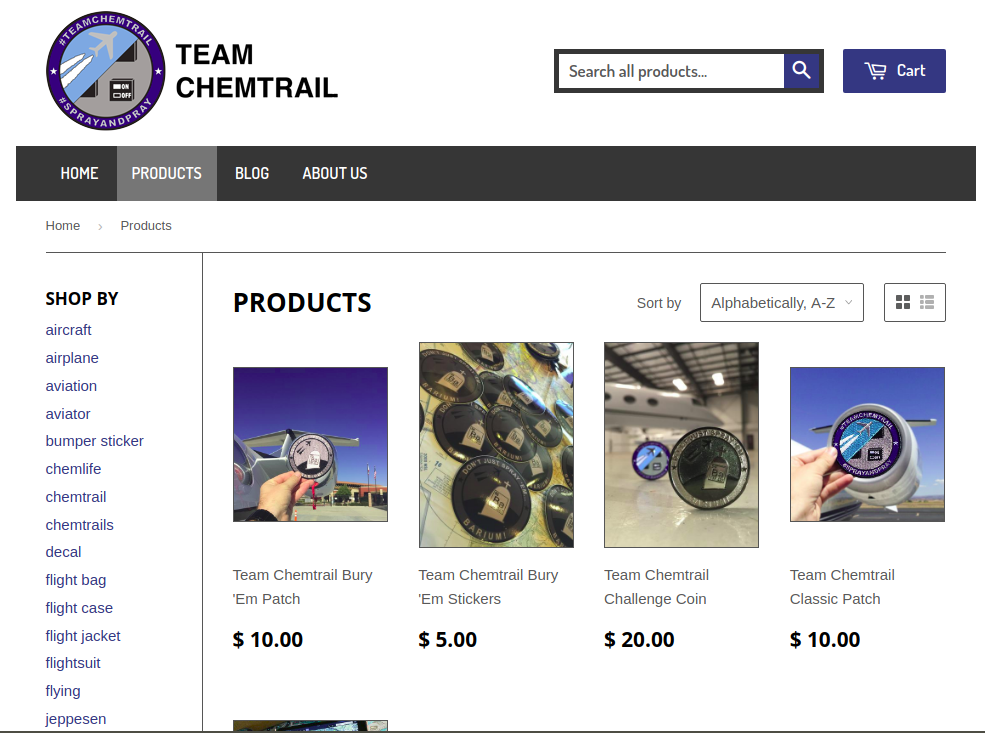 Here is the URL of the page:
https://teamchemtrail.com/collections/all
Here is the URL of an ARCHIVE that I made of the page, in case it gets taken down.
It is even more instructive to look at the "about" page for the site.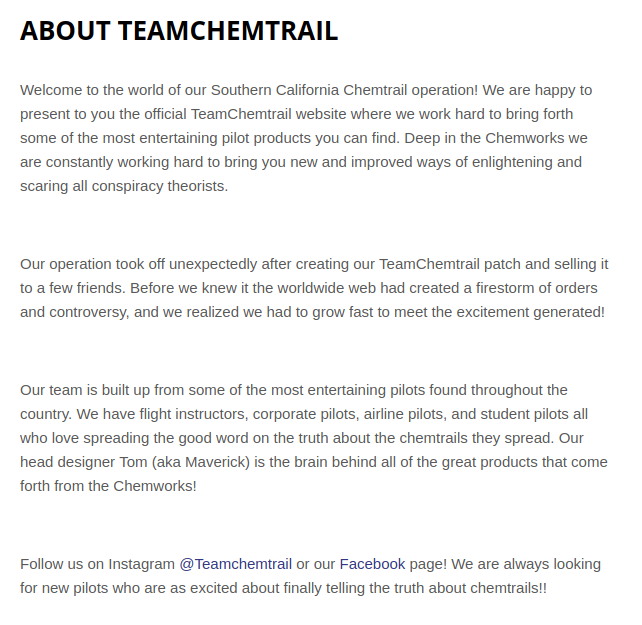 To make sure people can read the text in text readers, here it is as a block quote:
ABOUT TEAMCHEMTRAIL

Welcome to the world of our Southern California Chemtrail operation! We are happy to present to you the official TeamChemtrail website where we work hard to bring forth some of the most entertaining pilot products you can find. Deep in the Chemworks we are constantly working hard to bring you new and improved ways of enlightening and scaring all conspiracy theorists.

Our operation took off unexpectedly after creating our TeamChemtrail patch and selling it to a few friends. Before we knew it the worldwide web had created a firestorm of orders and controversy, and we realized we had to grow fast to meet the excitement generated!

Our team is built up from some of the most entertaining pilots found throughout the country. We have flight instructors, corporate pilots, airline pilots, and student pilots all who love spreading the good word on the truth about the chemtrails they spread. Our head designer Tom (aka Maverick) is the brain behind all of the great products that come forth from the Chemworks!

Follow us on Instagram @Teamchemtrail or our Facebook page! We are always looking for new pilots who are as excited about finally telling the truth about chemtrails!!

https://teamchemtrail.com/pages/about-us
The link again:
https://teamchemtrail.com/pages/about-us
And the archive:
---
SO – we have finally ended up at a website which sells these patches, and if we take this site at face value, then what we are seeing here is a site where pilots make fun of "chemtrails believers" and make some money selling humorous patches to other pilots.
And THAT is where the story is supposed to end.
But then that is the trouble with dropping disinformation in front of THE WOLF.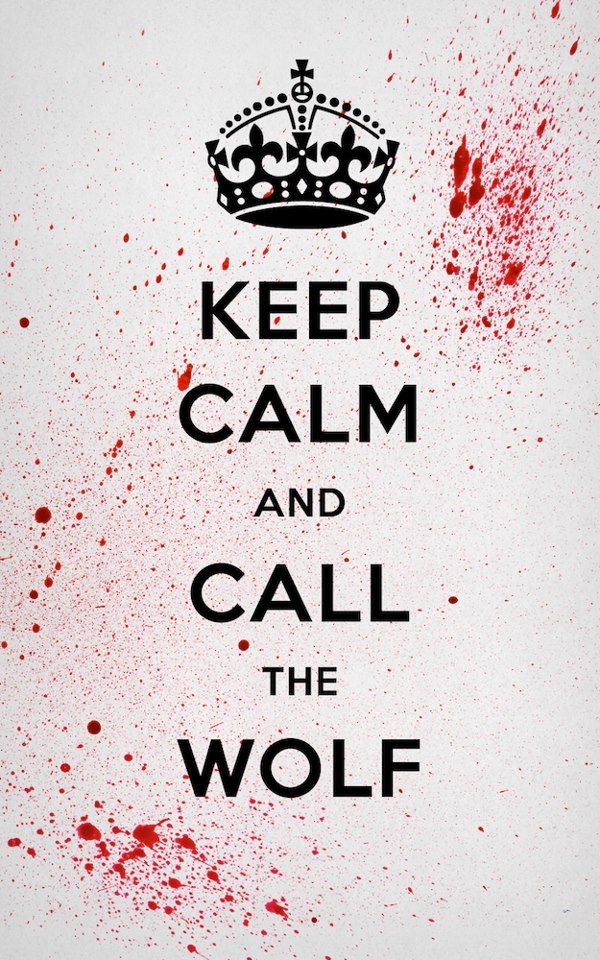 The WOLF doesn't BELIEVE that stories ever end. They either GO DEEPER, or they turn into NEXT CHAPTERS.
So SUSPICIOUS WOLF IS SUSPICIOUS.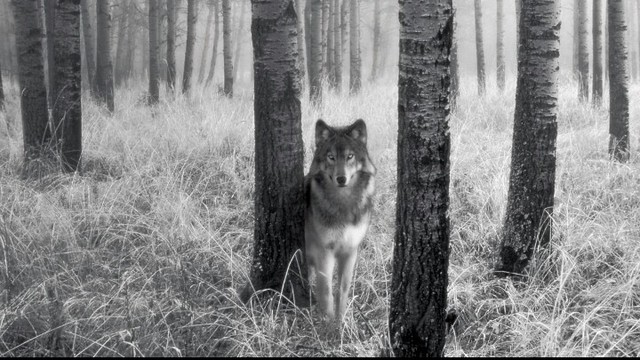 ---
To understand WHY The Wolf was suspicious of this whole story, but not in a way that was anticipated by the story, one has to go back to THE REAL HISTORY OF FAKE NEWS.
Before Trump started calling the Mainstream Media (MSM), a.k.a. the Mind Control Media (MCM), "fake news", THEY had labeled much of what Trump supporters were sharing online on social media as "fake news". Indeed, President Trump was SO SUCCESSFUL in re-labeling the MSM as "the fake news" or "the fake news media", and what they were saying as "fake news", that people tend to forget that HIS USAGE was actually a BOOMERANG of an MSM term used against Trump supporters.
After Trump deflected the MCM's "fake news" attack, taking the term for his own use, the MCM moved on to "Russian bots" and other forms of Russia-related propaganda, and now they are going after what they call "misinformation" and the oh-so-scary (and very likely soon-to-be-released) "deep fakes".
The MCM is certainly very PERSISTENT in trying to regain their FAKE credibility through censorship, so they can use it for MOAR censorship, but – OH WELL – it's not working, and I'm certainly happy about that.
NOW – I need to tell you TWO important things about the original MCM "fake news" hit job on Trump supporters, in which they demonized us – SLANDERED US – for our allegedly sharing "fake news" online. As you will see, it was a CYNICAL set-up – EVIL to its core.
(1) Sharyl Attkisson traced the original fake news narrative back to former Google CEO Eric Schmidt (who I increasingly believe was just a FRONT for "Red Diaper Sergey").
(2) I was one of the people who spotted "somebody" seeding the very beginnings of the "fake news" narrative, and I had WARNED the good guys what was going on.
The first point – Sharyl Attkisson NAILING Google – is the subject of THIS awesome TED talk. If you have NOT seen this amazing Sharyl Attkisson video, I highly recommend it. It will be among the top candidates for "best 10 minutes of your life ever spent", as it will OPEN YOUR EYES to how "active measures" propaganda works on a MASSIVE, GLOBAL SCALE. The NEWS in America and the WORLD was literally manipulated for a couple of years by a HILLARY CLINTON PSYCHOLOGICAL OPERATION.
https://pjmedia.com/video/sharyl-attkisson-explains-tedx-talk-origins-2016-fake-news-narrative/
Sharyl is telling you very clearly the overall story of "fake news", and particularly the ENDING, where Trump REVERSED IT.
But *I* can tell you certain things she cannot – about the BEGINNING.
SO – I need to make that second point – how "fake news" was INITIATED – very clearly. In doing so, you will hopefully see WHY it's so relevant to those "Team Chemtrail" patches.
Before "fake news" was a thing, there were always "news wars" on social media – Twitter, Facebook, comment sections, etc. – where Patriots would share politics and news articles, and Libtards would shitpost, troll, argue, and generally be PESTS in response.
Social media was clearly stacked against us, but overall, WE WERE WINNING. WE were getting the word out, DESPITE their trolls trying to deflect, counter, discourage and demean.
WE WERE WINNING.
The fact that we were posting and speaking THE TRUTH gave us extreme credibility.
One of the things that began to happen, however – correlating with the rise of fact-checkers like Snopes – is that certain articles would be called out – often with great embarrassment to the conservative poster – as BOGUS. Indeed, to prevent passing on misinformation, it became very important to VALIDATE almost any article passed on in social media. People needed to essentially do background checks on what they were posting. Citizen journalists really needed to be more like journalists, and less like citizens simply passing on hidden journalism.
I observed, with some dismay, that when conservatives would get caught passing on bogus news, they would often psychologically shut down, give up, and STOP PASSING ON NEWS. However, I also found that if a gentler soul like YOURS TRULY would investigate the bogus news, I could break it to the conservative poster more gently. Not only would that poster "stay in the game" – they would be more careful in the future. A clear WIN for our side. Right?
Thus, I began to research all kinds of dubious "news" being passed around on the internet, while educating fellow conservatives in how to spot the fake stuff. I became the kinder, gentler, HONEST Snopes. And therein I also began a roughly 2-3 year WAR with the DNC, the CIA, Brock and his trolls, and whoever else was creating the bogus information.
Some of the very first forms of fake news I discovered were articles taken from satire and parody sites. However, there was something really odd about ALL of these sites.
They weren't funny.
Whether to liberals or conservatives, they were simply not funny. Yet these sites were OPERATING under the ideas of satire and parody.
It became obvious very quickly that the greatest EFFECT of these sites was to lessen any authority of conservative "media-sharing posters".
Consider the following example – a Starbucks opening where people were supposedly invited to walk on a picture of Donald Trump.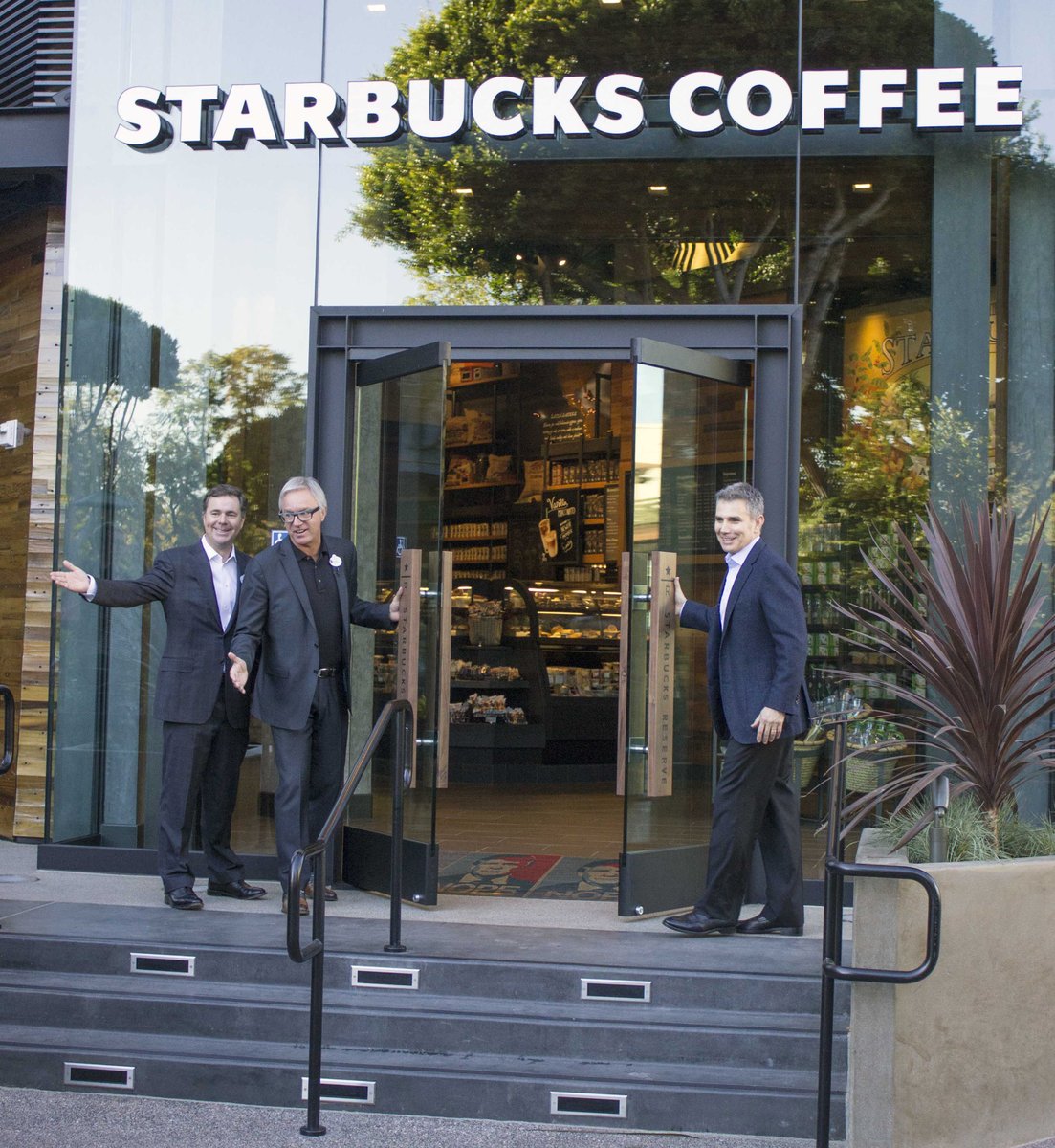 It was a Photoshop job. Just a little bit of work found the REAL picture, which was in the news at that time.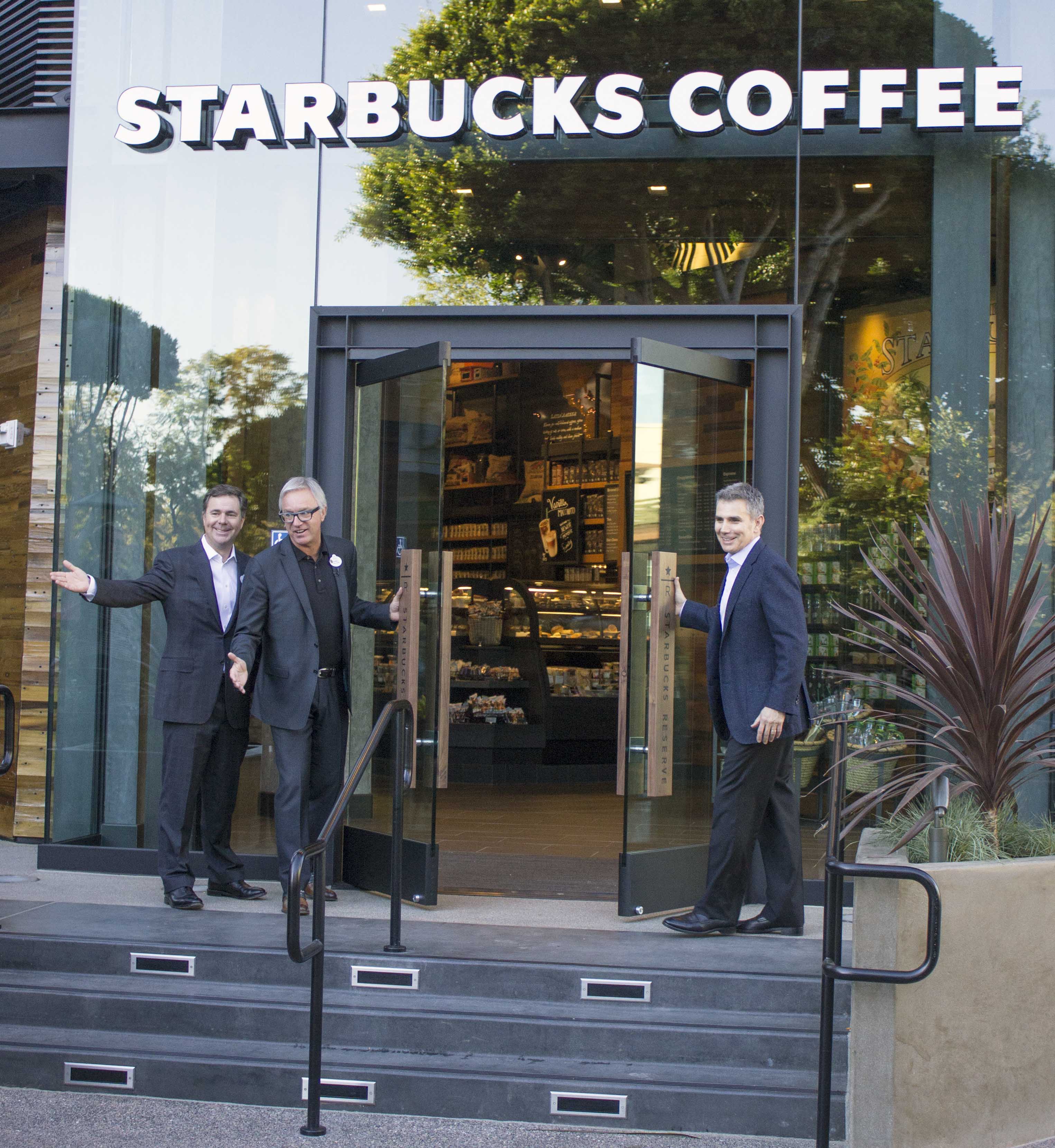 Not only was the satire and parody unfunny – it seemed very much to follow a pattern:
believable, and based on reality, but NOT REAL
unprovable, or even provably WRONG
"too good to be true" from a conservative standpoint
seemingly designed to FOOL people
and I repeat, very important, NOT FUNNY
All in all, this stuff seemed designed to do exactly what it did – FOOL CONSERVATIVES into picking it up and repeating it.
Who would do such a thing? I mean, who would intentionally make conservatives look stupid, lying, untrustworthy, lacking credibility, and I repeat – STUPID?
Yeah, like one even has to ask.
Sure, one may counter that MONEY might be a motivation.
I will counter with my constant cry – that we must USE "AND logic". The "self-propelled operation" is almost de rigueur any more. Expect any CIA-approved operation to make its own money.
SO – when it was finally revealed that HILLARY HENCHMAN Eric Schmidt of Google was behind this whole fake news narrative – WELL, THAT MADE A WHOLE LOTTA SENSE.
SO – now that you know the whole story on "Fake News", where were we?
OH YES. "Team Chemtrail".
---
There are 1000 reasons I am sure this is is an OPERATION. Most of them, I cannot tell you, because of something I call "reactive disinformation". I have found that giving up my tells just lets the other side fix them, and – worse yet – deploy NEW and specially crafted disinformation, based on whatever I said. SO – what I encourage people on our side to do, is to STUDY this and other sites like it, as well as any of the old "fake news satire and parody sites" that are still around.
You will eventually spot the tells, and YOU, TOO, CAN KEEP THEM QUIET.
You will see – this one just SMELLS like the old fake news sites.
What I can tell you are some of the things that the other side cannot or will not change, because of the very nature of what they are doing. So NOTE these things about the Team Chemtrail site:
the denunciation of "chemtrails" and believers in them is gentle enough that various psychological processes in that audience are soothed, activated, or bypassed
it gives up very little risky information about the people behind it
it gathers information on people in relation to the subject
the overall package FEEDS THE CONSPIRACY THEORY rather than abating it
The last point is extremely important. They CANNOT CHANGE THAT. It's a requisite feature.
DO NOT speculate on the motivation yet – going there is the first mistake of BUSTING AN OP. Just call the people behind it "them", and their reasons for doing it "their motive". We don't have to know who or why YET.
What we now need to do is to RE-DIGEST everything we know in light of the new information.
This is the point that pops out the most to me:
SOMEBODY WANTS TO INITIATE, STOKE, AND FEED THE CHEMTRAILS IDEA.
This is the beginning of understanding.
What else do we know? Keep going from there….
the people stoking chemtrails are American, or operate freely on American soil
they are definitely connected to aviation
they are probably connected to the government and/or military
they stoke in a deniable fashion, meaning their PUBLIC position would be disconnected from any such stoking
their public position may be the opposite of chemtrails
they need the stoked conspiracy theory for some reason
they may have even STARTED the entire chemtrails idea
whatever social negatives come from the chemtrails conspiracy theory, there must be positives to the stoking which outweigh them, in the eyes of whoever is behind the feeding of the narrative
Based on this, I have some immediate CLASSES of candidates for the WHO and WHY of "we need chemtrails and a group of people who believe in it".
I'm being very general here, so that many possible theories and motives can fit into the facts.
Here we go. Enjoy the show.
---
Adjacent Strawman: It's not chemtrails, but it's chemtrails.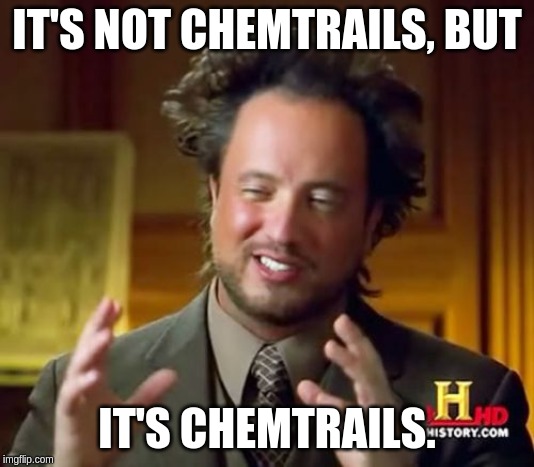 One of the best ways to gin up cover and confusion about a thing, is to stoke up controversy about the THING ITSELF using disinformation.
Creating small, false VARIANTS – "adjacent strawmen" – is a great way to feed any disproofs. The "snopesing" of ideas is literally based on this technique. But it goes beyond just Snopes.
In the HANDBOOK OF DISINFORMATION, there is a picture of Jack Posobiec next to the chapter on this stuff.
The idea here is that "REAL CHEMTRAILS" may be a small and very advantageous subset of the entire chemtrails mythos, or it could be something VERY similar but completely unknown. Whatever it is, it works, it helps America get ahead, maybe saving the government billions of dollars in tax revenues, and we don't want other nations to know about it. What do we do?
create a large, camouflaging controversy about "chemtrails"
feed a lot of strawman JUNK into it to hide the real stuff
make the whole thing believable enough to stay maximally viral, but unbelievable upon close inspection
make ourselves the bad guys of the myth, because that is "the interest on the truth debt", and if the whole thing blows open, we don't owe anybody anything on the lies, and we may even look like the good guys for protecting WHATEVER IT'S REALLY ABOUT.
To me, this is a strong contender. There is SOME TRUTH to the chemtrails mythos, but most of it is just COVER DISINFORMATION.
But wait – there's MOAR….
---
Cover-Up: It's not chemtrails – it's a different conspiracy.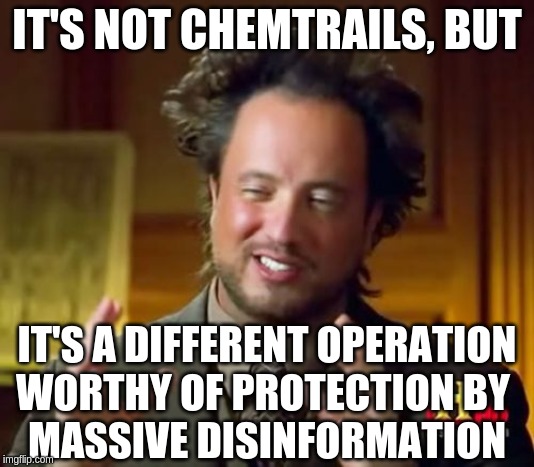 This is my favorite class of theories. Unfortunately, I can't give you any REAL examples, all of which are excellent, because they are based on REAL classified operations which I'm not supposed to know about, but I do. Nevertheless, I can tell you that the smart money is here.
What I can do is illustrate using a ridiculous FAKE example.
Let's say that we've discovered some really amazing way to increase military intelligence by leaving a bunch of trails at certain times and places in the sky. Maybe it's not terrible chemicals – maybe it's just WATER VAPOR from adding a lot of WATER into the exhaust of the jet engines. Let's say it works like crazy. It adds a GOLD MINE of intelligence for Team America.
Well, we've got to cover this up. Now think of all the ways to do this:
add way more trails than we actually need, including useless distracting ones
distract from WATER VAPOR by making people think it's something opposite like barium
add a bunch of really ridiculous ideas that serve as SHINY OBJECTS
name it CHEMTRAILS instead of WATERTRAILS
What should be EXTREMELY DISTURBING to you, RIGHT NOW, is that even my FAKE IDEA, which I literally MADE UP ON THE FLY, actually sounds extremely reasonable.
This is the power of disinformation.
So anyway, now you may be seeing why I think this is the strongest class of theories. We are dealing with professional disinformation. If so, CHEMTRAILS may be hiding SOMETHING ELSE.
And even worse, that something may be REALLY BIG.
---
Massive Cover-Up: It's not chemtrails, it's aliens.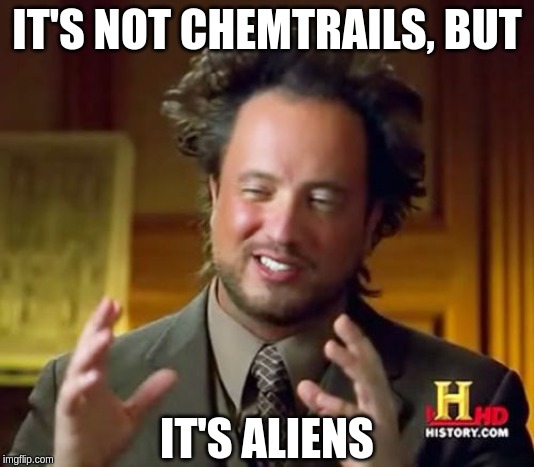 How can I put this simply?
OK – let's try this…
"We're sprayin' for bugs, folks!"
What I'm really doing here, is saying that, instead of merely distracting from some "normal" military program, "chemtrails" is actually covering up something so FAR OUT, shocking, or deeply classified, that suffering the negatives of "bad American military" is actually WORTH IT to hide whatever it is.
What could this be?
There are an infinite number of weird scenarios here. Let me just throw out one of them. ANDROMEDA STRAIN meets INDEPENDENCE DAY meets PREDATOR vs. ALIEN.
Let's say that some race of pesky aliens is trying to steer humanity into ITS corner, rather than some OTHER group's corner, and to change our minds – LITERALLY – is manipulating the flu virus for increased neurological payload, to keep people stupid, docile and manipulable. It's all statistics. Every year, they scrooch human DNA a bit more toward where they want it. The infinite stupidity of LIBTARDS is a direct result.
(Hmmmm. Actually, I'm likin' this theory already!)
Meanwhile, human defenders are busy fighting back with OUR OWN modification of the flu virus, and THAT is the truth of Chemtrails. It's really DEMTRAILS. Biotrails. THEMTRAILS. Something like that.
OK. Maybe that's not it. Maybe we're dropping some element that turns out to be a nightmare for UFO propulsion technology, and they are unable to do their little flying-around thing when we spray for them.
Whatever. The idea is that there is some really deep, dark secret – probably involving aliens, that they are COVERING UP with the idea of chemtrails.
---
Now – let's back up to REALITY.
All of these theories – all three classes – are speculation. I have no idea if it's any of these things.
What I do know is this. Based on my experience FIGHTING American and foreign disinformation, I believe that somebody WANTS this chemtrails stuff. They want it enough to orchestrate deniable ops around it.
To me, that tells me that there IS a story.
We just don't know what that story is.
Yet.
W