This TO DESTROY ANTIFA (AND #AUNTIFA) TUESDAY open thread is VERY OPEN – a place for everybody to post whatever they feel they would like to tell the White Hats, and the rest of the MAGA KAG! KMAG world (KMAG being a bit of both).
---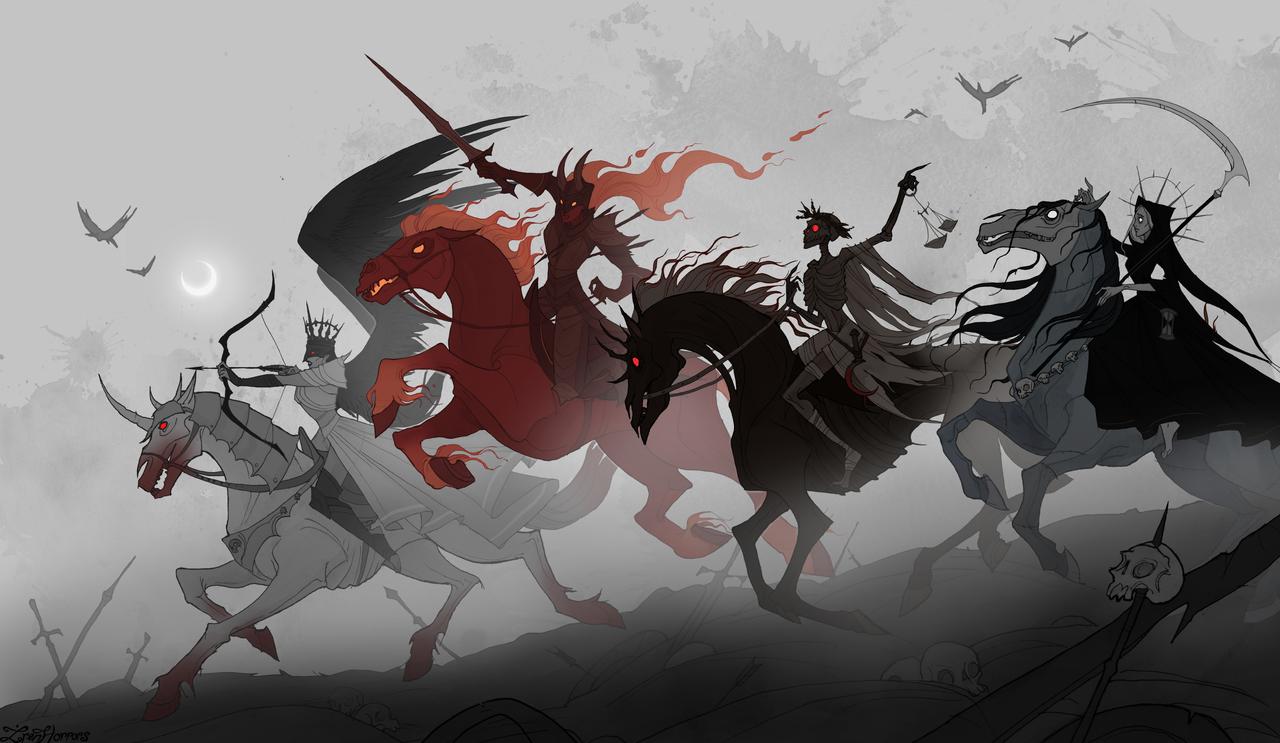 ---
You can say what you want, comment on what other people said, and so on.
Free Speech is practiced here. ENJOY IT. Use it or lose it.
Keep it SOMEWHAT civil. They tried to FORCE fake Orwellian civility on us. In response, we CHOOSE true civility to defend our precious FREEDOM from THEM.
Our rules began with the civility of the Old Treehouse, later to become the Wolverinian Empire, and one might say that we have RESTORED THE OLD REPUBLIC – the early high-interaction model of the Treehouse – except of course that Q discussion is not only allowed but encouraged, and speech is considerably freer in other ways. Please feel free to argue and disagree with the board owner, as nicely as possible.
Please also consider the Important Guidelines, outlined here in the January 1st open thread. Let's not give the odious Internet Censors a reason to shut down this precious haven.
---
REMEMBER: This is our SECRET WEAPON OUT IN THE OPEN!
"MR. PRESIDENT – I AM PRAYING FOR YOU!"
AND PRAY FOR AMERICA TOO!
---
AND WHAT TIME IS IT?
TIME TO….
DRAIN THE SWAMP
Our movement

Is about replacing

A failed

And CORRUPT

Political establishment

With a new government controlled

By you, the American People.

Candidate Donald J. Trump
---
Also remember Wheatie's Rules:
No food fights.
No running with scissors.
If you bring snacks, bring enough for everyone.
---
It turns out that we can thank LAURA INGRAHAM for tonight's theme / meme of "The Four Horsewomen of the Apocalypse".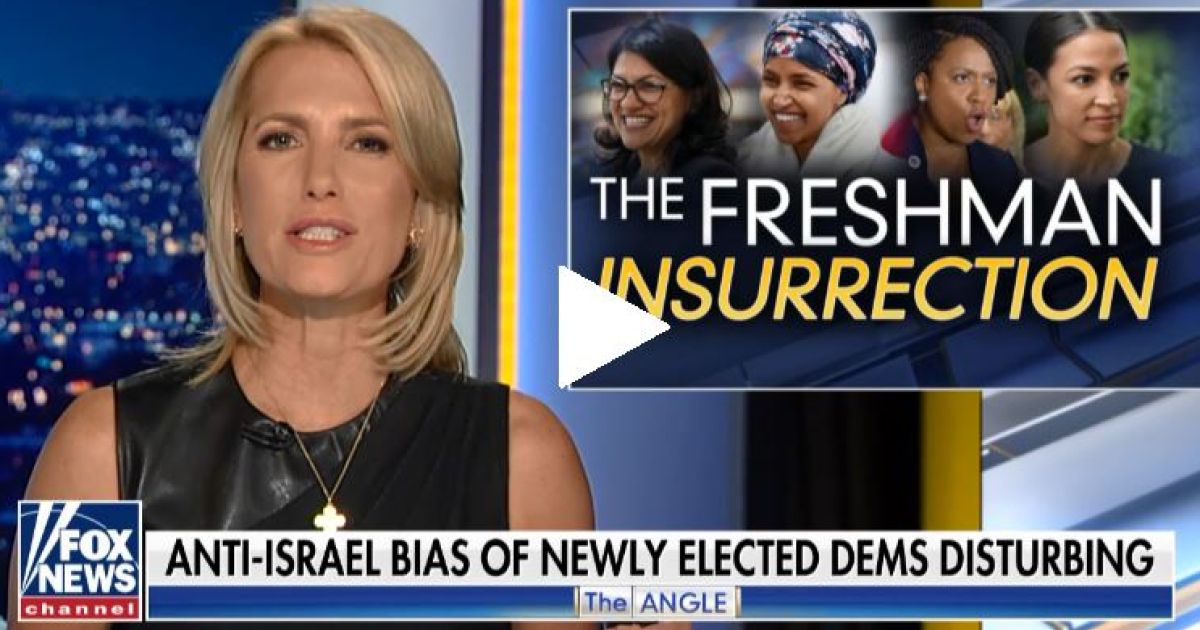 If you need proof, here it is – right in the TREACHEROUS HUFFPO.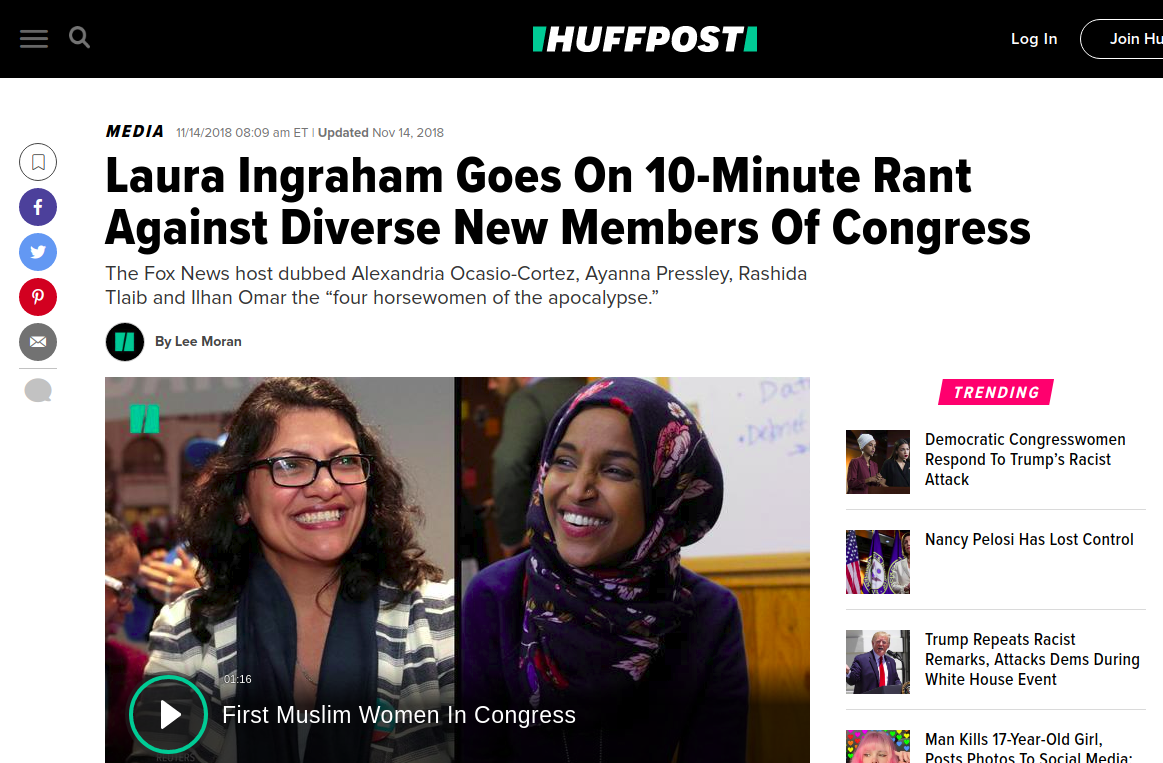 https://www.huffpost.com/entry/laura-ingraham-new-progressive-congress_n_5bec0687e4b044bbb1aaefc5
I find it remarkable that Laura SO QUICKLY and SO LONG AGO spotted the PERNICIOUS PESTILENCE that is this coven of new and remarkably un-American – no – I take that back – ANTI-AMERICAN congresswomen – who seek power over America.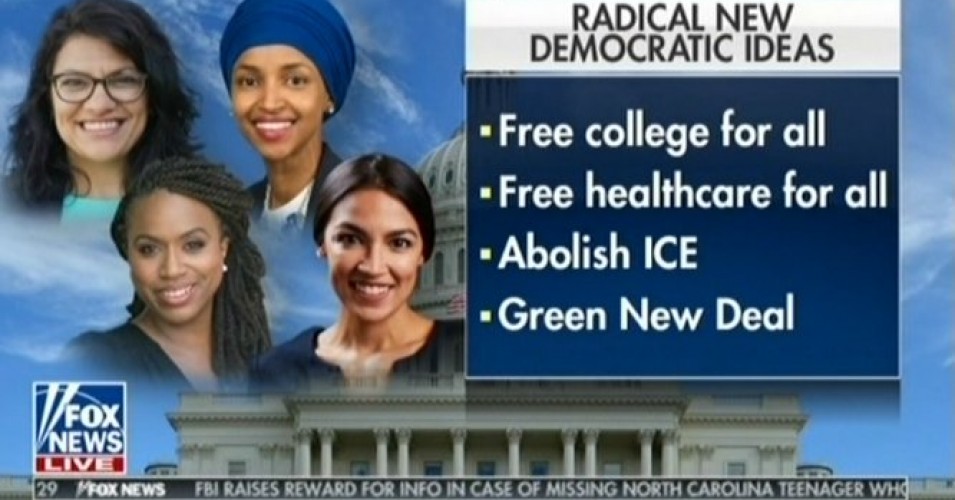 If you want to watch that episode, here it is:
And YES – the "four horsewomen" comment comes at 4:25 in the video, if you want to check it out.
I found something rather remarkable, thanks to the FAKE NEWS SOCIAL MEDIA (YouTube) and its massive and omnipresent BIAS against all things Trump, Republican, etc.
The fake news was REALLY SCARED OF THIS SEGMENT. Not only did I find the HuffPo piece very quickly (and before I found Laura's actual monologue) – I also found right next to it a "Young Turks" panel of women who spent 12 minutes going off on Laura's criticism.
Here is THAT video – without the benefit of showing. Sorry, ladies – all you get is a link: https://youtu.be/GgQ53kzqcUM
Fortunately, our wonderful VSGPOTUS – defending AMERICA from those who despise it, has maximally unmasked these bitter agents of COMMUNISM and ISLAMISM.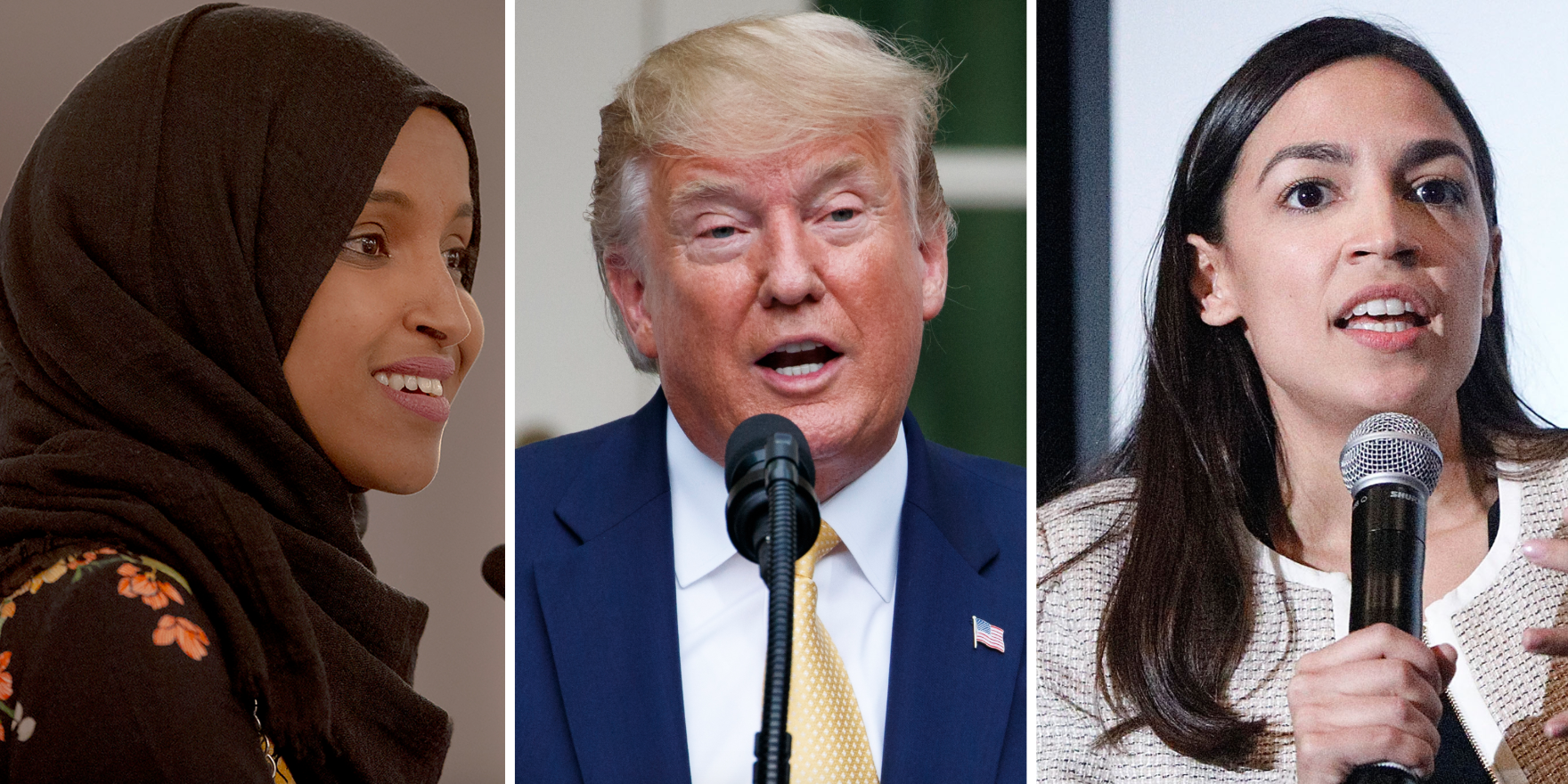 So much so, that even the HORRIBLE COMMUNIST David Axelrod was forced to the surface, from his bottom-feeding mud-hole somewhere in Chicago….
Well, I'm here to help.
Have a great day, Mr. Axelrod, you COMMUNIST.
YOU get to defend both the VIOLENT #ANTIFA and the SUBVERSIVE #AUNTIFA.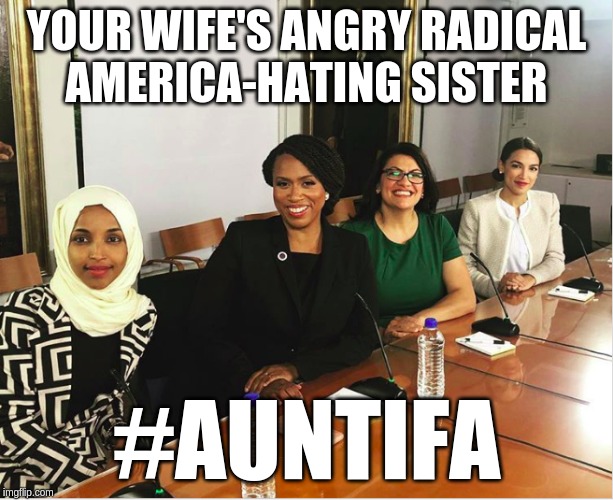 Or should I say – #AUNTIFAH.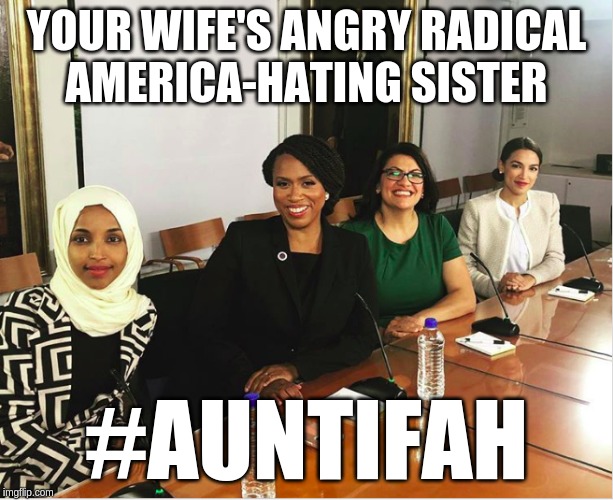 There you go – it comes in two varieties – COMMUNIST and ISLAMIST. Take your pick.
---
So while we're at it, using the TRUMP DOCTRINE to make the COMMUNISTS and ISLAMISTS behind the Democrat Party responsible for the angry loony radical communist and Islamist ladies of AUNTIFA(H), it's time to also make them responsible for the VIOLENCE of ANTIFA.
And on that note, a VERY interesting video from NORWAY.

AH – the COMFORTING PRESENCE of a peaceful family man – STRONG ENOUGH TO DEFEND WHAT'S RIGHT, from those who USE CONFLICT AND HATRED to advance an UNWANTED AGENDA OF CONTROL over the PEOPLE.
Check out this man's wonderful testimony.
HOW NORWAY GOT RID OF ANTIFA.
The video is painfully long, but the man's slow, controlled, precise, oddly "West-Germanic" Norwegian-accented English, is weirdly soothing, and worth at least a short listen.
His prescription (as interpreted / analyzed / augmented by me) comes down to this:
they have to be arrested, every time they are violent or do something illegal
they need to be ridiculed as LOSERS – not bullied – but regularly ridiculed
their hatred of traditional masculinity and family must be recognized and criticized
they ALL have personal issues – FIXING THOSE weakens their abuse by communists
the abuse of these mental patients by communists to fill the ranks must be criticized
the TRANS movement that FILLS ANTIFA must be shut down as mental abuse
the TRANS movement is designed to GENERATE CONFLICTOS to become ANTIFA
the antifa groups now have support from the INTERNET – weaken / oppose it
they now have too much support from journalists – ridicule, criticize, warn and shame
journalists labeling normies AS NAZIS is exactly what the NAZIS did – demand they stop
antifa have both support and CREATION from academics – weaken, criticize, spotlight
antifa are "farmed" in universities – weaken, criticize, and SUE OUT THE WAZOO
the centrist politicians who will define the future of a peaceful nation must shun them
the contradictions of the movement (hatred and violence) must be made clear
ban the wearing of masks to force members to face both consequences and contradictions
members have to be given a PATH OF RETREAT to leave the movement, #WALKAWAY
(Thanks to Wheatie for a reminder about the banning of masks – VERY important!)
I can tell you, that after I listen to this video, then cross-reference it with the video at the end, in which UNIVERSITIES are identified as ANTIFA INCUBATORS, and catalog the individual points above, I am quite confident that we can destroy ANTIFA and make Democrats, and particularly the COMMUNISTS who are in control of the party, fully responsible for the mess.
W
PS: Title article here: https://spectator.org/the-four-horsewomen-of-the-democrat-apocalypse/