This THE TRUTH IS A FORCE OF NATURE THURSDAY open thread is VERY OPEN – a place for everybody to post whatever they feel they would like to tell the White Hats, and the rest of the MAGA / KAG! / KMAG world (KMAG being a bit of both MAGA and KAG!).
And now that the MUELLER report is history, it's time to KEEP making America great. And THAT includes TAKING OUT THE GARBAGE, or even the "GARBAGE-IN-LAW"!
---
---
You can say what you want, comment on what other people said, and so on.
Free Speech is practiced here. ENJOY IT. Use it or lose it.
Keep it SOMEWHAT civil. They tried to FORCE fake Orwellian civility on us. In response, we CHOOSE true civility to defend our precious FREEDOM from THEM.
Our rules began with the civility of the Old Treehouse, later to become the Wolverinian Empire, and one might say that we have RESTORED THE OLD REPUBLIC – the early high-interaction model of the Treehouse – except of course that Q discussion is not only allowed but encouraged, and speech is considerably freer in other ways. Please feel free to argue and disagree with the board owner, as nicely as possible.
Please also consider the Important Guidelines, outlined here in the January 1st open thread. Let's not give the odious Internet Censors a reason to shut down this precious haven.
---
SAY IT LOUD, AND SAY IT PROUD!
"MR. PRESIDENT – I AM PRAYING FOR YOU!"
---
AND WHAT TIME IS IT?
TIME TO….
DRAIN THE SWAMP
Our movement

Is about replacing

A failed

And CORRUPT

Political establishment

With a new government controlled

By you, the American People.

Candidate Donald J. Trump
---
Also remember Wheatie's Rules:
No food fights.
No running with scissors.
If you bring snacks, bring enough for everyone.
---
WHY is this relevant, you might ask?
Let's take a look at some of today's Q drops, and try to understand their significance.
Let's look at a DOCUMENT which they point to – JUST DECLASSIFIED.
Let's try to understand that document relative to HISTORICAL EVENTS.
Like the election of a POTUS that "THEY" might want to get rid of.
---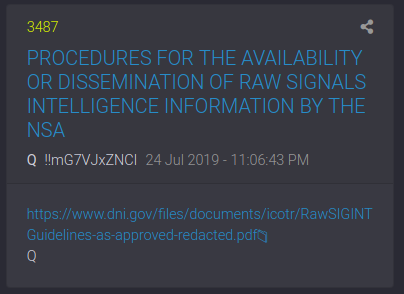 PROCEDURES FOR THE AVAILABILITY OR DISSEMINATION OF RAW SIGNALS INTELLIGENCE INFORMATION BY THE NSA

Q!!mG7VJxZNCI24 Jul 2019 – 11:06:43 PM

https://www.dni.gov/files/documents/icotr/RawSIGINTGuidelines-as-approved-redacted.pdf

Q

Q Post 3487
---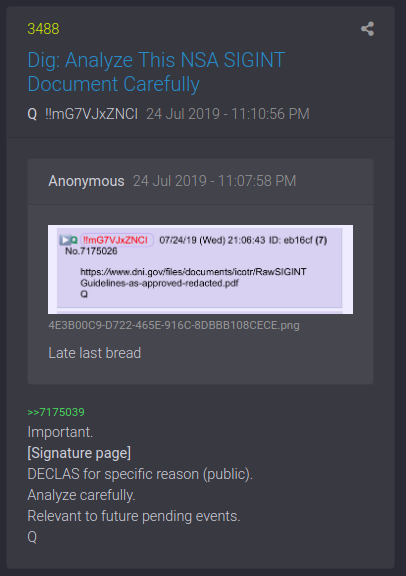 Dig: Analyze This NSA SIGINT Document Carefully

Q!!mG7VJxZNCI24 Jul 2019 – 11:10:56 PM

Anonymous24 Jul 2019 – 11:07:58 PM

4E3B00C9-D722-465E-916C-8DBBB108CECE.png

Late last bread

>>7175039

Important.

[Signature page]

DECLAS for specific reason (public).

Analyze carefully.

Relevant to future pending events.

Q

Q Post 3488
---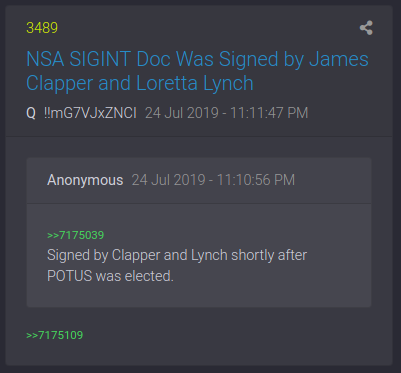 NSA SIGINT Doc Was Signed by James Clapper and Loretta Lynch

Q!!mG7VJxZNCI24 Jul 2019 – 11:11:47 PM

Anonymous24 Jul 2019 – 11:10:56 PM

>>7175039

Signed by Clapper and Lynch shortly after POTUS was elected.

>>7175109

Q Post 3489
---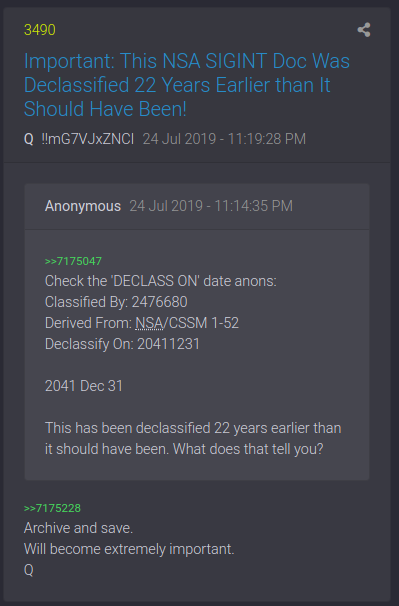 Important: This NSA SIGINT Doc Was Declassified 22 Years Earlier than It Should Have Been!

Q!!mG7VJxZNCI24 Jul 2019 – 11:19:28 PM

Anonymous24 Jul 2019 – 11:14:35 PM

>>7175047

Check the 'DECLASS ON' date anons:

Classified By: 2476680

Derived From: NSA/CSSM 1-52

Declassify On: 20411231

2041 Dec 31

This has been declassified 22 years earlier than it should have been. What does that tell you?

>>7175228

Archive and save.

Will become extremely important.

Q

Q Post 3490
---
The most relevant points:
document signed by DNI head Clapper and AG Lynch
document signed by Clapper shortly after 2016 election
document signed by Clapper shortly after Adm. Rogers visit w/ PEOTUS Trump
document signed by Lynch shortly before 2017 inauguration
document declassified 22 years early
Q says it's extremely important and relevant to things about to happen
SO – let's take a look at just the BEGINNING of the document, to see why it matters.
---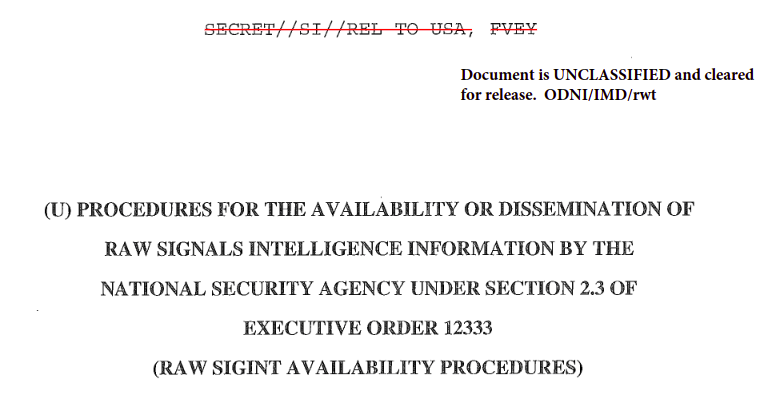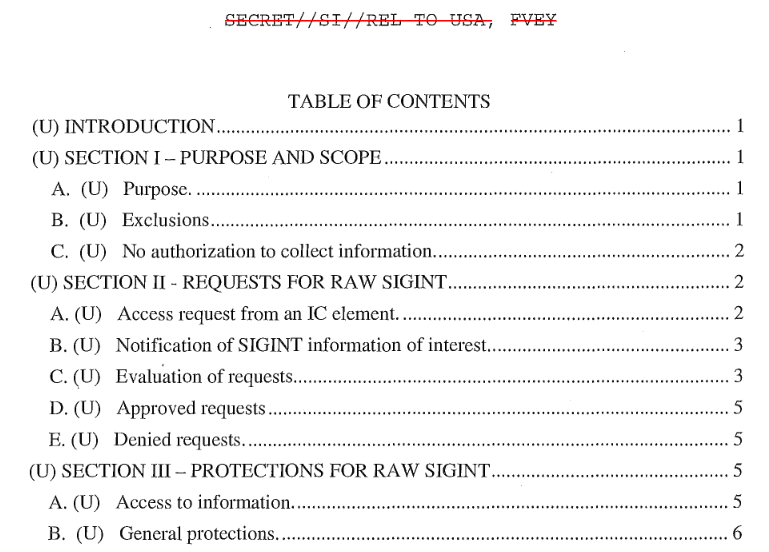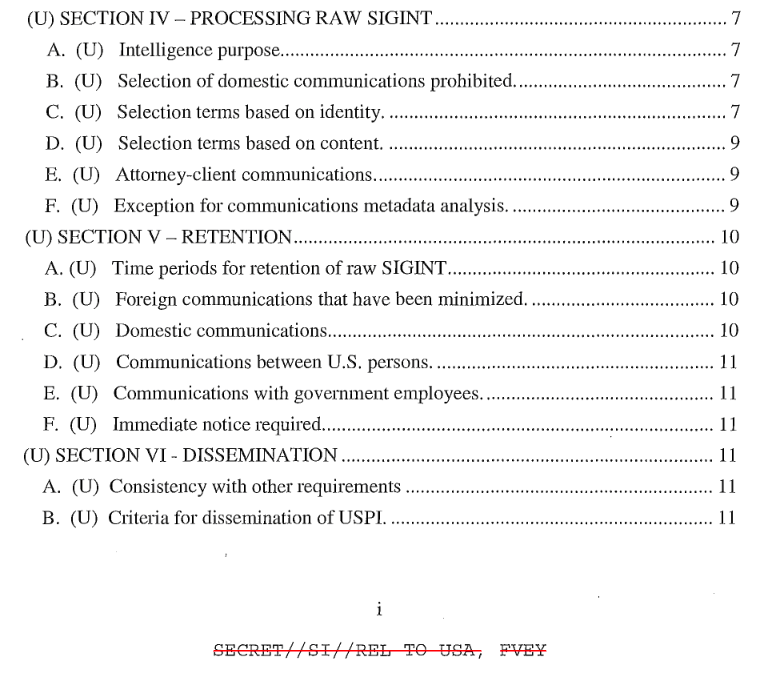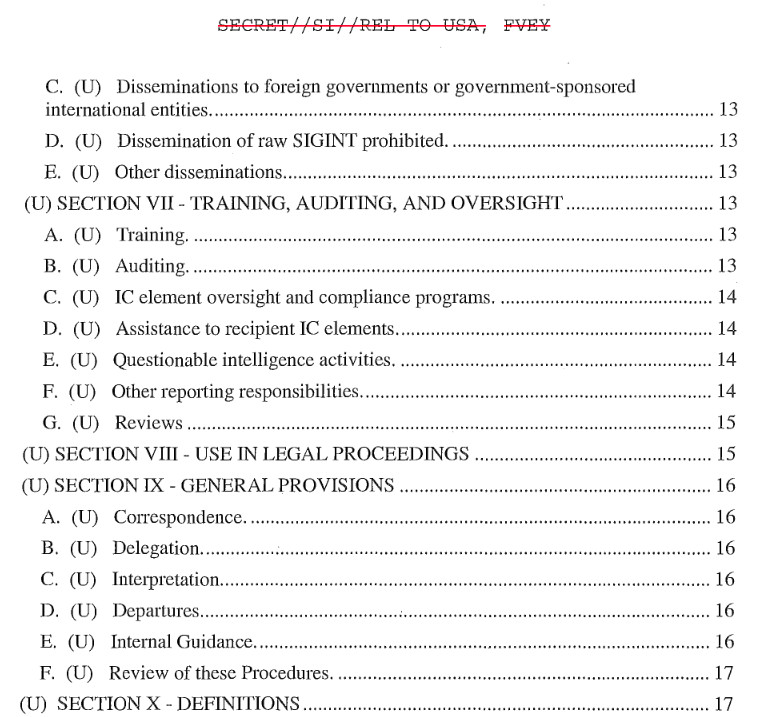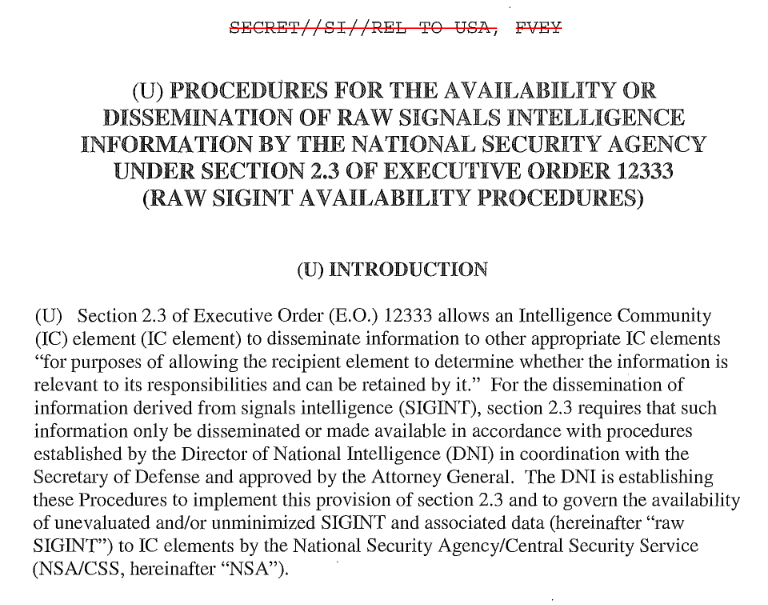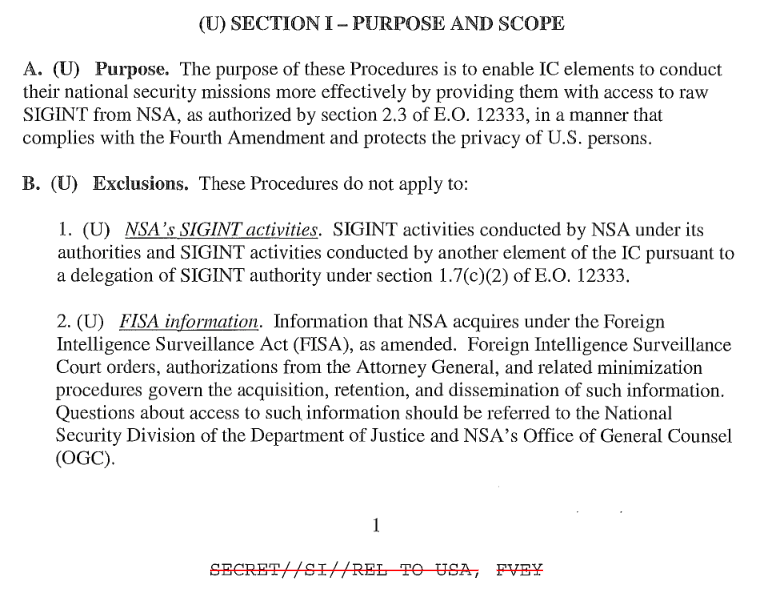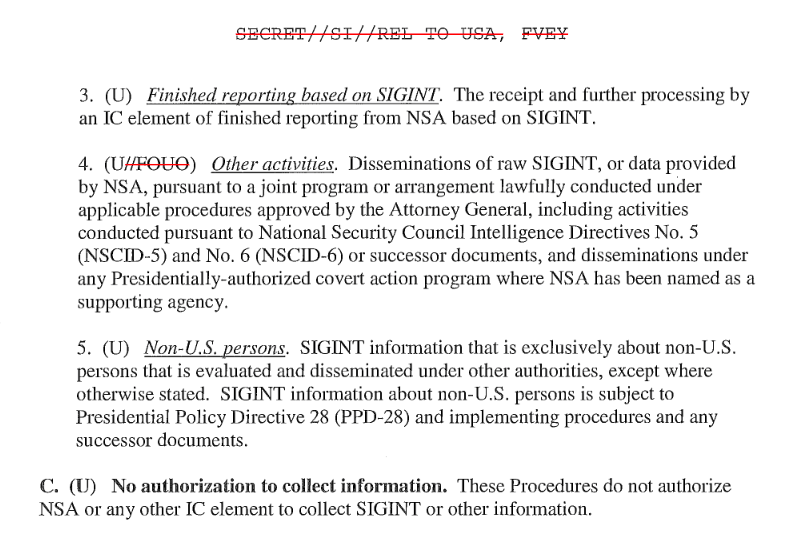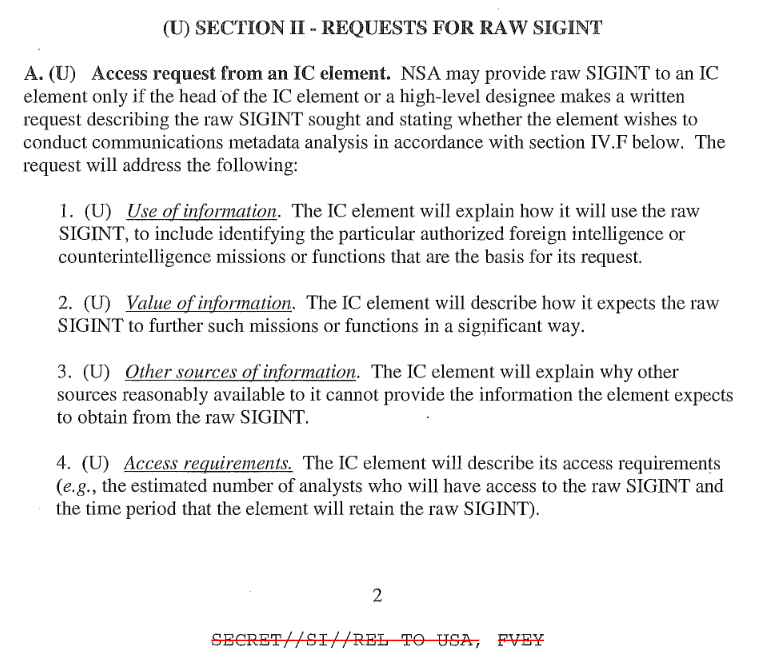 ---
HERE are the parts of the very beginning that are most relevant to a GENERAL understanding of what is being ABUSED here. It's not the details. It's not so much the METHOD or the MEANS, but rather the MOTIVE, stated very baldly in the "Purpose" section.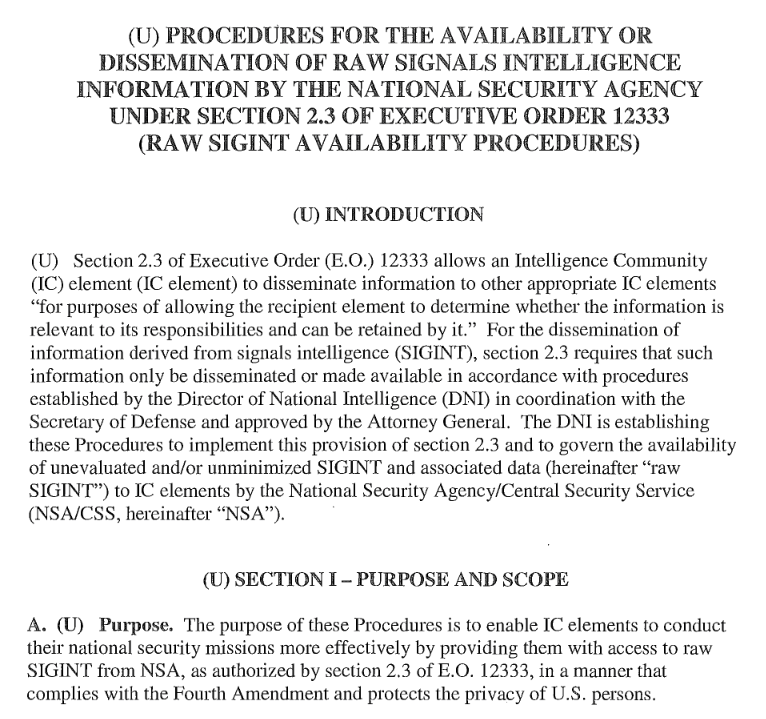 Now, I could give you a long explanation of what these jokers – Clapper, Lynch, and (I'm guessing here) Ash Carter – very likely did to us, and to President Trump specifically, but I think it's simplest to just give you a "meme" of understanding:
LID LOOSENED FURTHER ON NSA COOKIE JAR HONOR SYSTEM
OK, let's state it another way:
OBAMA MORE FULLY UNSECURED THE SYSTEM SO IT COULD BE MORE EASILY ABUSED BY DEEP STATE OPERATIVES
Now – NOT all of this "unsecuring" was done by this document. MOST of it was done by a document called EO 12333 which was (in my humble opinion) FOISTED upon President Ronald Reagan after he was SHOT by an MK asset who was very likely programmed by operatives either from or working with the agency which just happened to benefit from EO 12333, and which Reagan's OH-SO-LOYAL VP had headed.
https://en.wikipedia.org/wiki/Executive_Order_12333
Just sayin'.
There may be MORE FIXIN' needed than just this particular CLAP-CRAP.
Anyway, I think that what we are going to see here is the DEVIL IN THE DETAILS.
Which details?
Honestly, I'm not sure. But Q says START DIGGING, so let's START DIGGING.
And STAY TUNED TO WQTH, a.k.a. CHANNEL Q, as well as a site called QMAP.
W