Okay you knuckledragging ChiComs trying to take us down…here's a history lesson for you.
For millennia, you had to suffer from this: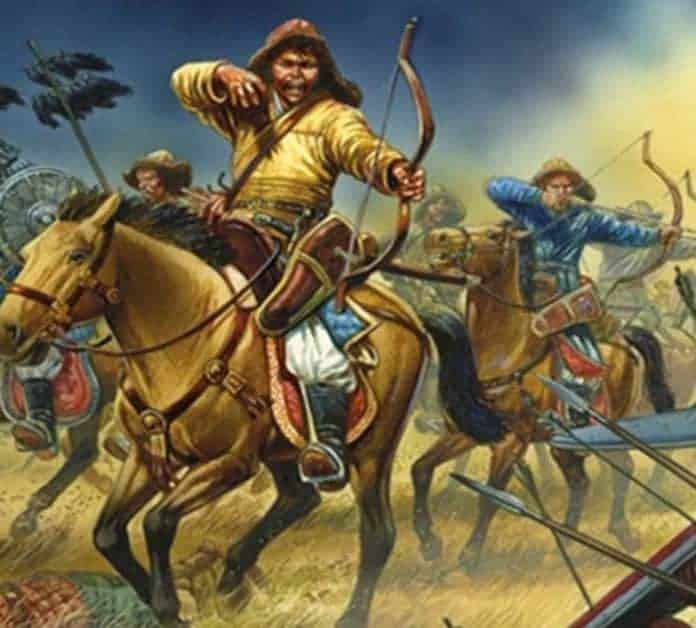 Yep. Steppe Nomads. They laid waste to your country, burned, raped and pillaged (but not in that order–they're smarter than you are) for century after century.
You know who figured out how to take them on and win? The Russians.
Not you, the Russians. And it took them less than two centuries. And Oh By The Way they were among the most backward cultures in Europe at the time.
You couldn't invent an alphabet, you couldn't take care of barbarians on horseback, and you think you can take this board down?
HAHAHAHAHAHAHA!!!! We're laughing at you, you knuckledragging dehumanized communists…worshipers of a mass-murderer who killed sixty million people!
I mean, you still think Communism is a good idea even after having lived through it!
By my reckoning that makes you orders of magnitude more stupid than AOC, and that takes serious effort.
His Fraudulency
Joe Biteme, properly styled His Fraudulency, continues to infest the White House, and hopium is still being dispensed even as our military appears to have joined the political establishment in knuckling under to the fraud.
All realistic hope lies in the audits, and perhaps the Lindell lawsuit (that will depend on how honestly the system responds to the suit).
One can hope that all is not as it seems.
I'd love to feast on that crow.
Justice Must Be Done.
The prior election must be acknowledged as fraudulent, and steps must be taken to prosecute the fraudsters and restore integrity to the system.
Nothing else matters at this point. Talking about trying again in 2022 or 2024 is hopeless otherwise. Which is not to say one must never talk about this, but rather that one must account for this in ones planning; if fixing the fraud is not part of the plan, you have no plan.
Lawyer Appeasement Section
OK now for the fine print.
This is the WQTH Daily Thread. You know the drill. There's no Poltical correctness, but civility is a requirement. There are Important Guidelines, here, with an addendum on 20191110.
We have a new board – called The U Tree – where people can take each other to the woodshed without fear of censorship or moderation.
And remember Wheatie's Rules:
1. No food fights
2. No running with scissors.
3. If you bring snacks, bring enough for everyone.
4. Zeroth rule of gun safety: Don't let the government get your guns.
5. Rule one of gun safety: The gun is always loaded.
5a. If you actually want the gun to be loaded, like because you're checking out a bump in the night, then it's empty.
6. Rule two of gun safety: Never point the gun at anything you're not willing to destroy.
7. Rule three: Keep your finger off the trigger until ready to fire.
8. Rule the fourth: Be sure of your target and what is behind it.
(Hmm a few extras seem to have crept in.)
(Paper) Spot Prices
Last week:
Gold $1787.80
Silver $23.78
Platinum $962.00
Palladium $2220.00
Rhodium $16000.00
This week, 3PM Mountain Time, markets have closed for the weekend.
Gold $1754.80
Silver $22.46
Platinum $944
Palladium $2100
Rhodium $13,900
Remember when rhodium was pushing $30K an ounce? And palladium was on the verge of $3000? Maybe I should have sold my palladium back then! I've now "lost" over 900 dollars per ounce. On the other hand I paid much less than $1000 an ounce for it, decades ago. I'm still way ahead. [Full disclosure, my luck with platinum hasn't been as good.]
But my purpose with precious metals is to buy and hold them. I'm not going to freak out if gold drops 30 cents. There are large commodity traders who make their living buying and selling on the short term–those are mostly the paper gold people–and they have to worry about that sort of thing. A wrong move at the wrong time could cost them everything. But I don't worry. If you believe precious metals are worth having, this is an increasingly good time to buy…not sell and punch out.
Which is why I am not forecasting DOOM for precious metals right now. And if you're still building your stock up, you're presented with an opportunity that might make up for whatever you "lost" buying a few weeks ago. (It's not a true loss until you sell and "realize" it. And that doesn't mean "realize" like "I realized voting for Biden was a mistake" but the much older original meaning: real-ize…to make real.)
XIX Antimatter
In 1928 British physicist Paul Dirac (1902-1984 [Wow, he was still alive when I was in college!]) noted that Schroedinger's equation did not account for relativistic effects. If the charged particle was traveling at close to the speed of light, Schroedinger's Equation wouldn't work.
Hoping that a properly written equation would explain a few puzzling things about energy levels, and hence spectral lines, Dirac eventually derived:
Which is now known as Dirac's Equation.
One thing to note is that β and α are actually fourth order tensors (I think), not just simple scalar numbers. And furthermore there are three α's, α1 α2 and α3, each multiplied by a corresponding pn. (That's what that large capital sigma is telling you to do.)
I once saw another form of this equation, a very different looking form:
∫∫∫ [∣Ψ1∣2+∣Ψ2∣2+∣Ψ3∣2+∣Ψ4∣2] dx dy dz = 1
(The three symbols at the left should be larger, but apparently you can't change the font size of only part of a paragraph.) You're squaring the wave function Ψ along four different directions, then doing "triple integration" to the result…and getting 1.
The four squares have to add up to something, and that something, triple integrated, will be one.
But for every solution to this, there is an equal-but-opposite solution. If ∣Ψ1∣2 equals a certain value, then so does ∣−Ψ1∣2, in exactly the same way that 3 and −3 both square to equal 9. And so the whole mess will have the same total, 1, as it did before.
The implication is that something the exact opposite of an already-known particle, one that behaves as described by this equation, could also exist.
In 1930, Paul Dirac predicted antimatter on the basis of this fact.
According to this concept, for every type of particle, there is an opposite particle. For an electron, there would be an anti-electron. It would the opposite charge (positive instead of negative) but that's not the only thing that would be opposite; it's just the most obvious thing. One thing that is the same is the mass.
There would also be an anti-proton, of negative charge, and an anti-neutron…well, of no charge, but still an anti-neutron, somehow on a quantum level the opposite of a neutron despite there being no electric charge to serve as a "marker."
This doesn't seem to apply to particles that carry a force; a photon is its own anti-particle, as are other force carrying particles totally unknown in the 1920s.
One could imagine an anti-hydrogen atom consisting of an antiproton being orbited by an antielectron. You'd not be able to tell it was anti-hydrogen from the outside, though; the mass would be the same as hydrogen's, and the anti-electron would jump to different energy levels by absorbing or emitting regular photons.
But, as it turns out, if an electron meets an anti-electron, both are instantly and completely converted to energy in the form of gamma rays, following E=mc2. A single electron's mass is equivalent to 511 thousand electron volts (511 keV), so a bit more than one million electron volts is released when both of the electron/anti-electron pair annihilate. If a proton (or neutron) meets an anti-proton (or antineutron), then there is a big burst of energy but at least some of the debris is other sorts of particles (particles not yet known in 1930), which will themselves decay to other things, releasing a lot of energy. The total energy of two protons is about two billion electron volts.
On the face of it this was a pretty outrageous prediction, one which was largely ignored.
But then, like a thunderbolt hurled by Zeus, the evidence came out of the sky.
Cosmic Rays
Back in 1909 Theodor Wulf had developed a device called an electrometer. It consisted of a hermetically sealed container, with a vertical conducting rod piercing the barrier. On the inside of the container, there was a swinging needle, attached to the rod. If the rod picked up an electric charge then so would the needle, and the needle and the rod would repel each other. The needle's angle was an indication of the strength of the charge; it could even be put against a curved scale and read like the needle in any old analog voltmeter.
Wulf claimed that an electrometer at the top of the Eiffel Tower picked up more of a charge than one at its base. There were issues with his data, so it wasn't taken quite as seriously as it should have been, nonetheless others were inspired to investigate.
In 1911 Domenico Pacini took electrometers over lakes and seas, and also three meters below the surface. He concluded, based on the lower readings underwater, that the radiation that was causing the charges wasn't coming from the Earth.
In 1912 Victor Hess carried four improved electrometers to 5300 meters in a balloon, and they picked up four times as much charge as ones left at ground level. Could this be coming from the Sun? Probably not, because he repeated the experiment during a near-total eclipse, and that made no difference even though the moon would have been blocking most radiation from the sun at that time. This was confirmed by other researchers, and Victor Hess won the 1936 Nobel Prize for Physics as a result (yes, twenty four years later).
The rays were coming from space–deep space. Robert Millikan (who earlier had measured the charge of an electron) dubbed them "cosmic rays."
These turned out to be very energetic protons, for the most part, smashing into something in the upper atmosphere and creating a cascade of secondary and tertiary particles. It's nature's particle accelerator.
Physicists continued to investigate cosmic rays, often by taking a "cloud chamber" aloft. This was a device with gas supersaturated, so that any charged particle passing through leaves a contrail. If the chamber is placed within a magnetic field, then any charged particles would be bent. And experiments in the late 1920s and 1930 started revealing curved traces.
On August 2, 1932, Carl Anderson caught an anti-electron in the act, a curve like a beta particle (electron) but in the opposite direction.
The outrageous prediction had proved true, only two years later.
The new particle was named the positron. And it is indeed antimatter.
If you've ever had a PET scan, PET stands for Positron Emission Tomography. And that means you got subjected to positron radiation. You survived your encounter with antimatter.
Antimatter/Matter annihilation is the only known means of completely converting mass into energy. A half a kilogram (a bit over a pound) of antimatter, dropped on the floor, would annihilate itself and half a kilogram of matter and produce a 21 megaton blast. (That is about a thousand times as much as hit either Nagasaki or Hiroshima). (One megaton is 4.184 petajoules or 4,184,000,000,000,000 joules.)
It's Real
Antimatter is essentially a mirror image of matter. As far as we can tell, the universe could just as easily have been made of antimatter instead of matter…but of course the anti-scientists in such an anti-universe wouldn't call that stuff antimatter, they'd call our matter "antimatter."
One of the ongoing mysteries of physics is why our universe isn't half-and-half matter and antimatter. That's not an 1894 mystery, that's a 2021 mystery.
Another loose end, is that based on theory, antimatter ought to behave exactly like matter in a gravitational field. In other words, it should fall, and at the same rate. (Which is fine until it impacts, then KABOOM!!!!! doesn't begin to cover it.) But this really should be confirmed; the problem is it's hard to make antimatter, then slow it down (since it generally comes out of particle accelerators), then keep it from touching anything [or kaboom!] long enough to see if it will fall when the magnetic containment is released. This would have to be done in a vacuum, of course, lest the antimatter simply collide with an air molecule and annihilate.
I mentioned anti-scientists above; this should not be confused with the likes of Fauci, the Climate Research Unit, etc.
Also, apparently the most that can happen combining antipasta and pasta is indigestion or weight gain (it creates mass!).
And of course, Joe Biden didn't win.
Obligatory PSAs and Reminders
China is Lower than Whale Shit
Remember Hong Kong!!!
中国是个混蛋 !!!
Zhōngguò shì gè hùndàn !!!
China is asshoe !!!
China is in the White House
Since Wednesday, January 20 at Noon EST, the bought-and-paid for His Fraudulency Joseph Biden has been in the White House. It's as good as having China in the Oval Office.
Joe Biden is Asshoe
China is in the White House, because Joe Biden is in the White House, and Joe Biden is identically equal to China. China is Asshoe. Therefore, Joe Biden is Asshoe.
But of course the much more important thing to realize:
Joe Biden Didn't Win
乔*拜登没赢 !!!
Qiáo Bài dēng méi yíng !!!
Joe Biden didn't win !!!