Yup – this boy who remembers SANE SEVENTIES SCIENCE, says that Emperor Biden has no magic clothes, and that his Bad Counselor, Dr. Fauci, is a LIAR.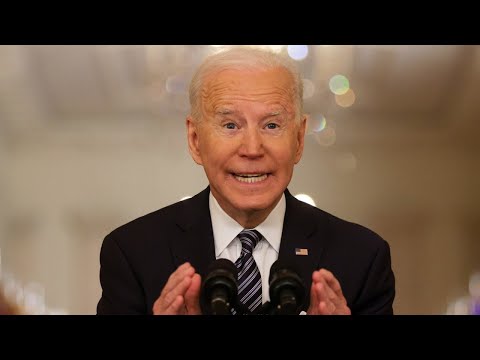 We are now entering a CRITICAL phase in a war between a long-running, psychotic plan to "vaccinate all humans for every disease, no matter what the human costs may be", and an older, saner, and wiser view of medicine as "saving lives and helping patients live better ones".
Personally, I'm with the traditionalists who value the Hippocratic Oath over Bill Gates' funding.
Back in that old paradigm, one did not vaccinate against the common cold, because it was a useless and potentially dangerous endeavor.
We are going to be refreshed in that WISDOM, as we examine the current FOLLY of ABUSED SCIENCE.
---
I have recently come into possession of an interesting assortment of "knowledge bytes" which, together, tell me that the Omicron variant is not only not a crisis, but in fact an extraordinary opportunity.
The other side – the psychotic side – the CONTROL side – is desperately trying to portray the OMICRON END of the SARS2 scamdemic as the beginning of a new one.
But no. They are LYING once again, and their "omicron fear narrative" is how they are trying to "get ahead of the facts", so that CONTROL doesn't SLIP THROUGH THEIR FINGERS.
I think some of the people at the top of the other side actually understand Omicron, and the fact that it may very well put an END to their GAMES, scares them badly.
Too bad, you CLOWNS. The truth is looking very good – for FREEDOM.
---
The Latest on Omicron
Let's start off by looking at three KEY posts on CTH.
First up…..
White House nutty psychotic pretense vs. South African data: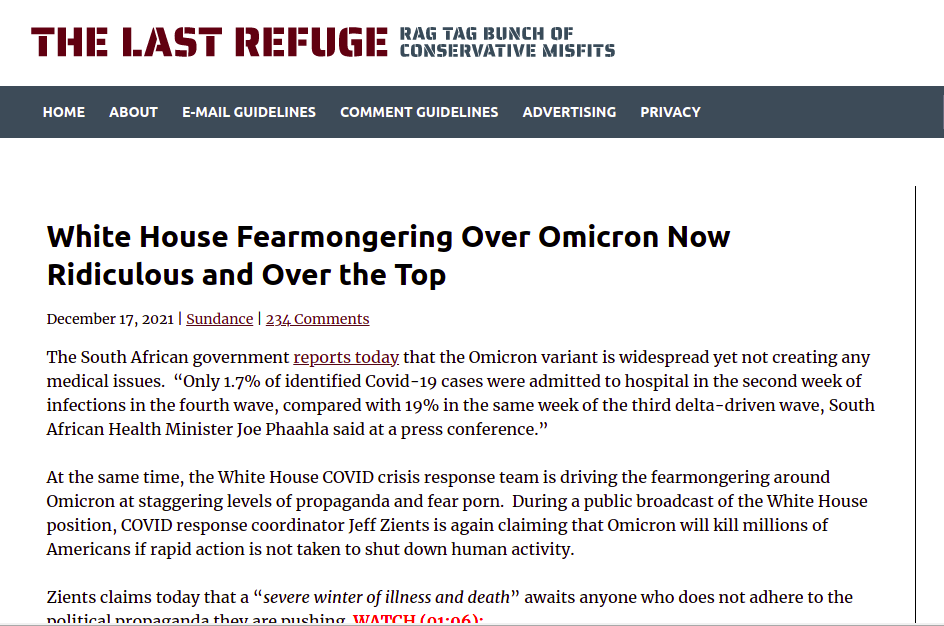 LINK: https://theconservativetreehouse.com/blog/2021/12/17/white-house-fearmongering-over-omicron-now-ridiculous-and-over-the-top/
The key bytes are these:
The South African government reports today that the Omicron variant is widespread yet not creating any medical issues.  "Only 1.7% of identified Covid-19 cases were admitted to hospital in the second week of infections in the fourth wave, compared with 19% in the same week of the third delta-driven wave, South African Health Minister Joe Phaahla said at a press conference."
---
Wow. It almost sounds like the ChiCom bioweapon mutated into a common cold, as predicted.
Let's move on.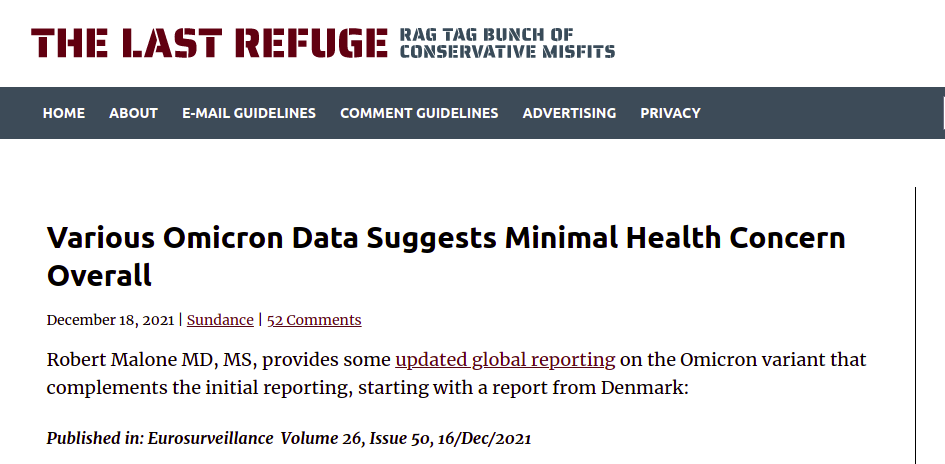 LINK: https://theconservativetreehouse.com/blog/2021/12/18/various-omicron-data-suggests-minimal-health-concern-overall/
This one is even more stark. Almost 800 COVID patients in Denmark were identified as being infected with Omicron. Only 1.2% of them were hospitalized, whereas the numbers for "normal" COVID were near 20%.
Interestingly, from my point of view, 4.3% of the Omicron-infected are COVID recoverees. This tends to support my view that EVEN actual infection with any COVID does NOT provide full protection against significantly changed variants. And THAT explains why I myself got both original Wuhan and what was probably Delta.
Now check out Omicron in Merrye Olde England (H/T Kalbo). Sundance has a great laugh queued up!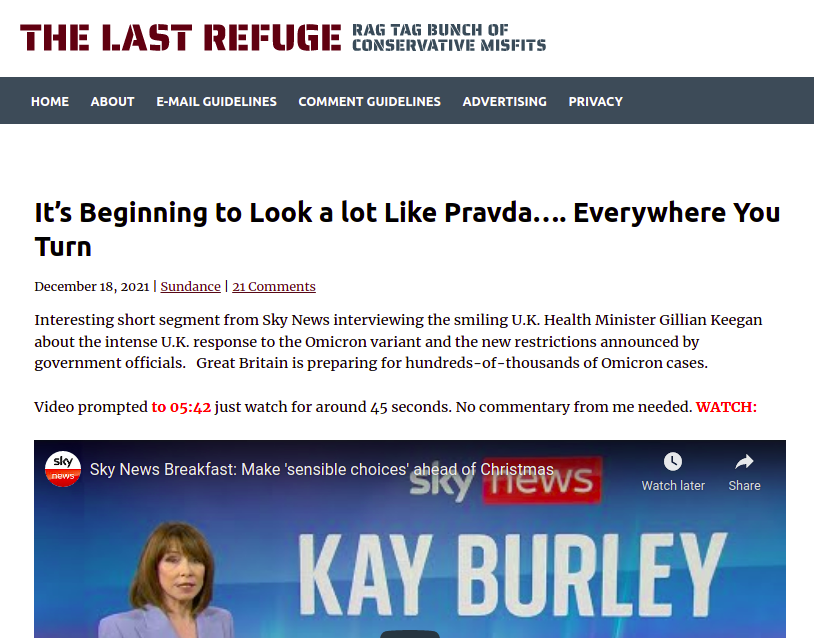 LINK: https://theconservativetreehouse.com/blog/2021/12/18/its-beginning-to-look-a-lot-like-pravda-everywhere-you-turn/
The journalist actually does a good job here, in a backhanded way, as she tries to elicit horrorshow statistics, and gets……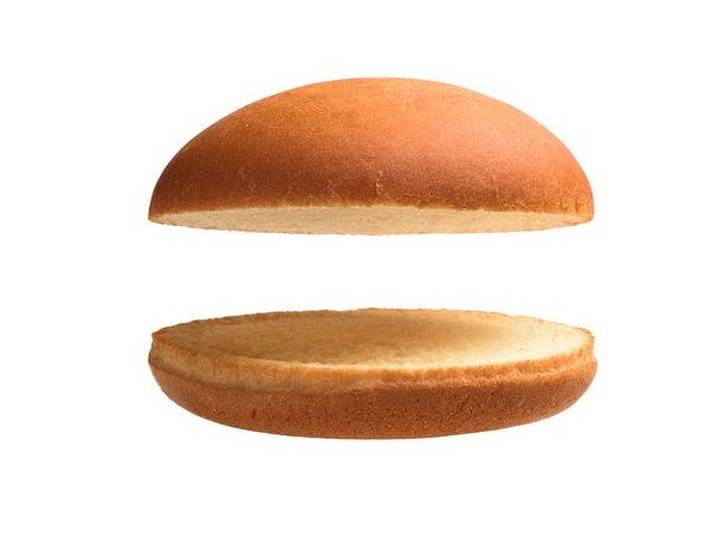 See? It's the SAME THING in England. They've got loads of serious numbers that sound like DELTA, but when Sky News asks SPECIFICALLY about Omicron, the numbers are a JOKE in comparison.
As Sundance says…..
A sniffling, sneezing, coughing, aching, stuffy head and sore throat virus?

Call me crazy, but Omicron sounds like a common cold.
But yet, what is the Biden administration doing?
---
Democrats Bet The Bank On Omicron
The TOADS are rolling out their phony election-stealing LIES on Tuesday.
Hat tip GA/FL.
Let's save that message, to last here past Twitter's inevitable suspension of the account.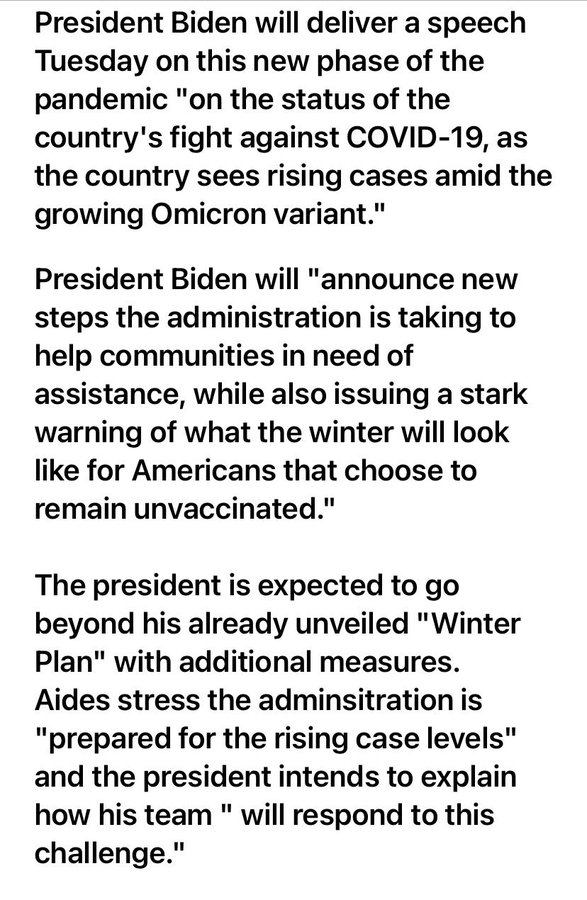 You can already see how the BULLSHIT is shaping up there. Notice how Biden is avoiding statements that will burn him later. It's total consciousness of guilt. They KNOW that Omicron is a dud as far as "useful deaths". It's a PROPAGANDA VARIANT. But it's even more than that, as I will explain.
The Demon Dems clearly have some kind of phony strategy, and there is already speculation about what it might be.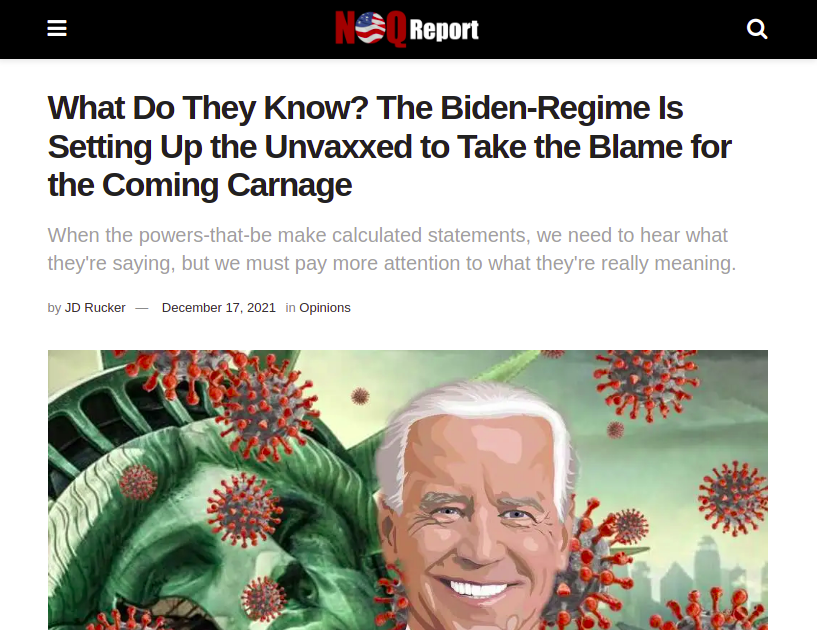 LINK: https://noqreport.com/2021/12/17/what-do-they-know-the-biden-regime-is-setting-up-the-unvaxxed-to-take-the-blame-for-the-coming-carnage/
Now I could go into speculations about what the other side is going to do here, but one of the best things that WE can do RIGHT NOW is to undermine WHATEVER phony narrative they're setting up.
I see Sundance as doing exactly that. Getting out the real word on Omicron – deflating the fear narrative before they can even begin – it's a choice strategy.
And now I'm going to throw a log or two on that fire.
---
Can Omicron Save Humanity From Wuhan, Delta, and All The Rest?
Consider this proposition:
If Omicron is the COWPOX of the SARS-COV family, then I think it is going to offer us one of the BEST natural disease-conferred immunities that we can get – relatively safe and effective.
What do I mean by that?
Well, take a look at these two figures below. Hat Tip to Linda, HERE, who posted a TWEET that led me to them.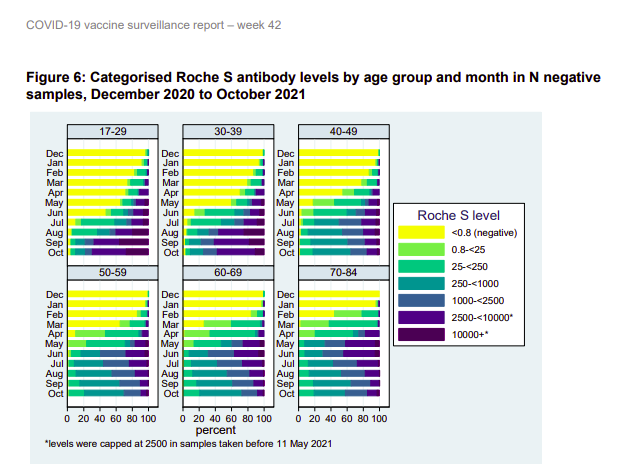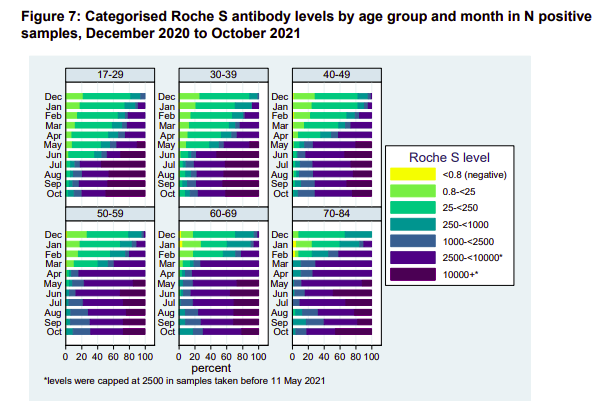 These graphs are:
(Figure 6, Top) – Spike protein antibodies in people vaccinated with the spike protein jabs
(Figure 7, Bottom) – Spike protein antibodies in people who recovered from COVID
Yellow is BAD, Deep Purple is GOOD.
LINK: https://assets.publishing.service.gov.uk/government/uploads/system/uploads/attachment_data/file/1027511/Vaccine-surveillance-report-week-42.pdf
As you can tell, if you look at the color key, "natural immunity" – meaning disease-conferred immunity – BLOWS AWAY the spike protein vaccines. Completely. Utterly. Without question.
And THAT is just looking at the spike protein antibody result. Those vaccines do NOT generate antibodies toward ANY of the other twenty-some-odd proteins in SARS-CoV-2. Natural, disease-conferred immunity DOES create antibodies toward the other proteins.
I'm not saying it's 20-some-odd times as good for natural disease-conferred immunity….. BUT IT MIGHT BE.
Now the tweet thread that led me to this, is a bit different in their interpretation:
Let's just save that tweet as an image before it gets censored.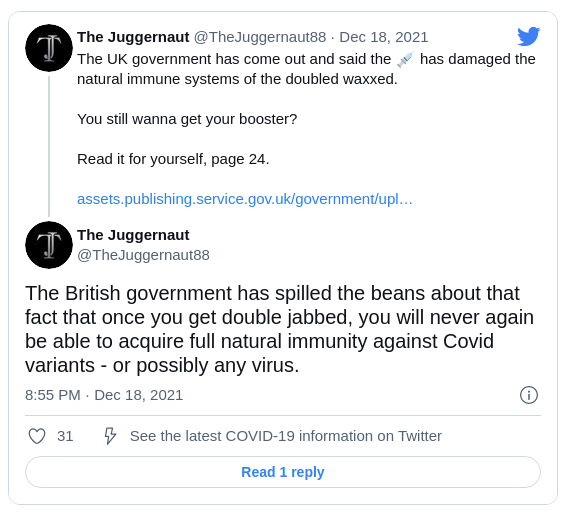 What that tweeter is talking about is something called "original antigenic sin", where exposure to one particular antigen (like a vaccine) creates a response that's inappropriate later. Think of it as a "misleading" antigen exposure. It's actually rather common among coronaviruses. A couple of papers just came out on some interesting OAS effects among coronaviruses, and are nicely discussed here.
LINK: https://eugyppius.substack.com/p/original-antigenic-sin-is-a-real
I disagree with that tweet thread – I don't think that the data is actually SHOWING US (although it still might be true) that the jabs ruin natural immunity. I think the data is simply showing us INFERIOR immunity, not WRONG immunity.
Denninger DOES think that the jabs DO ruin natural immunity, but I personally don't think the differences are huge (looking at the Israeli data). There appears to be a VEI (vaccine-enhanced infection) effect, but it's not at all huge, or even big. It's small – a few percentage points.
However, I am still extremely wary of the possibility that the jabs do have either an "original antigenic sin" effect, or even a "subsequent antigenic sin" effect, that causes VEI in any subsequent infection.
Why risk it if you don't have to?
But what does all this mean, anyway?
Well, the first thing I would say is that we're looking at the wrong things.
Stop focusing on SMALL WRONG NEGATIVES about the vaccines, and start focusing on BIG CORRECT TRUTHS about natural disease-conferred immunity. TRUTHS that we were SOCIALLY PRESSURED into denying in science, by people who led us down a primrose path to ERROR.
Natural disease-conferred immunity is SUPERIOR to the vaccine. If a disease like Omicron is relatively safe, and there is cross-immunity from that disease to the other SARS-CoV-2 variants, then that disease is basically a kind of COWPOX to the more lethal SARS-CoV-2 variants, including original Wuhan and Delta.
Do you see what I'm getting at?
I've actually HAD the smallpox vaccine – which at the time was skin infection with a kind of "evolved cowpox or horsepox" known as vaccinia virus. For all I know, I'm still immune to smallpox. I know my babysitter was. SHE ACTUALLY HAD SMALLPOX as a child. She didn't NEED the vaccine.
So – if infection with Omicron – which seems to be fairly low risk – provides many times the immunity of EVEN AN OPTIMIZED AND SPECIFIC spike protein vaccine, and if the immunity is effective against much more pathogenic variants, such as Delta, then there is NO REASON (IMO) to prefer the spike protein vaccine, and every reason to prefer actual infection with Omicron.
Hmmmmmmmm.
Maybe you want to catch that ride, baby. Whaddaya say?
W