Yo, Jim Acosta!
I see from video of your "conversation" with MTG that someone posted yesterday, that you are still a pugnacious, lying, puddle of bearded dragon shit.
How you can look at yourself in a mirror is beyond me, unless your conscience has been replaced by a dedication to Leftist goals. It certainly isn't dedicated to real adversarial journalism. Much less any kind of journalism.
I will give you this. You have better hair than Brian Stelter. But then, so did Telly Savalas. And Yul Brynner.
RINOs an Endangered Species?
If Only!
According to Wikipoo, et. al., the Northern White Rhinoceros (Ceratotherium simum cottoni) is a critically endangered species. Apparently two females live on a wildlife preserve in Sudan, and no males are known to be alive. So basically, this species is dead as soon as the females die of old age. Presently they are watched over by armed guards 24/7.
Biologists have been trying to cross them with the other subspecies, Southern White Rhinoceroses (Rhinoceri?) without success; and some genetic analyses suggest that perhaps they aren't two subspecies at all, but two distinct species, which would make the whole project a lot more difficult.
I should hope if the American RINO (Parasitus rectum pseudoconservativum) is ever this endangered, there will be heroic efforts not to save the species, but rather to push the remainder off a cliff. Onto punji sticks. With feces smeared on them. Failing that a good bath in red fuming nitric acid will do.
But I'm not done ranting about RINOs.
The RINOs (if they are capable of any introspection whatsoever) probably wonder why they constantly have to deal with "populist" eruptions like the Trump-led MAGA movement. That would be because the so-called populists stand for absolutely nothing except for going along to get along. That allows the Left to drive the culture and politics.
Given the results of Tuesday's elections, the Left will now push harder, and the RINOs will now turn even squishier than they were before.
I well remember 1989-1990 in my state when the RINO establishment started preaching the message that a conservative simply couldn't win in Colorado. Never mind the fact that Reagan had won the state TWICE (in 1984 bringing in a veto-proof state house and senate with him) and GHWB had won after (falsely!) assuring everyone that a vote for him was a vote for Reagan's third term.
This is how the RINOs function. They push, push, push the line that only a "moderate" can get elected. Stomp them when they pull that shit. Tell everyone in ear shot that that's exactly what the Left wants you to think, and oh-by-the-way-Mister-RINO if you're in this party selling the same message as the Left…well, whythefuckexactly are you in this party, you lying piece of rancid weasel shit?
Justice Must Be Done.
The prior election must be acknowledged as fraudulent, and steps must be taken to prosecute the fraudsters and restore integrity to the system. (This doesn't necessarily include deposing Joe and Hoe and putting Trump where he belongs, but it would certainly be a lot easier to fix our broken electoral system with the right people in charge.)
Nothing else matters at this point. Talking about trying again in 2022 or 2024 is pointless otherwise. Which is not to say one must never talk about this, but rather that one must account for this in ones planning; if fixing the fraud in the system is not part of the plan, you have no plan.
This will necessarily be piecemeal, state by state, which is why I am encouraged by those states working to change their laws to alleviate the fraud both via computer and via bogus voters. If enough states do that we might end up with a working majority in Congress and that would be something Trump never really had.
Lawyer Appeasement Section
OK now for the fine print.
This is the WQTH Daily Thread. You know the drill. There's no Poltical correctness, but civility is a requirement. There are Important Guidelines, here, with an addendum on 20191110.
We have a new board – called The U Tree – where people can take each other to the woodshed without fear of censorship or moderation.
And remember Wheatie's Rules:
1. No food fights
2. No running with scissors.
3. If you bring snacks, bring enough for everyone.
4. Zeroth rule of gun safety: Don't let the government get your guns.
5. Rule one of gun safety: The gun is always loaded.
5a. If you actually want the gun to be loaded, like because you're checking out a bump in the night, then it's empty.
6. Rule two of gun safety: Never point the gun at anything you're not willing to destroy.
7. Rule three: Keep your finger off the trigger until ready to fire.
8. Rule the fourth: Be sure of your target and what is behind it.
(Hmm a few extras seem to have crept in.)
Mozart
Light this time around. The Turkish March, K331.
The string quartet, consisting of two violins, a viola and a cello, is a sort of economy orchestra. In the days when all music was live, if someone wanted to host a gathering and wanted music, they had to actually pay people to perform it. Except for the most fabulously wealthy hosts, that meant you weren't going to be hearing symphonies and concertos! The string quartet was a good compromise (and you could even arrange a symphony for it). Each of the four instruments played different parts, so the music could be plenty complex.
Joseph Haydn around 1750 invented the "string quartet" as a compositional form (as opposed to an ensemble) with four movements, and wrote over sixty of them.
Mozart wrote 23 string quartets; this one, #17 "The Hunt," K. 458 is probably the most famous of the bunch. Quartets 14-19 were dedicated to Joseph Haydn and composed between 1782 and 1785 (i.e., just after we won the Battle of Yorktown and bracketing the time we signed the Treaty of Paris with the United Kingdom).
This video is of The Hunt, in full. Movements are at the following time cues:
Mozart, in his dedication, admitted to taking "a long and laborious endeavor" with these quartets. Usually, he was able to compose in his head, with seemingly little effort. Putting it on paper was actually "copying it out" once completed, not part of the actual creative process.
To my dear friend Haydn,

A father who had resolved to send his children out into the great world took it to be his duty to confide them to the protection and guidance of a very celebrated Man, especially when the latter by good fortune was at the same time his best Friend. Here they are then, O great Man and dearest Friend, these six children of mine. They are, it is true, the fruit of a long and laborious endeavor, yet the hope inspired in me by several Friends that it may be at least partly compensated encourages me, and I flatter myself that this offspring will serve to afford me solace one day. You, yourself, dearest friend, told me of your satisfaction with them during your last Visit to this Capital. It is this indulgence above all which urges me to commend them to you and encourages me to hope that they will not seem to you altogether unworthy of your favour. May it therefore please you to receive them kindly and to be their Father, Guide and Friend! From this moment I resign to you all my rights in them, begging you however to look indulgently upon the defects which the partiality of a Father's eye may have concealed from me, and in spite of them to continue in your generous Friendship for him who so greatly values it, in expectation of which I am, with all of my Heart, my dearest Friend, your most Sincere Friend,

W. A. Mozart
Upon hearing the quartets performed, Haydn said this to Mozart's father, Leopold Mozart:
Before God, and as an honest man, I tell you that your son is the greatest composer known to me either in person or by name. He has taste, and, what is more, the most profound knowledge of composition.
Mozart lived from 1756 to 1791 and it is probably the greatest tragedy of orchestral music that he died so young. Imagine what he could have done in the next twenty years. (OK, honestly no one can imagine it, or they'd be Mozart.) Beethoven got his start shortly after Mozart's untimely death; what influence would they have had on each other? Beethoven was famous for breaking the rules of the Classical era; would Mozart have been sympathetic? Possibly; a lot of his later works were quite "edgy" by the standards of the day.
Spot Prices
Last week:
Gold $1,933.30
Silver $24.23
Platinum $936.00
Palladium $2,443.00
Rhodium $19,250.00
This week, 3 PM MT on Friday, markets closed for the weekend
Gold $1.897.70
Silver $22.84
Platinum $948.00
Palladium $2,404.00
Rhodium $18,800.00
Everything down, with the sole exception of platinum.
James Webb Space Telescope Update
The mirror is done. Instruments are at proper temperature.
People who have spent half a lifetime working on it now get to move on to their next endeavor, and hopefully will succeed at it as well.
All of the instrument packages now get a crisp image. The mirror is better than they expected!
They will now proceed to commission those packages. That's expected to take about two months.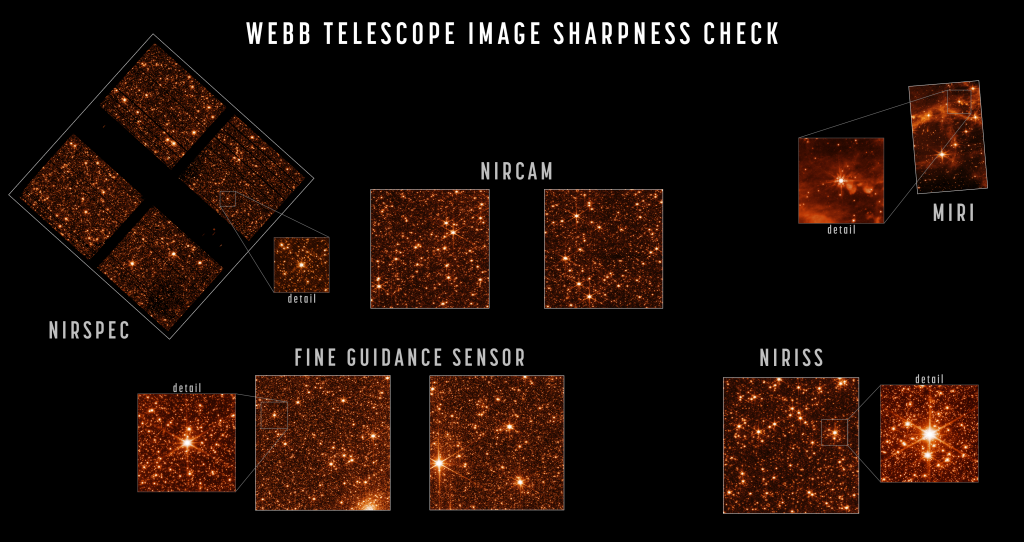 The picture above shows the results of aiming the JWST at a part of the Large Magellanic Cloud. This is a small galaxy that is a satellite of our own Milky Way, and is readily visible at night in the southern hemisphere (as is the Small Magellanic Cloud), provided, of course, you're not in a big city. It's a good target because, as seen from here there are a lot of stars crammed together in one part of the sky and they're all at pretty much the same distance from us.
(This is how we discovered that Cepheid variables had an intrinsic brightness proportional to their period of variability–an astronomer looked at a bunch of them in the LMC and SMC and noticed their apparent brightness was proportional to their period of variability; since all were at the same distance, the apparent brightness was directly related to the intrinsic brightness with no possible confusion due to differing distances.)
When Supernova 1987-A blew up in (wait for it) 1987, it was in the LMC.
I've never seen the LMC and SMC, though I did look for them when I was a good deal further south than I am now. Alas, the lighting situation was terrible.
Anyhow, the process of commissioning the instruments is expected to take a couple of months, and involves setting operating parameters and the like (the blog doesn't have a lot of detail, so I didn't boil it down for you; they did).
NASA's Webb In Full Focus, Ready for Instrument Commissioning – James Webb Space Telescope
Obligatory PSAs and Reminders
China is Lower than Whale Shit
To conclude: My standard Public Service Announcement. We don't want to forget this!!!
Remember Hong Kong!!!
中国是个混蛋 !!!
Zhōngguò shì gè hùndàn !!!
China is asshoe !!!
China is in the White House
Since Wednesday, January 20 at Noon EST, the bought-and-paid for Joseph Biden has been in the White House. It's as good as having China in the Oval Office.
Joe Biden is Asshoe
China is in the White House, because Joe Biden is in the White House, and Joe Biden is identically equal to China. China is Asshoe. Therefore, Joe Biden is Asshoe.
But of course the much more important thing to realize:
Joe Biden Didn't Win
乔*拜登没赢 !!!
Qiáo Bài dēng méi yíng !!!
Joe Biden didn't win !!!