SPECIAL SECTION: Message For Our "Friends" In The Middle Kingdom
You knuckle-dragging barbarians are still trying to muck with this site, so I'll just repeat what I said last time.
Up your shit-kicking barbarian asses. Yes, barbarian! It took a bunch of sailors in Western Asia to invent a real alphabet instead of badly drawn cartoons to write with. So much for your "civilization."
Yeah, the WORLD noticed you had to borrow the Latin alphabet to make Pinyin. Like with every other idea you had to steal from us "Foreign Devils" since you rammed your heads up your asses five centuries ago, you sure managed to bastardize it badly in the process.
Have you stopped eating bats yet? Are you shit-kickers still sleeping with farm animals?
Or maybe even just had the slightest inkling of treating lives as something you don't just casually dispose of?
中国是个混蛋 !!!
Zhōngguò shì gè hùndàn !!!
China is asshoe !!!
And here's my response to barbarian "asshoes" like you:
OK, with that rant out of my system…
Loop it if you like; I will wait.
Richly deserved.
Justice Must Be Done
The prior election must be acknowledged as fraudulent, and steps must be taken to prosecute the fraudsters and restore integrity to the system.
Nothing else matters at this point. Talking about trying again in 2022 or 2024 is hopeless otherwise. Which is not to say one must never talk about this, but rather that one must account for this in ones planning; if fixing the fraud is not part of the plan, you have no plan.
Lawyer Appeasement Section
OK now for the fine print.
This is the WQTH Daily Thread. You know the drill. There's no Poltical correctness, but civility is a requirement. There are Important Guidelines, here, with an addendum on 20191110.
We have a new board – called The U Tree – where people can take each other to the woodshed without fear of censorship or moderation.
And remember Wheatie's Rules:
1. No food fights
2. No running with scissors.
3. If you bring snacks, bring enough for everyone.
4. Zeroth rule of gun safety: Don't let the government get your guns.
5. Rule one of gun safety: The gun is always loaded.
5a. If you actually want the gun to be loaded, like because you're checking out a bump in the night, then it's empty.
6. Rule two of gun safety: Never point the gun at anything you're not willing to destroy.
7. Rule three: Keep your finger off the trigger until ready to fire.
8. Rule the fourth: Be sure of your target and what is behind it.
(Hmm a few extras seem to have crept in.)
Spot (i.e., paper) Prices
Last week:
Gold $1,884.10
Silver $22.44
Platinum $966.00
Palladium $2,122.00
Rhodium $17,400.00
This week, 3PM Mountain Time, markets have closed for the weekend.
Gold $1,813.20
Silver $21.24
Platinum $951.00
Palladium $2,020.00
Rhodium $16,950.00
Precious metals continue to drop because the dollar is strong. It's strong not because it's actually worth a damn, but because foreign investors in the currencies markets put their money where they'll earn high interest.
In other words the dollar climbs when the Fed hits the brakes and raises interest rates–an act which results in a recession. (That's aside from whether the Fed "needed" to do it or not, which in turn is aside from whether the damned Fed should even exist in the first place.)
James Webb Space Telescope Update
NASA is now starting to talk more and more about the commissioning of the instrument; i.e., the sensors that will do something with the light that JWST collections. They're going to track things on this graphic; the hexagons become bolded gold when that particular aspect of calibration is done.
There are 17 different modes that need to be calibrated, and they are described at length here:
Seventeen Modes to Discovery: Webb's Final Commissioning Activities – James Webb Space Telescope (nasa.gov)
And they're still raving about how much better the optics are than they actually expected.
In other words this is about the only damned thing that the government has done right during His Fraudulency's administration, so hopefully he won't notice and decide he has to f*ck it up in order to have a perfect record.
In the meantime, we have a nice before/after image of a particular patch of stars. (The name of the image file indicates it's of the Large Magellanic Cloud, still.)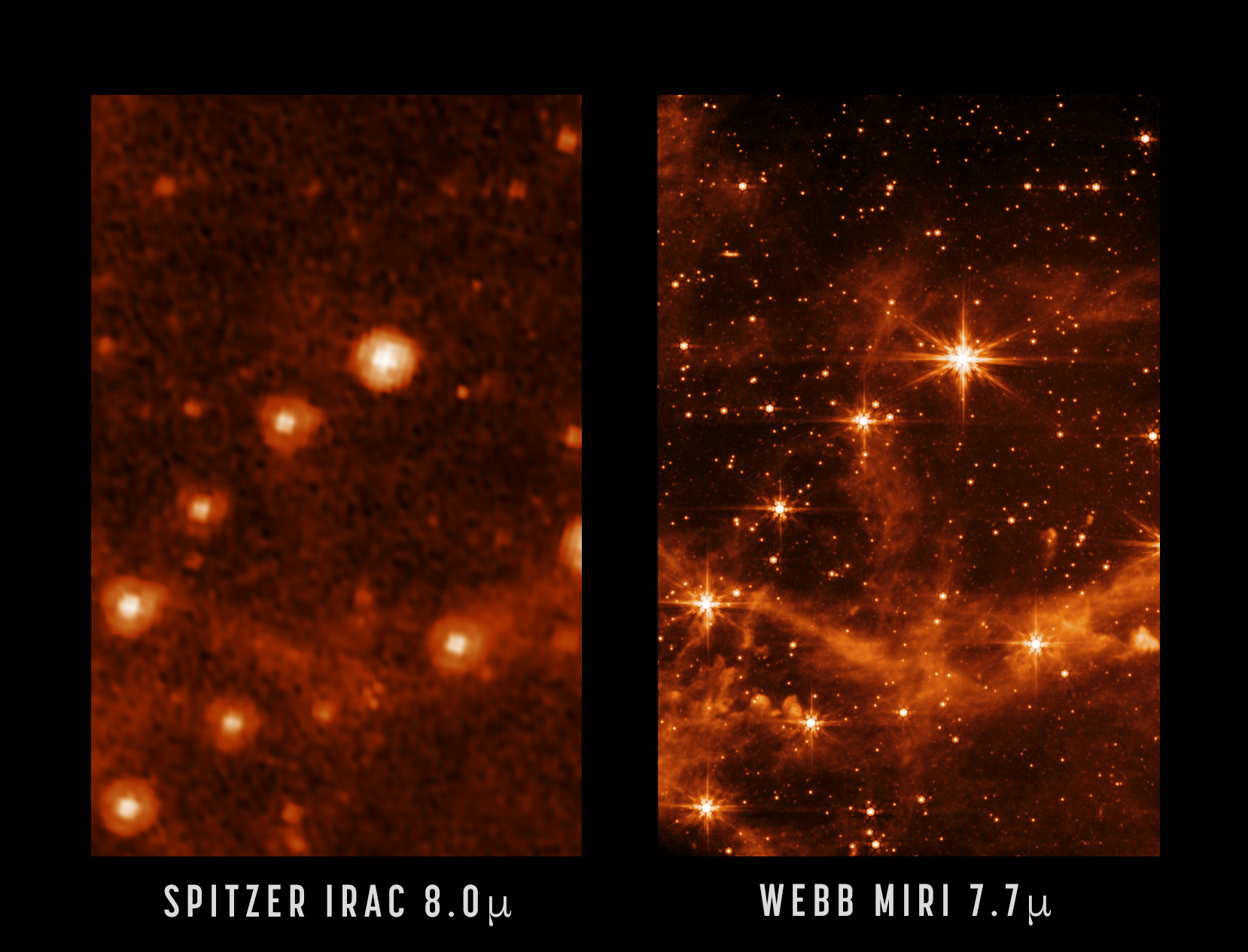 The image on the left is from the old Spitzer Space telescope (which was also designed to look at infrared; its lifetime was strictly limited by the amount of cryo-coolant it had on board but it was very valuable while it lasted). That was taken at 8000 nanometer wavelength (that equals 8.0 micrometers).
The image on the right is from JWST, using the super-cold (6 or 7 K) MIRI instrument, at 7700 nanometers.
As you can see it's much, much sharper!
This light is of a wavelength about ten times the very deepest red we can see with our unaided eyes, and it requires MIRI (the super cold sensor running at 6-7 K) to photograph.
Instead of being blurred blobs, the brighter stars in the LMC are actual points, with diffraction spikes. Dimmer stars are actually visible instead of just looking like background noise.
If you remember when JWST took a picture of the star that was being used as a reference when aligning the mirror segments, that star had really obvious spikes on it. They were at 12, 2, 4, 6, 8, and 10 o'clock with two shorter spikes at 3 and 9 o'clock. You see the same thing here. The first six I listed are caused by the seams between the mirrors, the left and right pair are caused by the "arms" that hold the secondary mirror in front of the main one.
Fuck Joe Biden
Biden, you don't even get ONE scoop of ice cream today.
(Please post this somewhere permanent, as it will continue to be true; the SOB will never deserve a scoop.)
Incidentally, I'm writing this on Friday. This morning I saw a full-sized pickup truck in the oncoming left turn lane with a forest of flags in the bed. Once he turned and drove left-to-right in front of me, I could see two American flags near the cab, and SIX "Let's Go Brandon" flags near the tailgate. That was unusual; usually there's a mix of FJB (only not abbreviated) and "Trump Won" and "Trump 2024" flags when someone does this.
I haven't seen such a display in a few weeks, by the way. Even the guy at the office complex where I work with the FJB flag on his pickup seems to have removed it (or doesn't work there any more–trucks all look alike to me from the back, and all crossovers look like cockroaches).
Obligatory PSAs and Reminders
China is Lower than Whale Shit
Remember Hong Kong!!!
中国是个混蛋 !!!
Zhōngguò shì gè hùndàn !!!
China is asshoe !!!
China is in the White House
Since Wednesday, January 20 at Noon EST, the bought-and-paid for His Fraudulency Joseph Biden has been in the White House. It's as good as having China in the Oval Office.
Joe Biden is Asshoe
China is in the White House, because Joe Biden is in the White House, and Joe Biden is identically equal to China. China is Asshoe. Therefore, Joe Biden is Asshoe.
But of course the much more important thing to realize:
Joe Biden Didn't Win
乔*拜登没赢 !!!
Qiáo Bài dēng méi yíng !!!
Joe Biden didn't win !!!