Thanks to TradeBait's recent story centered on Elvis Presley, I was actually in an Elvis mood when my wife – an Elvis fan long before we met – decided that "we" were going to see the new Elvis movie at the earliest opportunity.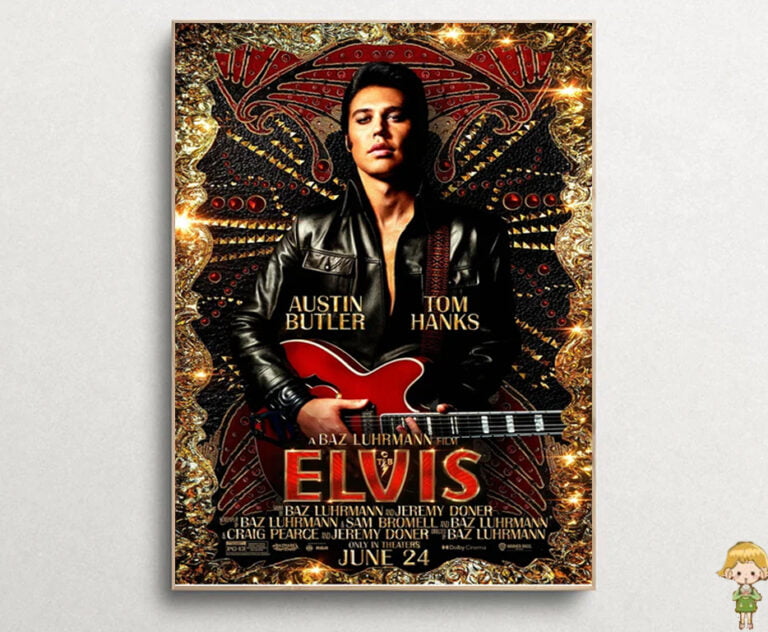 Not having been to very many movies recently, I'm pretty much immune to most of the propaganda, in part because it jumps out at me AS propaganda. During "trailer time" they were laying it on THICK. I think that EVERY single message had AT LEAST some propagandistic edge – and MOST were straight-up PC messaging.
The political correctness effects of BlackRock, DIE (diversity, inclusion, equity), ESG (environment, social, governance), and "The Black List" (Marxist filter on financial backing through POC puppets) are all extremely visible in everything – product ads – trailers – public service messages.
It's not like I'm "opposed" to some of these ideas, but the heavy-handed, communistic, "struggle session" nature of the messaging is just CRINGE CITY.
I mean, good grief. I thought that Dove Soap was going to commit hara-kiri for having utterly failed black America in some way that I still don't grasp. PUHLEASE. You sold soap, for crying out loud. And you sold it to everybody! Black people too! Give yourselves a pat on the back and GO HOME. You're ridiculous!
(I can't find a video of what I saw, but this is just a hint of it.)
So anyway, I was primed for all kinds of cultural Marxism when the Elvis show began.
The opening sequence did NOT disappoint in that respect. A Tom Hanks dream sequence, filled with occult and pedophile symbolism, just had me shaking my head.
Flying spaghetti monster squids with the boy love symbol?
Snow globes heavily veering into crystal ball territory?
The movie had no place to go but up.
AND IT DID.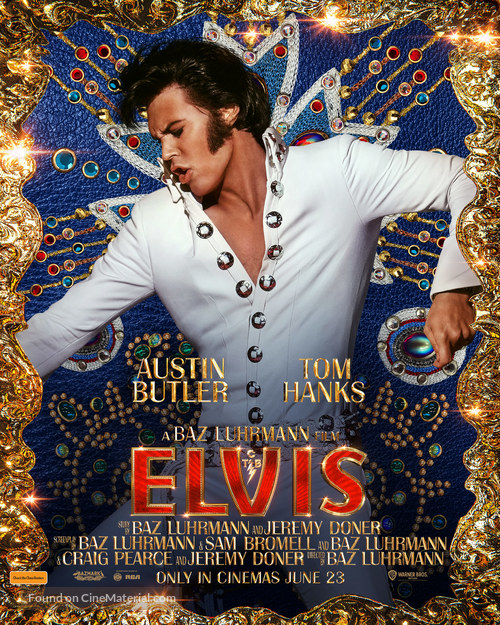 It's hard for me to describe what this movie is, but I can say that it grew on me, until I felt very satisfied at the end.
It's more like a work of ART trying to explain the SOUL of Elvis Presley, than anything else. And oddly – uniquely – this movie does so through the eyes of a rather brilliant CON-MAN manager, who used that same deep understanding of Elvis to first "own" and then manipulate him.
Elvis loved what he did. He loved music. He loved the crowd. He loved performing. He loved his parents – forcing himself into an unending vow to "take care of them", no matter the costs.
Elvis Presley was one of those brilliantly over-performing co-dependents – no bones about it – and the movie shows it.
Judging from the responses of the Presley family members, the movie "got it right".
Judging from my own memories of history, the movie "got it right", too, although I think the movie played some things (like infidelity, overweight, and drug use) more metaphorically than factually, while still admitting them unflinchingly. There was a lot of "compression"
The movie did NOT show the "Rat Ranch" – but it showed the same thing differently and in several ways. Names and locations were chosen to fluff and protect the legend just a bit.
Things WERE highlighted or magnified in focus to show why Elvis always crossed racial barriers in his appeal.
Like I said – it's ART – not a documentary.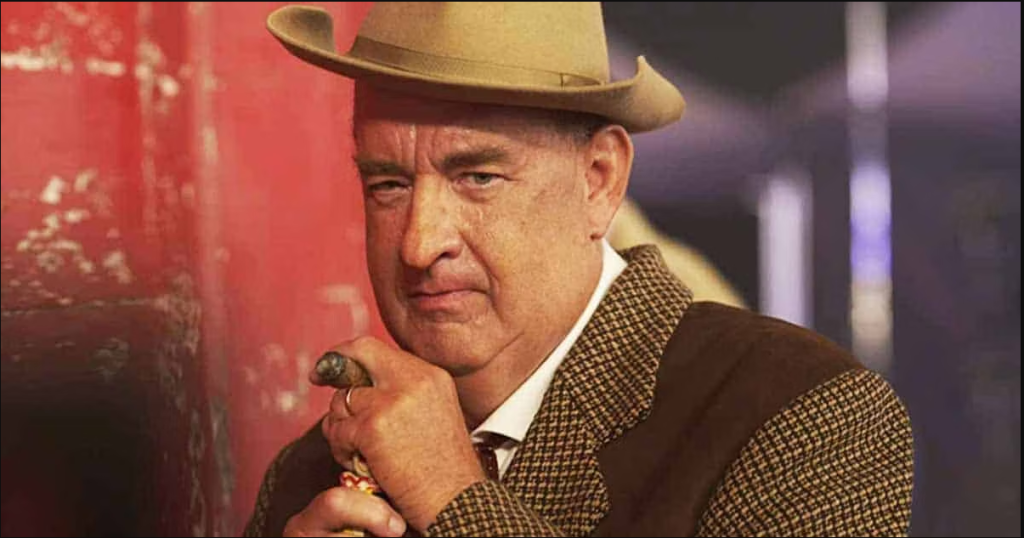 One thing which is actually cool is Tom Hanks' disturbing accent, which was intentionally over-done in order to make viewers realize that "something was amiss" with Presley's manager, Col. Tom Parker. In reality, people sometimes took a while to pick up on Parker's accent, which sounded "regional Southern" yet somehow "off". The accent betrays a secret which was in some ways part of the downfall of both Elvis and Parker, but I won't spoil the movie by going into the specifics. Just know that Hanks was asked not to do his subject's actual subtle accent, but rather to "push it" so that listeners would pick up the clue. See THIS LINK.
There are other breaks with reality which – well – I'm less willing to defend, except to call them artistic license.
Just watch this trailer. You only need to see about a minute of it. Look for what is best described as the "pink scene" around 50 seconds in.
If the "pink Elvis" bothers you, trust me – the movie is far more blatant, and even pushes the "trans" stuff into the narration. You could say that there is an "appeal to gay revisionism".
I may be mistaken about this point, but I'm pretty sure I'm not. It is my distinct impression that "Elvis the Pelvis" was a lot more about "manly macho" than about "tranny pink" and "girly make-up". There is a distinct "LGBTQCIA" nature to the retelling that just does not comport with the reality of Elvis Presley.
Likewise, there seems to be much more "ESG" in this Elvis, than in the one I remember. Yeah, Elvis was no bigot, and he had a very subtle way of not dignifying the bigots who hated him, but there seems to be an effort here to turn Elvis into a fist-raised civil rights icon, which I somehow missed. The Elvis I remember was perhaps the most successful "can't we all just get along" type who never even had to say it. I say we should give him credit for being the KING of that approach, because I'm pretty sure that's gonna be fashionable again, and in a big way.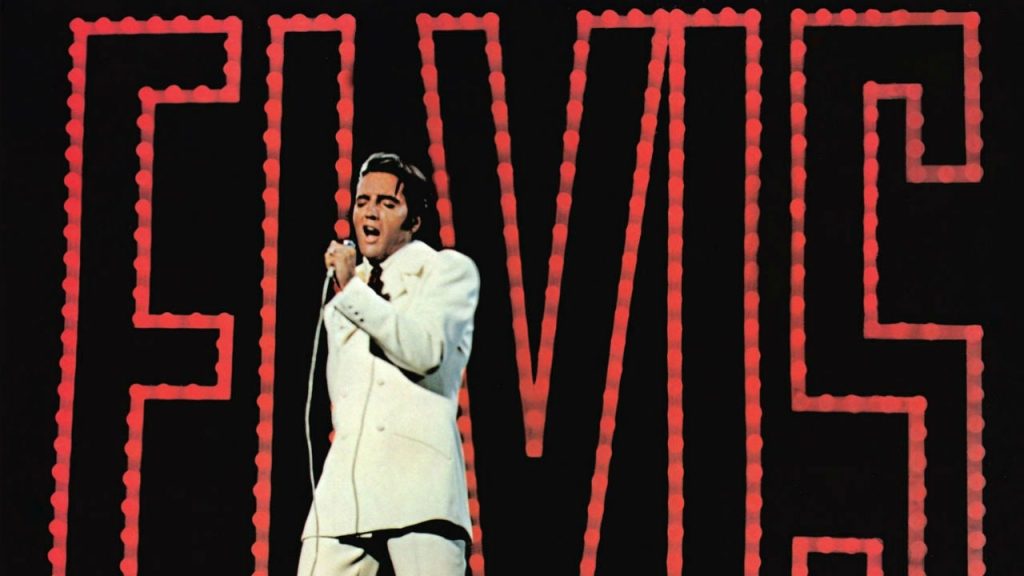 And there's more, in the way of classic cultural Marxism. There is an extended sequence which pivots on "out-of-style traditional Christmas entertainment" as the boring cultural bad guy of the plot, threatening to undo poor Elvis, and that negativity is just SO typical of H-wood's subtle communist psychological programming.
On the other hand, some of this stuff is actually a reasonable part of the artistic compression – such as highlighting that MLKJ was already speaking on the negative side of rock and roll culture for kids.
Complicated business.
So YEAH – there's a good bit of lefty psy-op under the hood. Be AWARE of that to defuse it, or just don't even bother seeing the movie, if Hollywood politicking crosses your red lines.
BUT – like I said – it's art. It tells us as much about THIS time, as it does about THAT time.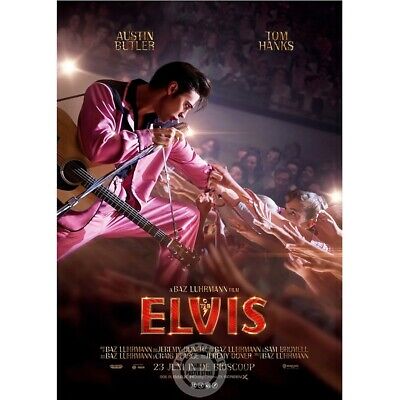 Technically, the movie does a lot of things right. The women's costuming and hairstyling is fantastic – watch for a few Oscar nominations. It's been a long time since I've seen so many women in a film showing the actual beauty of women in the 1950s, 1960s and 1970s.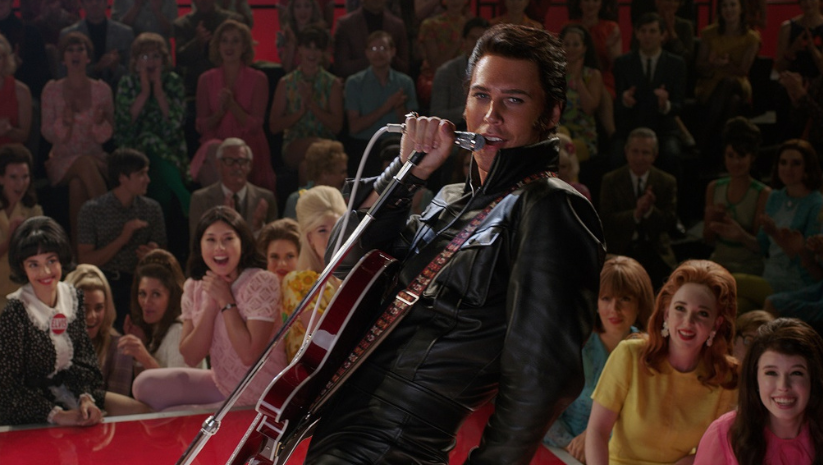 Austin Butler as Elvis Presley is VERY GOOD. He won me over to the point where the real Elvis footage at the end served as a "high five" for a job well done.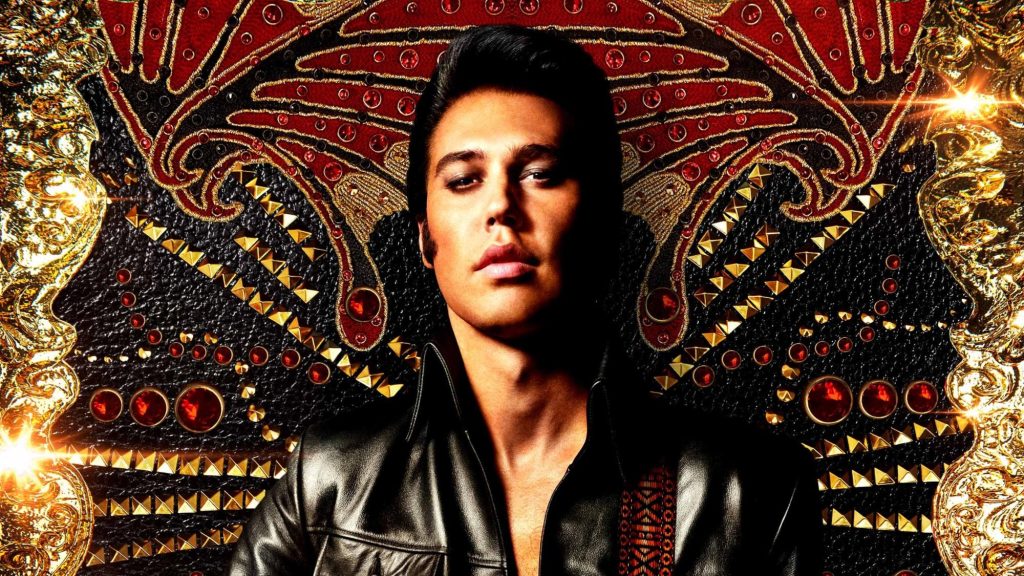 The Presley family felt the same way – they got "carried away" by the performance, just like I did. Same with my wife – the "real" Elvis fan. She loved it.
I had some fun watching this next video after the movie, because all the actors are so much more "2022" in reality, than they were in the flick. The differences are striking. They're all modern Hollywood dweebs in "reality", but in the movie, they do seem far more "real", as part of the past. Or is that just me? (*sigh*)
Compare the lady playing young Priscilla, above, to her transformation in the film, shown below.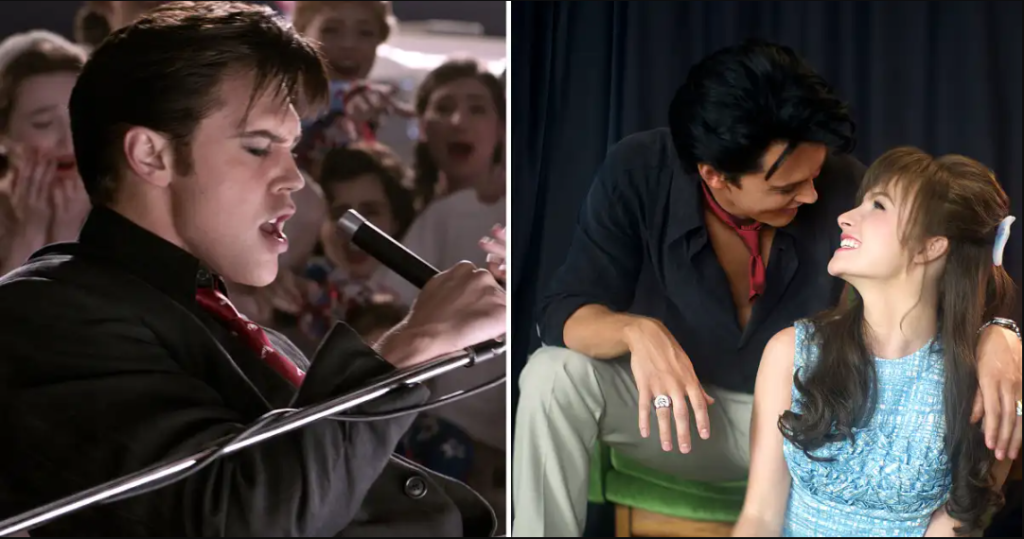 I know that picture on the right probably makes the movie look like it's all a bunch of grins and giggles – well, just think of that same gal throwing a mean fist of pill bottles across a Vegas penthouse, after Elvis shoots up the place, before she walks out.
There's no whitewash – BUT there was also some extremely convincing romance and love shown – even when it all falls apart. I feel like I really gained some needed insight into the relationship of Elvis and Priscilla. I feel like something healed.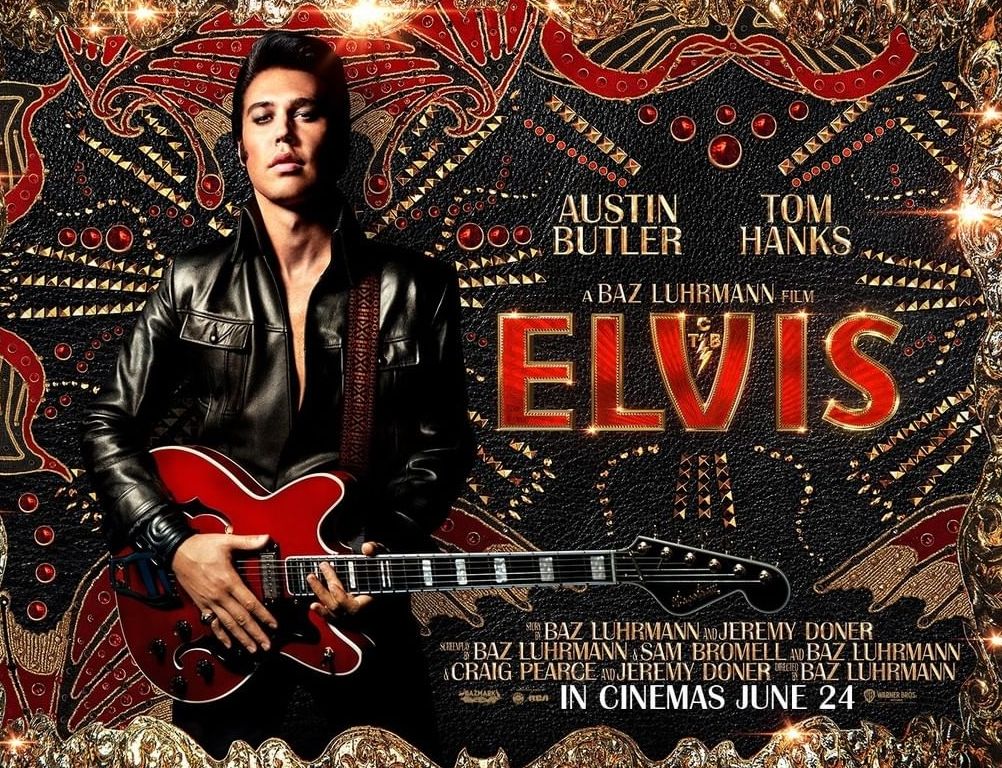 So there you have it. An interesting movie. Glad I saw it. Consider a viewing yourself – especially of you love his music. There's a LOT of good music in this movie.
W
"Go for the art, not the history or the politics. Stay for the music."