Many of you are going to say, "Who?" Others are going to be aware of one or more of the key big three male members of the subject family. You may even wonder how a discussion about them will be the least bit interesting. Well, grab your favorite beverage and get comfortable. This will be a multi-parter. My spoiler alert is that this family personifies how The Big Club(s) work nationally and internationally, so please do not assume this is all about Tennessee as it is not. However, I need to provide historical context to set the stage for future parts to hit their marks.
As always I promise that the stories I bring will be truthful as openly sourced, or, personally observed first hand, or, as a family member, co-worker or close personal friend witnessed first hand. I don't do fiction well and the truth is much more interesting anyway. I will tell you when I am giving an opinion based on my observations and discussions with others. I will typically publish on weekends since there is typically less going on in the news and folks have more time for reading stories if so inclined.
My first story spoke of The King, Elvis, and my relationship with one of his confidants and mentors, JD Sumner, in the later days of his life. It discussed a bit about the corruption of the ruling Democrats of the area in which I lived during the time. We will return to that area of the country in a future story that has bigger ramifications. My second story was more personal. It was more about first hand experiences with The Warrior Queen, Pat Summitt, and her family.
This story begins with some background and history of the referenced family and its primary business that led to their positions and fame in Americana, currently known as Pilot Flying J. The title of the story is stolen from others, of which many in our area will claim to be the author. It is used by many east TN residents in a joking manner as a reference to local royalty, somewhat like the House of Saud. However, it is an accurate description
"Big" Jim and Natalie Haslam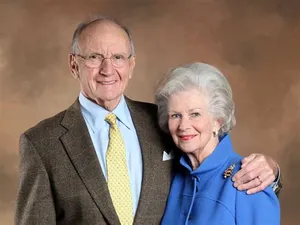 First, we will discuss the family patriarch, "Big Jim" Haslam. Big Jim is currently 91 years old and active for his age. He was born and lived as a young child in MI and PA before his family moved to St. Petersburg, FL. He was a star high school football player who was highly recruited, eventually choosing the University of Tennessee in Knoxville for his education and sport. He played for the legendary coach, Gen. Robert Neyland, and was a starting offensive lineman during the team's 1951 national championship season. He was named Captain of the team the following year. The General was a major influence on Big Jim as well as many other lives at the university, collegiate football and within the fanbase. A statute of him sits at the entrance of the football stadium that is named in his honor. I invite you to learn more about him as he was an inspiring and accomplished person. Even Alabama HOF Head Coach Bear Bryant had the utmost respect and most often came up on the short end in games when their teams played.
Big Jim met and married his first wife, Cynthia, while at UT. She later became pregnant with their first child after Big Jim joined the Army as a Second Lieutenant, serving in the Korean Conflict. After he was released from service, their child was born. During this time Big Jim went to work for Fleet Oil, which was a regional distributor with some retail gas locations. In 1958 he decided to leave Fleet and go into the retail fuel business independently. He signed a territorial non-compete to stay out of Tennessee for three years with Fleet and then set out to find a retail location in an adjacent state to buy. His first purchased location was just across the state line in Gate City, VA for $6000. It was a four pump quick stop in a small town. He had incorporated the business with the name Pilot Oil. Over the next few years he expanded its retail locations in VA and KY.
After the non-compete expired with Fleet he entered TN and grew his small chain to a dozen retail fuel locations. However, he went a bit too fast and had some financial trouble. He made a deal with his primary supplier, Marathon Oil, who took a 50% interest in the company. He was able to retool Pilot's finances along with receiving a loan from Marathon to be used for expansion. Big Jim had a really good eye for potentially successful retail locations and would stake them out and observe the traffic and communities personally. He focused on convenience and quick stops as the future of the industry. Over time Pilot grew into a strong regional presence. Along the way Big Jim and Cynthia had three children; Jimmy, Ann and Bill. Unfortunately, Cynthia passed away suddenly of an apparent heart attack in 1974 at age 42. Her father had passed away suddenly in a similar manner in his 30s. Her place on the Pilot board was given to the eldest son, Jimmy, still a student at the University of Tennessee. It was one of those "events" that children never forget as they saw their mother's deceased body. The family's brief video story about the event may be found on YouTube.
Big Jim married his second and current wife, Natalie, a couple of years later. Natalie Haslam is a native of Knoxville and graduated from UT the same year as Big Jim. She has been a volunteer and philanthropist extraordinaire in the area. UT, the East TN Historical Society, the Knoxville Symphony Society, Zoo Knoxville, Maryville College and others have been helped by her tireless efforts through the years. UT's College of Music is named after her, the Natalie M. Haslam Music Center. Natalie has remained close to Big Jim's side.
The 80s saw Pilot continuing to expand retail locations as well as enter the truck stop business as a new concept was introduced called travel centers by them and others in the industry. Travel centers combined the retail and trucking fuel stop needs with a convenience store and later, fast food offerings. The quick expansion of locations and volume of Pilot began to concern Marathon Oil, so in 1988, Big Jim bought their ownership interest while continuing to receive fuel supply from them and others. Pilot Oil was off to the races and Big Jim knew what he wanted the company to achieve and become.
Skipping ahead to today, Pilot Flying J is in the top ten in size for non-publicly traded companies per Forbes. The Haslam name and influence is everywhere at the University. They have given huge sums for buildings, facilities, athletics, the Baker Center, business and music programs. Literally, tens of millions of dollars (or more) to UT and many other charitable organizations. Their financial and personal contributions are legendary. Through the years Big Jim has never strayed far from his beloved Rocky Top. In my opinion Big Jim can best be described as a true force of nature. He would be described by many as a self made man since he did not come from wealth. Some say his life has been a Horatio Alger type story.
Jimmy and Dee Haslam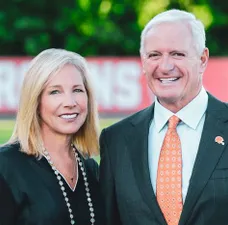 Jimmy grew up in the family's Knoxville home and also went to UT. While there he became a close friend and roommate of a future Mayor of Chattanooga and US Senator most of you have heard about named, Bob Corker. I can already see your alert flags going up.
Jimmy was known to his friends and others around the community as a bit of a wild child. My observations which were shared by business associates and co-workers at the time were that he was extroverted, intelligent, focused and brash. He jumped into his role at the company and there was little doubt what he planned to do with his work life as he was a vocal and driven leader. He wanted to learn the business and was named VP over Sales, Development and Operations upon graduation from UT in 1976. His father then sent him out into the business world and among the competition to analyze and provide the best practices to use in Pilot.
After graduation Jimmy began considering a run for the state senate, so he went to seek the advice of another prominent businessman and friend of the family who was involved in GOP politics, Ross Bagwell. Ross was the original show developer and producer for DIY type home shows that litter cable network channels today through his company, Cinetel Productions. Cinetel was headquartered in Knoxville. In the early 90s, Cinetel became the largest production company in America as they contracted to produce over 3500 shows. Over time these shows made it to HGTV type networks and were later purchased by Scripps Howard, which were later sold to Discovery Communications.
Ross' daughter, Dee ,was born in Knoxville, but the family moved to Long Island while Ross completed his education at NYU and went to work for NBC. Upon their return to Knoxville and Ross starting his company, Dee finished high school and later graduated from UT. She was well known to the Haslam family as they were all friends.
Ross offered his advice during the visit. Later, after Jimmy left, he told his daughter, Dee, that Jimmy was the man she needed to marry. Dee dismissed her Dad as being a crazy father as she was a divorced woman with a young child and no way would Jimmy be interested in that situation at his stage of life. That is until the two families went on a vacation together in FL six months later. Jimmy needed a date and asked Dee. They never left each other's side from that point on and married six months later. In an interesting twist, Jimmy's mother, Cynthia, had always loved Dee as she grew up and had even thrown a party to celebrate her marriage to her first husband years before. It was highly likely that she would have approved of Jimmy and Dee being wed. Much of this was a well known, publicized story to Knoxville area folks as it was just a big, country town where people knew people in those days.
Over the ensuing years Pilot grew to nearly 150 locations with the majority being travel centers until Jimmy's promotion to CEO of Pilot in 1996 as Big Jim took a step back from daily operations. It was during this period in the early 90s when I had involvement with Pilot Oil through my business banking occupation. More on that later.
Skipping to Jimmy's and Dee's world today, Jimmy still acts in the Chairman role of Pilot Flying J. He is also the owner with Dee of the NFL football's Cleveland Browns and a MLS soccer club, the Columbus Crew. He has an approximate $4 billion personal net worth. The couple maintain homes in their native Knoxville as well as a historic mansion in ritzy Bratnenahl on Lake Erie near Cleveland. Jimmy and Dee have contributed in major ways to their alma mater, especially to the well being of athletics. They have also provided funding for high schools across East Tennessee and in Ohio to install synthetic surface football fields. This has reduced operating costs for the schools while providing the athletes better, safer surfaces on which to compete.
Dee was given the family developed RIVR Productions by her father, which she operates. Recently Discovery placed the modern production facilities and campus her father developed for sale as they have moved operations to other locations. The couple have three children and six grandchildren at last count.
I will expand the discussion of Pilot and of the Haslam family from my observations and open sources from the early 90s forward in Part 2. This will include much more on the exploits and travails of Jimmy and The Big Club.
Bill and Crissy Haslam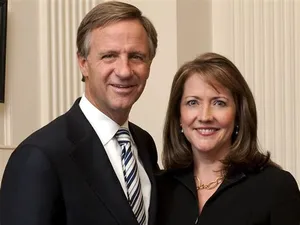 Some may remember that Bill Haslam was a two term governor of Tennessee recently. Prior to that he was the two term mayor of Knoxville. Born about four years after Jimmy in 1958, Bill was also groomed to be a part of the family business. He chose a different path for his college education by going to Emory University in GA (yeah, I know, alert flags again) and graduating with a degree in History. From his own words in interviews it was his plan to teach history and eventually become a minister. As a teenager in Knoxville he was very active in Young Life and was a member of a large evangelical Presbyterian Church. However, he returned to Knoxville after graduating to work at Pilot for a time to gain business experience with the intention of leaving in a few years to go to seminary. It never happened as Big Jim named him President with his brother Jimmy as the CEO. Over time he seemed to grow weary of working in the family business. This statement is based on personal observations, friends and co-worker comments at the time (more on that later). In 1999 he left to become CEO of Saks Fifth Avenue's new e-commerce and catalog division. He stayed there a few years and left to join Dallas based Harold's Stores (clothing) for a year before deciding to run for mayor of Knoxville. He had long desired to serve the public and with the current GOP mayor Victor Ashe being term limited, he decided to run. He won a relatively close race against Democrat Madeline Rogero. He then won the governor's race after his second term as Knoxville's mayor. This was followed by an easy second term governor's office victory four years later. Bill has an approximate $2 billion personal net worth and is a past President of the GOP Governors Association. In 2015, Forbes had Bill as the wealthiest politician in America. With the election of Donald Trump as President and JB Pritzker as Governor in Illinois, Bill moved down the list a bit.
The former First Lady of Tennessee, Crissy Haslam, is also an Emory University graduate with a degree in Finance. She was born in Houston, TX and grew up in Memphis. After marriage to Bill she returned to school to gain her Masters in education from UT. She has been very dedicated to working for children's rights and education her entire adult life. She partnered with the state law enforcement agencies to provide books for low income children around the state as well as assisting with foster care programs.
Bill was an effective governor for TN. He was helped immensely by a state that had enough of fake conservatives and Democrat politics. Much of Tennessee had embraced the Tea Party, in many ways the predecessor to MAGA. The state legislature has been taken over by a more conservative GOP over the past decade. Except for the two Dems, the federal office holders also know to vote conservative, even though a handful will slip into RINO mode on occasion. As a result, Bill was given a clearly directed path to follow from the majority of legislators and voters during his two terms that ended in 2020. He, his staff and appointments used their business and legal acumen to improve the state's financial condition to its highest bond rating ever and at one point it became the highest rating of any state in the nation. All of it accomplished without a personal state income tax (state constitutionally prohibited) and in compliance with the state's balanced budget (state constitutionally required). It was primarily accomplished by strongly increasing the revenue base and supporting industrial growth while holding the line on state government spending. It was also helped by the lowering of interest rates to reduce borrowing costs. In the meantime the legislature also passed legislation that killed the state's estate and inheritance taxes. In summary, Tennessee became and still is a hot spot for relocating a business as well as for new residents.
DC, meet states and legislatures who know how to do things better. Meet a true republic.
New manufacturing facilities flocked to Tennessee. The introduction of community colleges and tech schools providing free tuition was implemented to help with that effort as the work force grew more education and trained. It was a successful period that has continued under current GOP Gov. Bill Lee, who in many leadership ways is Bill Haslam, version 2.0. It has been my observation to date that the legislature has overcome RINO inclinations of the two Governor Bills as any contentious issues arise. The Bills knew they would have a potential veto overridden, so they both decided to not sign the more contentious bills to draw less media attention. As a result the legislative bills go into law irrespective of the lack of a governor's signature within a 30 day period. However, both Bills have supported the second amendment, are pro-life and are traditional family oriented.
It is also somewhat humorous that many bills have been signed by Bills over the past decade.
Bill and Crissy have three adult children and seven grandchildren. They live in Knoxville. Bill has been a lecturer at Vanderbilt and remains active on the Board of Young Life as well other charitable organizations. He released a Christian living book called Faithful Presence recently. He has not ruled out a run for political office again.
Ann Haslam and Steve Bailey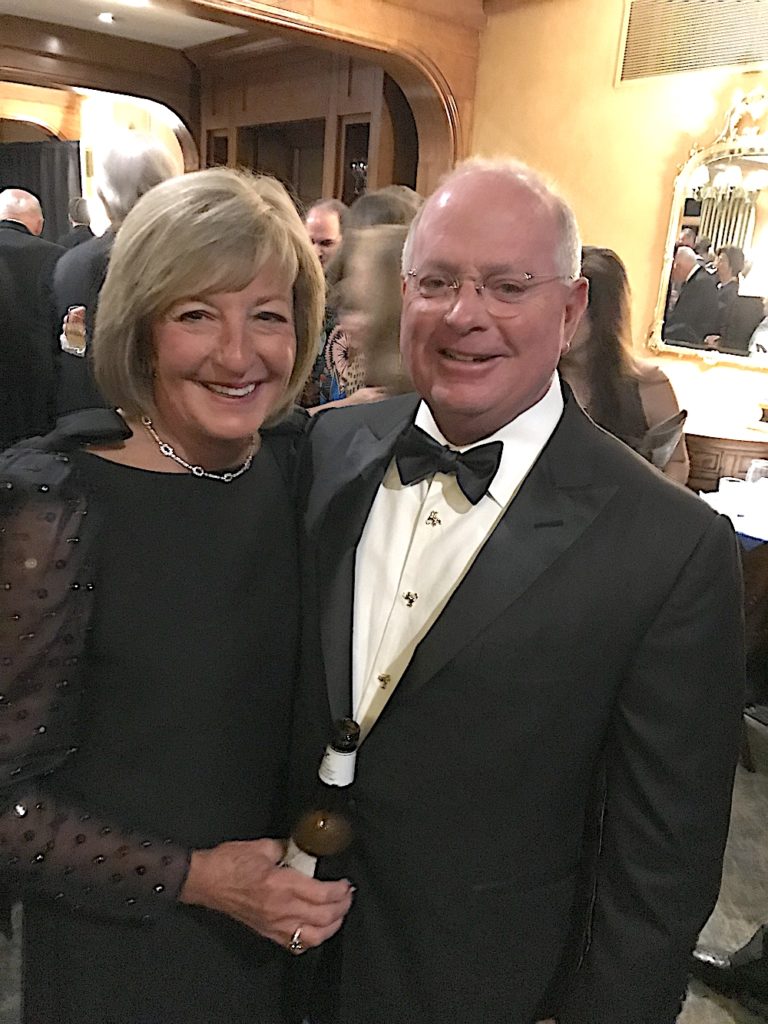 Ann is the middle of the three children of Big Jim and his first wife, Cynthia. She has maintained a lower profile, except when it comes to campaigning for her brother, Bill, as well as working within the Haslam Family Foundation. When the Cynthia died, Ann assumed her mother's role the best she could in the home while at the same time continuing her role as a teacher at Knoxville Adaptive Education Center for children with disabilities. Later she married Steve Bailey, who owned and operated a wholesale lumber company in the area and became the mother of three children from Steve's previous marriage. At that point she left her teaching role to focus on the family and later, the foundation. And yes, the selected photo above is intentional.
House of Haslam Politics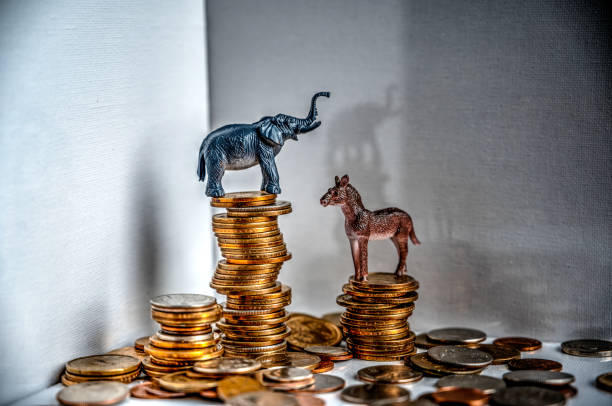 Big Jim set the pace for the family in his younger years with support for and participation in GOP politics. He was a fundraiser for prominent TN Sen. Howard Baker and President Gerald Ford. He supported HW. He was very active in the state campaign for W. In 2005 he managed long term family friend, Sen. Bob Corker's financial campaign. In 2012 he was state co-chairman for Mitt Romney's presidential run.
Yep – Mittens. You get the picture, right?
Jimmy has been less publicized for his politics. He donates millions to the Republican National Committee to stay connected.
As stated previously, Bill is a Never Trumper. He aligns with the Bush family, but did not endorse Jeb immediately when he announced his presidential run. He waited and endorsed Marco Rubio along with former Senate Majority Leader Bill First. Tennessee went strongly pro-Trump, so that showed how much influence they have with state GOP voters. He recently became a Sammons Institute Fellow of the George W. Bush Institute. He holds great respect for W's leadership as President and personally attended HW's funeral. I really don't think anything else needs to be said regarding his alliances within the GOP and politics in general.
In my opinion, running for public office would probably not end well currently for Bill as he was vocally against President Trump in 2016 despite them sharing numerous political views. As a Never Trumper, it is probably why he did not run for the retiring Lamar Alexander's Senate seat in 2020, which was won by Bill Hagerty. Tennessee is strongly MAGA by a large majority of voters. Hagerty redeemed his previous RINO association by working as an Ambassador to Japan under PDT. He became very close with PDT's friend, PM Abe. Bill Haslam was unwilling to reconcile his past position and statements per his own public comments. He has remained aligned with the Bush family. As a result he had very little shot to replace Alexander in the current political environment as there has been more than a little Bush and Haslam fatigue in TN. More on this later.
Summary
This part sets the stage for what follows. You likely saw a few "more on this later" statements. We will explore those and much more in the parts that follow as they are revealing. In Part 2 we will dig deeper into Pilot Oil Company, pre-Flying J acquisition, beginning in the early 90s.
I leave this with you instead of the Elvis Aloha version because I believe it reflects The House of Haslam better. On a personal note, as a much younger man I saw Ol Blue Eyes in Vegas a few years after this at a show at Caesar's Palace. He delivered then as well…