Cover image: Susan Winget Bountiful Harvest fabric. (This is a quilting fabric.)
I actually am not sure where to start today, as the information out there on the mainstream media says one thing, and the various Q Telegram channels are essentially laying out how The Plan is coming together before our very eyes. Some of the claims are pretty out there, I will admit. However, there is one thing to keep in mind as we are still in FF season. Monday is 9-19. That's the last nine and one combination in the month. That is also the day of Queen Elizabeth II's funeral at Westminster Abbey. Consider this from Anonymous Conservative:
Foreign heads of state and their spouses heading to London for the state funeral for Queen Elizabeth II have been asked to arrive in the U.K. on commercial flights and banned from using helicopters to get around.

No private jets, no helicopters, and a bus to Westminster Abbey: VIP guidance for queen's funeral…
Documents obtained by POLITICO reveal strict protocol rules for foreign dignitaries.

World leaders have also been told they cannot use their own state cars to attend the funeral at Westminster Abbey on September 19 — and will instead be bussed in en masse from a site in west London, according to documents obtained by POLITICO revealing strict protocol rules.

Official documents obtained by POLITICO also confirm that only the heads of state and their spouses or partners from each country have been invited to attend the funeral, which is shaping up to be one of the greatest diplomatic events of the century so far.

According to the same document, King Charles III will host a reception for all the overseas leaders at Buckingham Palace on the evening before the funeral service. Visiting heads of state will be able to attend the lying-in-state of the queen's body…

… and sign the condolence book at Lancaster House immediately afterward. While at Lancaster House, foreign leaders will be able to deliver a tribute to the late queen lasting up to three minutes, which will be recorded for the media.

After the funeral service, foreign leaders will be escorted on foot to Dean's Yard, still within the grounds of the abbey, to attend a reception hosted by Foreign Secretary James Cleverly, after which they will return by coach to west London to collect their cars.
I am probably too optimistic, but it has a little of the feel of Crown Prince Mohammed bin Salman saying he was holding an economic conference, and everybody should go to the auditorium, unarmed, and don't worry about all the Blackwater contractors standing around all the doors.
Yeah, if I were a head of state, I'd just send flowers.
And then this was linked to one of the aggregator sites:
What in the world are they planning to do on September 24th, 2022? As you will see below, a member of the German legislature is openly warning that September 24th will be a day when everyone will remember "exactly where he or she was". Needless to say, those days don't come along very often. For those that were alive at the time, the death of John F. Kennedy was one of those days. And certainly 9/11 was one of those days. But off the top of my head I can't really think of too many others. I can remember what I was doing when Hurricane Katrina hit New Orleans in 2005, and the Russian invasion of Ukraine earlier this year was definitely a major turning point. Beyond that, there just aren't too many days that fall into this category.

That is why something that a member of the German parliament just said seems so odd…
"Everyone will not forget September 24, 2022 and everyone will know exactly where he or she was"
Why?
That's a Saturday. People may want to take that into consideration when moving about that day.
On the Mar-A-Lago raid front, an interesting Substack was in some feed somewhere:
When FBI Raids are actually good news.
This raid on Mar-a-Lago…the filter team, the request to appoint a special master…this is ALL such good news.

Think BIG PICTURE.

We now have precedents set for search warrants being served on:

Major Media (Project Veritas)

A President's Former Attorney (Cohen)

A Former President's Attorney (Rudy)

A Former President's Residence (Mar-a-Lago)

Filter team and Special Master used in each.

It's a TEMPLATE.

Template- a gauge, pattern, or mold; something that establishes or serves as a pattern.

A template for how to go after the Clintons, Obama, their attorneys, and the media who assisted them in their crimes against the United States and We the People.

A template for how to go after [THEM].
This is a summation. The rest of it is a SD-style compilation of information that leads to the conclusion, and is really worth a read, IMO.
President Trump's reaction to the Department of Injustice's objection to a special master for the documents confiscated at Mar-A-Lago.
Former President Donald Trump has struck back at the Department of Justice in a blistering 21 page court filing.

The filing came on Monday as the former president dismissed the FBI seizing documents from his Mar-a-Lago residence as a "misguided storage dispute," The Daily Mail reported.

The former president's attorneys praised US District Judge Aileen Cannon's decision to pause the review of his documents as they await the appointment of a special master as a "sensible preliminary step towards restoring order from chaos."

"In what at its core is a document storage dispute that has spiraled out of control, the Government wrongfully seeks to criminalize the possession by the 45th President of his own Presidential and personal records," the filing said.
Sundance was a little more philosophical:
Now we turn to today. Lawyers for President Trump submit a responsive filing to counter the DOJ effort to stay court order for a 'special master.' [Motion pdf Here].

The position of the DOJ-NSD, a position that should be considered in alignment with the ODNI, is that no outsider should be permitted to review their work product. The DOJ does not want a court appointed special master to review what they are unilaterally declaring as "classified national security documents."
For those on the fence about Sundance, it seems President Trump reads his stuff.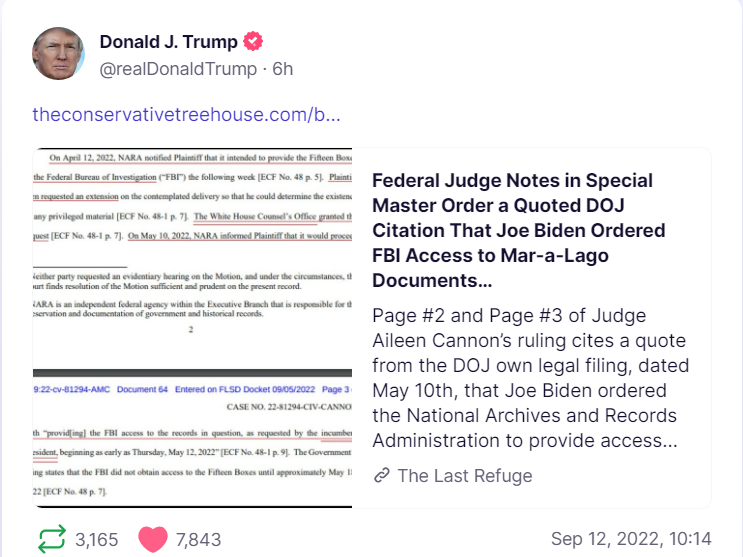 That article, then, is probably on target.
America's elites are neither bright, competent, nor qualified
Not really elite, either. Just people with delusions of grandeur.
Another reason to avoid the place.
The threat to the soul of our nation is real and palpable. Its source is not, however, the one Joe Biden identified.
Corporations need to signal moral virtue, not "woke" virtue.
And they need to re-establish the corporate R & D labs that gave us the technology we use, not the crap the university labs theorize.
Worth a repeat:
Tweet hopper:
H/T a friend
That's an awful lot of security for an EX-president.
Meme & Fun hopper: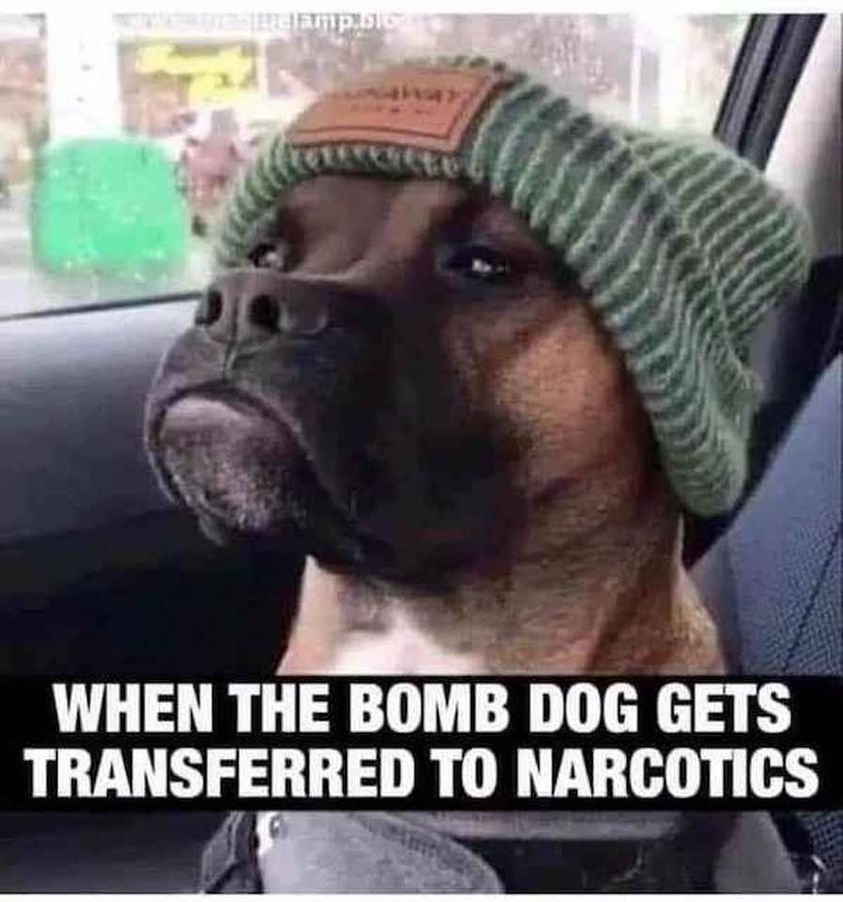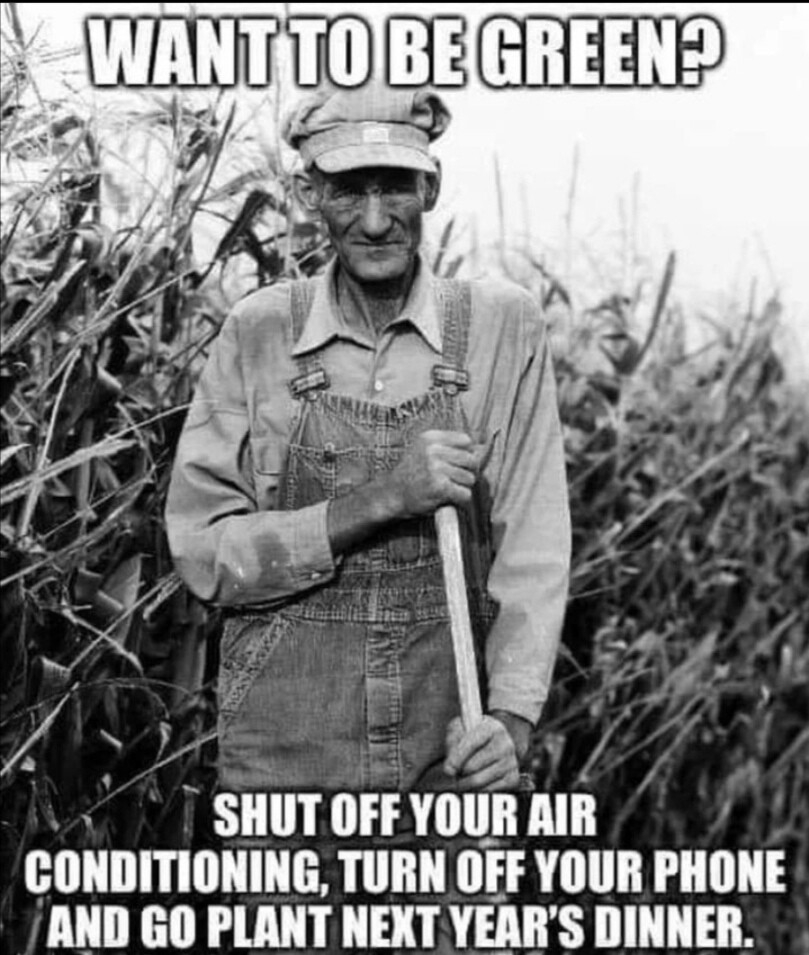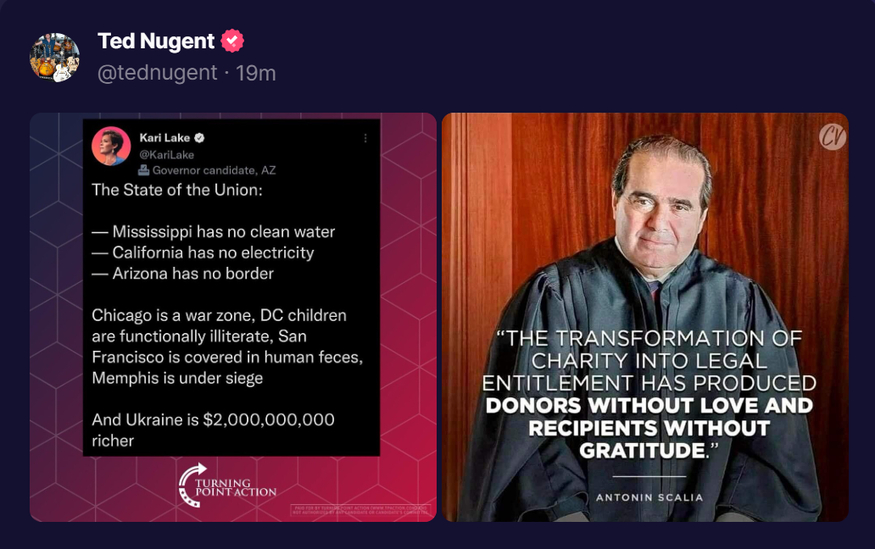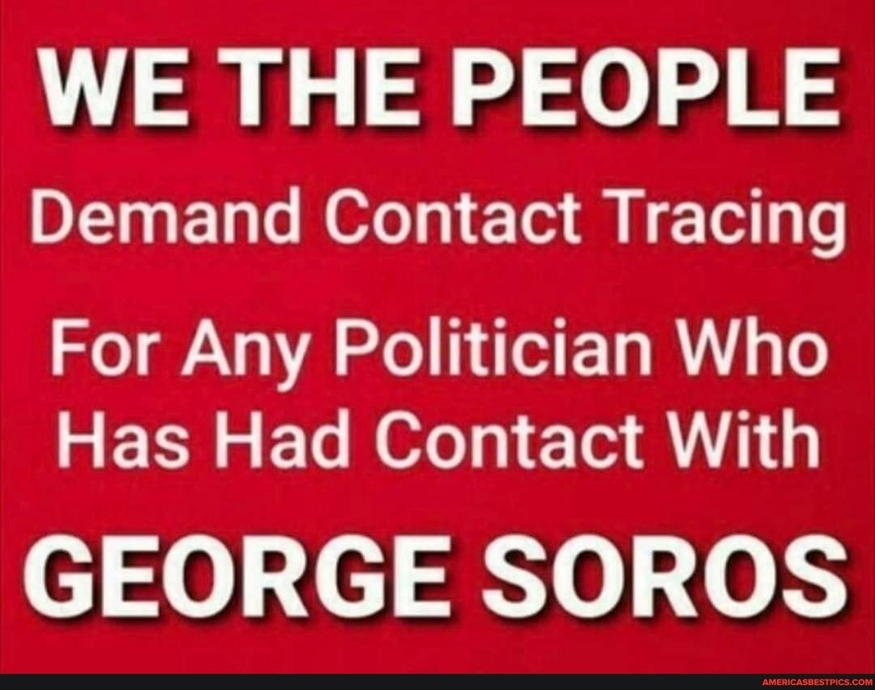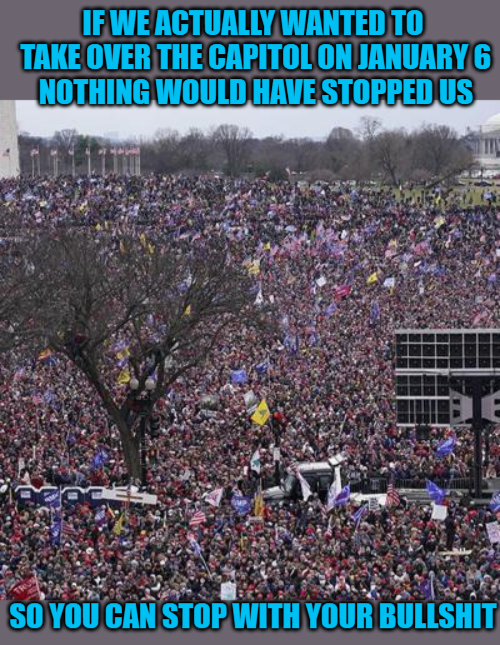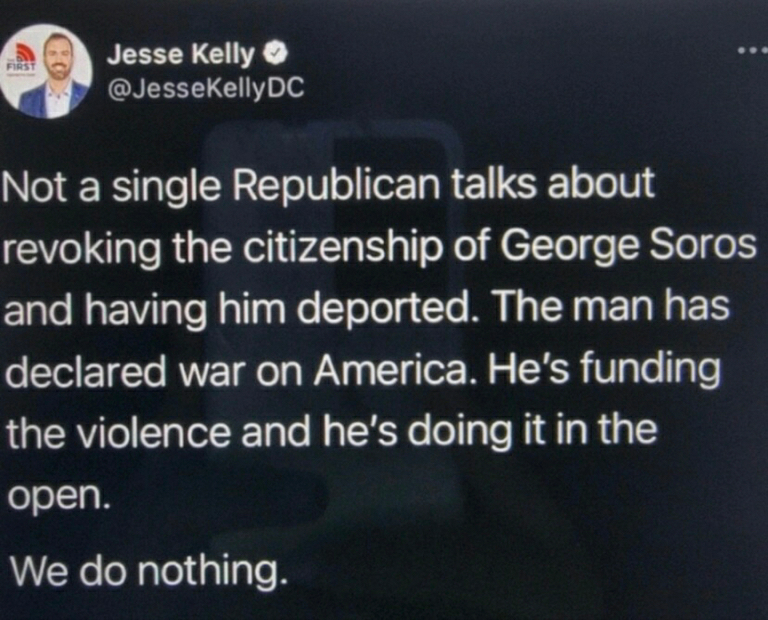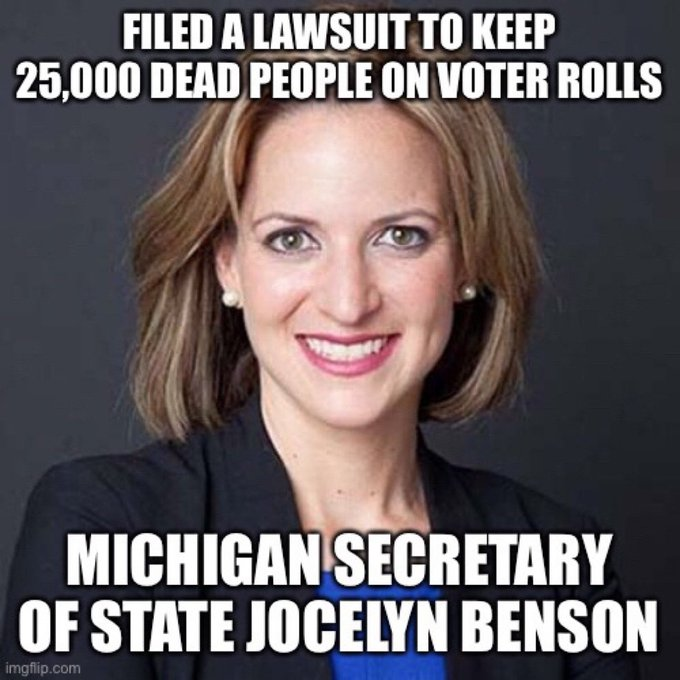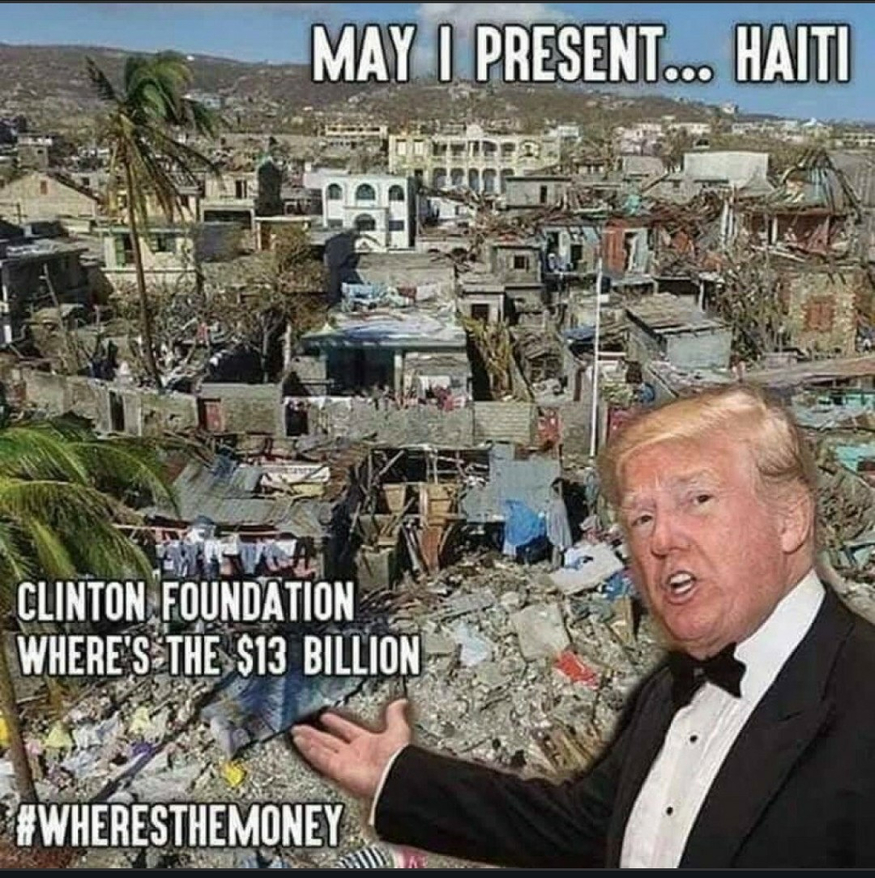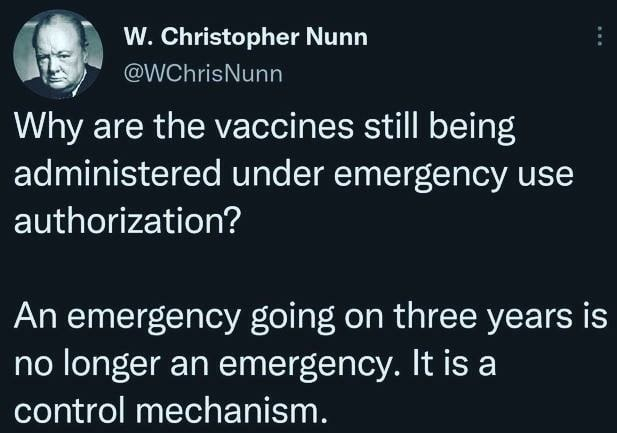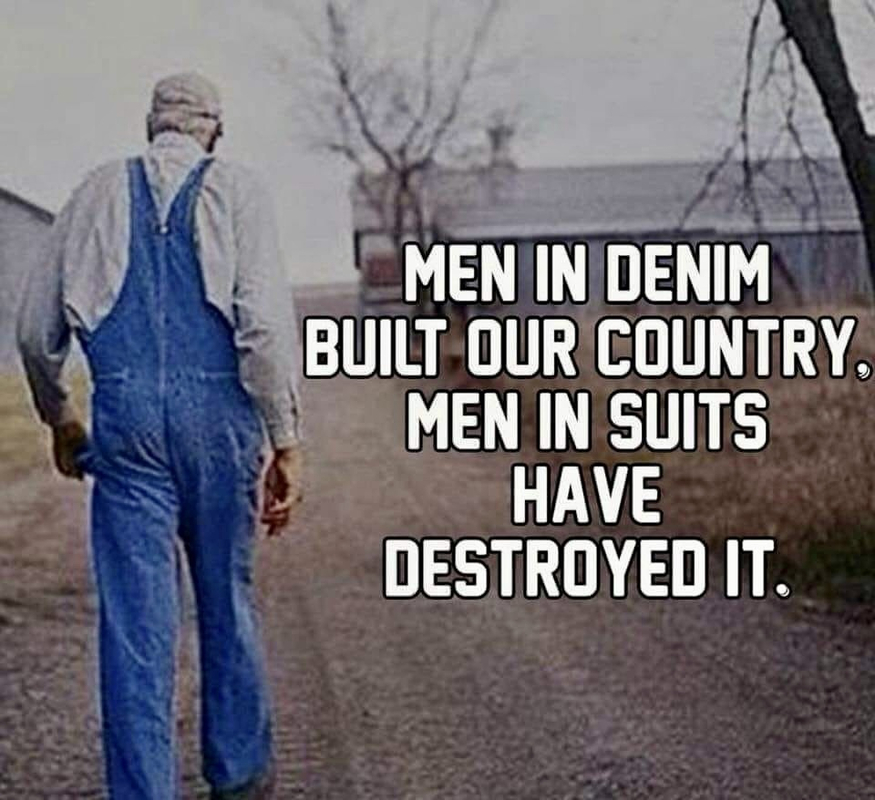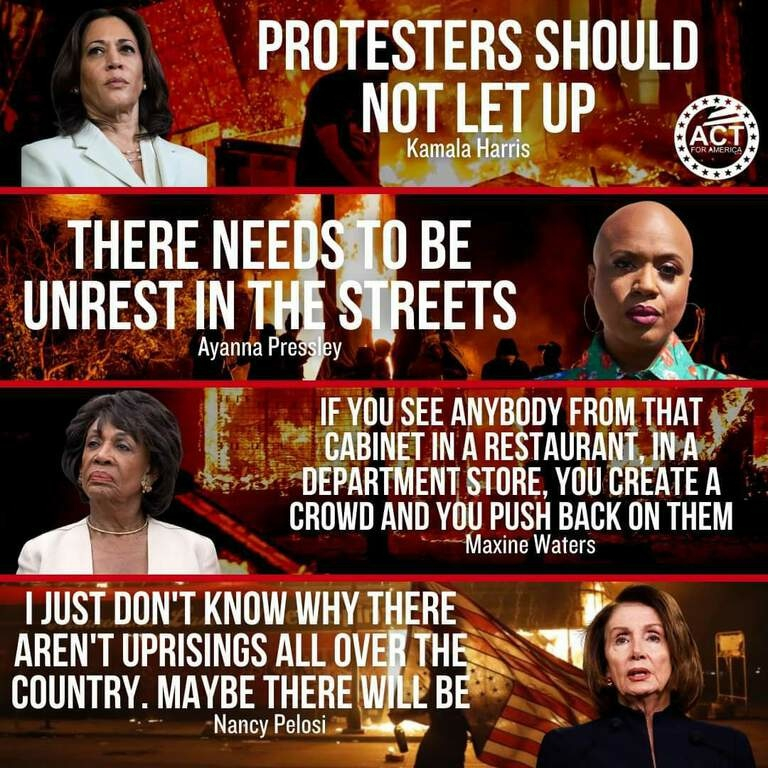 Something to remember, always.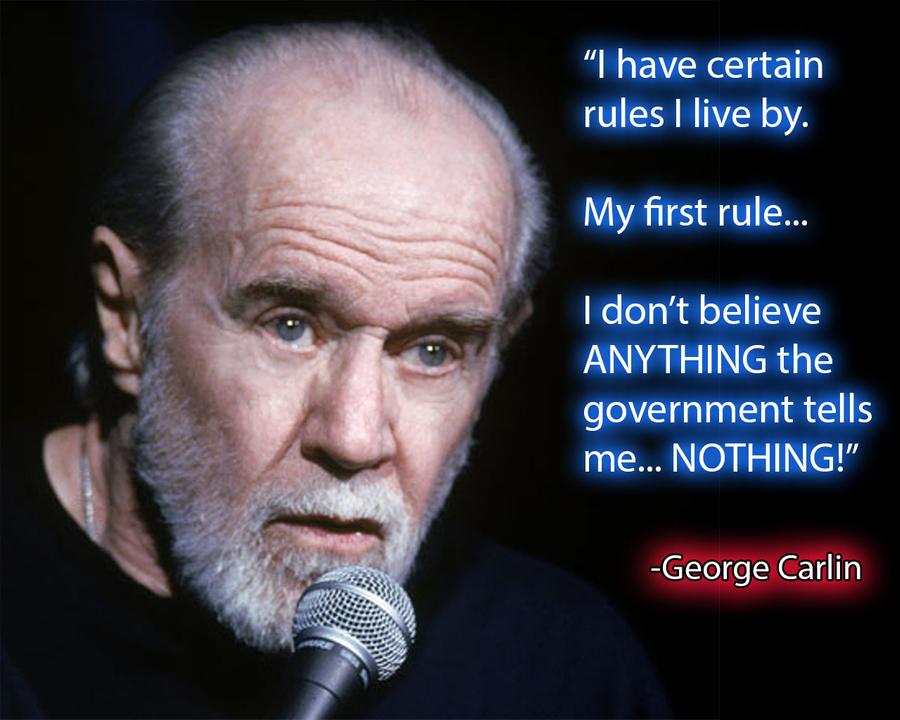 Per the boss's instruction: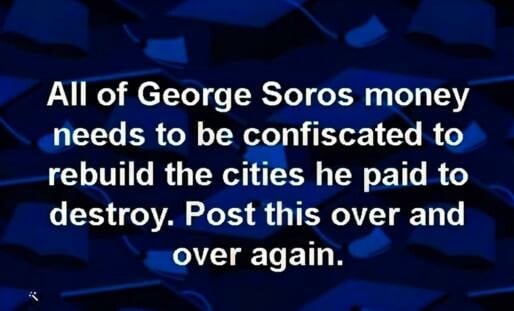 I'd throw in a few Rockefellers and Rothschilds also.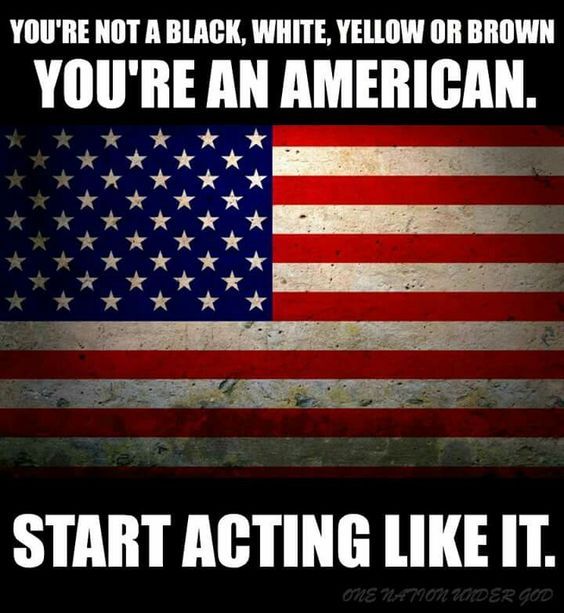 Of course, this does not mean committing felonies, but standing up to the forces that want to tear this nation – and humanity apart. The very people XVII told us will be destroyed by the time this movie comes to an end are currently roaming the halls of power…supposedly. It's a sickening sight.
Guidelines for posting and discussion on this site were outlined by our host, WolfM00n. Please, review them from time to time.
The discourse on this site is to be CIVIL – no name calling, baiting, or threatening others here is allowed. Those who are so inclined may visit Wolf's other sanctuary, the U-Tree, to slog it out. There is also a "rescue" thread there for members of the Tree to rendezvous if the main site goes kablooey. A third site has been added for site outages of longer duration.
This site is a celebration of the natural rights endowed to humans by our Creator as well as those enshrined in the Bill of Rights adopted in the founding documents of the United States of America. Within the limits of law, how we exercise these rights is part of the freedom of our discussion.
Fellow tree dweller, the late Wheatie, gave us some good reminders on the basics of civility in political discourse:
No food fights.
No running with scissors.
If you bring snacks, bring enough for everyone.
And Auntie DePat's requests:
If you see something has not been posted, do us all a favor, and post it. Please, do not complain that it has not been done yet.
The scroll wheel on your mouse can be your friend. As mature adults, please use it here in the same manner you would in avoiding online porn.
Thank you so much for any and all attention to such details. It is GREATLY appreciated by more than one party here.
__________________________________________________
PSALMS 100:1-5
1Make a joyful noise to the LORD, all the lands! 2Serve the LORD with gladness! Come into his presence with singing! 3Know that the LORD is God! It is he that made us, and we are his; we are his people, and the sheep of his pasture. 4Enter his gates with thanksgiving, and his courts with praise! Give thanks to him, bless his name! 5For the LORD is good; his steadfast love endures for ever, and his faithfulness to all generations.
109
Anonymous ID: hHkrVD7x No.148156632
Nov 5 2017 20:06:36 (EST)
Anonymous ID: pqW40Wgk No.148156518
Nov 5 2017 20:05:48 (EST)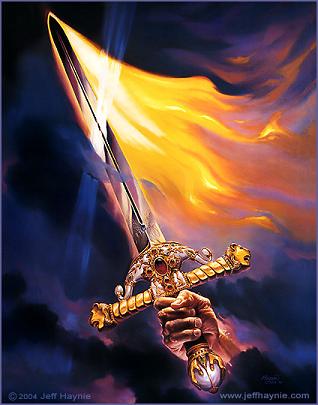 >>148154137
St. Michael the Archangel, defend us in battle. Be our protection against the wickedness and snares of the devil. May God rebuke him, we humbly pray. And do thou, Prince of the Heavenly Hosts, by the power of God, cast down to Hell Satan and all his evil spirits, who prowl about the world seeking the ruin of souls. Amen.
>>148156518
Amen brother.
Q
As always, prayers for the fight against that which seeks to enslave us are welcome. Via con Dios.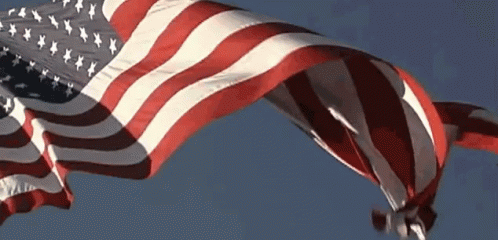 LONDON — In his first official royal decree, King Charles has replaced Meghan and Harry in the line of succession with two of the late Queen's corgis.

"Fluffy here shall immediately assume the title of Duke," said Charles, presenting the corgi with a scepter. "There now! Who's a good future King of England?"

The nation of England erupted into celebration upon hearing the news. "After the sadness of the past week, it feels good to have something to be happy about," said citizen Gerald Funderburk. "The thought of the monarchy falling into the hands of Harry or Meghan, those blithering idiots…we can all rest a little easier tonight knowing the kingdom will be in good hands. Or paws."
That might actually be an improvement.