Joining The Herd Of Lemmings
I've had cause to consider a few things. Maybe we're going about it the wrong way, and we need to ditch Trump
Yeah, NO
Trump all the way! Why? Because being hated by the people who hate him is a sign of impeccable character, that's why.
The haters can go fuck themselves with rusty twelve gauge bore brushes. I'd prefer ten gauge but that's kind of scarce, so…I'm willing to compromise.
The RINO's Dilemma
The RINOs who who have burrowed in and taken over most GOP organizations, from the state down to local organizations, have quite a dilemma on their hands, and most of them have their heads too far up their asses to realize it.
OK, I'm not talking about the liberal in a Republican area, who knows they're in the wrong party, but is there because it's the only game in their town; they hope to capture a nomination someday, at which point they're guaranteed to be elected…otherwise, they never will be. These people are a hazard in any heavily conservative area.
No, I'm talking about the guys who are a little bit conservative and want to do some good by going into politics, and they're in a closely matched area, closely enough that they can join the party they are most aligned with and still have a chance. They think the Democrats…particularly the ones who end up running for office…are nuts.
They don't think much better of the Deplorable types, either. A bunch of bumpkins whose hearts are in the right place, mostly…OK a bit extreme. But they think Deplorables can't understand that first you have to get elected, then work within the system to change things…a slow process. They genuinely want many of the things Deplorables want…just not as much. The government is spending too much. Or they need to spend money on highways instead of welfare for illegal immigrants. But they want to work within the system to get these things done.
Or maybe they think things are pretty close to ideal right now, and they want to nail it in place.
The problem is, that means they don't stand for anything in particular. And it shows. They're about as unappetizing to the electorate as a puddle of dog vomit. The folks in the middle, who they think they are appealing to because they themselves are not extreme, would honestly prefer a clear-spoken radical to someone who qualifies everything they say to the point where they sound like they don't believe anything at all.
The problem these "Mild RINOs" have, is they just can't see that. And the reason they just can't see that, is their entire sense of self-worth is tied up in not seeing that. In their minds, they've worked tirelessly for their party, to keep those crazy Democrats out…only to have to constantly fight with a small number of crazy Republicans–who are only liabilities if they end up as candidates. They've fought the good fight, and if they can just find the right candidate, someone with some charisma, they might stop the crazies…without being too beholden to the OTHER crazies. In the meantime it's not working. What's a responsible guy in politics to do?
They simply cannot understand that the Republicans can't succeed as the party of nothing in particular. Not really in the past, and certainly not today when people are starting to realize that no matter what they do in the voting booth, the country is still about to fly off a precipice. If they did see it, they'd suddenly have two choices: Go away and let the GOP succeed, or stay and fight. But "go away" isn't really an option, because what's the point of having a party now owned by the crazies, win?
Well, they have a dilemma…and WE, therefore have a problem. And we would have that problem even IF they realized that they had a problem…that they were the problem.
No one ever thinks they are the bad guy. Even Epstein probably thought he was the good guy. Right up to the moment where he didn't kill himself.
So if you ever wonder why these unappetizing dufuses cling on even when their fingernails are being left behind…that's why. They don't understand no one wants them, and can't imagine that no one should want them. And oftentimes their greatest pride is in all the hard work they've done for the party. They're not going to give that up; it'd be psychological suicide.
If you've worked with these people, there's a good chance you like them and consider some of them your friends. But even if so…we're going to have to give them a good, hard shove. Because America is more important than those milquetoasts' egos.
Justice Must Be Done
The prior election must be acknowledged as fraudulent, and steps must be taken to prosecute the fraudsters and restore integrity to the system.
Nothing else matters at this point. Talking about trying again in 2022 or 2024 is hopeless otherwise. Which is not to say one must never talk about this, but rather that one must account for this in ones planning; if fixing the fraud is not part of the plan, you have no plan.
Lawyer Appeasement Section
OK now for the fine print.
This is the WQTH Daily Thread. You know the drill. There's no Poltical correctness, but civility is a requirement. There are Important Guidelines, here, with an addendum on 20191110.
We have a new board – called The U Tree – where people can take each other to the woodshed without fear of censorship or moderation.
And remember Wheatie's Rules:
1. No food fights
2. No running with scissors.
3. If you bring snacks, bring enough for everyone.
4. Zeroth rule of gun safety: Don't let the government get your guns.
5. Rule one of gun safety: The gun is always loaded.
5a. If you actually want the gun to be loaded, like because you're checking out a bump in the night, then it's empty.
6. Rule two of gun safety: Never point the gun at anything you're not willing to destroy.
7. Rule three: Keep your finger off the trigger until ready to fire.
8. Rule the fourth: Be sure of your target and what is behind it.
(Hmm a few extras seem to have crept in.)
Spot (i.e., paper) Prices
Last week:
Gold $1,843.20
Silver $21.81
Platinum $930.00
Palladium $1,583.00
Rhodium $11,900.00
This week, 3PM Mountain Time, markets have closed for the weekend.
Gold $1,812.50
Silver $20.86
Platinum $919.00
Palladium $1,490.00
Rhodium $11,100.00
Industrial metals down…that's not good news for the economy…well, actually, it's simply not news for the economy; we all know it's in the crapper. But gold and silver still decline, because in the foreign exchange markets the dollar is still strong (largely due to high interest rates here).
Fuck Joe B*d*n
Due to complaints about foul language, I've censored the most objectionable word in the title of this section.
B*d*n, you don't even get ONE scoop of ice cream today.
(Please post this somewhere permanent, as it will continue to be true; the SOB will never deserve a scoop.)
Another Conjunction
You might recall the Great Conjunction of December 21, 2020, where Jupiter and Saturn got so close to each other in the sky (as seen from Earth) that you could literally look at both of them at the same time in a telescope. (What a boon for lazy astronomers!)
This coming Wednesday we have a similar situation with Jupiter and Venus, again in the evening sky after sunset. Similar, but by no means close enough for both of them to be in the same view in a telescope. You can still see a nice little alignment shortly after sunset looking west; Jupiter will be furthest above the horizon, and bright. Venus will be closer to the horizon, and even brighter. (There was hype about this on this last Wednesday, too, because the moon was nearby that night.) They will get within a half a degree of each other, which is less than the width of the full moon.
Venus and Jupiter are the two brightest objects in the night sky, other than the Moon.
Beyond The Simple Cases
Distributed Gravitational Mass & Tidal Forces
Orbital Mechanics VI
Thus far in talking about astrodynamics, I've been careful to consider only two bodies (a satellite and its primary), and I've been assuming they're both point masses.
Neither of these assumptions is ever actually true. Because we live in a universe with more than two things in it, and nothing other than a black hole is a point mass–with the entire mass of the object all at one single point in space (and if we are dealing with black holes, Newton's laws go out the window anyway, at least close in to the black hole).
However in many cases the effects from third, fourth, and other bodies are very very minor and there are actually conceivable cases where you can assume a point mass even when it isn't.
The first one seems obvious. If other bodies are far away, they won't have much gravitational influence. (People arguing that the positions of the planets at the moment of birth actually matters have to contend with [or more commonly, ignore] the fact that the obstetrician or midwife has more gravitational influence on the newborn than any other planet ever will.)
The second simplification, that you can sometimes pretend a large body is actually a point mass, is much less obvious.
Here is Newton's law of universal gravitation, in mathematical form:
And if I were to translate that into plain English, it would read, "The force due to gravitation between two point masses is proportional to the product of their masses, divided by the square of the distance between them, and multiplied by the gravitational constant."
What this form of the equation doesn't address is the direction of the force; it's directed from one object to the other along the straight line between them.
But there's that awkward "point mass" thing again. What if it's not a point mass?
What you do then, is (mentally) divide the object (let's stick with the primary, since it's much bigger than the satellite) up into much, much smaller pieces, then do this computation for each piece, including accounting for the direction, then add them all up. You'll get a more precise answer the smaller you make your pieces, but you'll also do more work because there are more pieces to do the computation for. And if you're wondering how to add forces in different directions, that's where vectors come into play (it's pretty easy actually).
So let's say you're aboard a satellite near Earth, and you're looking out the window at the earth. What's the sum total of all of the gravitational attractions, of each sandgrain in the Australian outback, of every beer stein in England, of the iron at the earth's core, and everything in between?
Hmmm, tricky. Or maybe not. Maybe we can sneak up on it.
Let's replace the earth with a hollow sphere of, say, iron. The sphere is a perfect sphere, the iron is of uniform density, and the shell is of uniform thickness. (Imagine a very, very large ping pong ball made of iron instead of plastic.)
It turns out that under these circumstances you can do various mathematical tricks and shortcuts (these would be tricks and shortcuts that bear the name "integral calculus") to discover that the aggregate attraction of that entire sphere is the same as another hypothetical object, a point mass at the center of that sphere, weighing the same as the entire iron shell. It makes no difference how thick that shell is, it makes no difference what it's made out of–balsa wood, platinum, glass, whatever…as long as it's of uniform density. It can be swapped with a point mass at the center of the shell.
[As a side note, it can also be shown that if you are inside the sphere, anywhere inside it, the net gravitational force is zero. If you're at the very center, obviously, the mass on one side cancels the mass on the other (they're the same, and at the same distance, but in opposite directions). But even if you're near the shell somewhere, you have a small amount of matter close to you in one direction, and lots more matter in the other direction, but farther away…and they cancel each other out again. So the entire inside of the sphere is one big Zero Gravity zone.]
This is what you get when you divide that hollow sphere up into little pieces and add up their gravitational influences. And Newton did this…he invented calculus, in part, to be able to do this. (And yes, Leibniz was also inventing calculus about the same time, but Newton didn't know about that, so he had to do it himself.)
Now back to talking about the earth. The earth is made up of layers, the crust, the mantle, the outer and inner cores. They're each of fairly uniform composition, but no two layers…or even depths below ground within the same layer are quite the same. If nothing else lower spots within the same layer are denser because they're under more compression. (The iron at the earth's core is notably compressed and is denser than iron on the surface.)
So you can divide the earth into layers, like an onion, treat each of them like a hollow sphere, use Newton's result above…and what you find yourself doing is adding point masses, all at the center of the earth, to get a total…which is to say, you're going to end up with the equivalent of a point mass, as massive as the earth, at the center of the earth. Note: you don't need to know what's inside the earth for this to work, but you do have to assume that the density profile is the same in every direction out from the center of the earth (which is equivalent to saying that the onion layers will each be uniform).
So this is why you can treat a typical big round astronomical body as if it were a point mass.
Well, almost. In fact you can do it with objects far away. If you're so far away from an object that it looks like a point to you, you can treat it as one.
But if you're close to Earth, really really close, then the fact that it's not a perfect sphere starts to tell.
Most importantly the earth rotates. Because it spins on its axis, centrifugal force makes Earth bulge a bit at the equator. (The same effect is used to make round disks of dough for pizza crusts; the pizza maker tosses a lump of dough in the air with a spin on it to get it to flatten out.)
That bulge will pull on satellites in Low Earth Orbit (LEO) and it does so quite a lot, causing orbits' longitude of the ascending node to shift. The effect can cause the satellite to be 500 miles away from where it "should" be, in just one day. If you pick precisely the right size of orbit, you might even get the ascending node to shift through 360 degrees over the course of a year. This means that the orbit will basically always maintain the same orientation with respect to the sun; these are called "sun synchronous" orbits.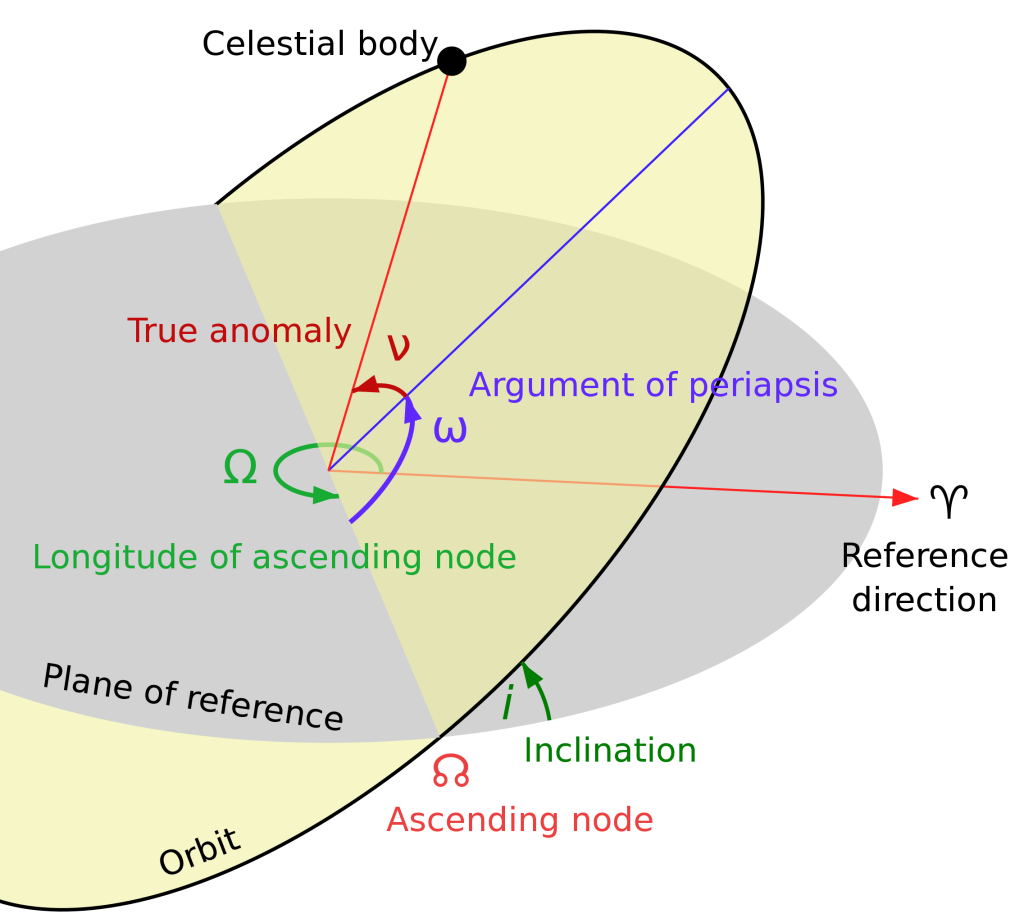 Even without the bulge, the Earth has continents and oceans, and there's just enough difference in density between those items that even they can perturb a satellite. I talked about geostationary orbits, but in fact most locations above the equator will suffer from perturbations from the small irregularities in the shape of the earth, and a satellite in GEO will actually drift a little bit if it doesn't use its thrusters for stationkeeping.
The moon is even more irregular; it has "mass concentrations" as if it were a gigantic lump of pudding with bowling balls rather than raisins. I remember being told when I was studying this stuff in college, that the effect of all those "mascons" was that a satellite in low lunar orbit simply wasn't stable and would eventually crash into the moon.
So much for what happens in a close orbit when the primary is at least somewhat irregular.
What happens if the satellite is irregular?
Imagine a telephone pole in Low Earth Orbit.
Unless it is in precisely the right orientation, one end of the telephone pole will be slightly closer to the earth than the other. Because it IS slightly closer, it will feel earth's gravity a bit more strongly than the other end. They're physically attached to each other, and the telephone pole as a whole is moving with the center of gravity (which is what is "in orbit" around Earth). The center of gravity feels no force, because it's responding freely to gravity. It's in free fall. Every other spot on and within that telephone pole feels a slight force, the extra gravitational pull from being closer to earth, or the deficit from being further.
Anyhow, since the near end of the pole feels more force towards Earth, and the farther end of the pole feels less force..the whole telephone pole will eventually rotate about its center of gravity, so that it points towards/away from Earth. It's not much, but there's no other force to counter it, not even friction. And even after it has done that rotation, the near end and far end feel a very slight "tugging" force, as if some giant were to grab each end of the telephone pole and try to stretch it.
The name for this phenomenon might be surprising: it's known as a tidal effect. Yes, as in ocean tides. Because they are caused by the same thing. The side of the earth closest to the moon feels more gravity; the side away from the moon feels less gravity. Water can flow freely in response to this so it tends to pile up at both ends; one end feels a net attraction to the moon, the other end feels a net repulsion.
How much is this apparent "stretching" force? Let's say the length of the telephone pole is 2L; so the near end is L units closer to earth than the center of the pole, and the far end is L units farther away. So if, at some moment, the telephone pole is at distance a from the center of the earth, what happens? The force due to gravity of the center of mass of the telephone pole is proportional to 1/a2. But the near end of the pole will feel a force that is 1/(a-L)2, and the far end will feel a force that is 1/(a+L)2. The apparent stretching force is the difference between these two, so it's going to be proportional to 1/(a-L)2 – 1/(a+L)2. Now, doing a bunch of algebra, this will simplify to: 4aL / (a4-2a2L2+L4). Now, a is much, much larger than L, and a4 is much, much, much larger than L4, so you can approximate that gigantic mess on the bottom with just a4. Cancelling, the stretching force is proportional to L/a3.
So tidal effects have an inverse cube effect going on. Move your telephone pole to twice the distance (from the center of the earth), and the tidal effect is 1/8th what it was before (not one half, or even one quarter). But it's also proportional to L; double the length of the pole, you will double the tidal effect.
OK, so imagine something like the moon. It feels a tidal effect. In fact the moon's shape is such that tidally it should always point the same face towards earth, and it does. In the billions of years since it formed, whatever rotation it started out with has gone away under the relentless, never ending pull from the tidal effect caused by Earth.
Of course we know the moon has a tidal effect on Earth. Is it trying to pull the Earth into a situation where the Earth always presents the same face towards the moon? Yes it is, and that is one reason the Earth is, very gradually, slowing its rotation down, resulting in having to add leap seconds here and there over the years to keep our clocks synchronized with Earth's rotation. The earth is 81 times as massive as the moon, though, so the moon has 81 times as much work to do slowing Earth down to tidally lock it. Nevertheless the loss of Earth's rotational angular momentum is causing a rise in the Moon's angular momentum (angular momentum is conserved, so if Earth loses it, something else must gain it), so the Moon is slowly receding from Earth. (This has been measured by bouncing lasers off reflectors the Apollo astronauts left on the moon.)
The four "big moons" (or "Galilean moons" of Jupiter are all tidally locked to Jupiter in the same way the moon is to Earth. Pluto and its satellite Charon are almost the same mass, each is tidally locked to the other. Seen from the surface of Pluto, Charon never rises nor sets; seen from the surface of Charon, Pluto never rises or sets, either; each of the two objects appears stationary from the other, just like, on the surface of the Moon, Earth does not appear to move; if it's above the horizon to the west where you're standing…it will stay there.
Imagine, though, if the Moon were much closer to Earth. Really close. Like, so close that when standing on that spot on the moon closest to earth, the tidal force equals the Moon's surface gravity.
Nothing would hold you to the moon then; you could just drift off. And that would be true of the lunar soil and rocks nearby too; they would just driff off since there's no net force holding them to the moon. (And the same would be true on the far side of the moon too, since it feels the same tidal force away from the center of the moon.)
The moon could, if it were even closer to earth, actually be disassembled, since now objects on the surface would be actively pulled away from it!
We think this is how Saturn's rings formed. Some object got too close to Saturn and was pulled apart by the tidal forces. Or perhaps the "stuff" in orbit around Saturn when Saturn formed simply couldn't form a moon in the first place! (But the rings themselves are slightly unstable and won't last more than a couple of hundred million years, which argues for them being formed well after Saturn was.)
Tidal forces can get really strong. Near a black hole for instance. Since a black hole is a point mass, greater, perhaps even much, much greater than the sun's mass, you can get very, very close to something with very strong gravity. And remember it's an inverse qube law…getting very, very close means having a LOT of tidal force.
Even enough to rip you apart, if you get close enough. Or anything else for that matter. Astronomers call this "spaghettification" (no, I'm not joking), this alludes to the fact that anything will be stretched until it looks like a strand of spaghetti…and then it will be stretched even more.
Right now astronomers are watching a gas cloud being pulled into the black hole at the center of our galaxy and it, sure enough, is being stretched as it gets closer and closer. I can't seem to link to the video (and it's on msn.com so that's just as well), but it actually labels the gas cloud as being "spaghettified."
Obligatory PSAs and Reminders
China is Lower than Whale Shit
Remember Hong Kong!!!
中国是个混蛋 !!!
Zhōngguò shì gè hùndàn !!!
China is asshoe !!!
China is in the White House
Since Wednesday, January 20 at Noon EST, the bought-and-paid for His Fraudulency Joseph Biden has been in the White House. It's as good as having China in the Oval Office.
Joe Biden is Asshoe
China is in the White House, because Joe Biden is in the White House, and Joe Biden is identically equal to China. China is Asshoe. Therefore, Joe Biden is Asshoe.
But of course the much more important thing to realize:
Joe Biden Didn't Win
乔*拜登没赢 !!!
Qiáo Bài dēng méi yíng !!!
Joe Biden didn't win !!!