This METHINKS THE DEMS BE IN A WEE BIT OF TROUBLE THURSDAY open thread is VERY OPEN – a place for everybody to post whatever they feel they would like to tell the White Hats, and the rest of the MAGA world.
You can say what you want, comment on what other people said, and so on.
Free Speech is practiced here. ENJOY IT. Use it or lose it.
Keep it SOMEWHAT civil. They tried to FORCE fake Orwellian civility on us. In response, we CHOOSE true civility to defend our precious FREEDOM from THEM.
Our rules began with the civility of the Old Treehouse, later to become the Wolverinian Empire, and one might say that we have RESTORED THE OLD REPUBLIC – the early high-interaction model of the Treehouse – except of course that Q discussion is not only allowed but encouraged, and speech is considerably freer in other ways. Please feel free to argue and disagree with the board owner, as nicely as possible.
Please also consider the Important Guidelines, outlined here in the January 1st open thread. Let's not give the odious Internet Censors a reason to shut down this precious haven.
---
Remember the 5 words that President Trump and Vice President Pence love to hear:
I AM PRAYING FOR YOU!
---
AND WHAT TIME IS IT? TIME TO….
DRAIN THE SWAMP
Our movement

Is about replacing

A failed

And CORRUPT

Political establishment

With a new government controlled

By you, the American People.

Candidate Donald J. Trump
---
Also remember Wheatie's Rules:
No food fights.
No running with scissors.
If you bring snacks, bring enough for everyone.
---
Think about what is happening now. Think about what just happened today. POTUS has CALLED OUT THE DEMS for their SICK FAILED ILLEGAL RADICAL LEFTIST IF NOT COMMUNIST IMPEACHMENT GAME, for which they were caught red-handed. He WILL NOT MAKE A DEAL while they keep it up – and they CAN'T QUIT.
Two articles are very helpful to see this.

https://www.msn.com/en-us/news/opinion/for-democrats-the-partys-over/ar-AABKzyO?ocid=spartanntp
Here is the beginning:
If the Democrats are really tempted by impeachment, bring it on. Since the day after the 2016 election they have been threatening this, placing their chips on the Russian-collusion fantasy and then on the phantasmagoric charade of obstruction of justice. The attorney general accurately gave the ingredients of the offense of obstruction of justice in his four-page summary of the Mueller report: a corrupt act for corrupt purposes in contemplation of a legal proceeding. The attorney general, William Barr, the then deputy attorney general Rod Rosenstein, and the Justice Department counsel concurred that none of the elements was present in the conduct of the president as recounted by Mueller. The dream died, except in the febrile imagination of the Democrats, who launched an unfounded attack on the attorney general's integrity. Everyone knows that the prospects of a successful move to impeach and remove the president from office by two thirds of the Senate finding that he has been proved beyond a reasonable doubt to have committed high crimes and misdemeanors, as the Constitution requires, are less than zero.

Conrad Black, May 22, 2019
What ensues here is a BEAUTIFUL HISTORY LESSON on MODERN IMPEACHMENT. Not only does Conrad Black put WATERGATE in proper perspective – he also puts the Reagan "scandals" and Clinton impeachment in proper perspective.
So who is this guy, who was just recently PARDONED BY TRUMP? The following link will begin to answer your questions, but remember – it's still FAKE NEWS.
https://www.reuters.com/article/us-usa-trump-black-idUSKCN1SM01G
But then go here if you want the REAL story.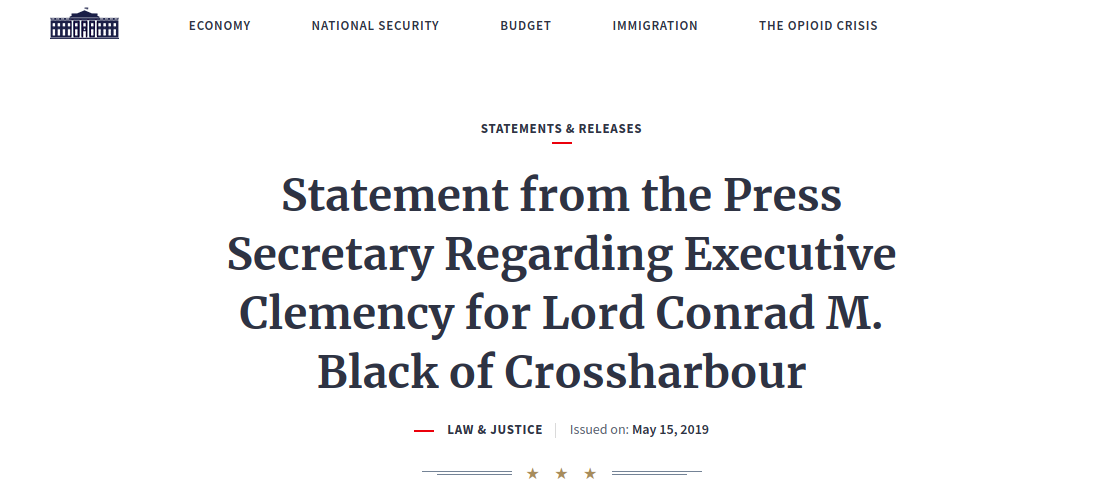 https://www.whitehouse.gov/briefings-statements/statement-press-secretary-regarding-executive-clemency-lord-conrad-m-black-crossharbour/
Today, President Donald J. Trump signed an Executive Grant of Clemency (Full Pardon) for Lord Conrad M. Black of Crossharbour.

In 2007, prosecutors alleged that Lord Black had committed several acts of mail fraud and obstruction. The Supreme Court of the United States, however, largely disagreed and overturned almost all charges in his case. He nevertheless spent 3.5 years in prison.

An entrepreneur and scholar, Lord Black has made tremendous contributions to business, as well as to political and historical thought. Formerly the owner of the world's then-third largest newspaper, he is also the author of several notable biographies and works of history. These include comprehensive biographies of Presidents Franklin D. Roosevelt and Richard M. Nixon, a complete history of Canada, and an impressive essay evaluating how the world would have been different had Japan not attacked Pearl Harbor.

Lord Black's case has attracted broad support from many high-profile individuals who have vigorously vouched for his exceptional character. This impressive list includes former Secretary of State Dr. Henry A. Kissinger, Sir Elton John, Rush Limbaugh, the late William F. Buckley, Jr., and many additional notable individuals. Consistent with his distinguished reputation for helping others, while in prison, Lord Black served as a tutor for 150 students, helping them achieve their educational goals. In light of these facts, Mr. Black is entirely deserving of this Grant of Executive Clemency.

Press Secretary Sarah Sanders, May 15, 2019
We now go to a SECOND article of interest.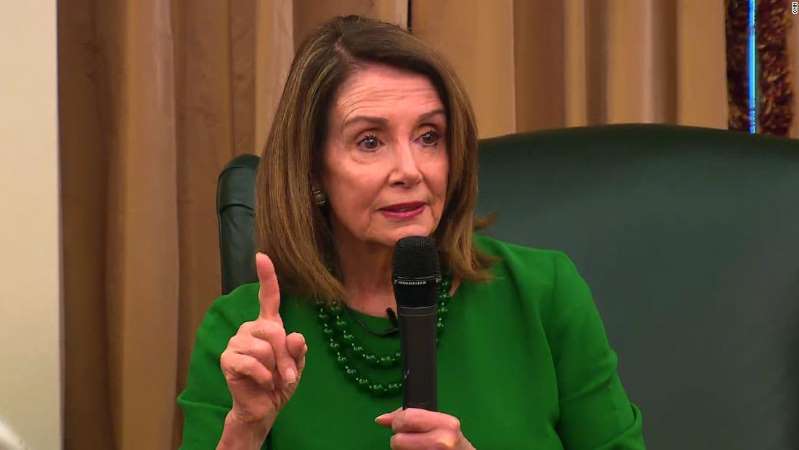 https://www.msn.com/en-us/news/opinion/nancy-pelosi-is-making-a-big-mistake-on-impeachment/ar-AABKyFc?ocid=spartanntp
AND I QUOTE….
House Speaker Nancy Pelosi is sitting on a political powder keg. With a President trying to goad her into launching impeachment, fulfilling the textbook definition of abusing power, she faces growing pressure from her caucus to let the House vote on starting the process. On Wednesday Democrats met behind closed doors once again to discuss the situation.

FAKE NEWS CNN, SOME LEFTIST HACK
NOW – you might read that headline and first paragraph, and think that this FAKE NEWS "journalist", Julian Zelizer, CNN Political Analyst (no relation to CNN Democrat Partisan Brian Stetler, a.k.a. Baby Beluga) is WARNING Pelosi about the dangers of attempting their little communist impeachment game against President Trump.
AND YOU WOULD BE WRONG.
In fact – UNBELIEVABLY – this CNN "political analyst" is saying that Nancy Pelosi should NOT CHICKEN OUT – that she SHOULD begin impeachment.
Whatever.
The FAKE NEWS cannot be fixed. They can only be REPLACED.
TIME TO NUKE THESE COMMIE SPUDS.
#DECLAS = #WAR
W