This WE ARE ON THE WAY TO JUSTICE WEDNESDAY open thread is VERY OPEN – a place for everybody to post whatever they feel they would like to tell the White Hats, and the rest of the MAGA world.
You can say what you want, comment on what other people said, and so on.
Free Speech is practiced here. ENJOY IT. Use it or lose it.
Keep it SOMEWHAT civil. They tried to FORCE fake Orwellian civility on us. In response, we CHOOSE true civility to defend our precious FREEDOM from THEM.
Our rules began with the civility of the Old Treehouse, later to become the Wolverinian Empire, and one might say that we have RESTORED THE OLD REPUBLIC – the early high-interaction model of the Treehouse – except of course that Q discussion is not only allowed but encouraged, and speech is considerably freer in other ways. Please feel free to argue and disagree with the board owner, as nicely as possible.
Please also consider the Important Guidelines, outlined here in the January 1st open thread. Let's not give the odious Internet Censors a reason to shut down this precious haven.
---
Remember the 5 words that President Trump and Vice President Pence love to hear:
I AM PRAYING FOR YOU!
---
AND WHAT TIME IS IT? TIME TO….
DRAIN THE SWAMP
Our movement

Is about replacing

A failed

And CORRUPT

Political establishment

With a new government controlled

By you, the American People.

Candidate Donald J. Trump
---
Also remember Wheatie's Rules:
No food fights.
No running with scissors.
If you bring snacks, bring enough for everyone.
---
It's important to remember WHEN Hillary lost her shoe:
The TIMING of the 9/11 ceremony during one of her Parkinson's "off days" was key to making this happen. Hillary had managed to schedule, reschedule, and SKIP events very carefully to avoid giving away the game of her Parkinson's. She appeared on good days, and disappeared on bad days. This was not possible on 9/11. KARMA.
Cernovich and I were among the people who were convinced that Hillary Clinton had Parkinson's. One of the opinions that I followed very closely on this was Ted Noel, who watched her closely in the news for signs of Parkinson's. Here is one of his many videos on this:
Note that Dr. Noel warns that Hillary might show these eye symptoms in the then-upcoming debates – which SHE DID NOT. It is my contention that she had MUCH practice controlling all her outward symptoms of Parkinson's. Similarly, the MEDIA was careful to do things and arrange things in a way that covered up for her. Thus, I'm not terribly surprised that she almost completely succeeded in covering things up at that first debate.
One of the things I was most proud of, was discovering (albeit somewhat later) that she was MASKING the classic Parkinsonian "pill-rolling tremor" in the first debate. It was interesting how she did this, with her hand flattened out on the podium. The KEY to seeing this was actually her trolls and shills, who tried to sell the "Hillary analysis crowd" on various extremely cunning bits of disinformation.
One of these disinformation items was to claim that Hillary's index finger motions on the podium in the debate were some kind of hidden "scrolling mechanism" to look through her pre-prepared answers to questions. As you can imagine, such an idea is highly discrediting if it's WRONG, and I could tell that I was being shilled VERY HARD on Parkinson's stuff, so I (1) knew I was on the right track, OVER THE TARGET, and (2) whatever "extreme" things the shills were selling was probably disinformation.
Here is Hillary at the FIRST debate – the debate with Lester Holt and the mysterious podium-paper-snatching man known as "The Cleaner". There was also some guy who removed a LIGHTING element from Hillary's podium – presumably the element for the light-box prompter.
You can see that Hillary has her right hand in the air. At many points, she laid her hand FLAT on the wooden surface to the right of her papers, and rubbed her index finger back and forth on the surface in a very subtle way. I believe she was trained to do this whenever she felt a "pill-rolling tremor" coming on.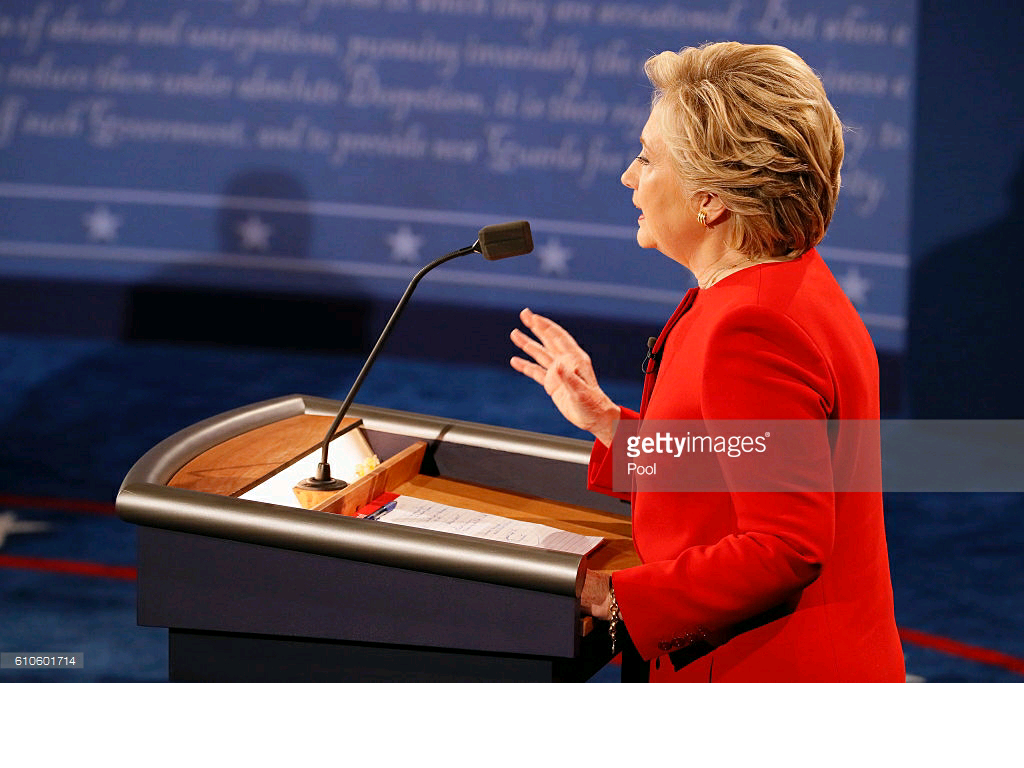 I do not have close-ups of Hillary's fingers on the podium, but I did at the time we were analyzing this. They were quite interesting.
Based on the heavy shilling of the idea of a hidden scrolling mechanism, as well as the OBVIOUSNESS of three things that would have supported the bogus idea of the scrolling mechanism: (1) light-box turned on, although no apparent images on it, (2) the "Cleaner", and (3) the guy removing the lighting element (clearly real), I now suggest the following scenario.
Hillary was NOT terribly worried about the idea that she was getting fed either questions or answers. THOSE IDEAS were not significant dangers for her to lose voters or potential voters. People, frankly, didn't care if she was fed some answers. THAT is just CHEATING. Most Dems are actually not too bothered by cheating.
Thus, "cheating on questions and answers" – either by the "Cleaner" mechanism or by the lightbox mechanism – was an acceptable "lesser scandal" to promote and NEUTRALIZE the Parkinson's scandal.
What Hillary WAS afraid of was the idea of Parkinson's slipping out. THAT had the potential of taking a LOT of votes from her.
THEREFORE her people constructed the RUSE to both DISTRACT and to support the idea that her finger movements, even though well masked, were actually something ELSE. The elements of the ruse were the very obvious "Cleaner" (a distraction), the lightbox being on (likely needed to help Hillary see, anyway, versus Trump, who did not turn his on), and the removal of the lighting element from the podium DURING A TIME IT WOULD BE OBVIOUS. The POINT of all this was to put together a sexy, distracting, and discrediting alternative narrative to the truth – that Hillary was simply hiding her Parkinson's pill-rolling tremor.
Do you see what we're up against? And the fake news was ZERO help in this regard.
Nevertheless, justice was served. The Hillary "shoe" event – also known as the "side of beef" event – was when many people realized that Hillary Clinton was NOT WELL – and that she was lying about it. The fake news did its best to cover up, but they failed.
That was the beginning of justice.
Prepare for more.
W