It's gonna be big. It's gonna be awesome. With people already in line, we are starting our Trump Rally Thread a DAY EARLY!!!!!!!!!!!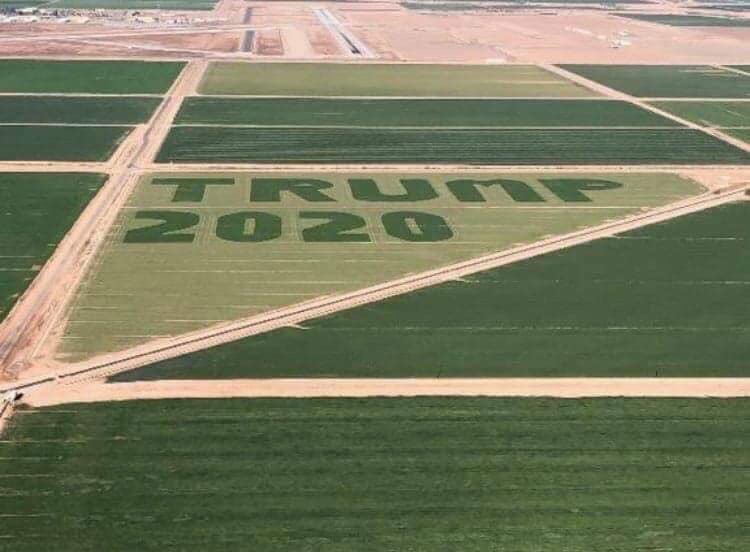 We've plowed the fields, we've made the popcorn. It's gonna be an awesome kickoff in Orlando, tomorrow.







!!!!!!!!!!!!  RALLY LIVE STREAMS !!!!!!!!!!!!!:
GOLDEN STATE TIMES – 
https://www.youtube.com/watch?v=AS689_h5CCQ
RSBN – 
https://www.youtube.com/channel/UCHqC-yWZ1kri4YzwRSt6RGQ
CSPAN will also stream the rally!
Bet Fox News or Fox10 Phoenix will also carry it. (
Hat tip to my co-pilot, Ga/FL, for the links
)
Yes, people are in line already. From Gateway Pundit:
…Eight Trump supporters started camping out Monday morning, with the first one showing up at 2:30 a.m. The rally is scheduled to begin at 8 p.m. Tuesday.
Gary Beck, a Trump supporter from Panama City, was the first in line.
"There's going to be a bunch of people, and it's going to be pretty intense," Beck said. "The electricity is going to be high. It's time for America to get back on its feet and be made better than it's ever been before."
They're happy, ready, and tailgating all the way to tomorrow night.
Folks are already lined up ahead of tomorrow's @realDonaldTrump rally here in Orlando! Hear their stories throughout the day @news965wdbo pic.twitter.com/1hLEHxNeYh

— Darrell Moody (@TheMoodyNews) June 17, 2019

It's going to be a "45Fest" with food trucks, a band, and souvenirs.
Trump team adds "45 Fest" to Tuesday's Rally in Orlando – https://t.co/Do1mgMtP0N #presidenttrump #orlando #news965 #wdbo pic.twitter.com/maHP8cwJQV

— WDBO (@WDBONews) June 17, 2019

As of Friday, there were 104K ticket requests. The facility can seat 20K. Trump Supporters don't care. This rally will be legendary!
#BREAKING: Pres Trump boasts of 100,000 ticket requests for Tuesday Amway Center event that seats 20,000 – https://t.co/8ARabCJX86 #presidenttrump #orlando #news965 #wdbo pic.twitter.com/tNQwQYuzOD

— WDBO (@WDBONews) June 17, 2019

People are coming from all over the WORLD to this rally. Look, when your opponents are willing to travel from London to Orlando, just to protest you, ya' must be doing something right. Gee, I wonder if the Baby Trump balloon people made the committment to come before OR AFTER their balloon was POPPED?
Baby Trump is coming to Orlando – https://t.co/QOpyvNfUxS #presidenttrump #orlando #news965 #wdbo pic.twitter.com/OzcYx0qrca

— WDBO (@WDBONews) June 17, 2019

Security will be tight, OUR Trump is the President of the USA, after all. Here's a handy article on what NOT to bring to the rally. Link    And here Link
https://www.news965.com/news/local/what-not-bring-the-trump-rally/TRCSZSrUch4WF7l7sA7NGJ/
https://www.clickorlando.com/news/politics/what-to-know-ahead-of-president-trumps-rally-in-orlando
Please NOTE A FEW UPDATES: The streets around the AMWAY Center will be closed at 9:00AM. Doors open, as normal, at 4:00pm. TAILGATER starts at 10:00AM.
If you are on Twitter, please join/follow the official campaign account, at: And if you text 88022 to the team, you can receive instant updates.
This is a movement like we've never seen in the history of our country.

President @realDonaldTrump is keeping his promises to the American people.

FOUR MORE YEARS!#PromisesMadePromisesKept #Trump2020 pic.twitter.com/uWcUJmXQM0

— Team Trump (Text TRUMP to 88022) (@TeamTrump) June 17, 2019

Get ready, put your comfy shoes on, and let's go.
The Boss says it's going to be great.