This FEAR NO EVIL FRIDAY open thread is VERY OPEN – a place for everybody to post whatever they feel they would like to tell the White Hats, and the rest of the MAGA KAG! KMAG world (KMAG being a bit of both).
You can say what you want, comment on what other people said, and so on.
Free Speech is practiced here. ENJOY IT. Use it or lose it.
Keep it SOMEWHAT civil. They tried to FORCE fake Orwellian civility on us. In response, we CHOOSE true civility to defend our precious FREEDOM from THEM.
Our rules began with the civility of the Old Treehouse, later to become the Wolverinian Empire, and one might say that we have RESTORED THE OLD REPUBLIC – the early high-interaction model of the Treehouse – except of course that Q discussion is not only allowed but encouraged, and speech is considerably freer in other ways. Please feel free to argue and disagree with the board owner, as nicely as possible.
Please also consider the Important Guidelines, outlined here in the January 1st open thread. Let's not give the odious Internet Censors a reason to shut down this precious haven.
---
And what do we want to be able to tell our VSG?
I AM PRAYING FOR YOU!
---
AND WHAT TIME IS IT?
TIME TO….
DRAIN THE SWAMP
Our movement

Is about replacing

A failed

And CORRUPT

Political establishment

With a new government controlled

By you, the American People.

Candidate Donald J. Trump
---
Also remember Wheatie's Rules:
No food fights.
No running with scissors.
If you bring snacks, bring enough for everyone.
---
Q posted again, according to a reliable pattern (see if you see the same one I am seeing).
---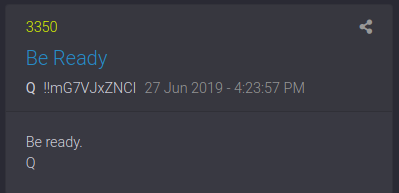 Q!!mG7VJxZNCI27 Jun 2019 – 4:23:57 PM

Be ready.

Q

Q Post 3350 from qmap.pub
This is big. THIS is the main message, IMO. It is PSYCHOLOGICAL. It is IMMINENT. This is not "get ready" – you should have prepared ALREADY. This is BE READY.
I know I recycled an old "preparation" meme for the header, but that's the one where, when it originally played, you should have "gotten ready".
Yeah, there is likely time to fill the tanks and hit the grocery store, but BIG PREP should have been done by now.
Note that Q's post is very subtle, almost BLAH, BLAH, BLAH, TIC, TOC, YAWN, YAWN, YAWN in a kind of "don't pay attention to the person who has said all this stuff before" way.
You know what I'm sayin'? Good. "Pay attention to this one" is where I'm putting MY CHIPS.
---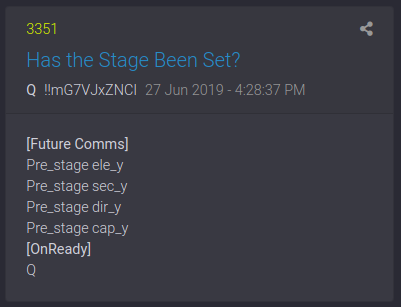 Q!!mG7VJxZNCI27 Jun 2019 – 4:28:37 PM

[Future Comms]

Pre_stage ele_y

Pre_stage sec_y

Pre_stage dir_y

Pre_stage cap_y

[OnReady]

Q

Q Post 3351 from qmap.pub
Future comms, baby! Why? Because things are GOING DYNAMIC very soon. All that stuff Q talked about, about comms being shut down, messed with, and otherwise under attack – this is going to happen. We are going to have to GET DYNAMIC and FIGHT BACK.
HELL – it's happening ALREADY! Just think about it. The Cabal tried to ratchet it up slowly, but it's obvious that they've been turning the screws on us.
They are OPENLY MOVING AGAINST FREE SPEECH NOW. The FIRST AMENDMENT.
You see all this shit coming out now about what Silicon Valley was doing? Altering our fucking search results for POLITICAL CONTENT back to WELL before the 2016 election? Meddling on a scale that DWARFS what they even ALLEGE that Russia did!
DO YOU KNOW what this means? This means that "WE HAVE IT ALL" was watching this shit IN PROGRESS. This "breaking news" of MASSIVE ELECTION MEDDLING by Silicon Valley was KNOWN. "We have it all" had it all, brothers and sisters. They KNEW what kind of treason was being pulled. These LEFT TECH fuckers thought they were getting away with it.
I don't see these progzi turds in Silicon Valley giving up. I don't see them backing down. I see them having to be DRAGGED OUT IN CUFFS.
Be ready. Get your popcorn.
---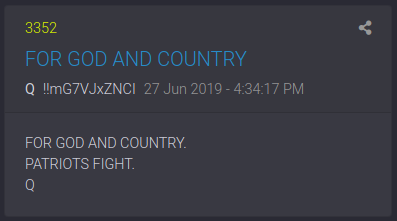 Q!!mG7VJxZNCI27 Jun 2019 – 4:34:17 PM

FOR GOD AND COUNTRY.

PATRIOTS FIGHT.

Q

Q Post 3352 from qmap.pub
Patriots fight?
DAMN RIGHT THEY DO.
Be ready.
W