FINALLY.
At long last, somebody did the right thing.
HIT THE COMMIE BEHIND THE MASK.
LINK: https://therightscoop.com/trump-campaign-manager-rips-into-evil-scumbag-cnn-story-about-his-wife/
READ IT!!!
If there is ANYTHING that shows Trump is in good hands, it is the fact that Brad Parscale KNOWS the Sy Hersh truth – that EDITORS – partisan, activist, agency TRASH – are the ones responsible for the KGB-CIA SOCIALIST PROPAGANDA that passes for "news" now.
PUNCH:
COUNTER-PUNCH:
Oh, I was SO waiting for SOMEBODY to start dialing the artillery to fall well behind Fake News enemy lines. THANK YOU, BRAD PARSCALE!
Let me give you a FAST UNDERSTANDING of why hitting the EDITORS is so important.
Bear in mind – I may actually know something ABOUT EDITORS.
Let's start with MATT DRUDGE…..
During Bill Clinton's administration, when there were all sorts of stories about the White House and Democrats that were appearing in the "alternate media", but never in the mainstream press, it was widely believed in "non-partisan" circles that these alt-media stories were fiction – "conspiracy theories" – National Enquirer stuff. And yet – looking at them from MY little perch in the world, where FACTS MATTERED, these "conspiracy theories" about the Clinton White House had so much detail. So much utility. So much explanatory power.
Something was VERY WRONG.
And then Monica Lewinsky happened, and we learned the truth.
SPIKING.
Stories were being SPIKED by editors – held back from publication – or otherwise discouraged.
There was some relief from this during the George W. Bush years, when the media clearly was NOT protecting the President. However, under Obama, it came back in spades. And when the press FINALLY refused to report about Trayvon Martin's history of drug use, violence, and burglary – well – the censorship was clearly WORSE than it had been under Bill Clinton.
And THAT is when media insider Sy Hersh spelled out VERY CLEARLY what I had always suspected – that it was EDITORS – people who should be EXEMPLARS of journalism, and not sandbagging partisans – who were ruining American media, and turning it into an extension of the Democrat party.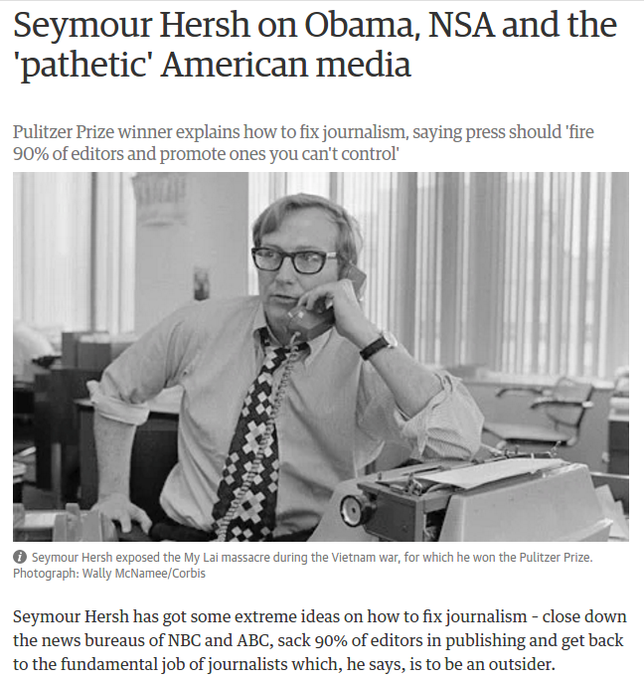 LINK: https://www.theguardian.com/media/media-blog/2013/sep/27/seymour-hersh-obama-nsa-american-media
ARCHIVE: https://archive.fo/SZxaV
I have held onto that admission by Hersh as a kind of media good luck charm – a TRUTH that gets proven OVER and OVER and OVER.
Right here is one of the last times I used it – when Obama handler and media czar David Axelrod was CAUGHT "seeding the newsroom" with a political operative, albeit after he had fled the scene.
SO…..
Let's look at the situation.
We KNOW that CNN is a frigging house on fire with CIA influence, filled with mockingbird "fake news" assets of all kinds.
We KNOW that CNN is going ALL-OUT to "get" Trump this time.
I confidently predict that CNN will PROTECT and DEFEND any attempt – political or kinetic – to harm our President.
And so, with that in mind, we need to REMEMBER who the ENEMIES OF TRUTH actually are.
EDITORS.
So what about this guy? I think Parscale – like Trump – is calling this boy out fair and square. Parscale – who steals every Trump Trick he can, absolutely wants his tweets to "age not just well, but to GOLD". So he is not going to make special efforts to slam this guy hard unless there is some "there" there.
If I'm right, it would appear that CNN has a hidden political or agency operative as VP of News for their Washington Bureau.
Does anybody have a Dafna Linzer-type story on this guy? You know it's there. This guy has to be TIGHT with either HRC-DNC or KGB-CIA. If you do, we'd love to hear it. Just to confirm our theories that THIS GUY obey's Sy's Law of Fake News Editors.
W
PS – HA! Potential diaper-boy pulled his full bio from CNN – the link goes to NOTHING now.
This is all there is.
Short Bio:
Long Bio:
Aw, too BAD! Now I'm intrigued.
My diaper-sniffer is being challenged! If anybody here cares to retrieve his CV from LinkedIn, it would be appreciated (I can't go there, sadly). I'm guessing there will be signs of KGB-CIA recruitment.
It looks like he was covering Benghazi-era Obama-Biden military and security stuff (primo CIA activity, BTW) around the 2012 election, because there is a 2012-2013 CNN blog with numerous White House-related blog entries – three pages worth, starting HERE: http://security.blogs.cnn.com/tag/cnns-adam-levine/
Interesting timing – no? CIA / HRC protector?
Please add any details you find, on either the attack on Parscale or the missing background on the attacker. FISK THE RISK.