This FEARLESS FRIDAY open thread is OPEN – VERY OPEN – a place for everybody to post whatever they feel they would like to tell the White Hats, and the rest of the MAGA / KAG! / KMAG world (KMAG being a bit of both MAGA and KAG!).
---
---
You can say what you want, comment on what other people said, and so on.
Free Speech is practiced here. ENJOY IT. Use it or lose it.
Keep it SOMEWHAT civil. They tried to FORCE fake Orwellian civility on us. In response, we CHOOSE true civility to defend our precious FREEDOM from THEM.
Our rules began with the civility of the Old Treehouse, later to become the Wolverinian Empire, and one might say that we have RESTORED THE OLD REPUBLIC – the early high-interaction model of the Treehouse – except of course that Q discussion is not only allowed but encouraged, and speech is considerably freer in other ways. Please feel free to argue and disagree with the board owner, as nicely as possible.
Please also consider the Important Guidelines, outlined here in the OLD January 1st , 2019 open thread. Let's not give the odious Internet Censors a reason to shut down this precious haven.
---
SPEAK THE FIVE WORDS BOLDLY TO OUR PRESIDENT!
"I AM PRAYING FOR YOU!"
---
AND WHAT TIME IS IT?
TIME TO….
DRAIN THE SWAMP
Our movement

Is about replacing

A failed

And CORRUPT

Political establishment

With a new government controlled

By you, the American People.

Candidate Donald J. Trump
---
Also remember Wheatie's Rules:
No food fights.
No running with scissors.
If you bring snacks, bring enough for everyone.
---
This open thread has TWO additional purposes.
FIRST, it is going to be a TEASER for an article on "GuginoGate" – the latter being the FAKE NEWS SCANDAL underlying Trump's tweet which is cited above.
Let's look at that more closely…..
Yeah, let's watch how he holds position on that last swipe, even after the cop shoves him away – WHICH I CONTEND WAS THE DESIRED RESPONSE BY THE POLICE TO SET UP WHAT FOLLOWS!!!!!…..
YUP – the DEFINITIVE ARTICLE on GUGINOGATE is coming!
---
But now I would like to REMIND everybody about one possible reason WHY Adam Schiff – serial liar and hoaxer – is so utterly HUNG UP on a really stupid idea that might be called "VACCINES CAN DO NO WRONG" – an utterly untenable scientific position, despite all the GOOD that smart, honest, proven and well-tested vaccines – like drugs – have to offer.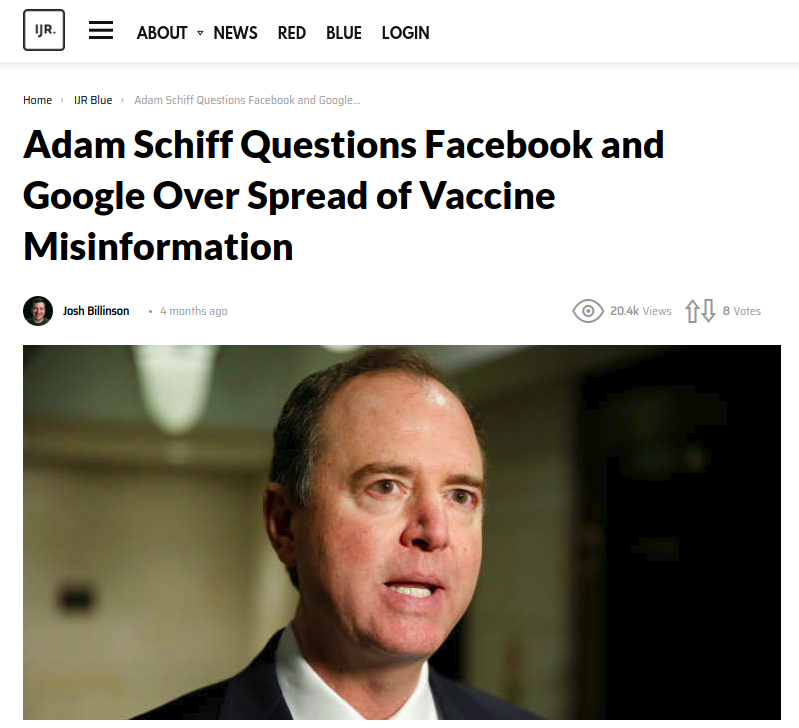 Adam Schiff – very wrongly – believes that any position other than "vaccines can do no wrong" is "misinformation".
HORSEFEATHERS!!!
One of the PROOFS that vaccines can indeed "do harm" is the fact that vaccine candidates are FAILED all the time for such harm.
ANOTHER such proof is that THIS HARM is exactly the principle on which STERILITY VACCINES are based.
Sterility vaccines (or sterilization vaccines – take your pick) are DESIGNED to cause very specific harm that will render people STERILE without otherwise harming them.
It is important to know that significant progress has been made on these things.
First, go HERE to listen to a whistleblower's report on that progress:
LINK: https://www.bitchute.com/video/IalsQvC0XIdl/
Take it with a few grains of salt, but it still sounds both tenable and authentic to me.
NOW – it BOTHERS people – and I'm one of them – that SCIENCE has been doing a lot of lying lately, and has really earned the name FAKE SCIENCE. It's not like we can trust everybody in science.
So – some people think the reason nobody is TALKING about sterilization vaccines, but great progress is being made on them, is that EUGENICISTS – like HITLER – are rearing their ugly heads again, and that THEY are the ones pushing SECRET RESEARCH on sterility vaccines.
I mean – let's face it. Hitler would have MUCH preferred a sterilization vaccine to Zyklon B as a means to "solve the Jewish problem".
SO, go HERE for Natural News to offer THEIR theory on where this is going.
RACIST EUGENICS.
SHOCKING podcast: The evil plot (by Big Pharma) to use COVID-19 vaccines to mass murder blacks
Depopulation globalist Melinda Gates already pushing experimental COVID-19 vaccines on "people of color" as the target group to vaccinate first
NOW – I don't know if Mike is right about the eugenicists plotting to kill blacks, but Margaret Sanger and the Eugenics movement did indeed want to reduce the population of black people – that is very well documented.
And a eugenicist pretty much started World War II, if I recall.
And eugenicists are probably still around, although I think they keep a pretty low profile. But they certainly seem plausible. Enough that people believe science fiction involving such things is "highly likely to happen".
But killing blacks?
Frankly, if CHINA were driving "sterilization wars", I would think WHITES would be their primary target, but whatever.
Mike Adams' view of COVID-19 actually sounds very well-informed to me. Not a lot of speculation there. That's good. But the bottom line is that the real issue isn't whether Mike Adams is credible. The real issue is that mainstream science and medicine, after all the literally murderous hate and trickery dropped on hydroxychloroquine from their ranks, are NOT CREDIBLE.
And we have to fix that.
---
W
PS – one more important video from Mike Adams.
BOMBSHELL: Leaked secret meeting reveals editor of The Lancet describing Big Pharma as "criminal"