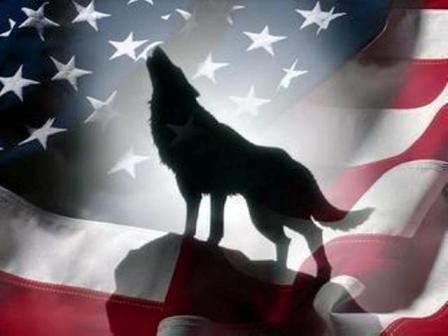 Let me begin by thanking everybody who helped test out the forum, including a couple of "new" posters. I want to emphasize that the forum is going to be designed to bring more people to the discussion, which is basically designed to be like Twitter or Gab – talk about whatever.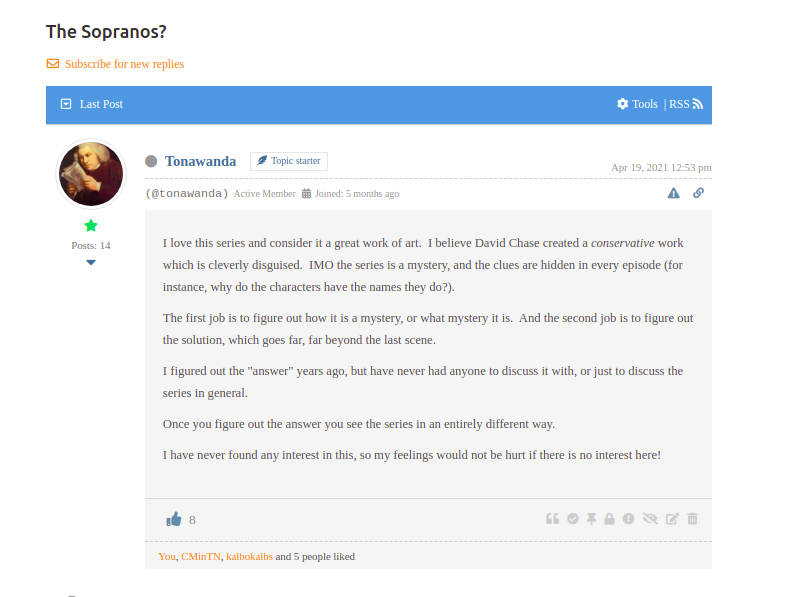 I want to THANK Tonawanda for pushing this aspect IMMEDIATELY, because I want the forum to be a real forum. Patriots talking about WHATEVER. We will likely create subfora which may ask for either HIGHER levels of civility, or allow for LOWER levels of civility – basically being "The U Tree", only not under the control of WordPressDotCom. We will leave The U Tree where it is, as a kind of lifeboat in case this whole site goes down, but otherwise, I want to move the "get a room" stuff back to this site – just in a back room.
Likewise, thank you to Bfly for BRINGING HOME THE BACON.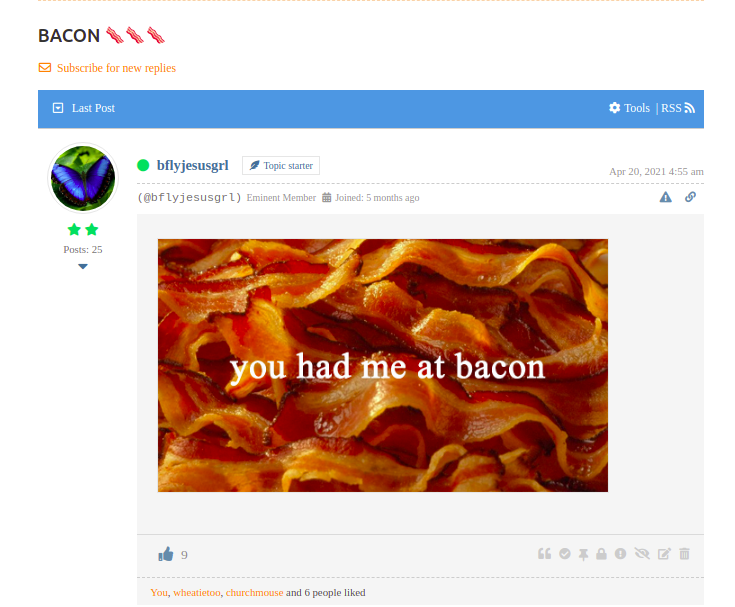 Our friend rayzorback also gets it. ANYTHING.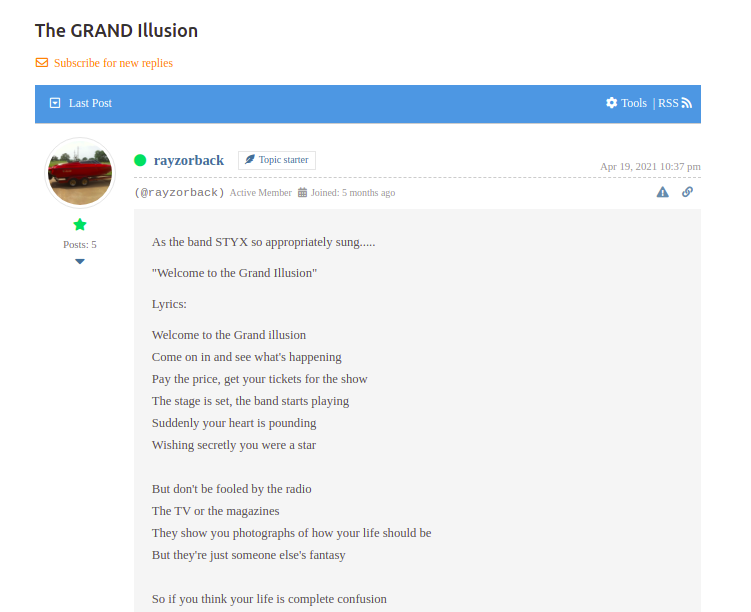 NOW – let's get down to BUSINESS.
I want to start making this sucker more like what it's supposed to be – to get it OUT of beta test mode – very quickly.
We have different formats – the default is THREADED, which is much like on our blog, with the wpDiscuz commenting system.
Threaded has INDENTATION of REPLIES to REPLIES.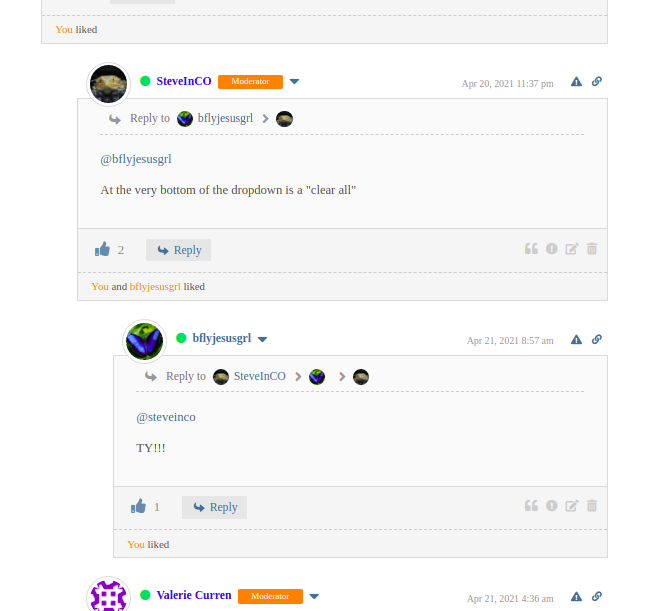 Threaded ALSO seems to be the most popular of the formats: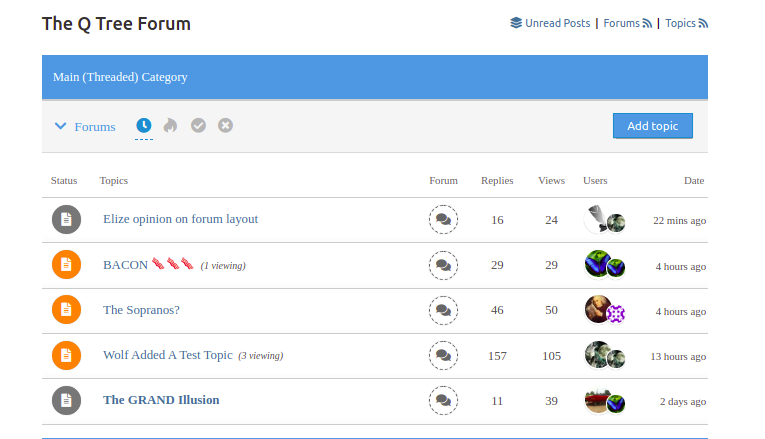 Now that is SOMEWHAT not fair, because I put up a threaded forum first, and people gravitated to it. HOWEVER, I put up the other three formats fairly quickly, and they DID draw replies, but NOT new topics (or "posts" in some parlance), as the THREADED format did.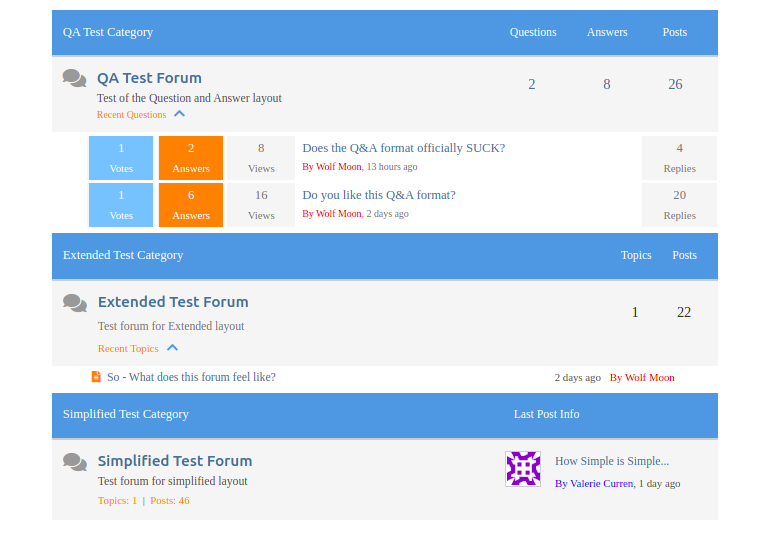 Based on my observations, the big hit was conservative cultural discussion using the threaded format.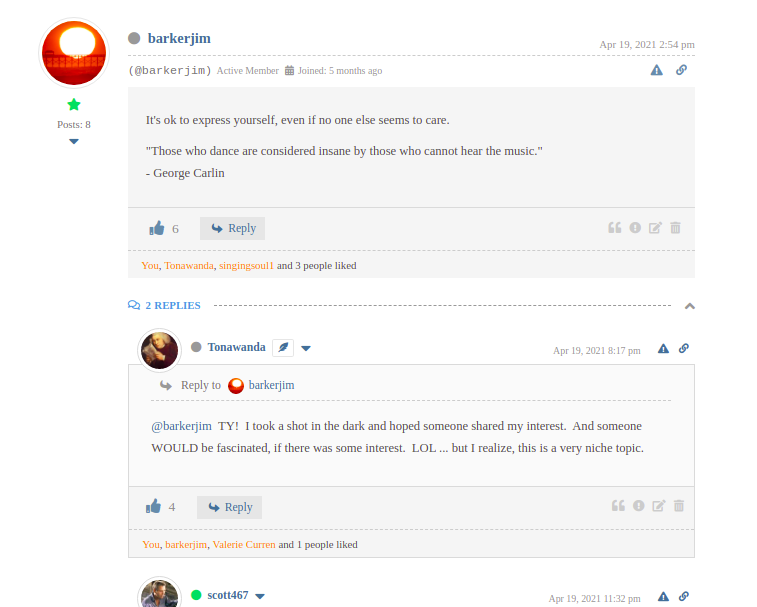 The threaded format simply drew MORE participation.
The next most popular was PROBABLY the Simplified layout. This layout depends heavily on QUOTING. It's linear with embedded quotes that refer back to prior replies. This is an older but very common style of layout.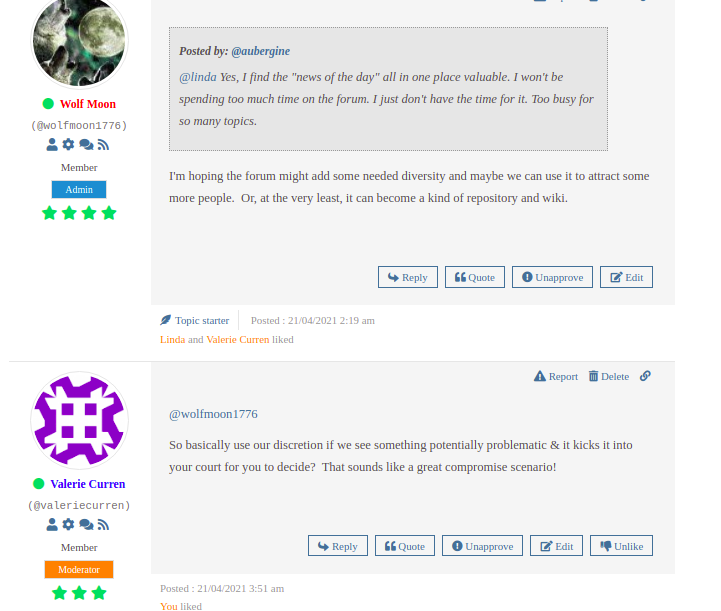 The Extended layout is pretty much the same as simplified, only LOOOONGER. It also depends on quoting.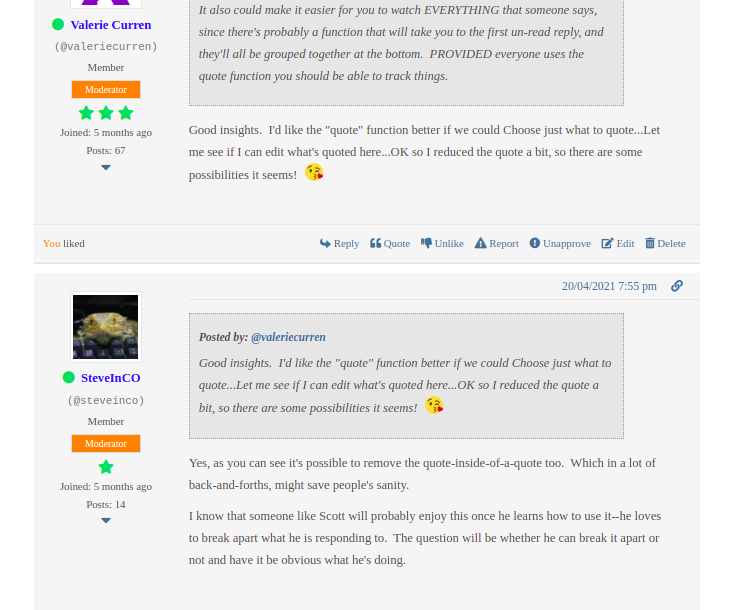 Finally, there is the Q&A layout, which is a bit like Reddit, and a bit like technical "questions answered" forums.
This one is weird and confusing, yet has strange charms. It's easier to show you how it works. The most important principles are as follows.
(1) The title asks a question, which is fleshed out in a top-level "reply" which can be commented upon.
(2) Responses to the title question are also top-level "replies", which are called "Answers", which have changeable titles, and can be upvoted or downvoted, affecting their display order.
(3) All top-level replies, both the fleshed-out question AND the "answers", can draw COMMENTS, which are next-level replies, to which one CANNOT reply or "like".
NOW – with that understanding in mind, observe FOUR disjoint snippets from a single Q&A session, which illustrate all these features and limitations.
---
1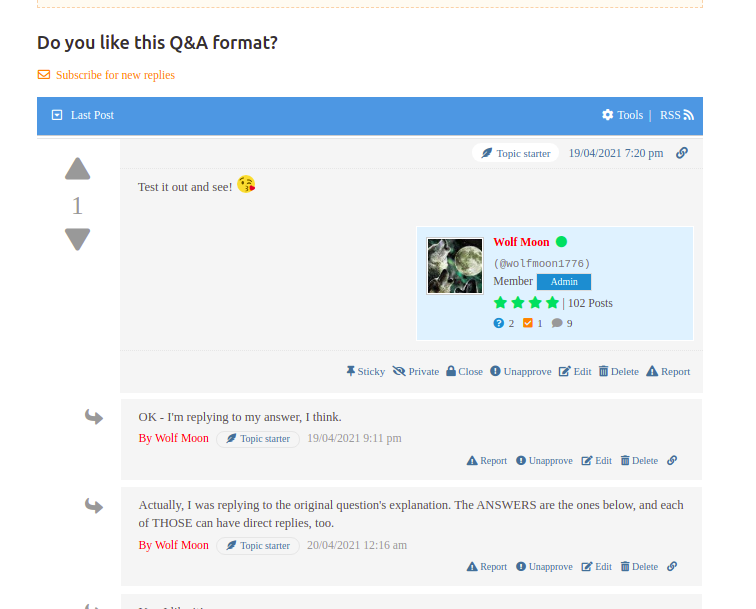 ---
2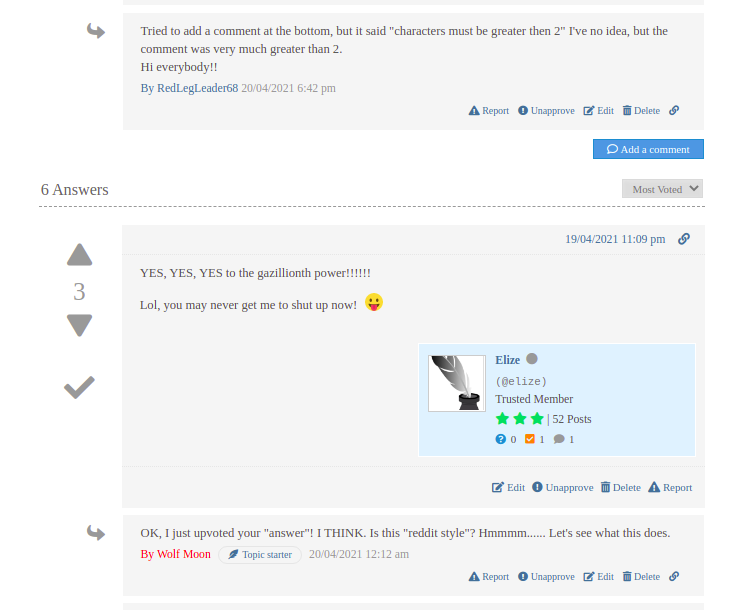 ---
3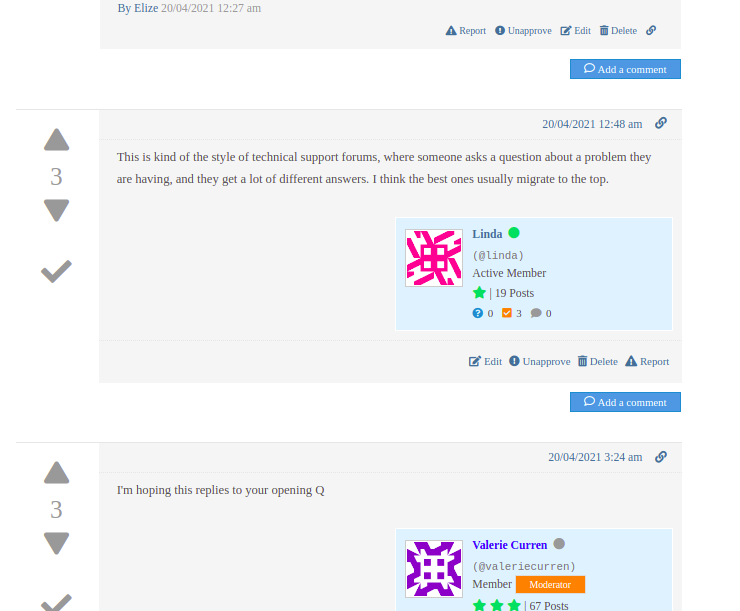 ---
4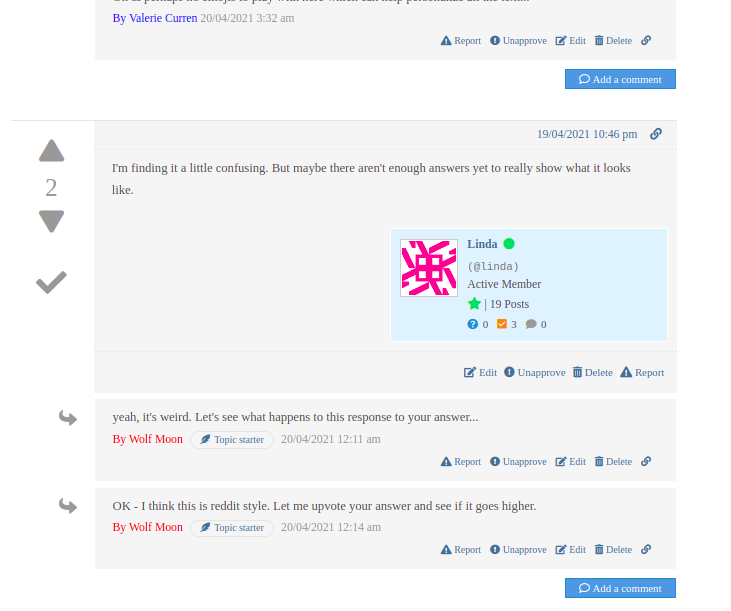 ---
Now, there seems to be some love for the Q&A format, despite its weird limitations. But there is also a lot of HATE.
We are almost led to the idea – well – can we have MULTIPLE layouts?
The answer is technically YES. However, there are RISKS in breaking up the forum too much. But let's set those risks aside, and assume we are smart and don't succumb to the risks – that we can avoid them. Let's assume we "break things up smartly". The next question is – HOW can we do this?
What is technically possible in terms of mixing styles?
There IS some "hybridization" possible, where we BLEND into a single style. It is complicated and probably won't be done right away. This involves taking features from one style and grafting them into others. The software is designed to allow this, but it's not simple, and it's LIMITED. Small features, yes. Big ones – only if possible, and probably not even THAT.
So let's set THAT aside. What is still possible in terms of multiple styles?
It turns out that EVERY FORUM AND SUB-FORUMS of that forum must have the same style. In other words, if I set up a forum, any forums "within it" or "below it" must be of the same style. Basically, anything in a hierarchy obeys the layout above it.
I can have MULTIPLE forums, but whatever layout is used in the top-level forum, carries down to ALL subforums.
Thus, if we want a "Q&A" forum like on technical sites, where answers "compete", which can also be viewed as a reddit-style forum, where trendy consensus moves to the top, then that forum has to be DISTINCT from the main "threaded" or "simplified" forum, which is more likely to be the consensus forum layout. Likewise, if we want BOTH threaded and (simplified and/or extended) forums, then they ALL have to be separate, parallel, forums.
NOW your are ready to see what we have – FOUR parallel top-level TEST forums.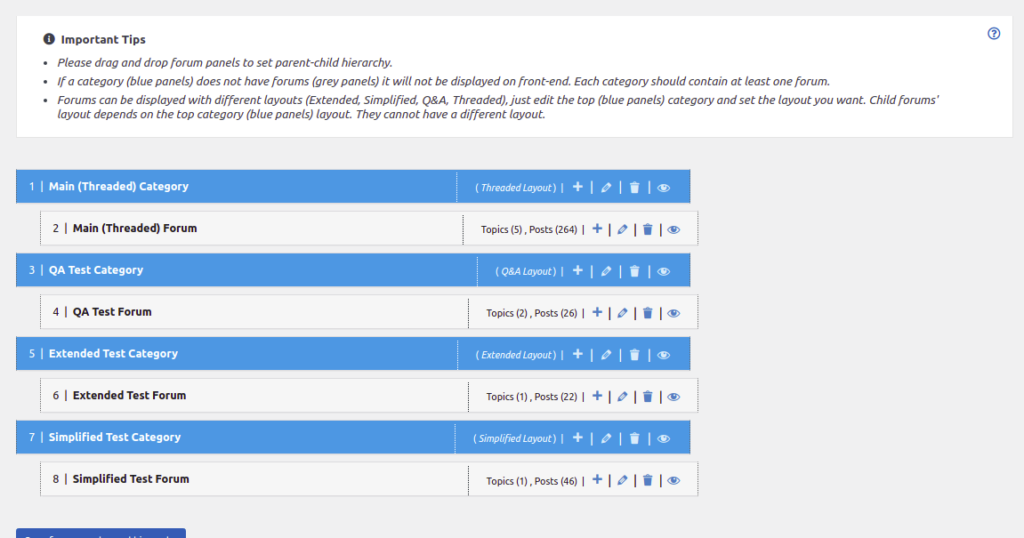 This will all get modified when I take the FORUM (as a whole) out of "beta test" into production. I may keep these old forums and their contents for historical purposes, or change them into new ones, but this is where it starts.
---
SO – that is is.
What are your thoughts? SPEAK FREELY NOW!!!
W