Since there don't seem to be any good new mask burning parties this week, I would like to address something that came up in relation to the two teenage girls getting into a fight, and one having a knife ready to stab the other.
For those of us who live in close enough proximity to certain neighborhoods, such sights are not, shall we say, shocking. However, that does not mean that the culture itself doesn't have some underpinnings that are, for all intents and purposes, less than wholesome.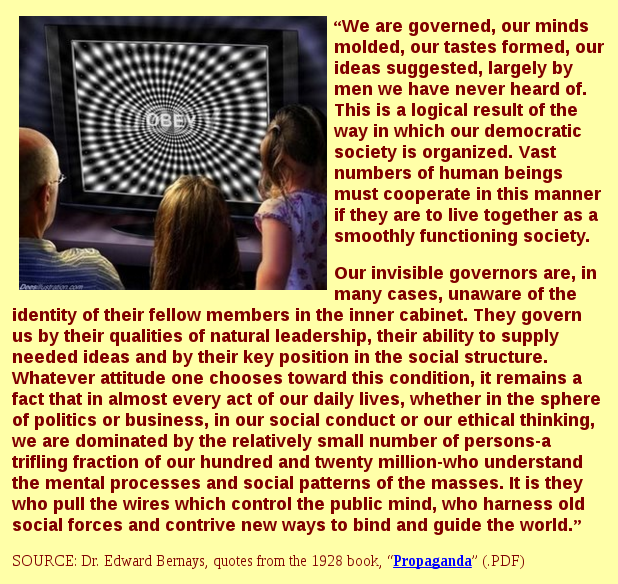 Last week, I wrote about Edward Bernays, and the manipulation of American public opinion via propaganda as practiced using the mainstream media.
While that discussion focused mostly on politics, and the shaping of the political landscape, the entire culture, actually, is subject to such treatment, especially with the amount of time Americans consume mainstream media programming both of the political variety and entertainment.
That being the case, after decades of "programming" from the men in the smoky back room, the culture itself has been impacted by what they want us to be, and not necessarily for the better.
When reflecting on the headlines, and all the violence and just plain anti-social and uncivilized behavior going on, some passages in my favorite psycho-analysis of American culture popped into my head.
I've written about the book, The Culture Code by Clotaire Rapaille previously, and his methodology of getting to the reptilian emotions behind certain code words and phrases that represent a cross-section of American thinking on a sub-conscious level. There are those who will think that these code words and phrases are hokum, and perhaps some of them are for the people who frequent this page. However, not all of America does, and they consume a lot more propaganda than some of us, so are subject to manipulation.
What Rapaille outlines in the book is what is seen as an alien culture to others around the world, and one he describes as incredibly adolescent. What it screams to anyone with a 40,000 foot view is the American people have been manipulated into making America really sick, and brainwashed.
Without giving away the store, meaning all of the codes, and how he got to them, Rapaille equates cultural needs as such:
Cars = identity (this one is a no-brainer for Americans)
Seduction = manipulation
Sex = violence
Beauty = man's salvation (yes, I've felt like an object when a man told me any man would be proud to have me on his arm, at which point, I was done)
Fat = checking out
Love = false expectations
Marriage = unrealistic expectations
Health and wellness = movement
Nurse = mother
Doctor = hero
Food = fuel
Of course, there are more. Shopping is considered to be "reconnecting with life" and never moreso than in the year of COVID, but the reader here gets the idea. This culture has been manipulated away from what America once was and what many patriots still believe it to be.
Essentially, America was hijacked, although not as completely as the powers that wannabe probably think.
There is still an underpinning of patriotism, and there are still many who do not subscribe to the wackiness inspired by what is truly demonic. In the end, that steadiness will right the ship, but it is going to take time, and a whole lot more people rejecting the world as the propagandists present it.
_______________________________________________
Please review our HOST and site owner's Guidelines for posting and discussion for this site. Wolf is kind enough to put up with *most* of us and our antics after thorough vetting. Violators of the baiting and deliberately attempting to divide the group rules WILL face consequences.
The discourse on this site is to be CIVIL – no name calling, baiting, or threatening others here is allowed. Company manners are appreciated. Those who are so inclined may visit Wolf's other sanctuary, the U-Tree, to slog out discussions best saved for a wrestling mat. Say hi to anyone who is actually hanging out there for the rest of us. If, for some reason, this site is not available, head over to the UTree and visit the post at the top of the list.
This site is a celebration of the natural rights endowed to humans by our Creator as well as those enshrined in the Bill of Rights adopted in the founding documents of the United States of America. Within the limits of law, how we exercise these rights is part of the freedom of our discussion. THAT MEANS THAT ALL OF US HERE ARE ENTITLED TO OUR OPINIONS AND PREJUDICES, ETC., SO LONG AS THEY CAUSE NO PHYSICAL HARM TO OTHERS OR DOXX OUR FELLOW TREE DWELLERS.
All opinions here are valued for the diversity they bring to the issues, and the shaping of understanding regarding topics for which many of us do not have all information.
Be careful in expressing thoughts as we would all like to think well of the rest of the group, and ill-thought out comments have a way of wrecking that for everyone.
Fellow tree dweller Wheatie gave us some good reminders on the basics of civility in political discourse:
No food fights
No running with scissors
If you bring snacks, be sure they are made with bacon
Auntie DePat's requests as we are all supposedly adults and not perpetual high school sophomores or the back row of the soprano section in any big chorus:
If you see something has not been posted, do us all a favor, and post it. Please, do not complain that it has not been done yet.
The scroll wheel on your mouse can be your friend. As mature adults, please use it here in the same manner you would in avoiding online porn.
Thank you so much for any and all attention to such details. It is GREATLY appreciated by more than one party here.
__________________________________________________
ACTS 8:26-40
26But an angel of the Lord said to Philip, "Rise and go toward the south to the road that goes down from Jerusalem to Gaza." This is a desert road. 27And he rose and went. And behold, an Ethiopian, a eunuch, a minister of the Can'dace, queen of the Ethiopians, in charge of all her treasure, had come to Jerusalem to worship 28and was returning; seated in his chariot, he was reading the prophet Isaiah. 29And the Spirit said to Philip, "Go up and join this chariot." 30So Philip ran to him, and heard him reading Isaiah the prophet, and asked, "Do you understand what you are reading?" 31And he said, "How can I, unless some one guides me?" And he invited Philip to come up and sit with him. 32Now the passage of the scripture which he was reading was this: "As a sheep led to the slaughter or a lamb before its shearer is dumb, so he opens not his mouth. 33In his humiliation justice was denied him. Who can describe his generation? For his life is taken up from the earth." 34And the eunuch said to Philip, "About whom, pray, does the prophet say this, about himself or about some one else?" 35Then Philip opened his mouth, and beginning with this scripture he told him the good news of Jesus. 36And as they went along the road they came to some water, and the eunuch said, "See, here is water! What is to prevent my being baptized?" 38And he commanded the chariot to stop, and they both went down into the water, Philip and the eunuch, and he baptized him. 39And when they came up out of the water, the Spirit of the Lord caught up Philip; and the eunuch saw him no more, and went on his way rejoicing. 40But Philip was found at Azo'tus, and passing on he preached the gospel to all the towns till he came to Caesare'a.
Prayers for the nation, the salvation of humanity, and all of us here – lurkers and members – as well as our families, are welcome.
_______________________________________________________