This Sanctuary Sunday Open Thread, with full respect to those who worship God on the Sabbath, is a place to reaffirm our worship of our Creator, our Father, our King Eternal.
It is also a place to read, post and discuss news that is worth knowing and sharing. Please post links to any news stories that you use as sources or quote from.
In the QTree, we're a friendly and civil lot. We encourage free speech and the open exchange and civil discussion of different ideas. Topics aren't constrained, and sound logic is highly encouraged, all built on a solid foundation of truth and established facts.
We have a policy of mutual respect, shown by civility. Civility encourages discussions, promotes objectivity and rational thought in discourse, and camaraderie in the participants – characteristics we strive toward in our Q Tree community.
Please show respect and consideration for our fellow QTreepers. Before hitting the "post" button, please proofread your post and make sure you're addressing the issue only, and not trying to confront the poster. Keep to the topic – avoid "you" and "your". Here in The Q Tree, personal attacks, name calling, ridicule, insults, baiting and other conduct for which a penalty flag would be thrown are VERBOTEN.
In The Q Tree, we're compatriots, sitting around the campfire, roasting hot dogs, making s'mores and discussing, agreeing, and disagreeing about whatever interests us. This board will remain a home for those who seek respectful conversations.
Please also consider the Guidelines for posting and discussion printed here: https://www.theqtree.com/2019/01/01/dear-maga-open-topic-20190101/
---
Wheat . . . Or Weeds?
24 . . . "The kingdom of heaven is like a man who sowed good seed in his field; 25 but while men slept, his enemy came and sowed weeds among the wheat and went his way. 26 But when the grain had sprouted and produced a crop, then the weeds also appeared. 27 So the servants of the owner came and said to him, 'Sir, did you not sow good seed in your field? How then does it have weeds?' 28 He said to them, 'An enemy has done this.' The servants said to him, 'Do you want us then to go and gather them up?' 29 But he said, 'No, lest while you gather up the weeds you also uproot the wheat with them. 30 Let both grow together until the harvest, and at the time of harvest I will say to the reapers, "First gather together the weeds and bind them in bundles to burn them, but gather the wheat into my barn." ' " (Matthew 13:24-30)
In the agricultural society of Christ's time, many farmers depended on the quality of their crops. An enemy sowing weeds would have sabotaged a business. The weeds in the parable were likely darnel because that weed, until mature, appears as wheat. What would a wise farmer do in such a dilemma? Instead of tearing out the wheat with the weeds, the landowner in this parable wisely waited until the harvest. After harvesting the whole field, the weeds could be separated and burned. The wheat would be saved in the barn.
In the explanation of parable, Christ declares that He Himself is the sower. He spreads His redeemed seed, true believers, in the field of the world. Through His grace, these Christians bear the fruit of the Spirit (Galatians 5:22-24). Their presence on earth is the reason the "kingdom of heaven" is like the field of the world. When Jesus said, "The kingdom of heaven is at hand" (Matthew 4:17; Mark 3:2), He meant the spiritual realm which exists on earth side by side with the realm of the evil one (1 John 5:19). When the kingdom of heaven comes to its fruition, heaven will be a reality and there will be no "weeds" among the "wheat." But for now, both good and bad seeds mature in the world.
The enemy in the parable is Satan. In opposition to Jesus Christ, the devil tries to destroy Christ's work by placing false believers and teachers in the world who lead many astray.
But we are not to pursue such people in an effort to destroy them. For one thing, we don't know if immature and innocent believers might be injured by our efforts. Further, one has only to look at the Spanish Inquisition, the Crusades, and the reign of "Bloody Mary" in England to see the results of men taking upon themselves the responsibility of separating true believers from false, a task reserved for God alone. Instead of requiring these false believers to be rooted out of the world, and possibly hurting immature believers in the process, Christ allows them to remain until His return. At that time, angels will separate the true from false believers.
In addition, we are not to take it upon ourselves to uproot unbelievers because the difference between true and false believers isn't always obvious. Weeds, especially in the early stages of growth, resemble wheat. Likewise, a false believer may resemble a true believer. In Matthew 7:22, Jesus warned that many profess faith but do not know Him. Thus, each person should examine his own relationship with Christ (2 Corinthians 13:5). First John is an excellent test of salvation.
Jesus Christ will one day establish true righteousness. After He raptures the true church out of this world, God will pour out His righteous wrath on the world. During that tribulation, He will draw others to saving faith in Jesus Christ. At the end of the tribulation, all unbelievers will be judged for their sin and unbelief; then, they will be removed from God's presence. True followers of Christ will reign with Him. What a glorious hope for the "wheat"!
*https://www.gotquestions.org/parable-wheat-tares.html
---
Glory Train
The track is all clear, the switches are thrown
The Glory Train's coming; we're going home
It may be soon or the sweet by and by
We'll not know the day; so don't even try
Now, at the station, the platform is full
But all is not quiet; some push, some pull
Many evil men fight to be the king
They want control over everything
Others wait patiently, doing good deeds
Helping those that hurt and in great need
They know the train will be coming for them
And long for peace, not the platform's mayhem
All ticketholders are ready to leave
They'll go aboard, all who truly believe
They trusted God and God's only Son
Marked by God's Spirit for when the train comes
Life on the platform goes on without end
But one day the train speeds around the bend
Many in the crowd raise a rousing cheer
While others are shocked and cower in fear
The Conductor calls out "Welcome! Come aboard!"
"All you who believe and trust in our Lord!"
"By faith you believed, now God's Day is come"
"Your race is over, your victory's won"
Then a strong voice, with trumpet and shout
By God's Holy Power calls the dead out
They rise from their sleep and all board the train
Wearing bright, white garments, freed from all stain
Then those here waiting respond to the call
Tears flowing freely in wondrous thrall
All climb aboard to their purchased place
Paid for by Christ by God's mercy and grace
The ones left on the platform weep and wail
They put themselves first, now they know they've failed
Their faith was only in the world and man
They fought against God and ignored His plan
Now, without God, they must find their own way
Living in sin until the Judgment Day
When they'll kneel to Christ, unable to stand
And from God's presence eternally banned
The doors all close and the train pulls away
Oh, what a glorious sight on that Day!
Up through the clouds in the blink of an eye
Then huge Pearly Gates appear in the sky
Into Heaven's Realm, we're nearing our home
Of perfect peace and joy, never to roam
Just over the river, close by the shore
There we'll debark for our forever more
The train slows and stops, the golden bells ring
What a great welcome as the angels sing!
The old has all gone; we're changed new and free
All of us sing and shout the victory!
We now have arrived at our Promised Land
With calm, deep blue seas and warm, white sands
And across the river, green fields and hills
With sparkling lakes , so peaceful and still
Oneness fills all, and love that doesn't cease
And abiding joy, and deep, heartfelt peace
Giving God all the glory and our praise
Throughout all time for Eternity's days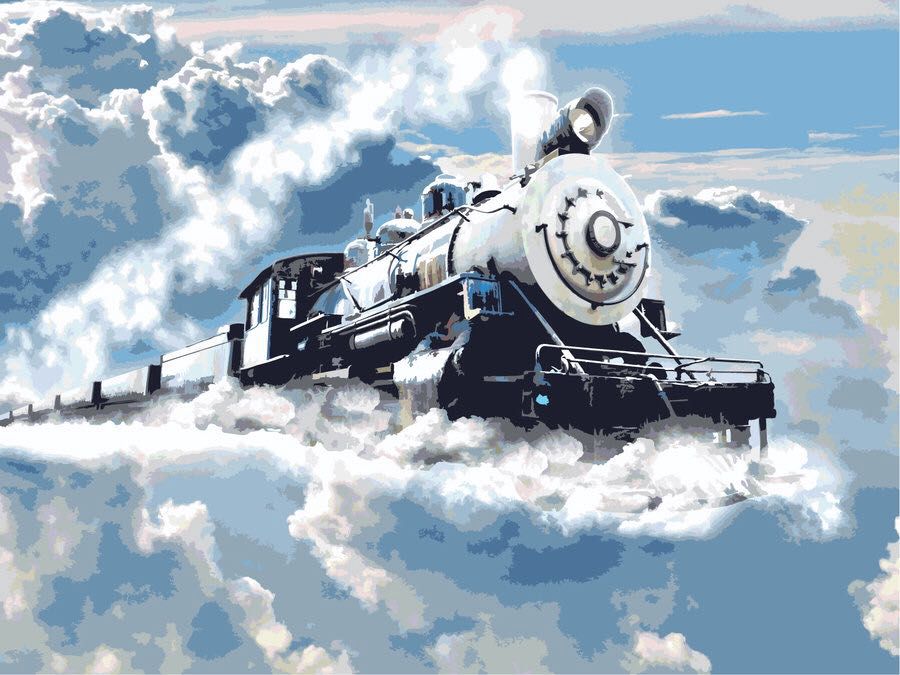 ---
On this day and every day –
God is in Control
. . . and His Grace is Sufficient, so . . .
Keep Looking Up
---
Hopefully, every Sunday, we can find something here that will build us up a little . . . give us a smile . . . and add some joy or peace, very much needed in all our lives.
"This day is holy to the Lord your God;
do not mourn nor weep." . . .
"Go your way, eat the fat, drink the sweet,
and send portions to those for whom nothing is prepared;
for this day is holy to our Lord.
Do not sorrow,
for the joy of the Lord is your strength."