Okay you knuckledragging ChiComs trying to take us down…here's a history lesson for you.
For millennia, you had to suffer from this: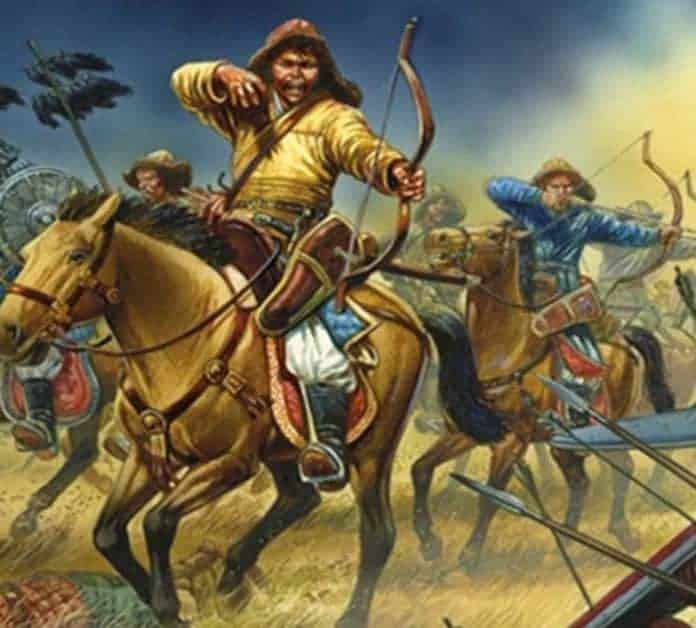 Yep. Steppe Nomads. They laid waste to your country, burned, raped and pillaged (but not in that order–they're smarter than you are) for century after century.
You know who figured out how to take them on and win? The Russians.
Not you, the Russians. And it took them less than two centuries. And Oh By The Way they were among the most backward cultures in Europe at the time.
You couldn't invent an alphabet, you couldn't take care of barbarians on horseback, and you think you can take this board down?
HAHAHAHAHAHAHA!!!! We're laughing at you, you knuckledragging dehumanized communists…worshipers of a mass-murderer who killed sixty million people!
I mean, you still think Communism is a good idea even after having lived through it!
By my reckoning that makes you orders of magnitude more stupid than AOC, and that takes serious effort.
His Fraudulency
Joe Biteme, properly styled His Fraudulency, continues to infest the White House, and hopium is still being dispensed even as our military appears to have joined the political establishment in knuckling under to the fraud.
All realistic hope lies in the audits, and perhaps the Lindell lawsuit (that will depend on how honestly the system responds to the suit).
One can hope that all is not as it seems.
I'd love to feast on that crow.
Justice Must Be Done.
The prior election must be acknowledged as fraudulent, and steps must be taken to prosecute the fraudsters and restore integrity to the system.
Nothing else matters at this point. Talking about trying again in 2022 or 2024 is hopeless otherwise. Which is not to say one must never talk about this, but rather that one must account for this in ones planning; if fixing the fraud is not part of the plan, you have no plan.
Political Science In Summation
It's really just a matter of people who can't be happy unless they control others…versus those who want to be left alone. The oldest conflict within mankind. Government is necessary, but government attracts the assholes (a highly technical term for the control freaks).
(A comment I wrote last week that garnered some praise.)
Lawyer Appeasement Section
OK now for the fine print.
This is the WQTH Daily Thread. You know the drill. There's no Poltical correctness, but civility is a requirement. There are Important Guidelines, here, with an addendum on 20191110.
We have a new board – called The U Tree – where people can take each other to the woodshed without fear of censorship or moderation.
And remember Wheatie's Rules:
1. No food fights
2. No running with scissors.
3. If you bring snacks, bring enough for everyone.
4. Zeroth rule of gun safety: Don't let the government get your guns.
5. Rule one of gun safety: The gun is always loaded.
5a. If you actually want the gun to be loaded, like because you're checking out a bump in the night, then it's empty.
6. Rule two of gun safety: Never point the gun at anything you're not willing to destroy.
7. Rule three: Keep your finger off the trigger until ready to fire.
8. Rule the fourth: Be sure of your target and what is behind it.
(Hmm a few extras seem to have crept in.)
(Paper) Spot Prices
Last week:
Gold $1846.50
Silver $24.67
Platinum $1036.00
Palladium $2146.00
Rhodium $15,100.00
This week, 3PM Mountain Time, markets have closed for the weekend.
Gold $1786.70
Silver $23.18
Platinum $961.00
Palladium $1838
Rhodium $14,500
There's no way to sugar coat it. This week was a blood bath. Anyone with palladium (and that does include me) lost $300 per ounce. Gold is heading right back to the levels it was at not so long ago.
XXVII The Cosmic Microwave Background
You're going to get TWO parts this week. Thanksgiving Bonus!
The year is 1948. Ralph Alpher (1921-2007) and Robert Herman (194-1997) were doing work in close relation to work being done by Alpher's PhD thesis adviser, George Gamow (1904-1968). At the time astronomers were still arguing about whether there had been a Big Bang, a definite 'beginning' to what we see around us, or whether we were in a 'Steady State' universe, and it had always looked pretty much as it does now. Always, as in always, back forever.
[Incidentally, the work this is related to is even more important than what I'm talking about here…but it makes more sense to cover it later. And no, it won't be in the other part this week.]
Neither side denied that galaxies appeared to be rushing apart, and that the further apart they appeared to be the greater their speed away from each other.
The Steady State folks hypothesized that as the distance between two "neighbor" galaxies, A and B doubled, enough matter was spontaneously generated–out of nothing–to form a new galaxy in between A & B. By the time this new galaxy, call it C, had formed, it would be at about the same distance from A as B had been earlier, and it would be moving away from A at the same speed that B had originally been moving. Meanwhile the universe was now eight times bigger in volume (but twice as "wide") than it had been previously, but it would also have eight times as much matter in it. This takes a certain amount of time, call it the "doubling time"
This would be going on everywhere, all the time. And if the universe was of infinite extent…well, run the tape backwards. A "doubling time" before the present, the universe was half as big as it was. All distances were half as great.
But half of infinity is still infinity. So you could go backward in time infinitely far, and you'd still see a universe with about the same density of galaxies you see today. It would look the same.
Contrast that with the Big Bang version, where, if you run the tape backward, you are compressing the same amount of matter into smaller and smaller amounts of space. It should heat up.
Run the tape back far enough, say to when the universe was about 1/1000th of its current size, and the universe ought to be so hot that all of the matter in it (not just the matter in stars) is plasma–the electrons have been knocked completely off their atoms.
Plasma is opaque. Photons can't get very far before hitting and being absorbed by electrons; the electrons, of course are jumping around in energy levels every time the collide with each other, and emitting photons that get nowhere.
This is why we can't see into the Sun. There's a layer below which everything is plasma, and if you were there (without being vaporized), you couldn't see your hand in front of your face.
So imagine a time when the universe was at a temperature just above this point, and as it expands, the temperature drops.
Suddenly atoms form as electrons settle into orbitals and actually stay there, and the universe becomes transparent. There's a crapload of high-temperature photons out there, and now they are free to run loose. And they ought to correspond to a temperature of roughly 3000 K.
And if this actually happened, they should still be running loose today. Can we detect them? If so, the Big Bang has a huge piece of evidence in its favor and Steady State is in big trouble.
That was the question Alpher and Herman asked. They did some calculations, and figured we should be able to see these photons today, but that they would now correspond to a temperature of 5 K. Which is microwaves, very much like what your microwave oven uses. Back then the technology to generate and detect them simply didn't exist.
They then re-ran their calculations based on new values for the Hubble parameter a couple of years ago, and revised their estimate to 28 K. Then again back down to 5 K.
The Hubble parameter is notoriously difficult to measure.
This is the parameter that tells you, given how far away a galaxy is, how fast it appears to be receding. Modern values are close to 70 km/second, for every megaparsec of distance. But it wasn't long ago that one group's data said it was close to 50 and another group's data indicated 100. Both groups insisted their data showed they had to be right, yet they couldn't both be. As it turned out, neither was.
It's called the Hubble parameter, by the way, because there's no particular reason to suppose that it doesn't change over time. In fact there's a special symbol for its value today, H0. And it's a project of modern cosmology to plot the value of H versus time back in the past. This will be a topic for another day.
Where we left off talking about cosmology, people were pretty much estimating distances to distant galaxies–galaxies so far away we couldn't see their Cepheid variables–by simply measuring their redshift, turning that into a speed, then dividing by H0. Of course that assumes H always equals H0.
It's important to point out (again) that this is not the same sort of red shift you get from, say, Smokey's radar gun.
A radar gun bounces a very precisely tuned frequency of radar waves off of your car, and then measures the frequency of what bounces back. If your car is stationary, the return frequency is the same. If your car is moving towards Smokey, the return pulses will be slightly closer together. If you've passed Smokey and are moving away from him, the pulses are further apart.
You can compute the "red shift" like this: Subtract the frequency of the return signal from the frequency of the emitted signal (i.e., subtract what the radar gun sees coming back from your no-doubt-bright-red car, from what the radar gun sent out). Then divide by what was measured coming back.
z = (femitted – freturned) / freturned
That number is invariably labeled z.
If you do some algebra, simply dividing the frequency of what the radar gun sent out, by the frequency of what came back, should equal 1+z.
The redshift of different galaxies turns out to have a very different cause. Now this is going to seem a bit freakish, but in fact galaxies are pretty much stationary.
The space between them is actually expanding.
That makes no damn sense if you think about space and time like Isaac Newton did, absolutely rigid and fixed, but according to Einstein's General Theory, space and time can curve and stretch, and they do. It's difficult to wrap our minds around, but that's what's going on.
A photon bopping along at about 300 million hertz, three hundred million cycles a second, will have a wavelength about a meter long–because it travels three hundred million meters in that second.
If, while it's travelling along, the space between galaxies doubles in size, then the photon's waves stretch to be two meters long. It can't travel any faster to make this up, so now its frequency is only 150 million cycles per second. This means the photon actually loses energy as the space it travels through expands.
If the photon happens to be visible light it has a much, much shorter wavelength (half of a millionth of a meter, for instance), but as it stretches it looks redder and redder because red wavelengths are longer than blue ones.
So the redshift of these photons is directly related to how much space has stretched since the photon was emitted. In fact, you can write the following: 1 + z = anow/athen. The two as are "scale factors" but what really matters is the ratio between them. If z is 1 for some photon, 1+z = 2, and the scale factor today is twice as big as it was then. The universe has doubled in size; space has, everywhere stretched to double its old size, since the photon was emitted.
OK, returning to Alpher and Herman.
There was some discussion of their idea of there being a microwave remnant of the Big Bang until about 1955, but cosmology wasn't considered a very serious area of study back then. And we simply didn't have the technology to detect it if it were there. So the notion was largely forgotten.
Until about 1964. In the early 1960s Yakov Zeldovich (1914-1987) found their work, and Robert Dicke (1916-1997) reinvented that particular wheel about the same time. In 1964, David Todd Wilkinson (1935-2002) and Peter Roll at Princeton University in New Jersey decided to start building something called a Dicke Radiometer to look for microwave rays coming from the sky.
Meanwhile, Just Down The Road
This is New Jersey we're discussing here. The damn state is so small everyone in it can get into the same freaking food fight. And if I lived there in that anti-gun tyrrany, if anything worse than Kalifornia's, I'd probably need a food fight to relieve the stress.
And they can't run an honest election as well as a bunch of southerners in Virginia, which should chap their look-down-on-Bubba asses. But since it won't chap their asses enough to suit me, I am going to insult them and tell "small state" jokes about them. I may visit someday, but I doubt I could fit my truck into the state.
But seriously, just a few miles down the road from Princeton, at Bell Labs, Arno Penzias (born 1933) and Robert Woodrow Wilson (born 1936), a couple of electrical engineers were building a microwave antenna to test the feasibility of using microwaves to transmit signals. Their particular antenna had a Dicke Radiometer in it.
Something was wrong, though. There was noise in the system, noise they couldn't get rid of.
They were pretty sure the noise was in their equipment, because no matter which way they pointed that antenna, the noise was there. If it had been someone testing out their prototype microwave oven somewhere else in the state, they'd only have picked it up while the antenna was pointing towards it. But this was always there no matter which way they pointed the antenna.
They even shotgunned the pigeons who were building nests in their antenna, so that when they cleaned out the poop, it would stay clean. But even that didn't work. Noise in their system.
Finally in desperation they called Princeton University to see if they knew anything.
They ended up talking to Dicke himself, and Dicke knew what was going on. What was going on was that their team had been scooped.
Penzias and Wilson had found, quite by accident, what we now call the Cosmic Microwave Background.
The "Big Bang Theory" (a bit of a misnomer) not only had accounted for the galaxies (apparently) moving further apart, it had made an actual prediction of a previously unknown phenomenon, and it had panned out.
Steady State was dead. The universe, at least in its present form, has a beginning. (One can ask "what was there before the Big Bang" and it's a plausible question, though most think that that is when space time itself began, and that therefore there can be no "before," it's like asking what is north of the north pole.)
Penzias and Wilson won the 1978 Nobel Prize for Physics.
So this is what's going on: Those 3000K photons now have been stretched by a factor of 1090. And their temperature is 2.725 K today.
NASA has launched two satellites to study this radiation in detail: COBE (Cosmic Background Explorer) and WMAP (Wilkinson Microwave Anisotropy Probe. It was originally simply MAP, but after Wilkinson died of cancer, it was renamed in his honor). COBE, when it was launched, had been the second most elaborate satellite NASA had ever built–right after the Hubble Space Telescope.
Their charter was to measure the cosmic microwave background in every direction.
It turns out to be almost perfectly uniform–once you factor out the (regular) Doppler redshift/blueshift due to the Sun's motion around the center of our galaxy, and the galaxy's true motion towards the Hercules cluster. Uniform to 1 part in 100,000. This indicates that the universe, at the time it cooled and released all those photons to run free, was very, very smooth, much more so than it is today (the universe is now clumped into galaxies, which clump into clusters and superclusters). Back then a cubic light year of universe had some certain amount of matter and energy in it, and adjacent cubic light years might be different by 1/1000th of a percent.
If you've ever seen this picture:
…it's the Cosmic Microwave Background…with very slight differences in temperature shown in different colors, with the contrast dialed way up. Every direction in the sky is represented somewhere in that ellipse.
Cosmologists have been able to learn a lot from this image. A lot of details of the big bang theory have yet to be worked out, however several possibilities have been decisively eliminated by this data. It has also been used to demonstrate that space is flat, or very nearly so.
It's essentially blackbody radiation, so at any point, it should follow a very specific curve. Now usually when something like this is measured, it's not quite a perfect blackbody, so the match to the curve isn't precise. But COBE took some measurements, and when plotted against the curve, you see:
There's no visible difference between the data in red, and the theory, in blue.
I understand that when this was presented at a scientific conference, there was a standing ovation because theory and data matched so perfectly.
Steady state was dead, face down in the Hudson River. Or the Delaware. Not sure which, doesn't matter. It's not as if those two rivers are more than 50 feet apart.
One thing that was learned had to do with the fact that the radiation is indeed so uniform.
It's now thought that the universe was 380,000 years old when it became transparent, and that this is basically a picture of the universe at that moment. What is striking is that in the subsequent 13+ billion years, the microwaves from (say) the dead center of that ellipse are reaching us. 180 degrees away, near the left or right side of the diagram, those microwaves are now reaching us.
Those two locations still cannot see each other. They never could in the past, they don't now. They have no way whatsoever of knowing each others' state or affecting each other, not in the past and certainly not now.
So how is it that they're the same temperature to one part in 100,000?
That is a question that has occupied astronomers for quite some time. There's a likely (but not certain) answer to that question…but that's for another day.
XXVIII Dark Matter
Not to be confused with "Dark Meat."
Yes, I am writing this on Thanksgiving, so "white meat" and "dark meat" are on my mind. Having taken Steve's Own Wonder Weight Loss Elixir early last week (somehow, no one is beating my door down trying to order some), I'm going to hang on to the conquered ground in my own personal Battle Of The Bulge. (Having gained that hill painfully, I don't want to give it up.)
Newtonian gravitational theory is a marvel. I'd say that it was the greatest thing since sliced bread, but it long preceded sliced-at-the-bakery bread and the sliced bread doesn't come close to beating it.
But–even aside from General Relativity tweaking it–there's only so much you can do with it.
If there are exactly two bodies in the universe, say a planet orbiting a star, and they're both uniform spheres (no oblateness, though they are allowed to vary with density with distance from the center), you can specify the position and velocity of each body at a certain time, call it t, and then you can simply plug some other time into a few formulae and know, immediately where those bodies are at that time. It can be before t or after t. It can be a second later, it can be ten billion years earlier. Plug-and-chuck, on a calculator (though you want at least a scientific calculator, not a four-banger that just has +, -, *, and / on it). The same procedure gets you the answer, in the same amount of time, no matter how different the times are.
Add a third body…even a dust mote ten billion miles away…and everything changes. Now in fact, you can ignore the dust mote. You probably didn't measure the mass of the star and planet that accurately! But in essence, as soon as there are three (or more) bodies involved, you can't just plug and chuck into a few formulae to predict things at at arbitrarily chosen future date.
A lot of mathematical work during the 18th and 19th centuries went into working out some special cases of the three body problem. For instance, if there is a small body orbiting a large body in a perfect circle, you can put a third body either 60 degrees ahead or 60 degrees behind the second body, on the same circle, travelling at the same speed. So the three bodies are at the points of a perfect equilateral triangle. It turns out that that situation is stable. In fact, it's stable enough that even if the third body is slightly out of place, it will tend to move into place. There are a few other places you can put that third body…e.g., at a precisely balanced point between the other two bodies…but those are metastable; if it's slightly off in positioning…by a zillionth of a meter…it will drift away from that point. The mathematician who worked this out was named Joseph-Louis Lagrange (1736-1813, he actually was born in what is now Italy as Giuseppe Luigi Lagrangia).
There are at least a million asteroids 60 degrees ahead and behind Jupiter, for instance, known as the Trojan asteroids because the first ones discovered were named after characters in the Illiad, and they're liable to stay there forever or at least until something else wanders in and jerks them around or hits them.
But for the most part, the general "three body" problem is not solveable in "closed form" which is mathematician-speak for having a nice tidy equation or set of equations.
Our solar system, of course has a sun, eight planets, a shitload of asteroids in the "asteroid belt" between Mars and Jupiter, more asteroids orbiting right outside of Neptune's orbit (including Pluto), and likely even more stuff way out there, 50,000 AUs or more. You can't do two body stuff far into the future on, say, the Sun/Earth pair and expect it to be accurate. Jupiter is the main body perturbing things, but by no means the only one. All of these bodies are pulling on all of the other bodies, and the effects do add up.
NASA, of course, sends space probes to other planets, and in figuring out where they're going to go, they have to account for the Earth, the Sun, and the destination planet. And if they do a flyby for "slingshot," they'll want to include the planets being slungshot off of (is that a word? It is now) as well. The good news is they can do something called "patched conics" where they ignore the sun and the destination while near the earth, both Earth and the destination (but not the sun!) while in transit, then just the destination while there. That's not perfectly accurate, but it's accurate enough to see if the mission is feasible.
But in general, to work a problem like this, you need numerical integration. You start out with everything in an initial state: their locations, their velocities, and of course their masses. You compute all the forces between every pair of objects, and you step forward some very, very small amount of time. Of course now thanks to those forces the velocities are now different, and because everything is moving, none of the positions are exactly the same as they were before. So at the new time (one step after the initial time), you have to recompute everything again, then take the next step. And over and over again.
The shorter the step, the more accurate it is, and there are other tricks you can use to increase accuracy. In grad school I wrote a three body integrator that used a method called "Adams-Bashforth." I tested it by running a known two body problem through it (satellite in a circular orbit); when I got to a step size small enough where the accumulated errors were less than a millionth of a meter after a month, I figured it was accurate enough, and that computer spent a solid day cranking the thirty or so scenarios in my thesis. (It would have been about a month, but I had just plugged a co-processor into the motherboard. A good thing. I didn't have a month.)
Nowadays, they can model two galaxies colliding with each other, with a million representative stars in each, and take movies of what happens. For instance, this is what's going to happen when M31 in Andromeda collides with our galaxy in about five billion years. Stars are far enough apart that the two galaxies will probably pass right through each other with no head on collisions, but every star is pulling on every other star throughout the entire collision.
Fortunately, it's not always necessary to precisely know the fate of each individual body.
For centuries, astronomers have known about objects called "globular clusters." These are compact groupings of stars, and they actually tend to be outside the galactic disk (but still be bound to the galaxy). There's a swarm of these things accompanying the Milky Way, out in what is called the "galactic halo."
Modeling something like this precisely would be a pain, but you can make general statistical inferences without doing that, thanks to the virial theorem. (Not "viral", "virial.")
The virial theorem relates the average total kinetic energy of the cluster, over time, with the total potential energy. (It's not just used for star clusters; it gets used for other sorts of systems as well.) You can measure the speeds of the individual stars (easy to do with Doppler shifts off their spectra), their distances from each other, and get some notion of the total energy of the system, as well as its total mass.
Of course, you could estimate the total mass by counting the number of stars and multiplying by the average mass of a star, but this will fail if some of the mass of the cluster is not visible for some reason or another. For instance, imagine if there is a lot of interstellar gas. Or a black hole. Or neutron stars that have long since stopped rotating and pulsing.
So, time now for a jarring change in perspective.
It's 1933, and Fritz Zwicky (1898-1974) is studying a galactic cluster, in particular the Coma cluster in the constellation Coma Berenices. It has over a thousand galaxies in it, and is about 100 megaparsecs away (over 300 million light years). The individual members aren't just stars, they're entire galaxies. [Zwicky coined the term 'supernova' and built some of the very first jet engines, too.]
He concluded that there is far more mass in that cluster than just the obvious masses of all the stars in the galaxies in the cluster. In fact, he figured that what we could see shining as stars was 1/400th of the mass of the cluster
Zwicky coined the term 'dark matter' (actually, he was Swiss German, so he said 'dunkle Materie') to describe the 399/400ths of the stuff in the frame of the picture that cannot be seen.
Of course, there are obvious possible explanations for this. Interstellar and even intergalactic gas wouldn't have been visible to Zwicky; neither would things like planetary-sized bodies and so on. So this became a bit of a curiosity but not of real concern.
Now let's consider a single galaxy. A star near the center of that galaxy isn't going to be moving very fast in orbiting the galaxy, it's surrounded by most of the mass of the galaxy, the gravitational pulls of everything outside its orbit are pretty much going to cancel out. Its orbital speed is really only going to depend on the mass inside its orbit. Further out, there's more mass inside the orbit; a star out there is going to orbit faster. The further out you get, the faster the star will orbit (a situation exactly the opposite of what we have in the solar system) up to a point. Eventually you're outside of the galaxy and the further out you get, the further away the galaxy is and the slower you orbit. So if you were to plot this against distance from the galactic center, it ought to start at near zero when you're at the the center, rapidly climb to a peak, then drop off in an inverse-square fashion.
In 1939 Horace W. Babcock (1912-2003) took measurements of star velocities in the Andromeda galaxy to draw such a curve, and didn't get this result. Speeds got high…and stayed high, much higher than expected, as he measured the velocities of stars further and further away from the center of a galaxy.
In the 1970s Vera Rubin (1928-2016) and many others repeated this work with many other galaxies, and the results were consistent. When you got beyond the visible edge of a galaxy, there was a lot of invisible mass. You couldn't see it…until you measured its gravitational effect on lone stars way out there beyond the galaxy's 'suburbs.'
Was it gas that had somehow never been pulled fully into the galaxies? It turns out there is some such gas, and in fact the gas is a few times more massive more than the stars. We can detect the gas directly now; it turns out to be very hot, and glows in X rays. (We have to observe those in orbit; the earth's atmosphere blocks them.)
One more piece of evidence.
Recall that General relativity explains gravity as space being warped by masses. Even light gets bent. This was first seen in 1919 by Arthur Eddington during a solar eclipse, a discovery which made the front page of the New York Times back when it wasn't fake news, and made Einstein a celebrity.
It's possible for a nearby galaxy to bend the light from a farther galaxy. It's not only possible, it's quite common. In the most extreme case, you can see a galaxy splitting a much more distant galaxy into four pieces, like this:
Another spectacular example of this is this "Einstein ring" photographed by Hubble. The distant galaxy is almost directly behind the near one. It gets distorted into a nearly-complete ring.
Now usually we don't get something nearly this tidy. What we'll see is a galaxy off to the side, stretched out into a long, thin arc.
And it doesn't have to be just a galaxy. A galaxy cluster can do this. Consider the following, which is a picture of the galaxy cluster Abell 1689. [No, we don't bother naming individual galaxies any more…there are hundreds of billions of them.]
Here if you look closely you can see all sorts of short, straight lines…and your mind's eye can even connect them into concentric rings about the cluster.
The cluster as a whole is lensing dozens or even hundreds of further galaxies.
And it's possible to work backwards, and determine where the mass is distributed.
After accounting for every sort of regular matter we know how to detect, we're only at about 20% of the amount of matter we would need to have, to do this. Furthermore, most of this mysterious mass isn't in the galaxies.
It's as if there's something massive out there, and a galaxy is simply a visible manifestation of the center of that mass. As if the "normal" matter condenses into galaxies, but the other "dark" matter condenses some, but not as much. It's not uniformly distributed throughout all of space, but clumps up in galactic clusters. In a very real sense these invisible clumps are the galactic clusters, since they are most of the mass of the clusters–those bright blobs are just a side effect.
This should be enough to convince you the stuff is there. Especially when I remind you that there are thousands of such examples, not just the ones I cherrypicked for this essay. Strictly speaking, of course, I haven't proved anything because I've showed you none of the math. But the people who have seen it are mostly pretty confident.
So what IS this stuff?
YOU tell ME. Then go collect your Nobel Prize.
Because the person who solves it WILL get a Nobel Prize.
This is a question that has been occupying astronomers for a couple of decades now. And for the most part they can tell you what it is NOT.
It's not just interstellar or intergalactic gas. That sort of material can be seen now; it glows in X rays. Even though that gas is more massive than visible galaxies, it's not that much more massive. We presently think the dark stuff is 5 or 6 times as massive as the galaxies and the gas.
It doesn't seem to want to interact via electromagnetism at all–which is why we can't see it with light at all. (That's an electromagnetic interaction.)
We know it does interact with gravity, and it probably interacts with the weak force but not the strong force.
Such matter would have a tough time even interacting with other matter of the same type, and that even includes collisions. That would explain why it doesn't condense with galaxies. Ordinary matter becomes galaxies because as it passes through the densest part of the cloud, it collides, slows down and loses mechanical energy. If dark matter doesn't collide with things, or at least not as readily, that explains why it hasn't condensed as much as the regular matter in galaxies has.
Which means it's not baryonic matter–it's not made out of baryons, i.e., protons and neutrons. In fact "baryonic matter" is now a synonym for "ordinary" matter.
The one thing in the standard model we saw two parts ago (last week) that seems like it could fit is neutrinos. Those interact only with gravity and the weak force.
The problem is neutrinos move too fast: At light speed (if they have no mass) or just below (if in fact they have a tiny mass). They wouldn't, therefore, clump up even as much as dark matter has been shown to clump up.
So most astronomers and astrophysicists are pretty confident (but not sure), that whatever dark matter is, it's not in the standard model of particle physics at all. Which means 4/5 or 5/6ths of all the matter out there doesn't appear in the standard model!
That's what I meant when I said we know it's not complete.
There is a generic placeholder answer to the question: Weakly Interacting Massive Particles. (WIMPs.) Massive because they must be slow compared to the speed of light. It's some sort of particle we don't know about yet. There's quite a bit of speculation on what that might be, but nothing even remotely conclusive, and of course any coherent guess will be tried out in particle accelerators, or looked for in detectors.
Another possibility that some haven't completely given up on is the Massive Compact Halo Object (MACHO) which would be things like black holes and rogue planets ant the like. (Of course the name was inspired by WIMP.)
A third possibility comes about from considering the nature of the evidence. There are multiple lines of evidence, but every single one of them ultimately depends on the assumption that we understand gravity properly.
What if gravity doesn't drop off as an inverse square function after (say) ten thousand light years? This class of ideas is called MOND, for MOdified Newtonian Dynamics.
This last has fallen into disfavor (though there are die hard holdouts), because of the Bullet Cluster.
Here is the Bullet Cluster. It's over a billion parsecs away.
There's a large cluster on the left, and a smaller one on the right. It turns out they are both at the same distance from us, 1.141 Gpc or 3.7 billion light years. Which means this is what it looked like 3.7 billion years ago.
This is a visible light picture. When we photograph the intergalactic gas, which glows in X ray wavelengths, this is what we see:
The X rays come from gas clouds between the two clusters. (Unfortunately these two pictures aren't to the same scale, but I will show you a picture with a super-imposition done on it, shortly.)
It's apparent that the two clusters collided. Since the galaxies are far enough apart, no galaxies actually collided, so the galaxy clusters just went right through each other, like two shotgun blasts crossing in midair.
But the intergalactic gas fills space, and so the gas clouds accompanying the galaxies hit head on and slowed each other down. Thus the clusters left their intergalactic gas behind.
Finally, we can look for the dark matter by studying all gravitational lensing in the picture, and show it in blue: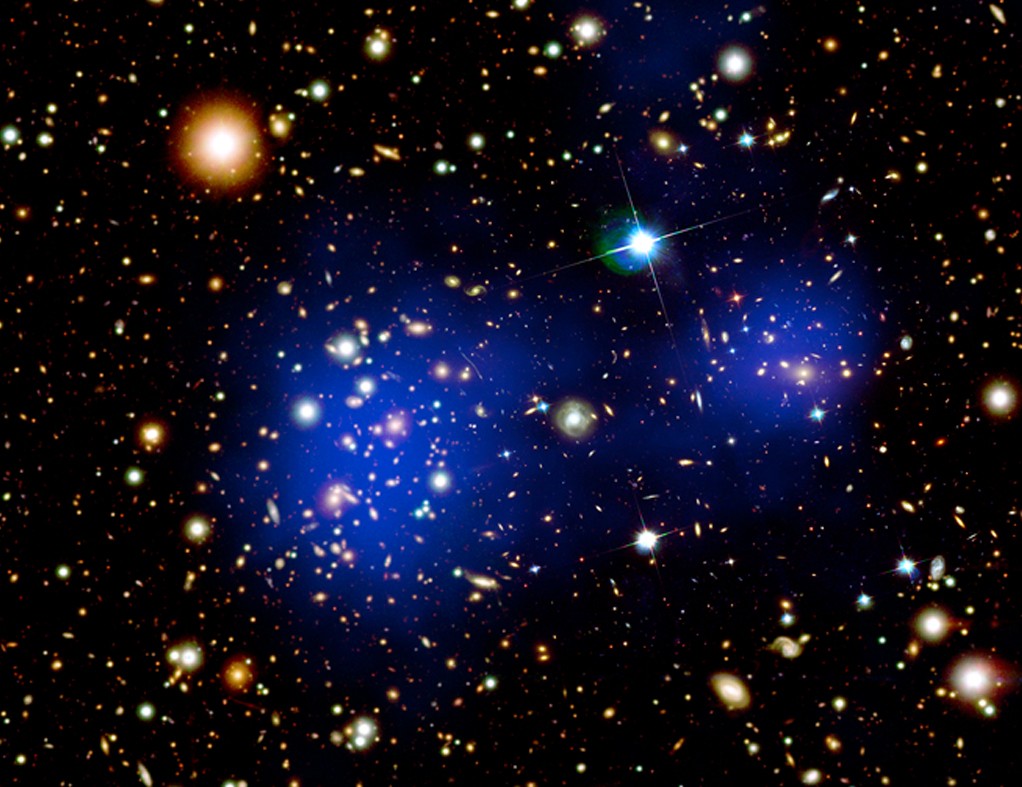 The dark matter, responsible for most of the lensing, stayed with the galaxies. It's not gas.
Putting them all together we have:
Now it becomes clear, the dark matter stayed with the galaxies–it didn't collide meaningfully with the dark matter from the other cluster–but the hot gas did collide, and is now not moving along with the galaxies and dark matter.
There's basically no way to account for this with a modified theory of gravity (though some astrophysicists still fight for it).
So we are back to asking: What is this stuff?
We know it's there. We know how much of it there is. We'll have another line of evidence that it's not ordinary matter in an upcoming installment.
But we don't know what it is. That's a 2021 physics question.
And this is the sort of thing that occupies both the people who study the universe…and the people who study particles smaller than protons. One cannot imagine what ought to be two more different subjects, yet they are inextricably tied together.
Ordinary and dark matter put together account for about 30 percent of the mass/energy needed to make the universe "flat." Suspiciously close to 100 percent, as I explained last week. But the fact of the matter is, everything we know about particle physics accounts for a fifth or a sixth of all the matter that exists. And why is the total amount (dark plus regular) off–but not by all that much–from the one number that is "special"–the critical density that would make spacetime "flat"?
That story is far from over.
Obligatory PSAs and Reminders
China is Lower than Whale Shit
Remember Hong Kong!!!
中国是个混蛋 !!!
Zhōngguò shì gè hùndàn !!!
China is asshoe !!!
China is in the White House
Since Wednesday, January 20 at Noon EST, the bought-and-paid for His Fraudulency Joseph Biden has been in the White House. It's as good as having China in the Oval Office.
Joe Biden is Asshoe
China is in the White House, because Joe Biden is in the White House, and Joe Biden is identically equal to China. China is Asshoe. Therefore, Joe Biden is Asshoe.
But of course the much more important thing to realize:
Joe Biden Didn't Win
乔*拜登没赢 !!!
Qiáo Bài dēng méi yíng !!!
Joe Biden didn't win !!!