That painting of Washington Crossing the Delaware has been popping up on key threads and accounts. Why? Good question.
Let us begin with one of our own:
Gail Combs(@gailcombs)OnlineWolverine Reply to Gail Combs December 29, 2021 09:22
In the same vein…
Scott 467 said to wolfmoon a couple days ago:
Wolfmoon:
We want somebody to trust who is not God. Not sure that's wise.
Scott 467
….We know who enough of the bad guys are, that we have a general idea of who and what the enemy is (e.g., gov't leaders, Big Tech CEOs, WEF people, Big Pharma, U.N., etc.)

We know who the bad guys are because of their own words and because of their actions, and long history of both.

The problem we face, is that we don't have ANY IDEA who the good guys are, with the (hopeful) exception of DJT and DeSantis, Navarro and…?

The problem with not knowing WHO the good guys are, is that it raises the realistic prospect that there may not BE any good guys, at least not enough to make any difference.

We see the enemy legions, we hear their words, and we experience their evil deeds, every day of the week.

Where is the counterbalance to that?

[crickets]

There isn't one.

There is lots of hopium and guru narrative, but there is precious little in the way of evidence.

Maybe that lack of evidence is by design….
>>>>>>>>>>>>>>>>>>>>>>>>>>>
It has become obvious that this matter has to be addressed.
What has been the matter over the last century?
People have IGNORED POLITICS they allowed out government to coast along and do as it wished and that was to gather more and more power and enslave the people more and more.
Even if POTUS trapped and convicted 'The Deep State' within the US government, that would not CURE THE DISEASE!!!
What is the disease?
An apathetic uninterested and IGNORANT citizenry.
Bill Ivey to John Podesta
From:bi@globalculturalstrategies… [Bill Ivey]

To: john.podesta@….

Date: 2016-03-13 17:06

Subject: From Bill Ivey

Well, we all thought the big problem for our US democracy was Citizens United/Koch Brothers big money in politics. Silly us; turns out that money isn't all that important if you can conflate entertainment with the electoral process. Trump masters TV….

but what we are dealing with now is dead serious. How does this get handled in the general? Secretary Clinton is not an entertainer, and not a celebrity in the Trump, Kardashian mold; what can she do to offset this? I'm certain the poll-directed insiders are sure things will default to policy as soon as the conventions are over, but I think not. And as I've mentioned, we've all been quite content to demean government, drop civics and in general conspire to produce an unaware and compliant citizenry. The unawareness remains strong but compliance is obviously fading rapidly. This problem demands some serious, serious thinking – and not just poll driven, demographically-inspired messaging.

Rubio's press conference yesterday AM was good and should be repeated in its entirety, not just in nibbles. I will attend the Clinton fundraiser here next week but as I can only afford the low level of participation may just get to wave without a "hello."

I fear we are all now trying to navigate a set of forces that cannot be simply explained or fully understood, so it is and will reamin interesting!

Sent with a handshake, Bill
The Tea Party was a partial awakening but Mr Global moved on several fronts to neutralize the Tea Party.
Grifters sucked up the contributions LINK
>>>>>>>>>>>>>>>>>>>>>
So POTUS serving eight years, with a corrupt Media, Congress, Senate and Admin opposing him every step of the way, would just set Mr Global back a bit BUT WOULD NOT CURE THE DISEASE.
>>>>>>>>>>>>>>>>>>>>>
Scott says:
Where is the counterbalance to that?

[crickets]

There isn't one.
And that is because we are LOOKING AT TRUMP and missing what is happening on the ground.
➡ Running for School Board to take back our schools
➡ Filling empty precinct positions to take over the GOP
➡ Becoming Poll Watchers (as was done in Virginia)
➡ Going after voter fraud using a multi prong attack
➡ going after Big Pharma, Fauci, & the Clot Shot World wide
➡ Poland and Hungary telling the EU to go F…K themselves
Trump is waving the red flag in front of Mr GloBULL while the Picadores and banderilleros harass Mr GloBULL with actions, facts and lawsuits.
CRICKETS??? 
 You have just not been paying attention.
END OF GAIL'S POST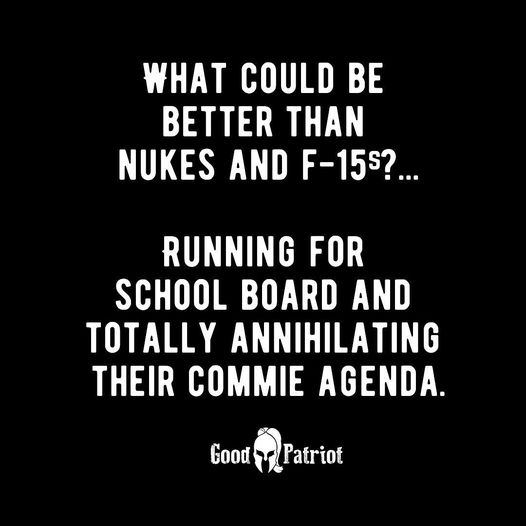 And from GAB: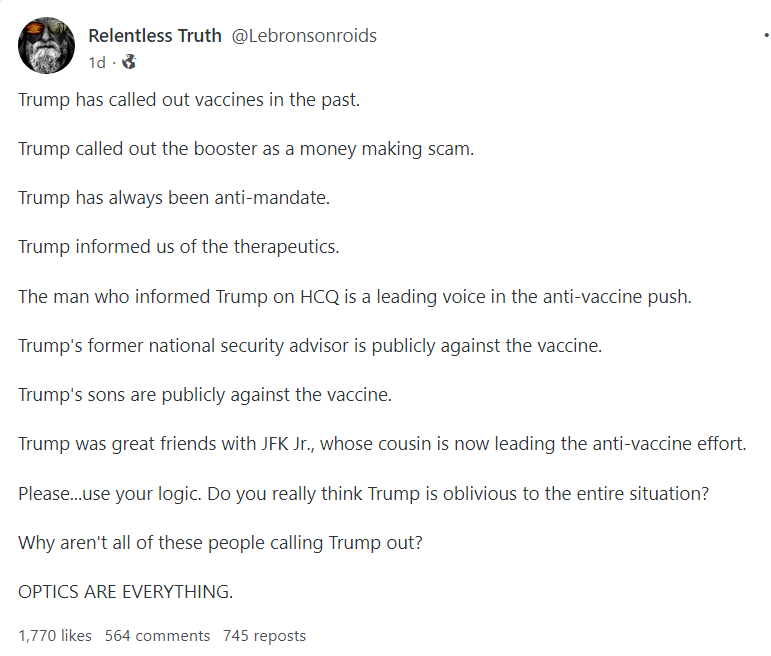 Another perspective to consider before condemning the man who risked everything to save not just this nation, but humanity.
Forwarded from ArchiveAnon ⭐️⭐️⭐️

More and more Trump is boxing the left into a corner where they have only three options:

1) Keep claiming there is nothing wrong with the vaccines, in which case Trump makes sure they own the mishandling of the pandemic moving forward. They can try to play the "It's the unvaccinated's fault" angle all they want. That's not a winning message when Trump is doing the exact opposite and EMBRACING the vaccinated under a big tent. The more we restore election integrity moving forward, the more the left are going to need the unvaccinated to vote for them if they ever want to win elections again.

2) Blame the ineffectiveness of the vaccines on Trump in order to blame the current mishandling on him, in which case the entire left must shift to a narrative of distrust of the vaccines (which is what we actually want anyway.) Fauci is currently trying to ride the fence on this one by saying Trump "poisoned the well" on vaccines and that's why they are ineffective, but again, this won't work. They desperately needed him to oppose the vaccines, and he never took the bait. The more Trump doesn't budge on the vaccines, the more the left will be forced to acknowledge the problems with the vaccines if they want to continue to be able to use it to attack him.

3) Try to pivot away from the pandemic narrative entirely by taking the "Hurray, mild Omicron is killing off the other variants, looks like the pandemic is coming to an end" layup that has been handed to them on a silver platter. This would force them to abort Operation Lockstep years before they wanted to, and mean that they would have to move on to the next phony crisis on their list in order to sell the public on the Great Reset. Most likely the "Cyber Pandemic" narrative is next, as that's what they keep chattering about.

If they fail to to sell the public on the Great Reset by utilizing the Lockstep virus narrative, which it increasingly looks like they have, at least in the Western world, they will most likely cut their losses and choose option 3; "OMG, Omicron saved the day everybody!"; which is what I think Trump is trying to force them to do: Cut their losses and move on to the next fake emergency. I think Trump would be more than happy if Covid becomes such a radioactive topic for everyone involved that it's not even an issue people want to talk about by the time 2024 rolls around.
In President Trump's own statements about Joe Biden's "achievements in 2021" brought to us by TrumpIsMine, there is this:

That would have been a better statement than the ones President Trump has been making on the topic, but optics have to be maintained, not for the red pilled, but to crush the other side.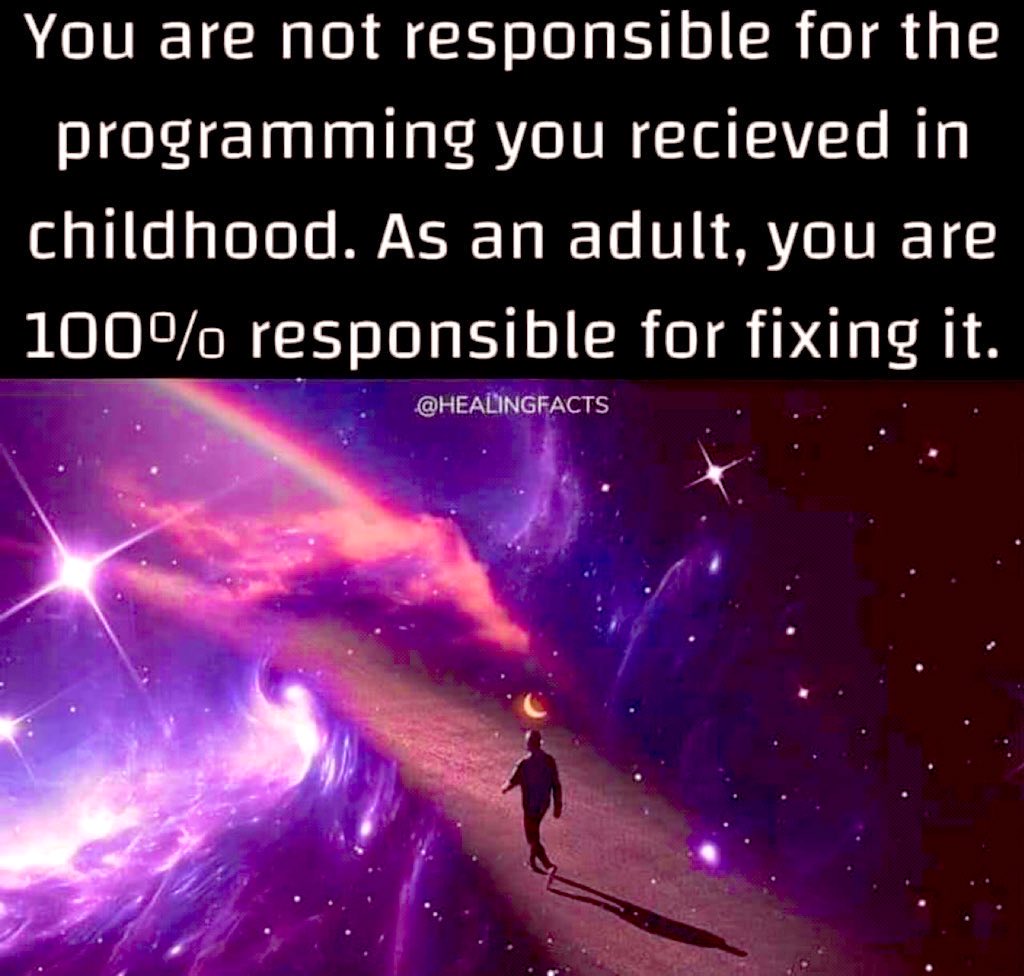 And a word about the times in which we are living.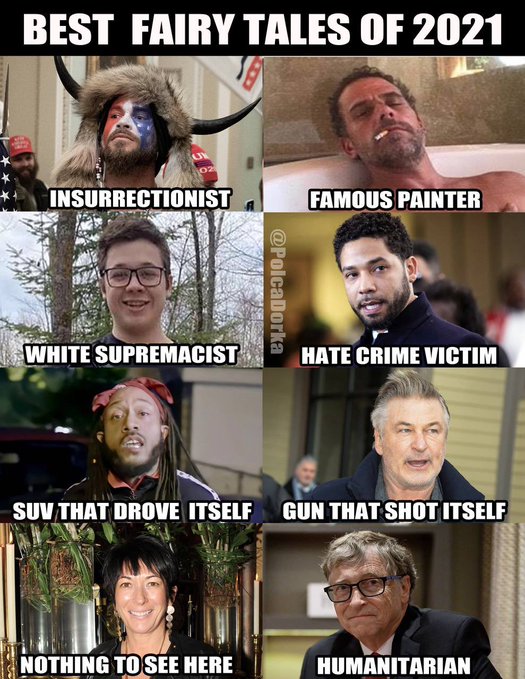 And, please, no matter what happens to "fix 2020" or not, DO NOT refuse to vote in 2022. That plays into the other side's hands.
My sentiments for the end of 2021:
GOODBYE, and don't come back.
____________________________________
One of the obstacles to full understanding of just what the enemy is all about revolves around the concept of symbolism.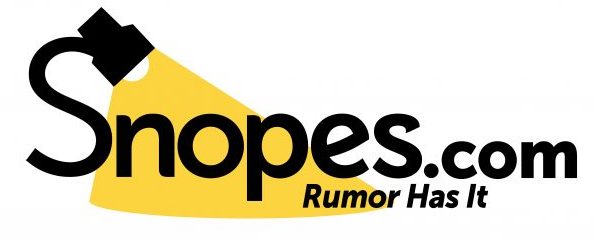 Well, in nosing around looking for sauce on a future post having to do with communism and twentieth century American Literature (yes, most of it was communist crap), I came across a tidbit that the Sisters who taught Language Arts at my high school kind of skipped.
William Faulkner's Snopes Trilogy.
Yes, that word actually comes from American Literature, and would be known to the over-educated fact checking crowd as being a character with not so nice features:
"The insidious horror of Snopesism is its lack of any kind of integrity–its pliability, its parasitic vitality as of some low-grade, thoroughly stubborn organism–and its almost selfless ability to keep up pressure as if it were a kind of elemental force. These are Flem's special qualities. The difficulty of fighting Flem and Snopesism in general is that it is like fighting a kind of gangrene or some sort of loathsome mold. The quality of honor–even a mean and rancorous 'honor'–would immediately make it vulnerable…. It is because he lacks honor that Flem is really invulnerable…. It will therefore be only the madman, the outlaw, or the passionate man who can strike him down…. Flem is a kind of monster who has betrayed everyone, first in his lust for pure money-power, and later in what Faulkner regards as a more loathsome lust, a desire for respectability."–Cleanth BrooksFrom the Hardcover edition.
How dare we who lived through dumbed down education question the fact checkers!
Oh, and just as a bonus:
____________________________________
And now for the business portion.
Please review our HOST and site owner's Guidelines for posting and discussion for this site. Wolf is kind enough to put up with *most* of us and our antics after thorough vetting. Violators of the baiting and deliberately attempting to divide the group rules WILL face consequences.
The discourse on this site is to be CIVIL – no name calling, baiting, or threatening others here is allowed. Company manners are appreciated. Those who are so inclined may visit Wolf's other sanctuary, the U-Tree, to slog out discussions best saved for a wrestling mat. If, for some reason, this site is not available, head over to the UTree and visit the post at the top of the list or the closest rescue thread.
This site is a celebration of the natural rights endowed to humans by our Creator as well as those enshrined in the Bill of Rights adopted in the founding documents of the United States of America. Within the limits of law, how we exercise these rights is part of the freedom of our discussion.
THAT MEANS THAT ALL OF US HERE ARE ENTITLED TO OUR OPINIONS AND PREJUDICES, ETC., SO LONG AS THEY CAUSE NO PHYSICAL HARM TO OTHERS OR DOXX OUR FELLOW TREE DWELLERS.
All opinions here are valued for the diversity they bring to the issues, and the shaping of understanding regarding topics for which many of us do not have all information. Correcting the record on any one topic is appreciated.
Be careful in expressing thoughts as we would all like to think well of the rest of the group, and ill-thought out comments have a way of wrecking that for everyone.
Fellow tree dweller Wheatie gave us some good reminders on the basics of civility in political discourse:
No food fights
No running with scissors
If you bring snacks, be sure they are made with bacon
Auntie DePat's requests as we are all supposedly adults and don't just play them on TV like the body doubles pretending to be the squatter in chief:
If you see something has not been posted, do us all a favor, and post it. Please, do not complain that it has not been done yet.
The scroll wheel on your mouse can be your friend. As mature adults, please use it here in the same manner you would in avoiding online porn.
Thank you so much for any and all attention to such details. It is GREATLY appreciated by more than one party here.
____________________________________________________
LUKE 2:36-40
36And there was a prophetess, Anna, the daughter of Phan'u-el, of the tribe of Asher; she was of a great age, having lived with her husband seven years from her virginity, 37and as a widow till she was eighty-four. She did not depart from the temple, worshiping with fasting and prayer night and day. 38And coming up at that very hour she gave thanks to God, and spoke of him to all who were looking for the redemption of Jerusalem. 39And when they had performed everything according to the law of the Lord, they returned into Galilee, to their own city, Nazareth. 40And the child grew and became strong, filled with wisdom; and the favor of God was upon him.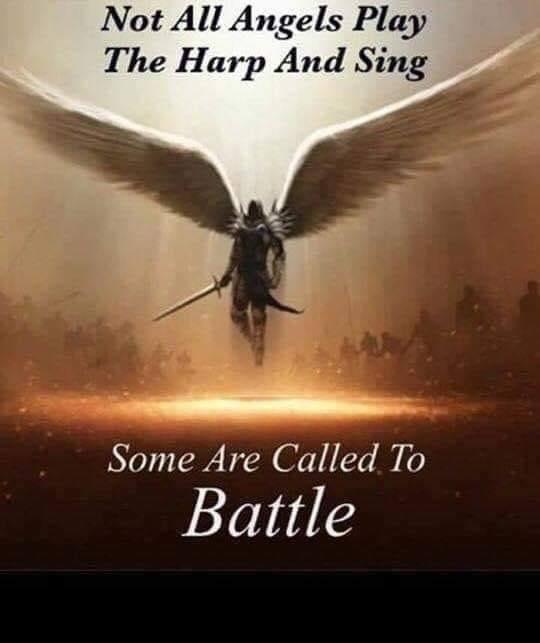 _____________________________________________________