Joining The Herd Of Lemmings
I've had cause to consider a few things. Maybe we're going about it the wrong way, and we need to ditch Trump
Yeah, NO
Trump all the way! Why? Because being hated by the people who hate him is a sign of impeccable character, that's why.
The haters can go fuck themselves with rusty twelve gauge bore brushes. I'd prefer ten gauge but that's kind of scarce, so…I'm willing to compromise.
The Election
There is quite a difference of opinion on whether this last election was a disaster or not. (There is much less disagreement on whether it would have been a disaster if only there were no fraud, although some have raised the point that there truly are huge swathes of people in this country with no damned sense, who would still make up a large voting block even if honestly counted.)
So, Steve, disaster, or not a disaster?
My answer: Yes.
YES, it is bad that we're not going to be able to do much to stop the Bidenazi steamroller, at least not via Congress.
But also:
YES, it is good that we now know what we need to do.
And I mean a little more specifically than "win." Of course we need to win, dumbass! But how do we win?
Well, we clean up the elections. We sort of knew that, but now we have information on how big a difference it makes, thanks to Florida, and Ohio. It makes a LOT of difference, which means it's worth the effort.
It does NOT mean it will be easy. Or that the effort to make elections honest will ever end…because even once we succeed, we must be ever vigilant to ensure they stay that way. This is something that will never end though it does get a bit less intractable with each small victory.
Now, I'll be honest and tell you I have no idea how we're going to fix Colorado. Much less California. Congress is allowed to override the states on election rules for congresscritters, but as far as I know, they can do nothing about electing the state officials that do the cheating and of course built in cheating to ensure they will remain in office and be able to continue to cheat.
But there IS a goal that takes us closer to where we want to be. If only it isn't too late.
Colorado
[Hopefully both entertaining and informative. Regional insults meant in good fun.
Well, mostly. :D]
One of our favorite congresswomen, Lauren Boebert, is in a bit of a tight spot right now. She'll probably pull through…if only the recount that looks unavoidable is tolerably honest.
There has been a lot of misguided speculation about "Boulder" messing things up for her; I want to reassure you that "Boulder" can't do anything about this. But the state government can, and guess where our (freshly re-elected) governor came from?
Colorado is a peculiar state for a number of reasons. Someone once came up with a mathematical algorithm to draw congressional district boundaries; you could go to his site and view maps of what his algorithm would have done. It does nothing but draw polygons such that every polygon has the same number of people in it; it doesn't balance for political registration or racial composition or anything like that. It's evenhanded though because the rules don't change just because some asshole on some committee somewhere was able to be intransigent until other people gave him what he wanted.
The algorithm did some really freaky stuff in Colorado, and that's because pretty much all of the population of the state is concentrated along a line. The algorithm starts by drawing a north-south line through the state, situated so it divides the population in half (if there are an even number of seats) and that line has to go right down the center of the line where all the people live. You end up with a district map that looks like a shattered pane of glass, pie wedges out to the edges of the state.
Anyhow, why? Why do people clump up like this in Colorado?
Time for some geography. Yes, I'm going to throw up a map. But not just an outline of the state (any kid can draw a rectangle).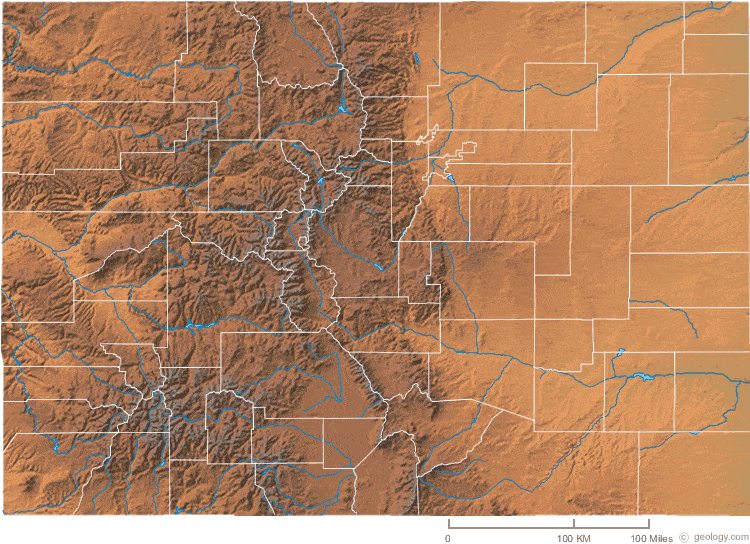 The first thing you'll notice is a shitload of mountains. The second thing you will notice is a shitload of flat land. Unless you are Arabic or Hebrew, in which case you read from right to left and you'll pick up on things in the other order.
The transition from prairie–albeit rolling prairie, it's not flat like Louisiana or Illinois between Chicago and St. Louis–and mountains is quite abrupt. (And these are serious mountains…you guys east of the Mississippi–hell, east of the Kansas state line–just shut up. Your "mountains" are stupid.)
The flat land may be a bit of a surprise to some; Colorado is famous for mountains, not prairie. Well, that's because a lot of places do "flat," and as I alluded, many of them do it far better than Colorado. Few places do mountains better than Colorado. We have far more "Fourteeners" (peaks higher than 14,000 feet) than any other state in the "lower 48" for for that matter all of the rest of them put together, even if those assholes in California had to scare up one damn mountain just to beat us.
Not a single fourteener…or thirteener…or twelver…or elevener…or tenner…or niner…or eighter…or sevener is to be found east of the Mississippi. Your tallest "mountain" barely reaches the bottom of my well…and I live in the prairie part of the state. (Like I said, your "mountains" are stupid.)
Many is the tourist, driving to Colorado from the east, who crosses the state line and says "so where are the mountains?" And they drive. And drive. Finally about 90 miles in, they start to see them…and they say, "oh. OH!"
Anyhow, if you live in Colorado, you eventually form a mental map of the state. There's "the plains" (the eastern 2/5ths of the state). There's "the mountains" (again obvious–sort of; it usually pertains to the highest bunches, in the southwest and north-central and central parts, where most of the fourteeners are). There's "the San Luis Valley" which is the large flat area just to the left of center in the south. That IS flat as a plate, surrounded by mountains, about 7700 feet in elevation (well above the stupid eastern "mountains"), and tends to trap cold air during the winter.
But then you hear somewhat more obscure terms, like "Front Range" and "Western Slope." What? OK, Western Slope is basically the western part of the state, west of the tall mountains where the Continental Divide is; so in general the land slopes downward to the west. The "Front Range" is the very easternmost line of mountains. That's logical, European settlers came in from the east and that range is "in front of" all the ones beyond it.
But "The Front Range" doesn't just apply to that particular mountain range, it applies to the line of cities along the Front Range. And that's why our cities are in a line, they follow the Front Range and are themselves called "the Front Range" as well. The East is empty. In the northeast there's dryland farming, and on the Arkansas river running east from Pueblo there's also farming–Rocky Ford is famous for its melons. But population density is low. And that's true up in the mountains. So basically everyone piles up along the Front Range.
There are some fairly sizeable cities elsewhere…most notably Grand Junction. If you look at the western edge of the map, halfway down you see a river in a flat-bottomed valley. Follow that river to the left/east a bit and it forks. That's the "Grand Junction" the city is named after. Also, that county (which sort of looks like Idaho, rotated 90 degrees clockwise) is Mesa county, from which Tina Peters hails.
OK, time for another map. This one labels the counties. Because I'm going to have to name names.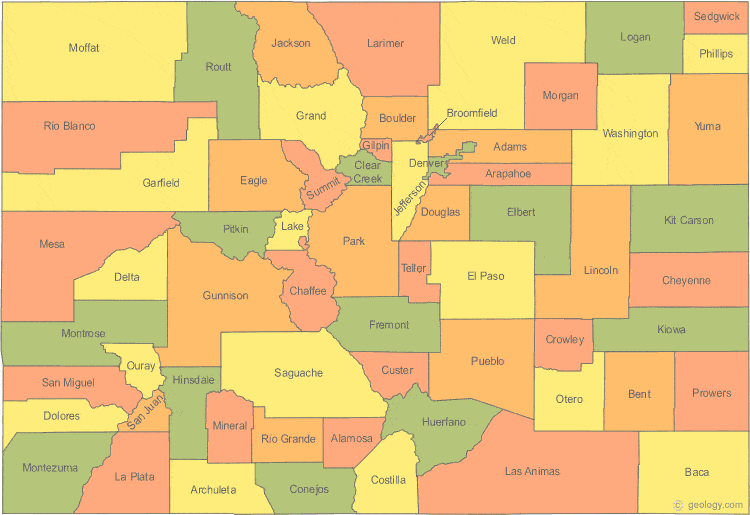 You'll notice that in general small counties are in the mountains, larger ones in flatter areas. And those mountain counties can have very low populations, sometimes less than a thousand people. Why so darn small? Because the original idea was to make sure that no matter where you lived, your county seat was less than a day's horse ride away. A horse can cover less distance in the mountains. (So we tend to have small counties with even smaller populations.)
El Paso county…that's the yellow one to the right of dead center…contains Pikes Peak (in that little knob on the western border). It contains Colorado Springs, at the foot of Pikes Peak, and it runs far enough east to contain a lot of that prairie. It is in a neck-and neck race with the City and County of Denver (that rather convoluted green blob a ways to the north of El Paso county–incidentally the north-eastern arm of it is Denver International Airport) for most populous county in the state. It will eventually win, because Denver just doesn't have space to put lots of people.
El Paso County is pretty darned red, although a blue cancerous tumor has developed in downtown Colorado Springs.
Now for a rundown of the Front Range: Scroll down for a map that shows cities.
South of El Paso county is Pueblo County, old-style Democrat/union territory. Running north from Colorado Springs, you get to Douglas county and the booming town of Castle Rock, which will eventually merge with the Denver metro area. Denver Metro consists of most of Jefferson county, and the western parts of Adams and Arapahoe county, as well as Broomfield and Boulder. When I went to university in Boulder (oh, the Left hated my guts) there was a lot of open land on the highway between Denver and Boulder, and Broomfield was an exit you couldn't see anything built on–it's now filled in the whole way. So Boulder tends to think of itself as not part of Denver, but it has been absorbed. Larimer county, the eastern part, is where Fort Collins is located, and that rounds out the Front Range.
Our Congressional Districts
When I was in college, Colorado had five congressional districts. #1 was central Denver Metro. #2 was centered on Boulder but included large parts of Jeffco (as we call Jefferson County), #3 included Pueblo and most of the west, #4 included Fort Collins and most of the east…and #5 was centered on Colorado Springs.
This is largely still true today! Fort Collins has slipped into district 2 now, but other than that, those five districts are pretty much describable the same way now. But we have another three districts and they all ended up in Denver metro, possibly running out into the country. 1 is now pretty much just Denver itself, 6 is suburbs, 8 is suburbs plus the smaller cities running up towards Greeley (a fair amount of agriculture there), and 7 includes the southwest suburbs, but that wasn't quite enough to make up an eighth of the population of the state so it gobbled up huge parts of the mountains including South Park (yes, that South Park, there really is such a place) to make up the tiny difference. Likewise with 2.
Boebert's district 3 is, therefore, the "West Plus Pueblo" district. It's vast; it's one of the geographically largest congressional districts in the country. And (note), Boulder is nowhere near that district (it is just northwest of Denver, barely inside 2). And District 5, which has been tied to Colorado Springs since it was created, now no longer even covers all of El Paso county.
In fact, district 3 is farther away from Boulder than any other Colorado congressional district. And, alas, I do not live in it.
In closing a bit more fun at lowlanders' expense.
(Come on, I have Jared Polis for a Governor and Jenna Griswold for a Secretary of State, and our elections are stupid; I gotta take it out on somebody. Why not a bunch of lowland swamp dwellers?*)
(I live for the day some crusty old guy (or gal) in Vermont calls me a "Flatlander," which apparently is how they insult people from out of state who didn't elect Bernie Sanders their senator–the insults should run the other way, methinks. Oh, and by the way their "mountains" are stupid.)
*I said lowland swamp dwellers. Not The Swamp that needs draining and gets capitalized.
Going back to physical geography…here's that map again.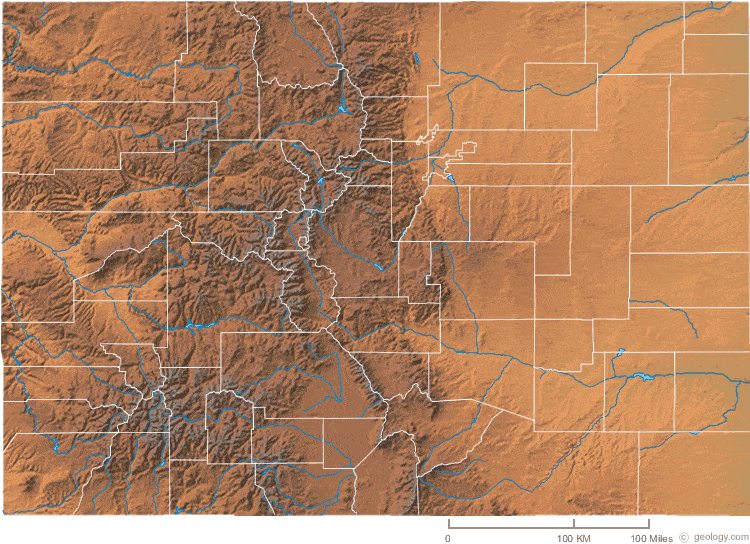 I've already mentioned the Colorado River which exits the state on the middle of the western side. That river goes through the Grand Canyon, then down the Arizona-Nevada and Arizona-California border, and then into the Gulf of Cortez (or California).
Running out the northeast corner is the Platte river, which runs along the length of Nebraska; it's basically the river in Nebraska. It joins the Missouri river, which goes through Kansas City and St. Louis.
The middle of the south, down through the San Luis Valley? That's the Rio Grande; yes, that Rio Grande, which separates Texas from Mexico, at least when our government will let it.
Out the east, three quarters of the way down, is the Arkansas River, which eventually runs through Tulsa, and Arkansas, and into the Mississippi.
It does seem like most of the Western US is downstream from me. Which should underscore the importance of not pissing me off. Because that runs downhill.
The RINO's Dilemma
The RINOs who who have burrowed in and taken over most GOP organizations, from the state down to local organizations, have quite a dilemma on their hands, and most of them have their heads too far up their asses to realize it.
OK, I'm not talking about the liberal in a Republican area, who knows they're in the wrong party, but is there because it's the only game in their town; they hope to capture a nomination someday, at which point they're guaranteed to be elected…otherwise, they never will be. These people are a hazard in any heavily conservative area.
No, I'm talking about the guys who are a little bit conservative and want to do some good by going into politics, and they're in a closely matched area, closely enough that they can join the party they are most aligned with and still have a chance. They think the Democrats…particularly the ones who end up running for office…are nuts.
They don't think much better of the Deplorable types, either. A bunch of bumpkins whose hearts are in the right place, mostly…OK a bit extreme. But they think Deplorables can't understand that first you have to get elected, then work within the system to change things…a slow process. They genuinely want many of the things Deplorables want…just not as much. The government is spending too much. Or they need to spend money on highways instead of welfare for illegal immigrants. But they want to work within the system to get these things done.
Or maybe they think things are pretty close to ideal right now, and they want to nail it in place.
The problem is, that means they don't stand for anything in particular. And it shows. They're about as unappetizing to the electorate as a puddle of dog vomit. The folks in the middle, who they think they are appealing to because they themselves are not extreme, would honestly prefer a clear-spoken radical to someone who qualifies everything they say to the point where they sound like they don't believe anything at all.
The problem these "Mild RINOs" have, is they just can't see that. And the reason they just can't see that, is their entire sense of self-worth is tied up in not seeing that. In their minds, they've worked tirelessly for their party, to keep those crazy Democrats out…only to have to constantly fight with a small number of crazy Republicans–who are only liabilities if they end up as candidates. They've fought the good fight, and if they can just find the right candidate, someone with some charisma, they might stop the crazies…without being too beholden to the OTHER crazies. In the meantime it's not working. What's a responsible guy in politics to do?
They simply cannot understand that the Republicans can't succeed as the party of nothing in particular. Not really in the past, and certainly not today when people are starting to realize that no matter what they do in the voting booth, the country is still about to fly off a precipice. If they did see it, they'd suddenly have two choices: Go away and let the GOP succeed, or stay and fight. But "go away" isn't really an option, because what's the point of having a party now owned by the crazies, win?
Well, they have a dilemma…and WE, therefore have a problem. And we would have that problem even IF they realized that they had a problem…that they were the problem.
No one ever thinks they are the bad guy. Even Epstein probably thought he was the good guy. Right up to the moment where he didn't kill himself.
So if you ever wonder why these unappetizing dufuses cling on even when their fingernails are being left behind…that's why. They don't understand no one wants them, and can't imagine that no one should want them. And oftentimes their greatest pride is in all the hard work they've done for the party. They're not going to give that up; it'd be psychological suicide.
If you've worked with these people, there's a good chance you like them and consider some of them your friends. But even if so…we're going to have to give them a good, hard shove. Because America is more important than those milquetoasts' egos.
Justice Must Be Done
The prior election must be acknowledged as fraudulent, and steps must be taken to prosecute the fraudsters and restore integrity to the system.
Nothing else matters at this point. Talking about trying again in 2022 or 2024 is hopeless otherwise. Which is not to say one must never talk about this, but rather that one must account for this in ones planning; if fixing the fraud is not part of the plan, you have no plan.
Lawyer Appeasement Section
OK now for the fine print.
This is the WQTH Daily Thread. You know the drill. There's no Poltical correctness, but civility is a requirement. There are Important Guidelines, here, with an addendum on 20191110.
We have a new board – called The U Tree – where people can take each other to the woodshed without fear of censorship or moderation.
And remember Wheatie's Rules:
1. No food fights
2. No running with scissors.
3. If you bring snacks, bring enough for everyone.
4. Zeroth rule of gun safety: Don't let the government get your guns.
5. Rule one of gun safety: The gun is always loaded.
5a. If you actually want the gun to be loaded, like because you're checking out a bump in the night, then it's empty.
6. Rule two of gun safety: Never point the gun at anything you're not willing to destroy.
7. Rule three: Keep your finger off the trigger until ready to fire.
8. Rule the fourth: Be sure of your target and what is behind it.
(Hmm a few extras seem to have crept in.)
Spot (i.e., paper) Prices
Last week:
Gold $1,682.60
Silver $20.98
Platinum $974.00
Palladium $1,950.00
Rhodium $14,300.00
This week, 3PM Mountain Time, markets have closed for the weekend.
Gold $1,772.30
Silver $21.80
Platinum $1037.00
Palladium $2,132.00
Rhodium $14,450.00
Two words: Holy Shit!!!! Gold up almost 90 bucks! Most of this is since the election.
Fuck Joe B*d*n
Due to complaints about foul language, I've censored the most objectionable word in the title of this section.
B*d*n, you don't even get ONE scoop of ice cream today.
(Please post this somewhere permanent, as it will continue to be true; the SOB will never deserve a scoop.)
Obligatory PSAs and Reminders
China is Lower than Whale Shit
Remember Hong Kong!!!
https://youtube.com/watch?v=L3tnH4FGbd0
中国是个混蛋 !!!
Zhōngguò shì gè hùndàn !!!
China is asshoe !!!
China is in the White House
Since Wednesday, January 20 at Noon EST, the bought-and-paid for His Fraudulency Joseph Biden has been in the White House. It's as good as having China in the Oval Office.
Joe Biden is Asshoe
China is in the White House, because Joe Biden is in the White House, and Joe Biden is identically equal to China. China is Asshoe. Therefore, Joe Biden is Asshoe.
But of course the much more important thing to realize:
Joe Biden Didn't Win
乔*拜登没赢 !!!
Qiáo Bài dēng méi yíng !!!
Joe Biden didn't win !!!