The Truths, Lies, and Disinformation Surrounding a Mythical yet Very Real Substance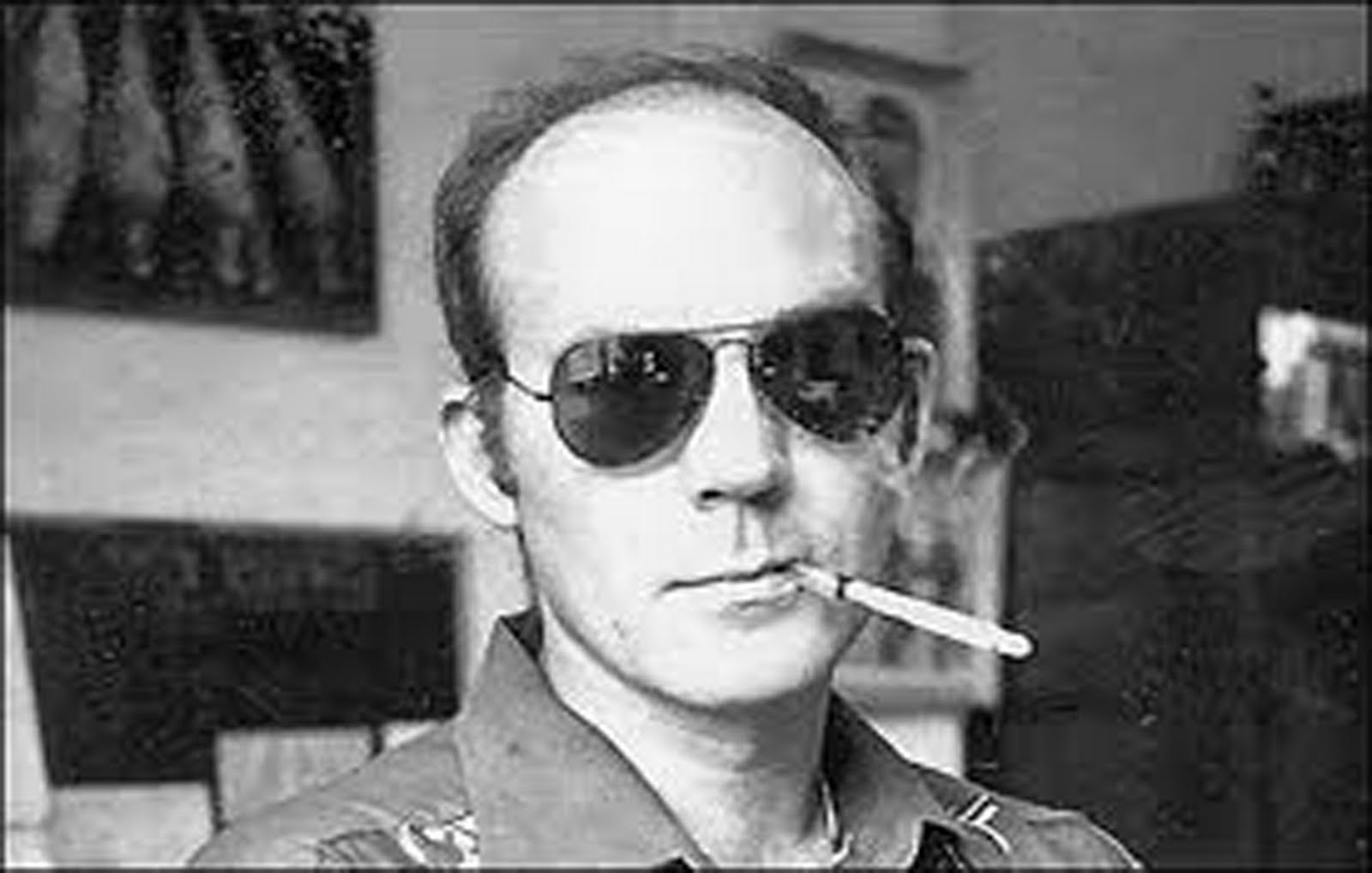 There is nothing more intriguing than an enigmatic character who defies political and cultural boundaries to tell great truths, yet mixes in just enough lies, fakery, shiny objects, red herrings, exaggerations and omissions to make himself or herself economically viable solely on their product.
It also helps if that character furthers the interests of cultural Marxism.
Exhibit A: Hunter S. Thompson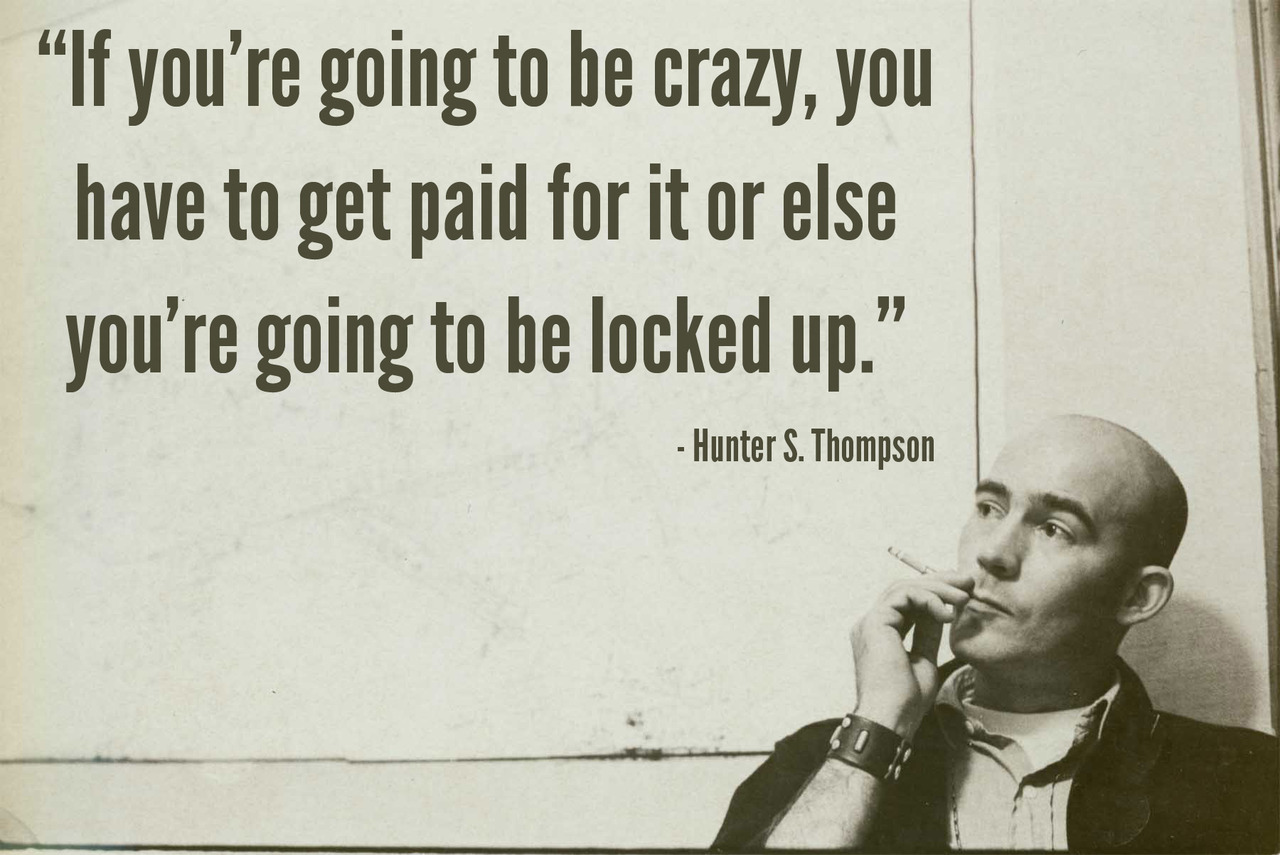 It is a minor forbidden delight to read such people, as well as to write in that style. The problem, however, is that what the author gains in the ability to "get past the censors", is lost in terms of ultimate credibility. In the end, we are left with – more than anything else – entertainment – not journalism.
Gonzo journalism has a price. And in addition to loss of credibility, part of that price is what I would call the satanic train-wreck factor.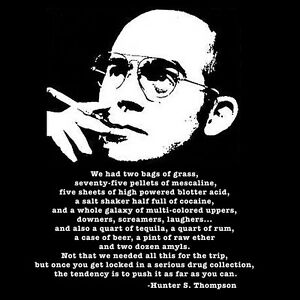 Read enough of a guy like Thompson, and eventually one thinks something like the following:
"THANK GOD I turned away from (fill in the blank) back when (fill in the blank), and I stopped hanging around with (fill in the blank), because otherwise I would be living through the same skanky, tacky, vomit-smelling nightmare of drugs, alcohol, bad sex and psychotic living that Hunter S. Thompson lived through, which is NO LONGER VERY FUNNY."
Indeed – if you EVER got to the point of being "kinda sick" of any writing by Hunter S. Thompson before you finished reading it – even better if you put it down and didn't finish it – then this article is going to make a LOT more sense, than it will to those who hung on his every word.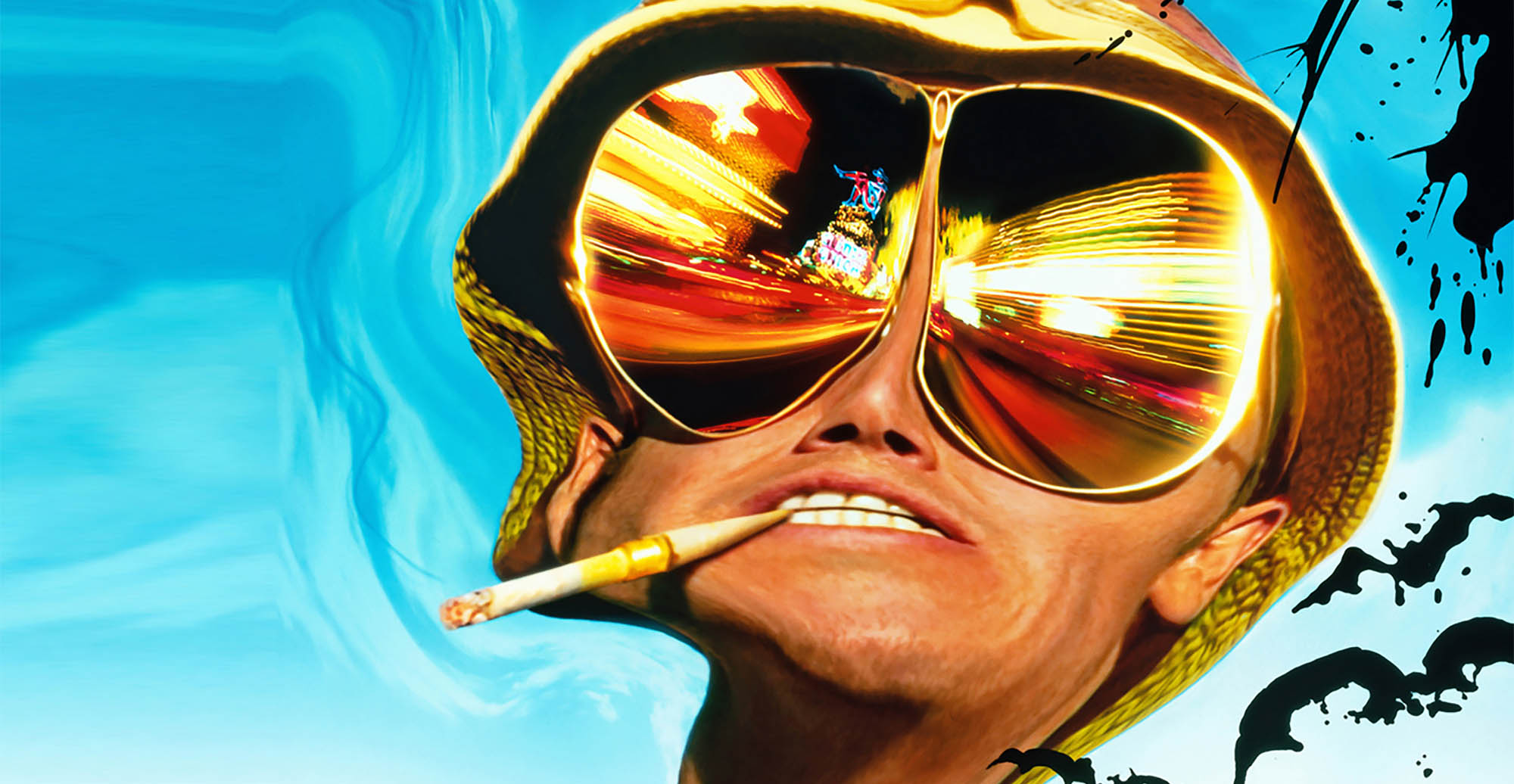 Hunter S Thompson, more than anybody else, was responsible for the myth of adrenochrome taking hold of America's collective drug consciousness. Whether HST himself originated the urban legend of adrenochrome, or merely passed it on, is not certain. What IS certain, is that when people feel the need to provide SOME kind of reference to demonstrate the reality of adrenochrome, they almost always cite Hunter S. Thompson and his book, Fear and Loathing in Las Vegas.
Here is how the "adrenochrome scene" was transferred to the big screen.
However, here is what IMDB has to say about that scene:
Near end of this film, Duke takes too much "andrenichrome" and has a nasty experience. Andrenichrome was a substance that Hunter S. Thompson made up for the book when he originally wrote it, and was kept in the script by Terry Gilliam. The name itself wasn't new – Adrenochrome is an oxidation product of adrenaline, while Adrenochrome semicarbazone, also known as carbazochrome, is used as a medicinal drug to reduce capillary bleeding – however, neither compound is a hallucinogenic drug as portrayed in the book and film. After showing a rough cut of the film to a test audience, Gilliam was approached by a group of young men, one of which complimented him on the film in general, but said that his favorite scene was the andrenichrome scene. He said that he had used the drug, and that Gilliam had captured the effects perfectly. Gilliam didn't have the heart to tell the kid that it was made up, and went along with his story.

IMDB Trivia entry for "Fear and Loathing in Las Vegas"
https://www.imdb.com/title/tt0120669/trivia?ref_=tt_trv_trv
So what's the truth about adrenochrome?
Let's look at it again, but more slowly.
---
Adrenochrome is, for lack of a better term, a MYTHICAL DRUG.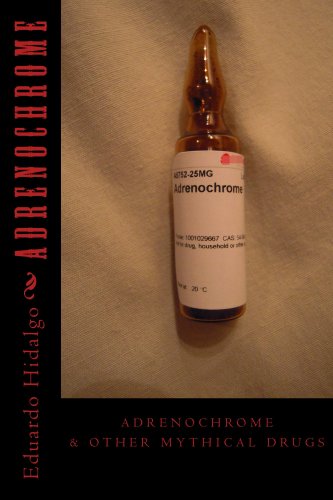 https://www.erowid.org/library/books/adrenochrome_other_mythical.shtml
Adrenochrome is not mythical in the sense that it does not exist. It is mythical in terms of being almost 90% sexy but untrue (yet potentially profitable) legend, and 10% oddly unsexy reality.
Even the notoriously dubious aphrodisiac "Spanish fly" – which CAN (sometimes) cause priapism as an annoying side-effect of dangerous inflammation of the internal mucosa – is "more real" than adrenochrome.
All recreational drugs are, to some extent, "mythical", in that they become focal points for petabytes of rumors, lies and disinformation. However, some drugs are more mythical than others, and of all the "highly mythical" ones, adrenochrome is one of the worst.
Adrenochrome is marketed to the unwary – meaning the vast majority of humans – by layer upon layer of mutually reinforcing LIES. With a name that sounds half-way between adrenalin – something natural, good, exciting, quasi-sexual and biochemical – and chromosome – something natural, powerful, mysterious, quasi-sexual and deeply biological – adrenochrome can be whatever your mind wants it to be.
Thus, the very name adrenochrome sets it up perfectly for its primary myth:
---
THE MYTH: that adrenochrome is some sort of EXOTIC BIOCHEMICAL giving an EXTREME HIGH, and that it comes from either the….
blood
pineal glands
pituitary glands
hypothalamus
adrenal glands
or some other exotic location
….of the living or recently deceased bodies of terrorized innocent people, particularly tortured, trafficked, or imprisoned women or children.
---
The exact myth varies, but all forms of the myth require either the murder, torture, or terrorizing of innocent people.
And it is ALL – as far as either a WORKING DRUG or an ACTUAL ORIGIN is concerned – absolute bullshit.
However, that does not mean that one cannot:
sell people things that they believe are or contain adrenochrome
buy things that one believes are or contain adrenochrome
do horrible things that one believes will create adrenochrome
Are you with me?
I want to make sure you understand that just because adrenochrome isn't "real", doesn't mean that some or all of the sick universe surrounding it isn't real. As one descends into the world of drugs and casual / illicit / paid sex, from there into the world of crime and cruelty, and from there into the world of satanism and utter evil, "truth" is of little value. What one BELIEVES controls reality, and people do believe a lot of really horrible stuff.
The Johnny Depp movie about satanism – "The Ninth Gate" – is instructive. People who BELIEVE in evil will ACT on those beliefs to CREATE evil. Evil EMERGES from BELIEF in it.
Or just read about the SATANIC serial killer, Richard Ramirez, who was actually PROTECTED by Dianne Feinstein (she leaked information that helped him avoid capture). The fake news media likewise HIDES and PROTECTS satanism, while demonizing the tools that evil chooses to use.
https://en.wikipedia.org/wiki/Richard_Ramirez
So, in an odd way, the VERY BELIEF in the LIES about adrenochrome actually creates the evil of it.
Are you ready for me to explain?
Good. Let's begin.
---
Most people are not prepared to debunk the mythical chemistry or pharmacology of adrenochrome, and there is a huge part of the world that has no intention of debunking it, beyond doing so quietly enough to maintain their own political credibility and – in my suspicious cat opinion – CASH FLOW.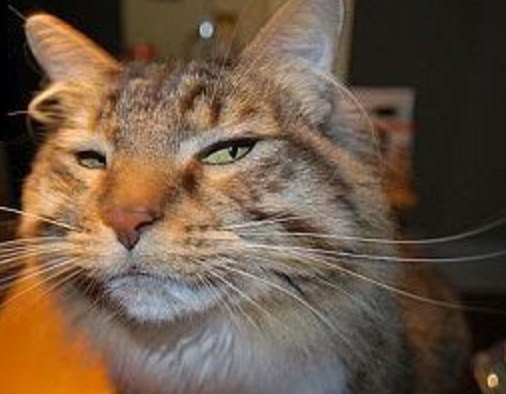 We will get to the part about CASH later.
Unless you have at least two semesters of college organic chemistry, and one semester of biochemistry, it is highly unlikely that you will be suspicious enough to figure out that there is something terribly wrong with the "standard myth" of adrenochrome.
Allow me to help.
A chemist or other scientist with enough training looks at THIS simple organic chemical structure:
….and then thinks the following:
"This is a dead simple molecule – easy to make. Even the chiral center is no problem. Heck – we could have made this in Organic I Laboratory. If it actually worked as a DRUG, people would be mainlining it or vaping it. There is no need for terrorizing children or carving out the adrenal glands of murder victims. That would be like giving somebody an ASPIRIN and then extracting aspirin from their blood. It's ridiculous. Make it and take it, like METH."
Short version: Adrenochrome's own MOLECULE outs most of the myth as a lie. It is a simple organic chemical that can be made in the lab. It has been OBSERVED as the pinkish oxidation product of adrenaline since roughly 1909, and was fully identified in the laboratory in 1937.
https://www.ncbi.nlm.nih.gov/pmc/articles/PMC1266980/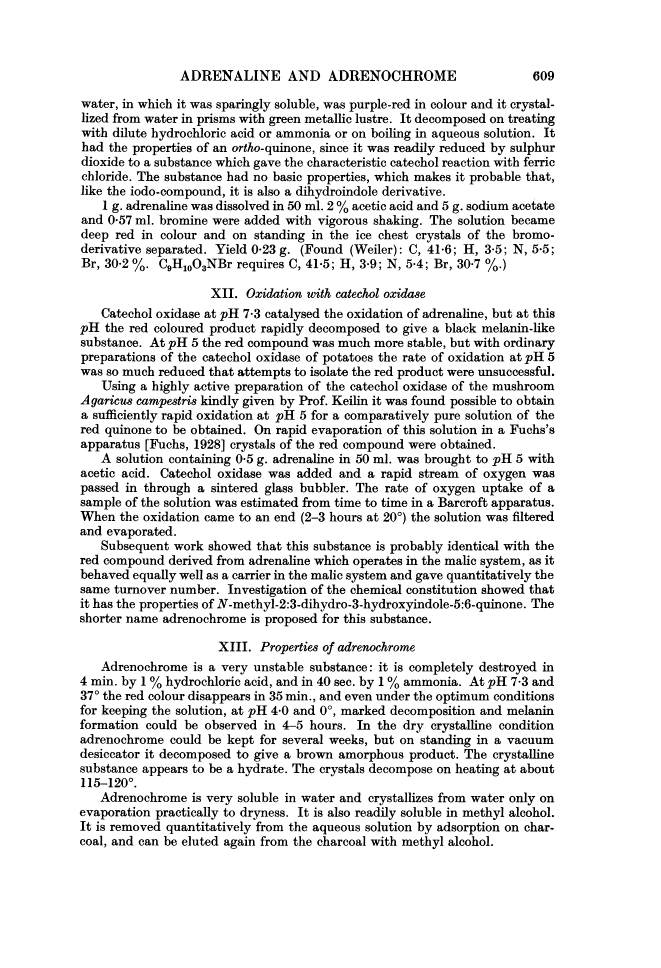 Upon separation, purification, and crystallization, adrenochrome is basically reddish crystals that slowly decompose and go bad in a few weeks. The reason that it goes bad is that the adrenochrome molecule is both an oxidizing agent called a "quinone", and a reducing agent called an "amino alcohol". Adrenochrome was born to destroy itself.
Nevertheless, for subtle chemical reasons, this substance is stable enough to work with in a laboratory or clinical setting, or even send through the mail. THAT is why scientists could actually STUDY adrenochrome AS A DRUG in the 1940's and 1950's. Same with adrenalin – it's easily made, studied, and transported. SCIENTISTS MADE THEM BOTH IN THE LAB TO STUDY – a LONG time ago.
Why try to isolate these simple chemicals from any biological source, once it's obvious what they are, and knowing that you can make them easily – on a far bigger scale than they can be isolated biologically?
Fast forward to NOW. You can buy this stuff PURE from companies like Sigma Aldrich, where EVERYBODY gets chemicals. Here it is, shipped in an ampule, to keep it nice and pure, because the stuff DOES decompose slowly at room temperature, and faster when open to the air. Even in the ampule, it slowly decomposes, so refrigerating it is a good idea – probably best kept in the FREEZER.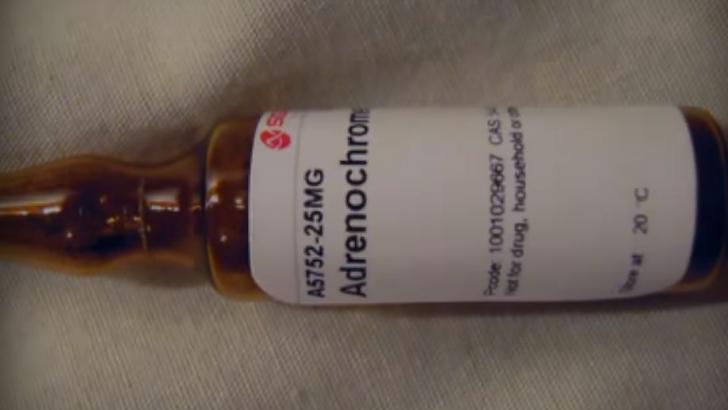 Now – before we get started – I want to make something EXTREMELY clear.
The MYTH of adrenochrome does not mean that people don't actually pay a pretty penny for the stuff – WHATEVER they may actually be buying. They may be buying the real thing. They may be buying something else. They may be buying a complete LIE. Doesn't matter.
If you know anything about the ILLEGAL AND RECREATIONAL DRUG WORLD, then you know that every single thing that is sold is very likely to be FAKE, to be IMPURE, to be a LIE, and to either NOT WORK or WORK TOO WELL, because it is really SOMETHING ELSE.
The drug world is 30% about drugs. It is 70% about MONEY. Maybe MORE. Understand that, and you will understand why the top echelon of the political left promotes the adrenochrome mythology – not openly, but through the political operative middle, who are tasked with keeping the myth alive, although THEY are not told the full truth. That effort is not simply to distract and discredit conservatives, but also to create a market among Hollyweird idiots and Shillicon Valley chumps for bogus adrenochrome products.
Do you see where this goes?
That kid in the IMDB story was very likely SOLD something – ANYTHING – under the guise of it being "adrenochrome".
Use AND LOGIC to see all the reasons why the left promotes the adrenochrome myth. Overall, adrenochrome WORKS for the left. But not in the way that ANY of the "true believers" think it does.
I will return to this point later, in even more detail.
---
Now that we have cracked the first part of the myth – namely that adrenochrome is some "special" substance that needs to come from abused humans – WHICH IT DOES NOT – we can move on to the second half of the myth – WHAT REAL ADRENOCHROME ACTUALLY DOES.
Because "adrenochrome" SOUNDS LIKE "adrenaline", people assume that it has some kind of similar effects. The adrenochrome myth always offers some kind of ultimate high or euphoria that the rich are willing to pay boo-koo bucks to experience.
This idea is ALMOST reasonable. Although adrenochrome is actually a metabolic degradation product of adrenaline, something which has strong, known effects, there ARE many cases where drugs that are given to people actually turn into STRONGER drugs in the body. The administered drugs serve as what are called "pro-drugs" – meaning they are biochemical precursors of the stuff that ACTUALLY has the main pharmacological effect. So it isn't totally unreasonable to think that perhaps adrenochrome, as a decay product of adrenaline, has some kind of magical effect that is STRONGER than adrenaline.
However, this is NOT the case. It is KNOWN that adrenochrome does NOT have any of the profound physiological effects of adrenaline – either the same ones or different ones. In fact, like most metabolic degradation products, adrenochrome is "a lesser, weaker product that gets flushed". It's weaker, different, and not even particularly stable, turning into OTHER THINGS as it breaks down.
And it gets worse for the myth.
Part of the reason the myth works is that people believe adrenochrome can affect the brain, because of something called the adrenochrome hypothesis. This is a formerly dubious but increasingly foundational hypothesis that adrenochrome itself causes the symptoms of schizophrenia. It comes from the fact that early pharmacological tests of adrenochrome elicited psychotic symptoms in some subjects.
Yes, that's right. Psychotic symptoms. Not Psychedelic. PSYCHOTIC.
This is not exactly something that people who want to get HIGH are looking for. They may be looking for pretty colors. They are probably NOT looking for turning into a crazy person.
Here is a quote:
Several small-scale studies (involving 15 or fewer test subjects) conducted in the 1950s and 1960s reported that adrenochrome triggered psychotic reactions such as thought disorder, derealization, and euphoria.[2] Researchers Abram Hoffer and Humphry Osmond claimed that adrenochrome is a neurotoxic, psychotomimetic substance and may play a role in schizophrenia and other mental illnesses.[3] In what they called the "adrenochrome hypothesis",[4] they speculated that megadoses of vitamin C and niacin could cure schizophrenia by reducing brain adrenochrome.[5][6] While the treatment of schizophrenia with such potent anti-oxidants is highly contested in the literature, and adrenochrome is not currently believed to have any psychedelic properties,[7] a number of recently published papers consider Hoffer's paper a landmark contribution to the notion that impairment of what's now termed the anti-oxidant defense system (AODS) seems to play a role in schizophrenia.[8]

Wikipedia, entry for Adrenochrome
https://en.wikipedia.org/wiki/Adrenochrome#Effect_on_the_brain
A good insider review of the history and scientific politics of the adrenochrome hypothesis, along with the somewhat allied movement called orthomolecular psychiatry, can be found here:
http://orthomolecular.org/library/jom/1999/articles/1999-v14n01-p049.shtml
To put things quickly in perspective, one might say that the original adrenochrome hypothesis was a crude but remarkably foretelling sketch of what we now know to be true. It turns out that oxidized neurotransmitters such as adrenaline ARE in fact partially responsible for neurotoxic degradation of neurons in the brain, and THAT is in turn largely responsible for neurological diseases including schizophrenia and Parkinsonism.
An example of the kind of research that brought increasing respect for the adrenochrome hypothesis is this paper, showing that certain enzymes which may be missing or impaired in schizophrenia are capable of removing adrenochrome.
https://www.ncbi.nlm.nih.gov/pmc/articles/PMC1218396/
Similarly, and in an almost remarkable proof of the current model of schizophrenia and Parkinsonism, the very oxidizing agents that can be used in the laboratory or factory to turn adrenaline into adrenochrome, are in some cases THEMSELVES neurotoxic in almost exactly the same way.
In other words, chemicals that can MAKE adrenochrome from adrenaline in the lab, appear to make it in the body, too. But they don't make people high. They make them very ill, by attacking the brain, similarly to schizophrenia and Parkinsonism.
Pretty powerful logic, isn't it?
So – adrenochrome causing short-term psychotic symptoms makes some sense (although THAT is where the science is again complicated).
But what about "euphoria"?
Now, the word "euphoria" is noted from this early adrenochrome research, but we need to temper that with the fact that the world's EXPERTS on euphoria produced by recreational drugs – meaning EXPLORATORY SELF-TESTING DRUG ABUSERS – have NOT found real adrenochrome to be a worthwhile recreational drug.
Let's go now to EROWID – which is basically an online cyber-collective of druggies who actually care about the details of drugs. They're a bit like volunteer librarians in the world of illicit drugs. Here is their money quote on adrenochrome:
Adrenochrome is an oxidation product of adrenaline (ephinephrine, norepinephrine). It has achieved mythical status as a deliberately-ingested psychoactive — boosted by H.S. Thompson's Fear and Loathing in Las Vegas — though it is debated whether it has any psychoactive effects at all.

Erowid entry on Adrenochrome
https://www.erowid.org/chemicals/adrenochrome/adrenochrome.shtml
The most useful report was by a science-minded self-tester nicknamed genaro, who obtained commercial adrenochrome and self-administered it three ways, obtaining the exact same effects every time.
sublingual and oral (under tongue, then swallowed)
nasal (snorted)
smoked (crack pipe)
His report is entitled "Killing the Myth" (you can guess what that means), and is partly included below, so hang on before you click. I'm just giving the references. The best description is here:
https://www.erowid.org/experiences/exp.php?ID=51847
Genaro also repeated his report and discussed it with other drug experimenters here:
https://drugs-forum.com/threads/adrenochrome-report.17239/
Adrenochrome is apparently not difficult to obtain. Although researchers can get it from more legitimate suppliers such as Sigma-Aldrich:
https://www.sigmaaldrich.com/catalog/product/sigma/a5752?lang=en&region=US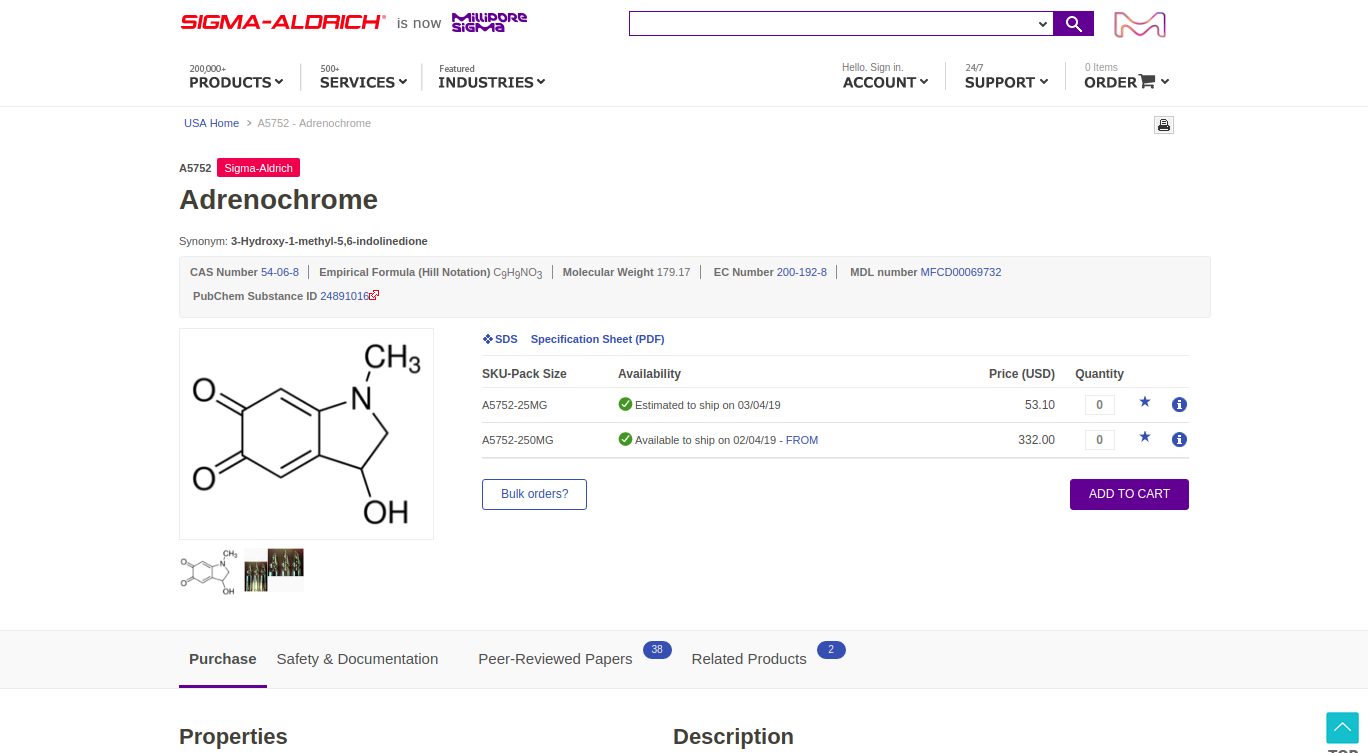 It is also available from less reputable "Chinese research chemical suppliers" who have fronts in the United States.
https://www.medkoo.com/products/20409
Genaro appears to have gotten his adrenochrome from a legitimate chemical supplier in Europe.
Genaro's experience with adrenochrome was less impressive than most drugs, and frankly on par with the "recreationally uninteresting" effects of schizophrenia, if even that. Adrenochrome clearly had some mental effect, but nothing interesting enough that most people who enjoy any form of recreational drug – including caffeine or nicotine – would be interested.
Per Genaro:
To sum up, effects were extremely weak, absolutely not fun nor psychedelic in anyway, and short lived (I would say the slight initial euphoria is gone within 4-5 minutes, and the few strange feelings that I experience from the stuff are gone within about 1 hour (I couldn't say the exact duration as I didn't really checked my watch)
Needless to say I was very disappointed by this uninteresting compound.

The effects I had from it were flimsy, there was a definite effect on my vision and my mental state for sure but I would definitely not call it 'hallucinogenic'.

Genaro, anonymous test user of adrenochrome
There are other users who have tried unpurified oxidized adrenaline in lieu of purified adrenochrome, but their experiences (stimulation, headache) sound very much like exactly what they administered – degraded adrenaline – and not pure adrenochrome.
This lack of hallucinogenic effect from any form of adrenochrome seems to be a consensus, despite the fact that the "hallucinogenic" nature of old, oxidized, "pink", medical adrenaline WAS indeed one of the reasons that adrenochrome was investigated as a potential hallucinogen and/or neurotoxin in the first place.
My thinking here is that this is simply the classic ambiguity of the word "hallucinogenic" in pharmacology, ranging from minor visual disturbances to florid, dream-like, false experiences. Adrenochrome appears to cause the former – NOT the latter, which is generally desired by recreational drug users who are interested in hallucinogens.
In any case, what we are talking about with adrenochrome is clearly NOT a useful or attractive recreational drug.
---
So why is there any REAL interest in adrenochrome?
Why are there PATENTS?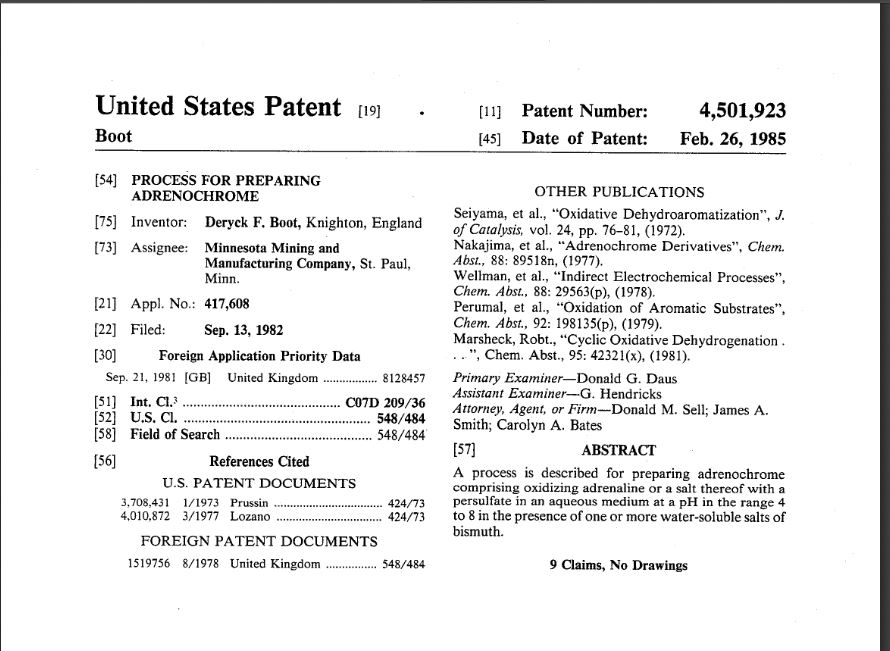 Why are there, in fact, LOTS of patents?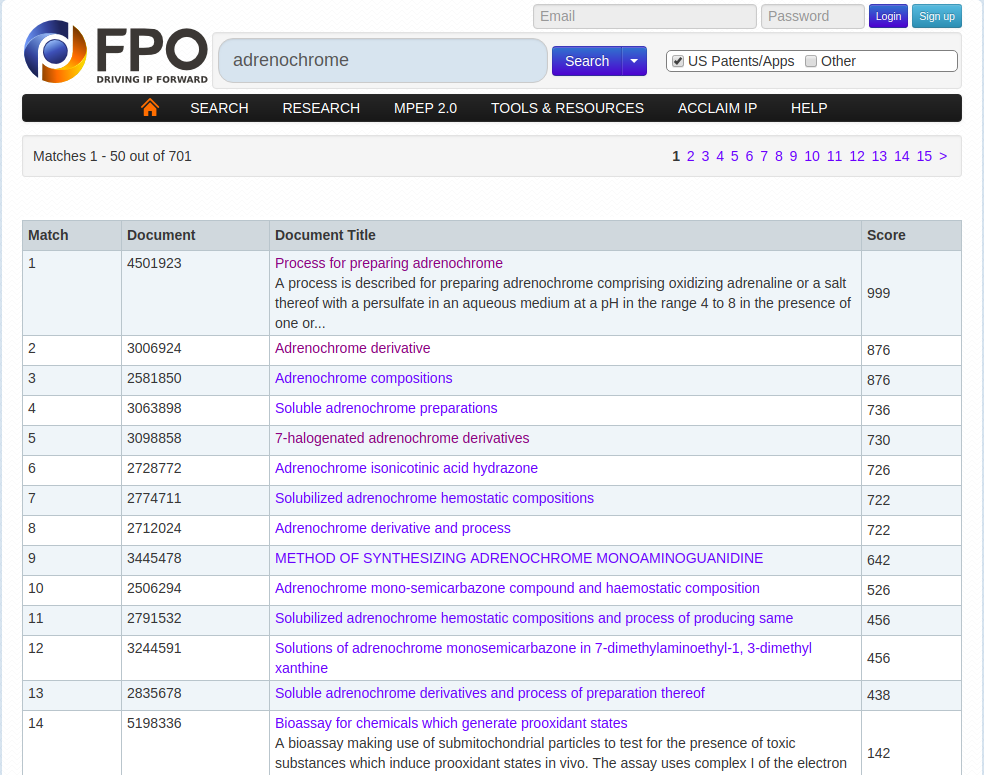 The reason is subtle. Adrenochrome doesn't really have any uses as a psychiatric drug, but it DOES have use as a hemostatic – to STOP BLEEDING.
Are you starting to see where some of the ideas for the MYTH of adrenochrome came from? From distortion of reality? Good.
The fact is, adrenochrome itself isn't even a very good hemostat, because it decomposes so quickly. HOWEVER, in organic chemistry, there are KNOWN WAYS to stabilize substances like adrenochrome, and THAT is exactly what was done. The medically useful compounds are DERIVATIVES – specifically what are called CARBONYL DERIVATIVES – of adrenochrome.
What chemists do is take the double-bonded oxygens of adrenochrome – the quinone carbonyls – the things that make it reactive and unstable – and turn one of them into a double-bonded nitrogen with some additional stabilizer atoms attached. This is a NOTORIOUSLY EFFECTIVE TRICK for stabilizing certain molecules, and even for identifying those molecules through the stabilized derivatives. Organic chemists use this technique all the time.
The carbonyl derivatives of adrenochrome are called oximes, hydrazones, and semicarbazones. Almost ALL of these substances are useful as hemostats, and even better, they LACK the neurological effects of adrenochrome itself.
THIS is why adrenochrome is primarily manufactured – as an INTERMEDIATE for other more useful drugs.
That is it. That is the TRUTH about adrenochrome.
---
SO – now that we know the TRUTH about adrenochrome – how it is neither a pleasing recreational drug, nor something that must be obtained through wicked and murderous methods – we have to ask – why don't the LIES go away?
Therein lies an even uglier truth. The adrenochrome myth is a typical satanic LIE that generates satanic REALITY by virtue of belief.
There are people who WANT others to believe the myth. And they want others to believe the myth, because it gives them POWER and MONEY. The nature of the power and the money VARY with the audience, but that is just fine with the people who benefit from it. They FOOL everybody, even if they fool them DIFFERENTLY.
Let me explain.
---
SATAN: Knock, knock.
Who's there?
Satan.
Satan who?
Satan who can make you pollute your own mind by thinking about sex with children and child murder.
No way!
Your ENEMIES are having sex with stolen children and murdering them for ADRENOCHROME, and then getting HIGH on it!
OMG! My enemies are…..
SATAN: My work is done.
---
Starting to see how this works? This is a HUGE component of Pizzagate, sadly. Yes, there is real evil. Getting people to obsess about it to the point of unbelievability SPREADS THE EVIL FIRST and PROTECTS IT SECOND.
See how that works? And the adrenochrome isn't even real. It's ALL A LIE.
Are you seeing that extra bit of Satan – that hollowness at the end of the deal with the devil – the fact that the drug itself is actually a LIE, and DOESN'T EVEN REALLY WORK?
It gets worse.
---
SATAN: Knock, knock.
Who's there?
Satan.
Satan who?
Satan who knows about the ultimate drug.
No way!
Good bye.
OMG! What if this ultimate drug is real?
SATAN: My work is done.
---
Just because something isn't TRUE, doesn't mean that there aren't people who will not only believe the myth, but who will FEED it, and KEEP IT ALIVE.
And more than THOSE people, who keep the myth alive, there are other people who will pay top dollar to LIVE in the myth.
The debauched world of drugs, sex, money and fame is filled with people who want to believe in the NEXT HIGH of any kind. Those people are sitting on a world of cash.
Normally, I could not sell a pop singer teen celebrity a diverted unit of blood or blood plasma if my life depended on it. But thanks to the MYTH of adrenochrome, I can sell them either of these for absurd amounts of money, by telling them that there is something extra special about the stuff in the bag.
But let's say that I'm not connected to a highly corrupted humanitarian organization where I can get blood products on the cheap. Doesn't matter with something as mythical as adrenochrome. I can still sell people literally ANY drug or drug combination as "adrenochrome", and most people who buy illicit drugs will believe it, at the right price.
People can even make money on the MYTH ITSELF.
Consider this 2017 movie, which is probably most famous for being SUED by Coachella for creating its own imitation festival called "filmchilla" as a marketing device.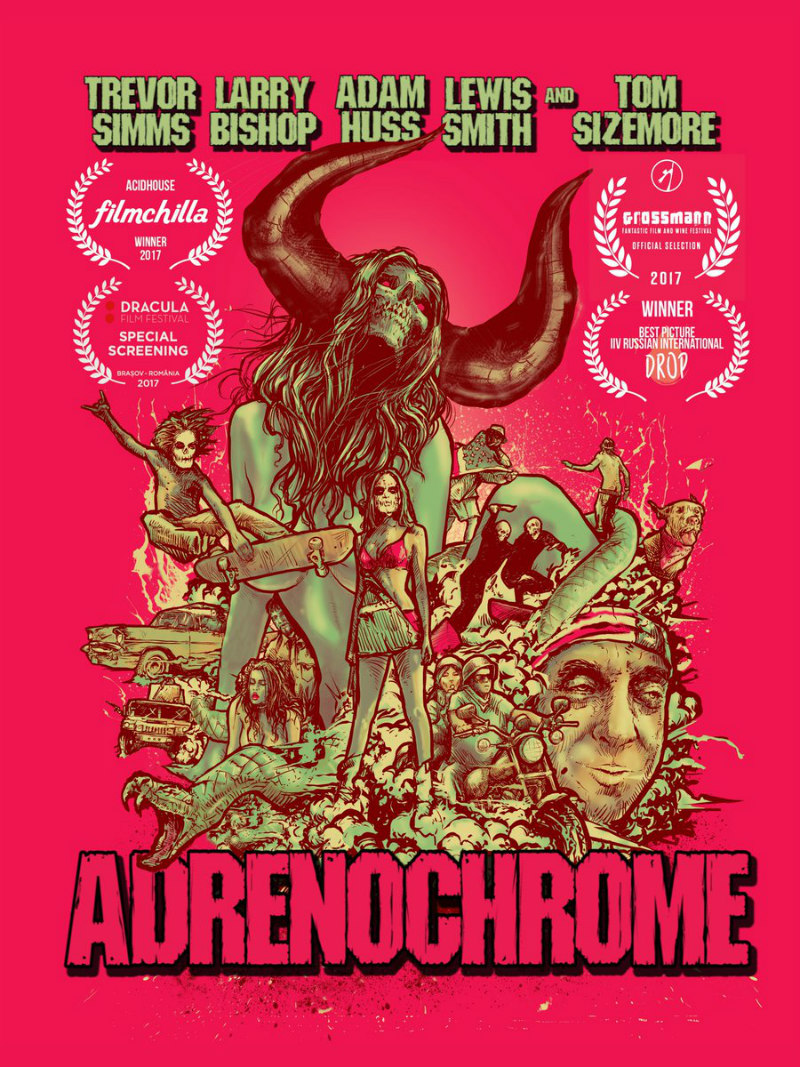 The fact that there is a sickening, terrible, grade Z, stoner-cult, gore-cult, Satan-cult, cultural Marxist movie CALLED Adrenochrome should already be setting off alarm bells.
But remember – that's just how they market the myth to THEMSELVES – the people who LOVE the sickness.
They market the myth to YOU differently.
Like THIS: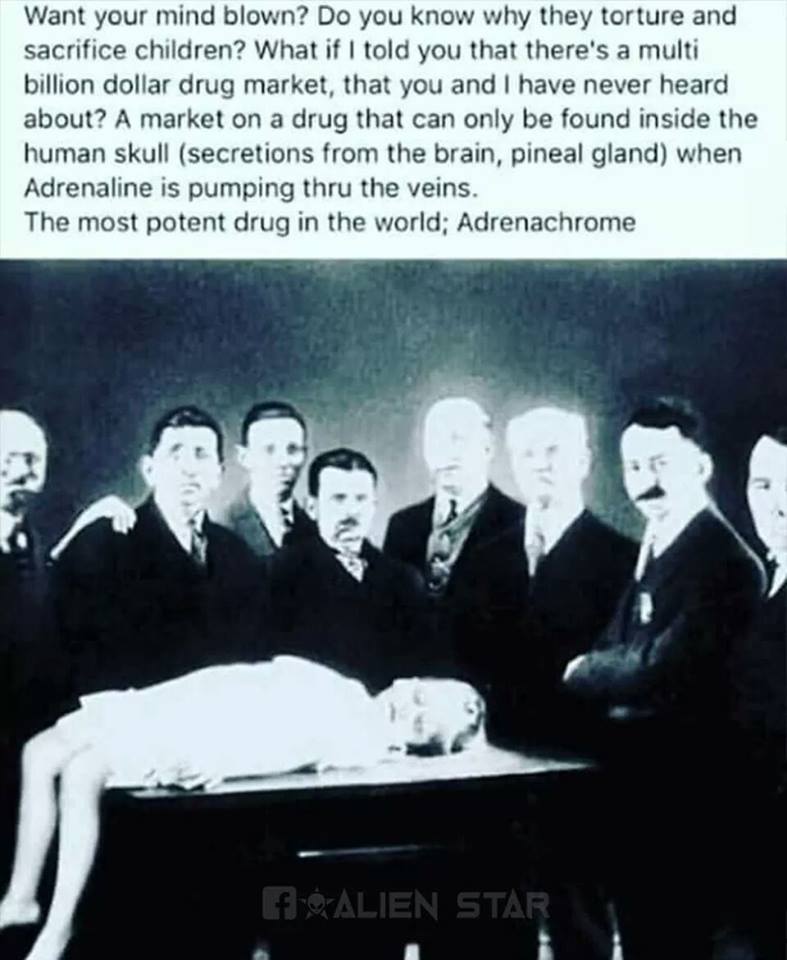 It's ALL disinformation. But just because YOU would not BUY IT, doesn't mean that OTHERS would not pay good money for it. And the more YOU believe the LIES, the more OTHERS will as well.
Are you seeing how the myth works? The MONEY is the key. But there is also POWER in it. Why? Because if you sell somebody a fake drug ALLEGEDLY from killed children, just IMAGINE what kind of blackmail power that has.
Adrenochrome is more of a satanic lie, than a satanic reality, but it's still satanic.
Now – even though there MAY NOT REALLY BE some multi-billion dollar adrenochrome industry, I'm willing to bet that there ARE people making a pretty penny on the myth, just like any other illicit drug, and I'll bet the money gets up into the low millions, or maybe the tens of millions worldwide.
Nothing huge, but NOT non-existent. The "low end" of the market definitely exists.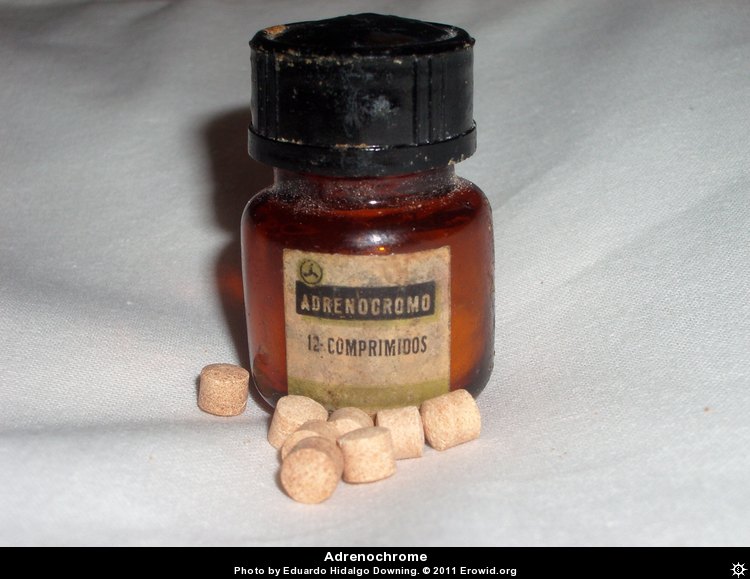 The main reason that I am CONFIDENT there is a market for an alleged adrenochrome product, is that it would be SIMILAR and PARALLEL to the market for LIFE EXTENSION. That market is among the RICH and POWERFUL, and it is VERY, VERY REAL.
I actually knew, at some point in my life, somebody who I would regard as a "lower-level cabal" member. This was a very anonymous person, but very high in the pantheon of leftist virtue – receiving a kind of weird respect – almost veneration – from very powerful people. This person was also a FANATIC about life extension, spending significant time and money looking for exotic biomedical and biochemical ways to live longer.
Read about Sergey Brin of Google. Same thing. There is an OBSESSION among these very self-important people, about making their important lives last just a wee bit longer.
https://www.cnbc.com/2017/03/31/google-co-founders-and-silicon-valley-billionaires-try-to-live-forever.html
https://www.businessinsider.com/tech-billionaires-life-extension-projects-2015-4
https://www.washingtonpost.com/sf/national/2015/04/04/tech-titans-latest-project-defy-death/
https://phys.org/news/2013-02-zuckerberg-brin-life.html
The list goes on – VERY long – just "google it". "Life extension".
Are these people a market for "young blood transfusions", and perhaps for some of them, at several times the price, "adrenochrome blood transfusions"?
I have ABSOLUTELY NO DOUBT about it.
If you don't believe me, believe Scientific American, reporting in both skeptical and shocked tones, on the level of interest in "young blood transfusions", in a case where the tip of the iceberg broke the waterline:
https://www.scientificamerican.com/article/young-blood-transfusions-are-on-the-menu-at-society-gala/
There are a number of interesting links in the article. Such as this one.
https://www.scientificamerican.com/article/infusions-of-young-blood-tested-in-patients-with-dementia/
This is a very real thing, and the Fake News Media – not unpredictably – "accidentally" promotes the market in hushed but knowing tones. Just look at the articles I cited. Those would have been PARODIES 50 years ago.
See what I keep saying about "fake science"? It goes with fake news and fake entertainment, both of which are really propaganda.
The actual market for [fake] adrenochrome is probably among the more libertine, occult-friendly, drug-taking, and risk-taking segments of the rich and powerful, as opposed to the more self-protecting "life extension" personalities.
Like I said, I'm speculating here, but I think I'm on solid ground. Adrenochrome is an "illicit" drug. People can read about it in a cool book by an establishment-approved author, glorified for years in "Doonesbury", that was made into a Hollywood movie. There is AUTOMATIC DEMAND.
The more MYTHICAL, the more LEGENDARY, the better.
And wanting to be legendary is – well – quite common.
---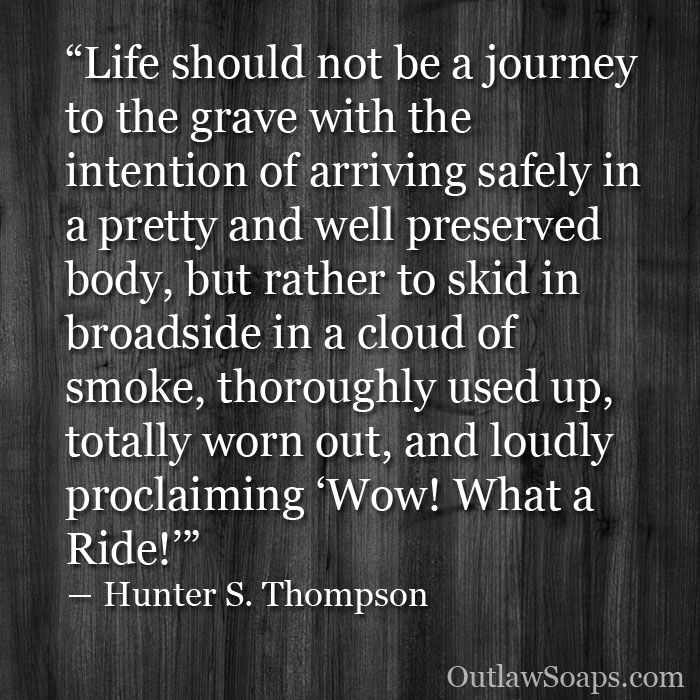 So there you have it.
This brings us full-circle, back to Hunter S. Thompson. Both the beginning and end of FAKE adrenochrome. The MAKER OF MYTHS was probably also the CONSUMER OF MYTHS – and if not him, then that still falls to the LEGIONS of "adrenochrome" buzz-buzzards that one finds on the internet, searching for information about adrenochrome, some of them hoping to try it. In researching this article, I found them everywhere.
My recommendation? Don't be one of them. Stay the HELL away from the hell of illicit drugs, both REAL and MYTHICAL. But perhaps say a prayer for those who don't take that advice. Because THOSE folks are very real, and they don't always live long and prosper.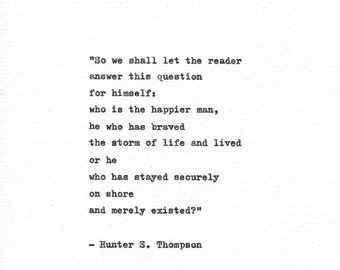 Having had my own life-long string of follies and recovered errors of other kinds….
Having suffered my own stormy experiences, thinking I was merely going to learn a little science – like perhaps the structure of adrenochrome….
Perhaps none of us really stay on shore….
Perhaps all of us are out there in boats – caught in various tempests….
Even when we don't think that's where we are.
Therefore – I propose a toast.
To life. May we all experience it abundantly. And truly. As designed.
W

PS – I note the psychologically toxic effects of simply doing this article. There is a lesson in that. There are MANY lessons. Time to do some more reading in the Bible.