One of the really big shockers for me has been the relationship of the tech giants to the bat coronavirus researchers. What the heck is up with that?
Why did Zuckerberg and Chan (after COVID "struck") fund Baric, who worked with "the bat woman" and Wuhan? It smells every bit like a "book deal" – an influence pay-off after the fact. This would lead me to believe that Zuck and Chan and Baric actually go back FURTHER, in ways that have not appeared yet.
Why did Google fund Daszak and a group that then funded Wuhan? This actually goes back. And then, Daszak trying to cover up HIS role in the cover-up of the Wuhan Institute of Virology connection – what's up with THAT?
I don't want to get into all that stuff too much, but I want to leave you some great links to show you this is REAL – this is not BS. The "fake news snopesing complex" is all over this, trying to hide it, but the word is OUT.
TECH and BAT RESEARCH are THICK.
---
References on tech / bat research monetary links
Here is the Zuckerberg-Chan "book deal payoff" to Baric's lab.
Zuckerberg Group Funnels Six-Figures To Wuhan Lab Partner, Gain-Of-Function Advocate. https://thenationalpulse.com/exclusive/facebook-czi-funds-controversial-wuhan-researcher/
Here is the Google connection to Daszak and Wuhan.
Stunning Revelation: For Ten Years, Google Has Been Funding EcoHealth Alliance Who Participated In Deadly Bat Coronavirus Research In Wuhan China https://100percentfedup.com/stunning-revelation-for-ten-years-google-has-been-funding-ecohealth-alliance-who-participated-in-deadly-bat-coronavirus-research-in-wuhan-china/
This next link explaining the cover-up is amazing – its the "Climategate of Chimerican Bat Research".
Who is Peter Daszak, the nonprofit exec who sent taxpayer money to Wuhan lab? https://nypost.com/2021/06/04/who-is-peter-daszak-exec-who-sent-taxpayer-money-to-wuhan-lab/
More Daszak cover-up, this time syncing up to Facebook, which ties the Google and Facebook scandals together.
Facebook's CCP-Linked 'Fact-Checker' Is Now Censoring Stories Critical Of Zuckerberg-Funded Wuhan Lab Partners https://www.sgtreport.com/2021/06/facebooks-ccp-linked-fact-checker-is-now-censoring-stories-critical-of-zuckerberg-funded-wuhan-lab-partners/
Fauci reveals that Mark Zuckerberg offered him "resources and money" – this at the same time Zuck was using cash to interfere in the 2020 election on behalf of Democrats.
Fauci Lets Slip That Mark Zuckerberg Offered Him 'Resources & Money' In Redacted E-Mails https://thenationalpulse.com/news/fauci-reveals-what-was-redacted-in-his-zuckerberg-emails/
K. T. McFarland puts it in perspective.
'The damage has been done and China got away with it': Former Deputy National Security Adviser McFarland skewers media and 'tech titans' for dismissing Wuhan lab theory https://www.dailymail.co.uk/news/article-9640825/KT-McFarland-skewers-media-tech-titans-dismissing-Wuhan-lab-theory.html
---
So what are their motives?
Now, I had just heard about all of these monetary connections now being discovered, and thought that any relationship between the tech giants and these virus creeps had to be connected to the FAKE ELECTION PLOT.
BUT – as I was perusing the internet COVID literature, I encountered two scientific papers that made me realize something.
These tech tyrants may have had ANOTHER motive. A DEEPER and MORE PERSONAL motive.
Wanting to live forever – or at least LONGER.
And it gets BIGGER – as in all of society – as in FITNESS – as in EUGENICS.
And you know who THAT brings in.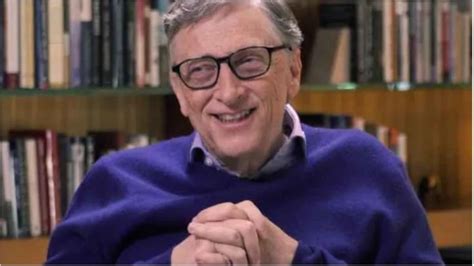 This is the article that tipped me off.
---
https://www.ncbi.nlm.nih.gov/pmc/articles/PMC6147128/
mSphere. 2018 Sep-Oct; 3(5): e00397-18.Published online 2018 Sep 19. doi: 10.1128/mSphere.00397-18 PMCID: PMC6147128PMID: 30232167
Bats Are an Untapped System for Understanding Microbiome Evolution in Mammals
Melissa R. Ingala,a,b,cNancy B. Simmons,a,b and Susan L. Perkinsa,c,d
---
Here is the part of this paper that set off the alarms. I will make BOLD or underline the most important parts:
---
BAT MICROBES CAN SHED LIGHT ON DISEASE, IMMUNITY, AND
LONGEVITY
Bats and their microbes are increasingly recognized as important components of zoonotic disease cycles (37, 38). A few studies have identified potentially pathogenic members of the excreted bat microbiome such as Bartonella spp. (39, 40) and Leptospira spp. (41). Bats are also known or suspected to be the reservoir of several viruses that are lethal to humans, such as severe acute respiratory syndrome (SARS), Ebola, and rabies viruses (42,–44), as well as of Plasmodium parasites closely related to those in rodents that are used as models to study malaria (45). Genomic insights have generated plausible explanations for how bats may have evolved to harbor such deadly microbes (e.g., reference 46), but in spite of abundant evidence that the microbiome interfaces directly with the host immune system (47, 48), there has not yet been an integrative study addressing whether microbial symbionts contribute to bats' innate ability to act as pathogen reservoirs. As an additional axis of variation, bats which have flexible roosting habits can be found in close proximity to humans and may potentially swap microbes with humans and their companion animals (49). Bats may transfer microbes to livestock when they exist in close proximity (e.g., pigs consuming partially eaten fruits dropped by fruit bats [50]) or use the same habitats (e.g., horses coming into contact with bat droppings in pastures [51]). Studying bat microbiomes would therefore have obvious public health implications and could help to explain the epidemiology of emerging infectious diseases.
Similar avenues of research can also consider what impact, if any, the host microbiome has on susceptibility of bats to white nose syndrome (WNS), a frequently fatal cutaneous infection that has reduced hibernating bat populations by up to 90% in North America (52). Because not all individuals are killed by the infection, there may be selection on the skin microbiomes of surviving individuals to become enriched with antifungal bacteria. Indeed, one study discovered that in WNS-positive populations, the skin microbiome of bats was enriched with Rhodococcus and Pseudomonas spp., which are known to have antifungal activity (53). Additional studies in this area can answer the questions of how exactly these bacteria inhibit the growth of the causative agent of WNS and what enrichment of the microbiome with these bacteria might mean for the long-term survival of affected host populations.
Bat microbiomes can be used more generally to understand the links between the microbiome and the evolution of other phenomena of interest, such as immunity and longevity. To date, studies addressing the link between host aging and the microbiome in humans and lab animals have uncovered direct links between microbial metabolic products and life span of the host (54). Bats represent an exciting system in which to test for links between the microbiome and aging because they are exceptionally long-lived for a mammal of their size (55, 56). Mice are conventional model mammals, but the commonly used BALB/c mouse strain has a life span of about a year and half, making studies of longevity in these animals rather short-lived (57). Bats of comparable mass can achieve life spans of up to 40 years, and many are philopatric to particular roosts, making repeat sampling of individuals throughout their lifetimes possible (58, 59). Because these animals' microbiomes can be sampled nonlethally, they are inherently attractive for such studies (36). However, it is worth noting that these animals are especially sensitive to disturbance during hibernation, so experimental designs should minimize unintended disturbance of roosts, particularly in areas where white nose syndrome has decimated bat populations (60). It may also be possible to keep bats in captive colonies in order to sample them throughout successive years of their lives. Recent evidence suggests that metabolites produced by gut microbes in bats might offset the oxidative damages incurred during active flight, resulting in downstream impacts on aging (61). However, many questions still remain. By what mechanism does the microbiome help to extend life span, and is this pattern consistent across mammals? How does interindividual variation impact the relationships between longevity and microbiome community structure? We believe that studies of bat microbiomes can help to answer these important questions and more.Go to:
FUTURE DIRECTIONS
Bats represent an untapped resource for understanding microbiome evolution in mammals. Because of their exceptional diversity, longevity, and ecological importance, we believe that studies of their microbial symbionts will reveal exciting new roles for microbes in driving host evolution and fitness and may help us to better understand the dynamics of emerging zoonotic pathogens. We provide applications of bat microbiome research in the hopes that more researchers will realize the potential that this system has to offer. Multi-omics approaches can be used to parse apart the contributions of host genome, metagenome, and microbial metabolites to the processes described above, and as the costs of these methods continue to decrease, such studies will only become more feasible. The results of studying bat microbiomes using these approaches will undeniably advance the fields of host-microbe interactions, comparative physiology, and public health.
---
This then led me to a paper specifically about bats and longevity.
---
https://www.ncbi.nlm.nih.gov/pmc/articles/PMC7341951/
Cell Metab. 2020 Jul 7; 32(1): 31–43.Published online 2020 Jul 7. doi: 10.1016/j.cmet.2020.06.013 PMCID: PMC7341951PMID: 32640245
The World Goes Bats: Living Longer and Tolerating Viruses
Vera Gorbunova,1,∗Andrei Seluanov,1 and Brian K. Kennedy2,3,4,∗∗
---
This paper is an absolute GOLD MINE of authoritative scientific optimism about life extension through bats, tying in IMMUNITY and INFLAMMATION. I cannot just pick out some part to highlight – the WHOLE THING is evidence of what people are thinking.
What I have done is grabbed the IMAGES which are the most quickly informing. Not all of them – just some of them. Plus a few selections of text which are equally useful.
---
Abstract
For centuries, people believed that bats possessed sinister powers. Bats are thought to be ancestral hosts to many deadly viruses affecting humans including Ebola, rabies, and most recently SARS-CoV-2 coronavirus. However, bats themselves tolerate these viruses without ill effects. The second power that bats have is their longevity. Bats live much longer than similar-sized land mammals. Here we review how bats' ability to control inflammation may be contributing to their longevity. The underlying mechanisms may hold clues to developing new treatments for age-related diseases. Now may be the time to use science to exploit the secret powers of bats for human benefit.
Keywords: Bats, Aging, Longevity, Inflammation, Inflammaging

Figure 1
Bats Live Longer Than Similar-Sized Land Mammals
(A) Major lineages of bats.
(B) Relationship between lifespan and body mass in mammals. Bats are indicated by red circles; all other species of mammals are indicated by black circles. The lifespan and body mass data are from Healy et al. (2014).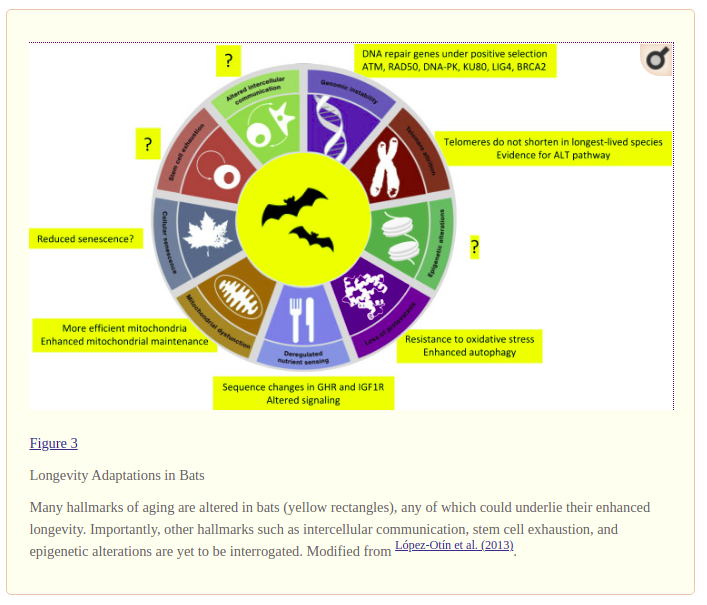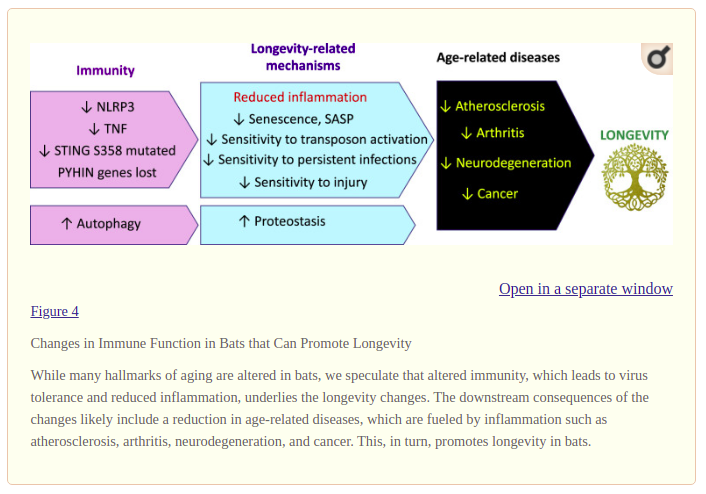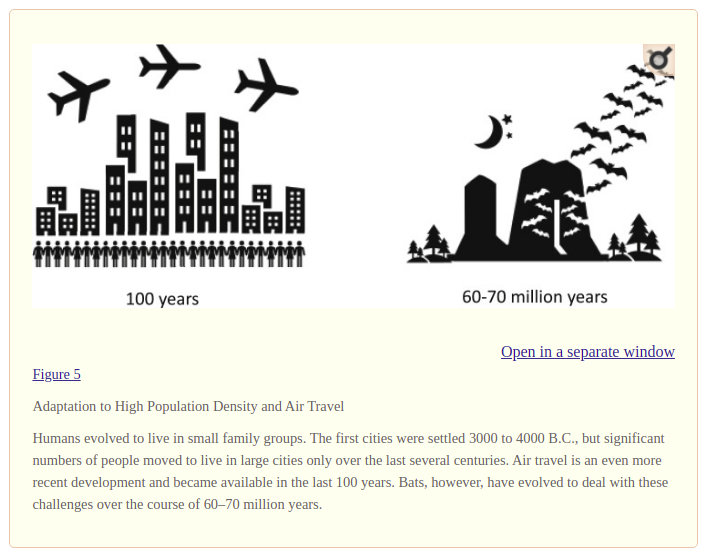 Treatments Based on Bat Strategies
Bats have evolved multiple mechanisms to suppress inflammation, in particular by dampening nucleic acid sensing pathways. A number of pharmacological interventions targeting nucleic acid sensing pathways had already been developed. Historically, the focus has been on developing activators of these pathways to serve as antiviral or anticancer drugs (reviewed in Vanpouille-Box et al., 2019). However, with the realization that inflammation contributes to a wide range of diseases from autoimmunity to age-related conditions, the interest has shifted to developing antagonists of nucleic acid sensors (Sheridan, 2019). This proved to be a challenging task due to high level of redundancy within nucleic acid sensing pathways and the danger of increasing vulnerability to infections. Here, the information obtained from the studies of bats can assist in drug discovery (Table 1 ).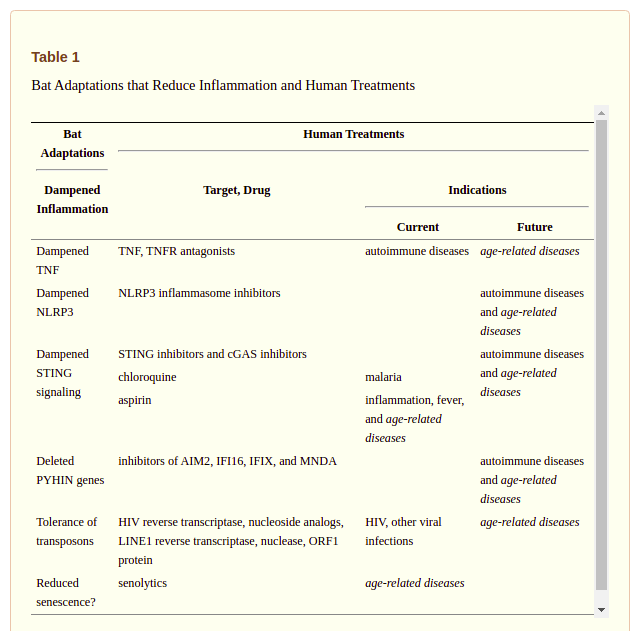 Future Perspectives
In summary, besides serving as a source of deadly diseases and harboring viruses similar to SARS-CoV-2, which caused the current pandemics, bats have a lot to offer humanity by illuminating the pathways to develop novel therapeutics to treat age-related conditions and promote longevity. Already studies of the altered innate immune responses in bats point to several classes of small molecules, some of which have links to aging. However, we can only see the tip of the iceberg when it comes to understanding how bats deal with inflammation, and clearly more studies are warranted. This is also true for other hallmarks of aging, which are still minimally explored. In addition to finding small molecules targeting specific pathways that can be tested in humans, it will be of interest to engineer specific bat alterations in mice and determine whether this leads to enhanced lifespan and healthspan.
Bats have evolved skewed, and ultimately successful, strategies to experience longer and healthier lives, even if this is a secondary outcome of selection for responses to viral infections and/or the dramatic range of metabolic states that accompany periods of flight and torpor. Humans in the last century have created a lifestyle that has gone bats; we live in high densities and (many of us) travel extensively, enhancing exposure to and spread of pathogens. By embracing "batty" strategies to deal with the challenges that our new lifestyle presents, we may be able to solve what look to be the two biggest medical challenges of the 21st century: the rise of viral pandemics and the ever-increasing prevalence of chronic diseases that all share aging as their biggest risk factor.Go to:
Acknowledgments
This perspective was conceived when the authors were quarantined together for potential exposure to COVID-19. Research in authors' laboratories is supported by grants from the National Institutes of Health, United States.
---
Where does this go?
OK? It really helps to skim through that SECOND article, because one can ALMOST see the stuff that would make these TECH TITANS DROOL.
Centuries more of life if we just got PARTIAL success in bringing over some "bat tech" to human life.
And I didn't really dig here, either. This was just what was floating on TOP of the "bat longevity" literature.
Think how much "good" Zuckerberg, Brin, Gates and these others could do, in a few more centuries, if they just had the elixir vitae that bats seem to promise!
Those who don't think this is a possible motivation, can look at my previous discussion of "life extension" in another article about the more "fictional" science of adrenochrome, wherein I discussed WHY it's possible to sell a complete fiction like adrenochrome the drug to both CUSTOMERS and CRITICS. In that discussion, the interest of the tech titans in life extension is both mentioned and referenced.
---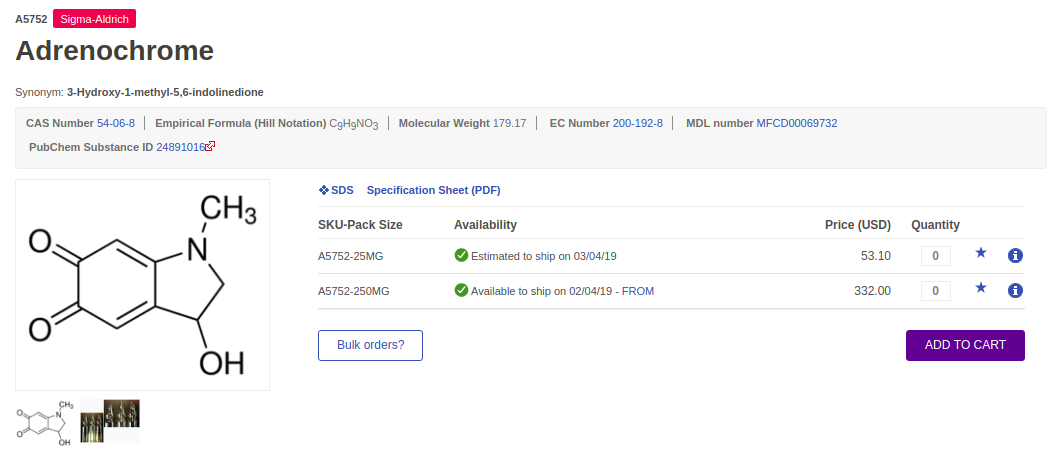 The Truths, Lies, and Disinformation Surrounding a Mythical yet Very Real Substance There is nothing more intriguing than an enigmatic character who defies political and cultural boundaries to tell great truths, yet mixes in just enough lies, fakery, shiny objects, red herrings, exaggerations and omissions to make himself or herself economically viable solely on their …
In the process of this scientific and social examination of the mythical "adrenochrome", I looked at the very real concept of "young blood".
There is a REAL market for any REAL or merely RUMORED rejuvenation.
People will even inject themselves with a deadly POISON to look younger.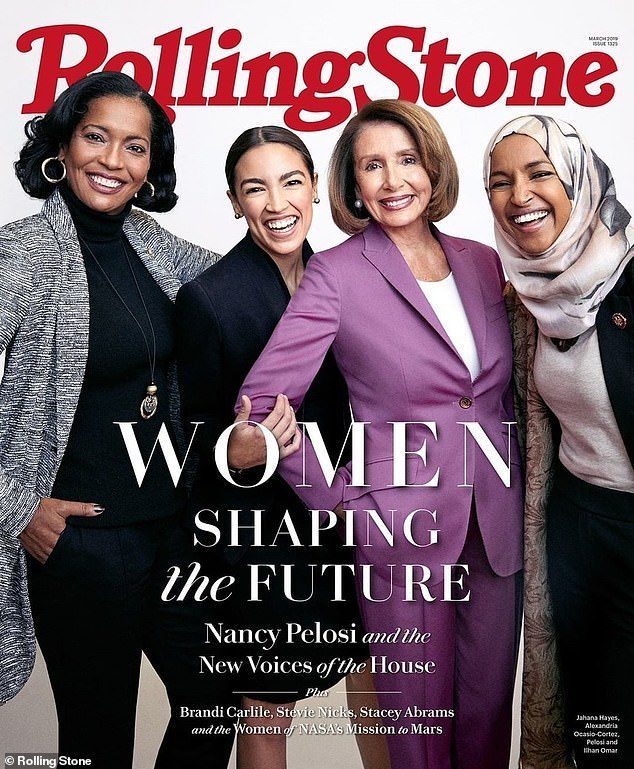 Yes. "Beautox" is real. And it "REALLY" works – to make people LOOK younger.
Oh, Mark Zuckerberg – you are looking MAAAAHRRRRVELOUS!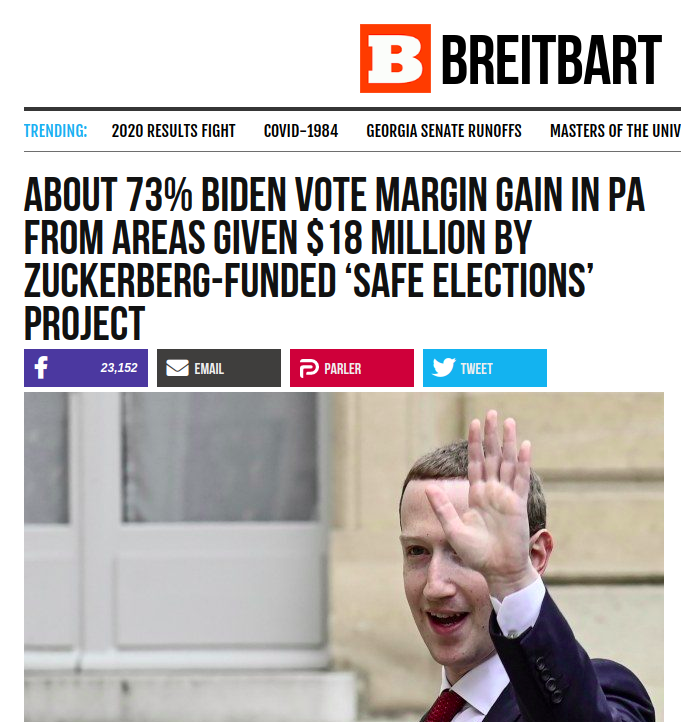 Now, I don't know WHO or HOW – China or CIA or Obama or DARPA – but I suspect that LIFE EXTENSION is the HOBBY WITH BENEFITS of the elite. And BATS was a natural attractor.
So I suspect that this INFLUENCER – bat research as the path to the elixir vitae – was introduced into the RIGHT CIRCLES by people who understood influence. And HERE WE ARE.
W
PS:
How will China and their puppets study the success of their bioweapon here in the United States, and its effect on voting?
ON FITNESS AND LONGEVITY?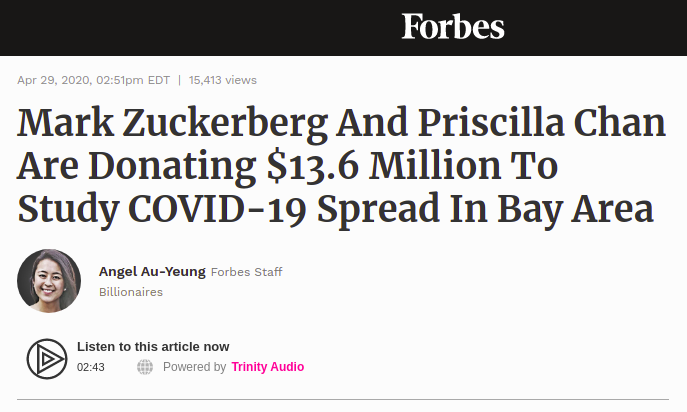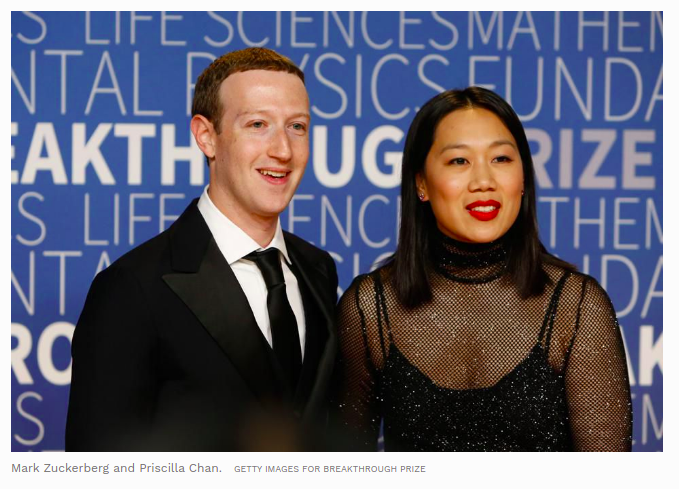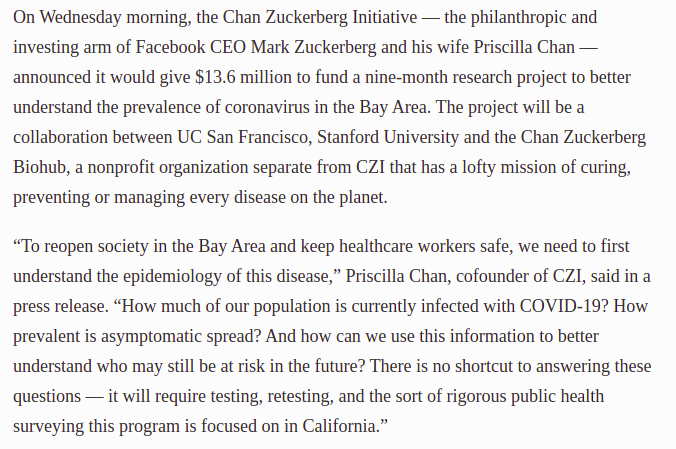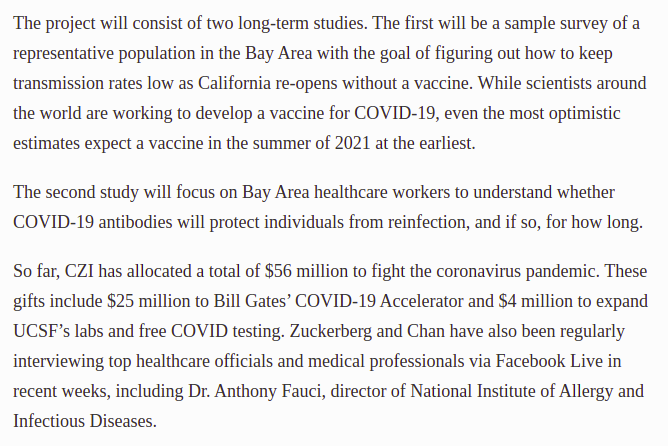 (S)he who controls the DATA controls the WORLD.