His Fraudulency
Joe Biteme, properly styled His Fraudulency, continues to infest the White House, we haven't heard much from the person who should have been declared the victor, and hopium is still being dispensed even as our military appears to have joined the political establishment in knuckling under to the fraud.
One can hope that all is not as it seems.
I'd love to feast on that crow.
Justice Must Be Done.
The prior election must be acknowledged as fraudulent, and steps must be taken to prosecute the fraudsters and restore integrity to the system.
Nothing else matters at this point. Talking about trying again in 2022 or 2024 is hopeless otherwise. Which is not to say one must never talk about this, but rather that one must account for this in ones planning; if fixing the fraud is not part of the plan, you have no plan.
Lawyer Appeasement Section
OK now for the fine print.
This is the WQTH Daily Thread. You know the drill. There's no Poltical correctness, but civility is a requirement. There are Important Guidelines, here, with an addendum on 20191110.
We have a new board – called The U Tree – where people can take each other to the woodshed without fear of censorship or moderation.
And remember Wheatie's Rules:
1. No food fights
2. No running with scissors.
3. If you bring snacks, bring enough for everyone.
4. Zeroth rule of gun safety: Don't let the government get your guns.
5. Rule one of gun safety: The gun is always loaded.
5a. If you actually want the gun to be loaded, like because you're checking out a bump in the night, then it's empty.
6. Rule two of gun safety: Never point the gun at anything you're not willing to destroy.
7. Rule three: Keep your finger off the trigger until ready to fire.
8. Rule the fourth: Be sure of your target and what is behind it.
(Hmm a few extras seem to have crept in.)
Spot Prices.
Kitco Ask. Last week:
Gold $1780.60
Silver $23.83
Platinum $1034
Palladium $2736
Rhodium $20,200
This week, markets closed as of 3PM MT.
Gold 1781.50
Silver 23.13
Platinum 1000
Palladium 2354
Rhodium 17,100
Gold has actually moved around a bit, but the end result was a tiny gain over the week. Silver has dropped significantly (about 3 percent by eyeball). Platinum was well under a thousand yesterday, and has recovered…some. Palladium is down over ten percent. And Rhodium is getting its ass kicked; it dropped 1900 dollars on Friday alone.
From Special to General
Introduction
Let us start off by recapping our list of "as of 1894" mysteries and conservation laws, and bring things up to date including the Bohr atom and the work done on justifying the periodic table (much of which happened well beyond 1913). Otherwise, we're at about 1913 now.
Let's recap/update those lists.
Conservation of mass
Conservation of momentum
Conservation of energy
Conservation of electric charge
Conservation of angular momentum
(ADD:) Conservation of mass-energy
The following mysteries were unanswered at the end of 1894.
Why was the long axis of Mercury's orbit precessing more than expected, by 43 arcseconds every century? Was it, indeed, a planet even closer to the sun? If so, it'd have been nice to actually see it.
Why was Michelson unable to measure any difference in speed of light despite the fact we, being on planet Earth that is orbiting the sun, had to be moving through the medium in which it propagates?
What makes the sun (and other stars) shine (beyond the obvious "they shine because they're hot" answer). What keeps the sun hot, what energy is it harnessing?
How did the solar system form? Any answer to this must account for how the planets, only a tiny fraction of the mass of the solar system, ended up with the vast majority of the angular momentum in the system.
What is the electrical "fluid" that moves around when there is an electric current, and that somehow seems imbalanced when we perceive that an object has a charge? Were there both negative and positive fluids, or just one fluid that had a natural neutral level; below it was negative (deficit), above it was positive (excess)?
Why are there so many different kinds of atoms? How did electrical charges relate to chemistry? How is it that 94 thousand coulombs of charge are needed to bust apart certain molecules (though it often had to be delivered at different voltages depending on the molecule)?
Why were the atomic weights almost always a multiple of hydrogen's? Why was it never quite a perfect multiple? Why was it sometimes nowhere near to being a multiple?
Why does the photoelectric effect work the way it does, where it depends on the frequency of the light hitting the object, not the intensity?
Why does black body radiation have a "hump" in its frequency graph?
In just 20 years we had come a long way. Out of nine mysteries, only three were completely left open, and another was mostly solved. And even mystery number 3 had tantalizing hints.
More Developments in Special Relativity
A few weeks ago–actually the last time I used this particular eagle–I described the four Big Papers Einstein published in 1905. Two of them had to do with what today we call "Special Relativity."
What made it "special"? Did it ride the short bus to school?
What made it special was that it only applied to a very specific case, the case where the frames of reference are not accelerating. Constant speed, even high speed, isn't an issue, but if there's any sort of acceleration, it's a different ball game.
General relativity doesn't have this restriction. Special relativity turns out to be a special case of general relativity.
1915 was the year Einstein first put forward general relativity, which means that historically speaking, with the last article taking us up to that about then dealing with subatomic physics, this is the right time to take up general relativity.
But there had been some developments in special relativity in the meantime. Einstein hadn't really thought about relativity from a geometric point of view, but many others, including his former math professor Hermann Minkowski, did. They pointed out that if you simply consider time as being a fourth dimension, a lot of things fell into place.
This does make some sense. After all, if you and I agree to meet at the corner of Pikes Peak and Cascade on the 14th floor of the Holly Sugar Building (which isn't called that any more), we've specified a meeting place in three dimensions…latitude, longitude (the streets run north/south east/west in that part of town), and elevation (14th floor). Or coordinates…a triplet of them…can be used to define any location in space once you've defined the coordinate system (and it doesn't even have to be a cubical grid either; cylindrical or spherical coordinates can work). You need three coordinates, though, because space is three dimensional. You can get by with two if you implicitly specify the third (in this case, surface level could be assumed; that's probably a good idea when dealing with ships).
But if you and I arrange a meeting place in this manner, we're committing a Bidenesque screwup: Because we also need to specify a time. So really, you need four coordinates, three space coordinates x, y, and z, and a time coordinate, t.
When you specify all four, you've defined what physicists call an event. And you're doing it in terms of spacetime.
And so, it turns out that special relativity fits well with the concept of spacetime and works in four dimensions. This was pointed out by Minkowski.
But there was a difference! And it becomes most manifest when considering interval. The interval is the distance between two events.
If you are using a "Cartesian" (cubic grid) coordinate system, the difference between two points in space is an extension of Pythagoras. In two dimensions, on a Cartesian grid, the distance between two points is simply the difference between their x-coordinates, squared, plus the difference between their y coordinates, squared, then take the square root of all that.
distance (2 dimensions) = sqrt( ( x1-x2 )2 + (y1-y2)2)
It's precisely equivalent to a2+b2=c2. (And note, it doesn't make any difference whether you subtract point 1 from point 2, or vice versa. Sure, you will get opposite signs depending on the order, but those get wiped out when you square the differences.)
To move up to three dimensions, you can square the two dimensional distance again, then square the difference in the third coordinate. But when you do that, it's algebraically equivalent to just squaring all three differences, adding them together, then taking the square root:
distance (3 dimensions) = sqrt( ( x1-x2 )2 + (y1-y2)2 + (z1-z2)2)
So it stands to reason that for four dimensions you'd square the time difference as well, like this, right?
distance (spacetime) = sqrt( ( x1-x2 )2 + (y1-y2)2 + (z1-z2)2 + (t1-t2)2) (wrong, don't do this)
Well, it might stand to reason, but it's wrong.
First there's one issue to clear out of the way: time is measured in seconds and distance is measured in meters; by simply taking a difference in time and jumbling it in with three differences in meters, you are mixing apples and roadcones.
It turns out that with spacetime, a distance of d = ct is equivalent to a duration of t. In other words a one second time difference is equivalent to a distance of 299,792,458 meters. So when doing this computation, if you divide your space distances by the speed of light, you get units of seconds, and now the four "pieces" of the equation all match units. You'll have to multiply the result by c again to get back to meters.
So let's imagine two events at the same x and y, but with z differing by 299,792.458 meters, and t differing by one second. Dividing all of the space coordinates by c, you get the x and y differences = 0, the z difference being 1 second, and of course the t difference is 1 second.
Incidentally a difference is often denoted by Δ, the Greek letter delta, so we can say Δx=0, Δy=0, Δz=1, and Δt=1. It's a lot more convenient, and amongst techie types "delta" is often slang for "change" or "difference." ("What's the delta in the cost of gas switching from the orange guy with the mean tweets to His Fraudulency?" for instance.)
So square everything and get 0, 0, 1, 1, add them together to get 2, take the square root, and the interval is 1.414 seconds, or about 424 million meters, right?
Well, no. The BIG difference is that with space time you subtract the space components from the time component!
Here is the correct formula:
distance (spacetime) = sqrt( (t1-t2)2 – ( x1-x2 )2 – (y1-y2)2 – (z1-z2)2 )
Note that the time difference is first and all the space differences are subtracted from it.
So in this case the interval is zero seconds; the two ones cancel.
(Equivalently, you could multiply the time by c and work entirely in meters, rather than seconds…but that would have made the arithmetic ugly.)
Now there's only one thing that can get from that first event, to that second event. The one thing that can move 299,792,458 meters in one second, and that, of course, is light in a vacuum.
But the light, in doing so, covers no interval. Which means that the light beam perceives no distance traveled and no time elapsed! But if you remember the time and distance dilation formulas from the last time we talked about special relativity, that's what we would expect. At light speed, both effects cause the elapsed time and traveled distance (from the point of view of the light beam) to reach zero.
So what we have here is a geometric model of special relativity.
OK, let's play another game here. Let's make the space distance twice as much as it was before, while leaving the time distance 1. You end up with Δx=0, Δy=0, Δz=2, Δt=1.
Plugging that in, we get sqrt( 12 – 02 – 02 – 22 ) = sqrt( 1 – 4 ) = sqrt( -3 ).
Now you can't take the square root of -3 and get a meaningful distance (or time) out of it. What the spacetime model is telling you is you cannot get from one event to the other. If you could, it would be by traveling faster than the speed of light. So the spacetime model has built into it a rationale for not being able to exceed the speed of light in a vacuum.
Einstein didn't use this in 1905, but he adopted it shortly thereafter. (I wonder if Minkowski ever told his former student how proud he was of him.)
Minkowski invented the spacetime diagram, where the vertical axis is time, and the horizontal axis is space. Objects traveling on this diagram cannot do so at a slant of less than 45 degrees (that implies traveling faster than c), light itself moves at a 45 degree slant on the diagrams.
An interesting consequence of spacetime is that everything moves at exactly the same speed through it. You, sitting in your chair reading this are traveling through time purely, at one second every second. Move fast enough, and your motion becomes predominantly through space and you are moving slower through time. The second motion is called spacelike because most of the motion is through space, and time slows down signficantly, the first motion is called timelike not because it'd be snarky to refer to it as "sitting on your ass" but because most of the motion is along the time axis.
More Einsteinian Thought Experiments
Spacetime, it turns out, is the easiest way of dealing with general relativity. Not that it's easy.
I actually wasn't that far off when I talked about special relativity riding the short bus. The math involved with it is an absolute breeze compared with the math in general relativity. It's a major event when someone is able to solve the general relativity equation for a certain specific scenario. In fact, I will be honest with you: I don't understand the math. I never got exposed to tensors; I just have a vague idea that they're sort of like matrices (which are a power tool in mathematics I do know something about), but not quite.
So with that, I can't comprehend the real situation then try to explain it to you. I have to rely on the same science-for-senators handwaving that you've probably already seen. As such, I've been half-dreading writing this post.
But, it does start with Einstein's doing thought experiments, so at least that part should be comprehensible if I am doing my job right. [Only later will you see the wild leap I can't justify.]
The supposition this time is that if you were in a locked chamber, no way to see in or out, and were feeling earth-normal gravity, you'd be unable to distinguish it from being in a room that is being accelerated 'upward' at g, the acceleration due to gravity. The rules of physics would be the same; any experiment you could carry out would have the same result.
That doesn't seem too unreasonable. If you drop your four hundred ounce gold brick on your foot in either scenario, it will hurt just as much, just as quickly.
But this does lead to differences with the conventional understanding when you deal with light.
The conventional understanding is that light has no mass, so gravity should not act on it. A beam off your laser pointer should travel in a straight line no matter how strong the gravity is.
On the other hand, if you're in a room that's under acceleration, it feels like gravity, there's an obvious up and a down. But you should be able to tell the difference between an accelerating room and one experiencing gravity, because if you fire your laser pointer horizontally, and the room is accelerating, you should see the beam bend. That is because the beam of light is moving vertically at the same speed you are, but once it has left the laser pointer, it doesn't speed up in the vertical direction, but you and the room do, so you see the beam drop.
So if the room is feeling gravity, the beam shouldn't bend because the force of gravity on a massless object should be zero, but if the room is being accelerated, the beam should bend, because the room is moving faster than it was before, by the time the beam hits the wall.
But if Einstein is right and there really is no way to tell the difference, then either both beams need to move in a straight line, or both beams need to bend. In the second case, light is affected by gravity even though it has no mass.
You need really strong gravity to see this, though. Or a long distance. Because light crosses any normal everyday distance in microseconds or even nanoseconds, and if it's going to "drop" due to gravity, well, gravity only gets to act on it for a few billionths of a second. Plug that in to d=1/2at2 and it's almost nothing.
OK, but there is a concrete prediction. A light beam going by a massive object, should bend a bit. This is testable with great difficulty.
Here's another: If light is affected by gravity, light traveling upward has to lose energy, just like a thrown baseball loses kinetic energy (trading it for potential energy) and slowing down. But light cannot lose energy by slowing down, its speed in any particular medium is a constant.
It can lose energy another way, however. Remember E = hv? (Where ν is the frequency?)
So the light, climbing in a gravity field, should decrease in frequency. That's the only way it can lose energy. Similarly, light going "downhill" should increase in frequency to gain energy.
There's an alternative way of looking at this though. Imagine that light beam in the accelerating room, firing upward from the floor. By the time the beam reaches the ceiling, the ceiling has sped up, so there's a doppler shift in the wavelength, towards the red. Since you can't tell this case from a room feeling "real" gravity, in that room the light has to redshift too.
This is gravitational red shift. Visible light becomes redder as it moves uphill. Again, this effect is tiny on Earth, but it's measurable today (I don't think it was measurable using 1915 equipment).
Hiding inside that effect is another.
Imagine someone on the surface of earth, shining a light straight up. He blinks, and then a second later he blinks again. In the meantime, about 600 trillion wavelengths of the light are emitted.
Someone, up in space, will see the same sequence of events. Blink, 600 trillion wavelengths, then a blink. But the light is red shifted when he sees it. 600 trillion wavelengths takes more than a second to pass by him, because the frequency has dropped.
Therefore he sees it take more than a second between the two blinks. From his point of view, time is running slower down on earth than it is for him in space.
This is gravitational time dilation.
So these are concrete, comprehensible predictions to see whether an accelerating reference frame, where effects happen due to inertia, is truly the same as one with gravity (effects due to mass).
But when Einstein followed the math…it got interesting. And I'm going to have to state it without trying to justify it. Sorry. Complicated business!
Gravity, it turns out, isn't a "force" like electromagnetism is. It turns out that any object not being accelerated by a real force (like a rocket motor), travels a straight line in space time, the shortest distance between two events. If you think it's curving because, for instance it's a space probe doing a "flyby" of Jupiter, it's because spacetime is curved.
OK, now this takes time to wrap one's brain around, and if you fail at it you're in very good company. How does space itself actually bend? Objects bend in space, space itself, can't bend, there's nothing to bend.
Nevertheless it does. Not just in Einstein's thought experiments, but in reality.
Einstein used his new concepts to compute the orbit of Mercury.
Remember there had been a long-standing mystery about Mercury. It orbits the sun in a markedly elliptical orbit, and under Newtonian two-body gravity, the long (or "major") axis of the ellipse should never change direction. But in fact it does change direction. Some of this can be shown to be due to the other planets' pulling on Mercury constantly. But not all. After subtracting all of that out, the major axis still shifts by 43 arc seconds every century. That's an angle about three quarters the width of a quarter set out at a hundred yards, and it takes a century (about 400 revolutions of Mercury about the sun) for it to make that shift.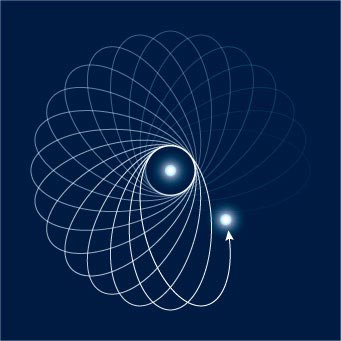 People had theorized that an undiscovered planet closer to the Sun than Mercury could be perturbing Mercury's orbit, but it would be frustratingly difficult to see such a planet so close to the Sun.
But when Einstein did the computation with his modified law of gravity, he found that an object orbiting that close to a very massive object like the sun…would see a shift of exactly this amount!
The net effect of Einstein's new law of gravity is that near very massive objects, gravity's effect is slightly greater than an inverse square law. Which means that at perihelion (closest approach) gravity is a bit stronger than Newton would expect. However, Kepler's second law still applies (a line from the sun to the planet sweeping out equal areas in equal times) because it depends on the conservation of angular momentum. So this manifests itself as the elliptical orbit behaving like something out of a Spirograph set.
OK, so Einstein had made one prediction he could test himself. But to be really solid science, predicting new phenomena (rather than just being a possible explanation of a known phenomenon) would be good.
Testing General Relativity
The light bending, doppler effect, and time dilation effects were something that had not been seen before, had not been predicted by any other theory, and if seen would be otherwise unexpected; i.e., a successful prediction by this theory…three successful predictions, actually.
As it turned out, the light bending was the easiest. For this you can use a large massive body that's between you and stuff of known position, if the position of those background objects appears shifted near the body, you have gravity (from the massive body) bending the light coming to you from the background objects.
This is a job for the Sun. As seen from earth, it moves against the background (it's really the Earth moving), which is a known pattern of stars. We've got plenty of star maps taken when the sun is nowhere along the line of sight (in fact when the sun is behind the mapper, because he's doing this at night and the sun is below his feet somewhere). So we just need to see if the stars seem shifted (away from the sun as it turns out) when the sun is on the line of sight to the stars.
Did I mention earlier the sun is bright? This makes it impossible to see stars that are almost behind it.
Except during a solar eclipse, when the moon neatly covers the sun!
There was a solar eclipse in 1919. Astronomer Arthur Eddington took photographs, not of the corona (as people usually do during eclipses) but of the stars near the Sun. The elegant mathematical reasoning of Albert Einstein was put to the test. (If you don't find it elegant, it's because you haven't seen and understood the math; I haven't understood it myself, so I'm taking other peoples' word for it that its elegant.)
It was hard to measure accurately enough to truly nail it down, but the stars' apparent position had indeed shifted and the measured effect was consistent with General Relativity.
This was big news. I mean, really big news. It made the newspapers read by regular people. This was when Einstein became famous outside of scientific circles.
Today, we can see entire galaxies bending the light of galaxies behind them. In fact, there's a spectacular instance of two almost-perfectly-lined up galaxies causing the background galaxy to look like a ring, known as an Einstein Ring:
The gravitational redshift took longer. For this, the ideal situation is a bright, massive, small object (small is better because the gravity is more intense, and a white dwarf, which is a sun-sized star that has run out of nuclear fuel and collapsed down to the size of the earth, is ideal. It still shines brightly because it will take millions or even billions of years to cool off, but it has a very strong gravitational field. As early as 1925, someone attempted to measure the gravitational redshift off of the star Sirius B (see my article on Sirius A and B: https://www.theqtree.com/2020/01/01/another-sirius-tale-of-two-stars/), but other scientists pointed out there was too much glare from Sirius A (which is, after all the brightest star in the nighttime sky). Finally in 1954 Popper got a good measurement off of 40 Eridani B and confirmed this prediction. It's also possible now to measure the shift in frequency of gamma rays going up several stories here on Earth.
The gravitational time dilation can be measured by two different atomic clocks at different elevations. Eventually, the lower one will fall behind the upper one.
Most famously, the GPS constellation of satellites demonstrates both special relativity time dilation, and general relativity time dilation.
The GPS system works by having each satellite sending out time signals. Their position at any time can be computed by your GPS receiver, so it's just a matter of comparing the signals from at least four (but even more is better), noticing the differences of the times in the signals, turning that into different distances from the satellites, then doing a lot of geometry to triangulate, and figure out where the receiver must be.
Extremely accurate time sources on the satellites are an absolute necessity. If one is off by ten nanoseconds, your position will be off by ten feet (light travels roughly a foot per nanosecond).
The satellites are moving quickly, which means a clock on that satellite will seem, from down here on earth, to be ticking more slowly due to special relativity time dilation. (Not much more slowly, but enough to be measurable with modern atomic clocks.) They are also higher so due to gravitational time dilation, our clocks should run more slowly than the GPS satellite ones. The two effects are in opposite directions, so they will tend to cancel each other out. The gravitational effect is the larger of the two, so from our standpoint the GPS clocks look like they're running faster than they would to someone actually on one of the satellites. In fact, it will run 38 microseconds per day faster than you'd expect without either time dilation effect. That would be enough to throw position calculations off by several miles…after one day.
This effect is real, it does happen. What the GPS engineers do is slow the satellites' clocks down to compensate. That way in orbit when they speed up (as seen by us), we see the clocks ticking off normal seconds, and so if you drive your car into the Mississippi river when trying to get to Pikes Peak, it's not the fault of GPS.
GPS wasn't designed for the purpose of testing general relativity, but there are a couple of rather more detailed predictions involving a phenomenon called "frame dragging" (which I am not even going to try to explain, because I want to publish this this week, not sometime in October) that have been confirmed by satellites deliberately launched to test general relativity.
General relativity has met every test thrown at it. It's real. Spacetime bends. And objects move along the shortest possible path through spacetime.
As famously put by John Archibald Wheeler (1911-2008, a veteran of the Manhattan Project) in 2000, "Spacetime tells matter how to move; matter tells spacetime how to curve."
I debated whether to put a "rubber sheet" diagram in this post. They're very problematic. Yes, you can see how an object might follow a curved path on the rubber sheet, which is supposed to be how gravity works, but the rubber sheet is itself bent by gravity pulling on an object. If you can't ignore that, you're going to be hung up on the fact that (demoed) "gravity" is caused by (real) gravity. I decided, ultimately, not to do it even though I could write disclaimer after disclaimer that it's a visualization tool only, not an explanatory one. (And I believe I hear Wolf breathing a sigh of relief.)
But one doesn't need a rubber sheet diagram to know that Joe Biden didn't win.
And, in case you didn't notice…we can cross mystery number one off the list. Thanks, Herr Doktor Einstein!
Obligatory PSAs and Reminders
China is Lower than Whale Shit
Remember Hong Kong!!!
中国是个混蛋 !!!
Zhōngguò shì gè hùndàn !!!
China is asshoe !!!
China is in the White House
Since Wednesday, January 20 at Noon EST, the bought-and-paid for His Fraudulency Joseph Biden has been in the White House. It's as good as having China in the Oval Office.
Joe Biden is Asshoe
China is in the White House, because Joe Biden is in the White House, and Joe Biden is identically equal to China. China is Asshoe. Therefore, Joe Biden is Asshoe.
But of course the much more important thing to realize:
Joe Biden Didn't Win
乔*拜登没赢 !!!
Qiáo Bài dēng méi yíng !!!
Joe Biden didn't win !!!