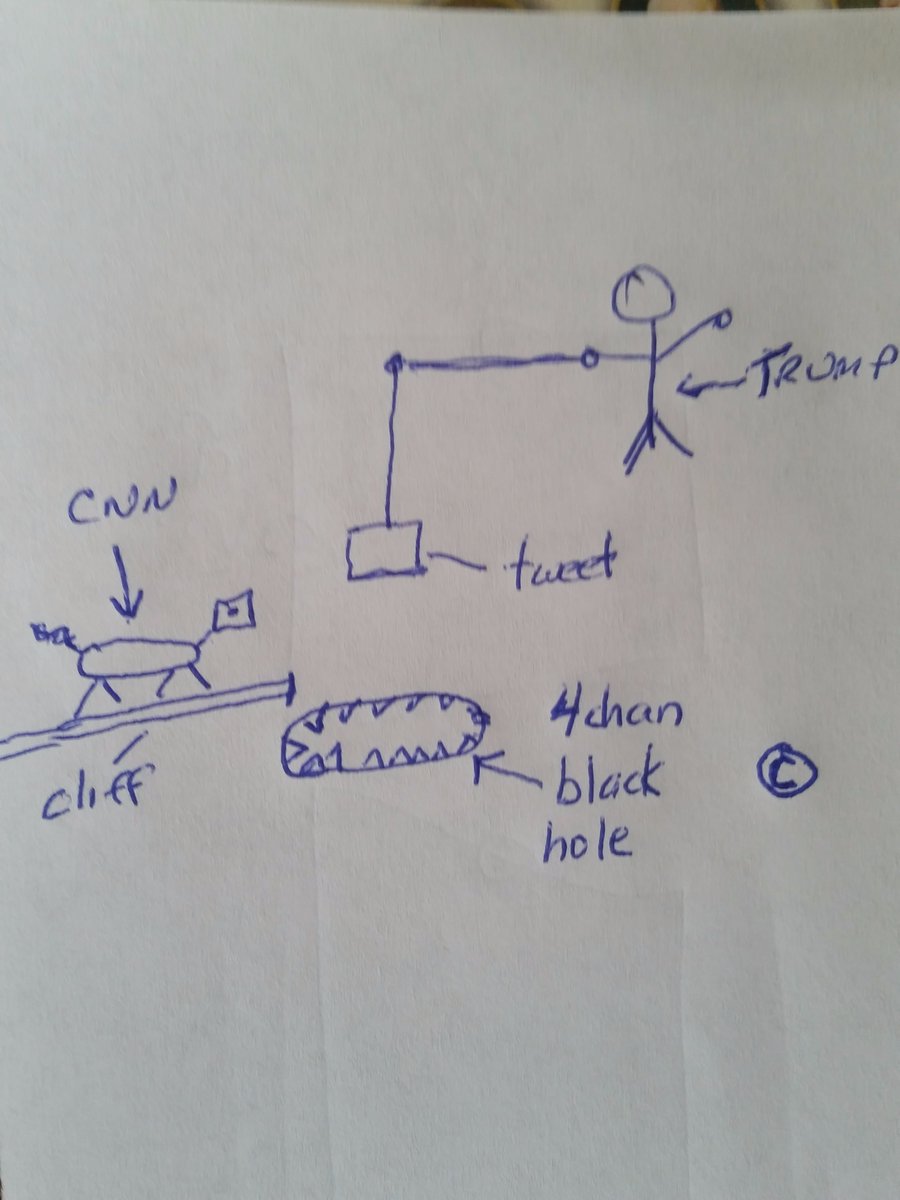 Marica said something this morning and I had a mini-epiphany.
Here's what Marica said about her husband:
"Mr. Marica? He is my favorite Dude!! but he is not even in the least bit interested in what we all talk about! (daughn's hubby calling in is so stinking cool!) God brought me you guys so I am able to talk and share and joke and discuss stuff that Mr Marica rolls his eyes about…"And then, Marica said, "here's the funny thing Steve– He is a Builder–Custom Homes- High end- he goes on FACEBOOK and drops Giant truth bombs — (asked me yesterday how to spell Pelosi -lol) then posts shit– and doesn't respond… But He does NOT talk to me about any of it…"
Obviously, Mr. Marica is paying attention to the world around him. He does not engage often, because he's busy. He's building, working, doing the things which normal Americans do. Yet, every now and then, something happens in the public sphere that makes Mr.Marica mad, and he "$hit-posts", which is a term of endearment for those on the Chans.
My husband does the same thing. Over July 4th weekend, 2017, President Trump retweeted a video, made by a 15yr old, which illustrated the President and a CNN-headed figure, in an obvious cartoon, portraying a WWE brawl, where the President 'smacked down' the CNN figure. CNN was furious and sought to out the maker of the video. Remember? My husband thought CNN pundits were whining. He didn't know how to 'meme', so he drew the picture above on a cocktail napkin, took a pic of it, and sent it to me. I thought it was 'old school memes' and posted it to the /pol/ twitter feed. The kids LOVED it, "Go dad!" From there, Milo Yiannopoulos picked it up for thousands of shares on his Facebook page. Suddenly, my son and his friends, who are Chan regulars, had to "bow to the great $hit-poster Lord", my old-guy husband, who rarely says anything controversial. It was hilarious…, a good moment for our little family……., but indicative of something far greater.
Yesterday, an old employee of mine went on a rant, which she posted on Facebook. She's a small woman, normally timid. Her rant, against NBC over the Covington boys, was eloquent and worthy of a Wall Street Journal Editorial. She was furious. How is she different from Marica's husband or my husband? She's not. She was fed up and had the courage to speak up. Well done.
Here's the mini-epiphany part: We're thinking of social interaction in the way our moms taught us. Here's the Mom/Dad rule: Grow up, learn your chosen profession, become a responsible adult, marry, have kids, pay your bills on time, and become benevolent to those in your community. Dems seek to blow up our social construct to obtain control….. and all they have to do is be a little bit rude. We resist being outwardly rude and vocal because it goes against our instincts. Our mothers would frown, disapprovingly, because those who were rude would be shamed by the majority. Rudeness, however, is no longer frowned upon. Look at Hollywood. Those who are rude to our President and his supporters …….. are rewarded. Wake up!
Meanwhile, the Dems are stealing our lunch money, and our children's future, because we're too damn nice and avoid confrontation.
We're polite when the Dems are rude and abrasive. We look to facts and figures and overarching policy, when the Dems argue on emotion and guilt. We seek peace and a gentile nature because we think it's admirable. Think of Mr. Rogers and his cardigan sweater. Yet, Dems push people into a rage based on resentment of the successful, greed, envy, sloth = MOAR FREE STUFF. The Dems war on Repubs/conservatives is not a real war, it's a culture war to change our system of leadership. It's not World War III. It's a War of Words – for control of the world. No one is mortally wounded and they get all of our money.
Again, it's a WAR OF WORDS. The Dems will shut down a government to argue the semantics of whether it's a Wall/Fence/Barrier/Concrete or Steel = Word War. Think of the times the media tried to claim our President is lying because of a subjective argument over semantics, when we know exactly what he means = Word War. Recall the the media meltdown because Candidate Trump claimed 'thousands' of Muslims were dancing on rooftops, when it was only 'hundreds'? The media focused on the number rather than the outrageous betrayal of anyone celebrating the horror of 9/11, which was the real problem. Yes, Numbers War = Word War. Change the focus = more propaganda.
The Dems would never engage in a real war. Face the facts, when real bullets fly, it's usually conservatives who serve in the military and police forces. Can you really imagine social justice 'warriors' in a real war? These are not men and women with honor. Dems prefer to send a majority of Republican sons to fight wars. Man buns with helmets? A participation trophy for wearing a uniform? Dems often lie about their service record for stolen valor. Yet, they suffer no shame nor dishonor. Look at Senator Blumenthal or the media's new Native American who was 'surrounded and attacked' by high school boys wearing red hats.
Look how the Dems use words to label themselves and enemies. They are Social Justice 'WARRIORS' but not physically strong. The Women "March", but they wear pink hats and silly outfits. They seek to label our President as "rude and brash, offensive, a bully, orange man bad", when in fact, their entire goal is the Word War, and to be offensive. It's classic projection propaganda. It's working. How many 'conservative' pundits preface their praise of the President by saying, "Well, of course, I wish he would stop tweeting…., but his policies are terrific". EVERY time we hear the 'discount' of praise, it means the propaganda of the left has won a small battle in the Word War. They smile, knowing they won, while we seek to focus on facts, numbers, and policy, but no one else is listening.
Is time for all of us to unmask ourselves and engage in the Word War? Are we facing "America's Cold Civil War", as written by Charles R Keslar? Keslar's theory is differing political parties always agreed on our Constitution and economic system, we merely altered the party in charge. This time, it's different. This time, the opposition is arguing for a Socialist system and a complete change in our governance. Make no mistake, the Word War is as much a danger to our freedom as the Kaiser or Hitler ever were.
Why are the words so important and such a great weapon to change public perception? Again, remember mom, "Sticks and stones may break my bones but words will never hurt me." Maybe words do hurt. Does it hurt to be called a racist or a Nazi? OR, does it hurt more to be silenced? Suddenly, our responses on social media change completely.
"Racist" – is no longer a valid insult because the term has been used with such impunity, the misuse of the word has become offensive to those who actually suffered under legitimate racism. Yeah, the left has appropriated ACTUAL racism. Go figure.
"Hitler/Nazi" – no longer valid, because if the right were actual Nazis, the right would be wearing masks, breaking windows, burning cars. The left would be silenced into submission and the President would get better press.
Sexist/Mysogonist/MeToo – Doesn't work because some women will continue to compromise their ethics for a promotion, access to power, more money, fame, which is their choice. Yet, these women don't use their cause to defend actual victims of domestic abuse, whether they be men or women.
We're engaged in a Word War. We ALL know the Left would lose a real war. The gig is up. Insults are meaningless. Hyper-emotional opinion means nothing. The age of leftist insults, as part of a conversation, has ended. If a Republican says, "I propose XYZ policy and here is why…." but the Dem says, "You're an A$$hole, I resist!" The Dem no longer has anything to contribute.
Our President is engaged. He's definitely NOT politically correct. He pushes back, hard. Why aren't we following his lead? This is not a call to arms, which the Dems would lose. It's a siren call to the Word War.
No, we're not black-mask-wearing-bike-lock-swinging-anarchists. We didn't go out of our way to offend people because IT IS RUDE. Clearly, it's become more of a hazard to allow the rudeness to stand and NOT be countered. In our old social construct, the rudeness was shamed and condemned, but that doesn't happen anymore. We need to adjust. We're civilized, and with a nod to our dearest darling, Wolfie, ……we weren't raised by wolves – yet we need to learn to fight, intelligently, and circle our prey, like a pack of wolves who work together.
The great misperception is that we don't know how to fight, or that we're not willing to get into the proverbial gutter and sling mud. The left thinks we're not willing to play dirty, when it comes to politics. Are they kidding? Many of us have seen what real war looks like. MANY of us came from communist/socialist regimes, and we know a Word War is child's play compared to dead and wounded. We merely need to shift tactics, but we do understand…
…. this is a WAR.