As part of a new, long-term theme like the "VLWC" (Vast Left-Wing Conspiracy) series, I'm going to help people see long-term commie moves with a "Strategery" series. I love stealing this word, because the people in the Bush camp who adopted it as their version of "Deplorables" clearly had little understanding of the long-term strategy of the communists who manipulated them so readily.
Our "strategery" will put theirs to shame. And to think THEY opposed Trump. Ridiculous.
AND logic.
LONG-TERM thinking.
UNCERTAINTY as a way of life.
These things will slowly bring us into levels of understanding that makes the either/or, short-term-thinking, implication-as-fake-certainty FAKE NEWS absolutely useless. I repeat these ideas differently.
Life is not either/or, and getting you to think that way is a TRICK.
Life is not short-term. Getting you to see and respond to the short-term, by long-term thinkers, is a TRICK.
Life is uncertain. Getting you to NEED certainty when there is no certainty, is a TRICK.
We begin today's lesson with a Q drop from yesterday.
---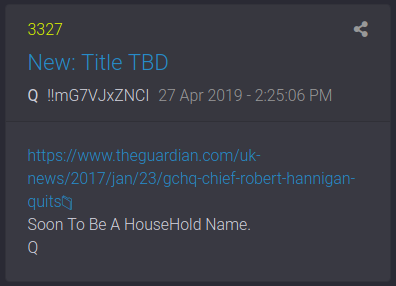 3327
New: Title TBD
Q!!mG7VJxZNCI27 Apr 2019 – 2:25:06 PM
https://www.theguardian.com/uk-news/2017/jan/23/gchq-chief-robert-hannigan-quits📁
Soon To Be A HouseHold Name.
Q

Q Post 3327
Much of the Q movement is going to concentrate on what I regard as the chump change of this drop – the odd capitalization of every word, and the splitting of "household" into HouseHold. Trust me – our buddy Q has some awesome messages in there for the SB2 types. However, that is THEIR bag, not ours.
Happy hunting, cryptogram solvers.
WE, in contrast, are going to get all Bezmenov on this one.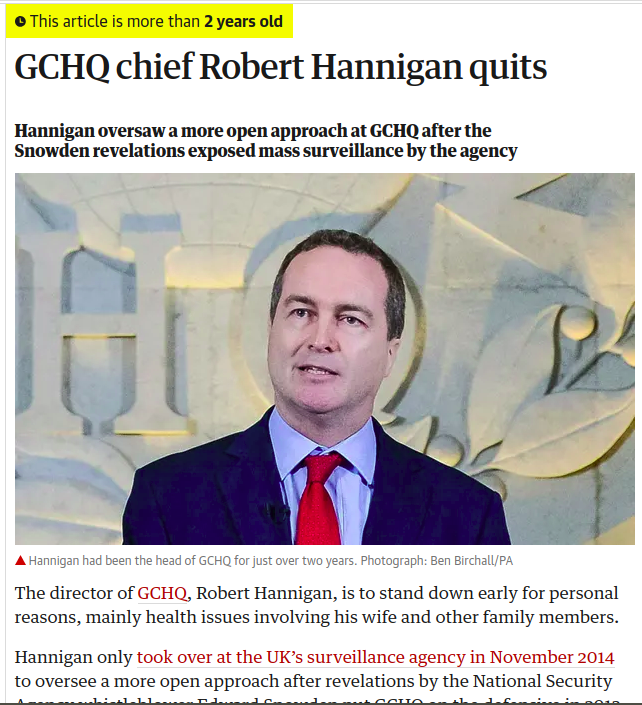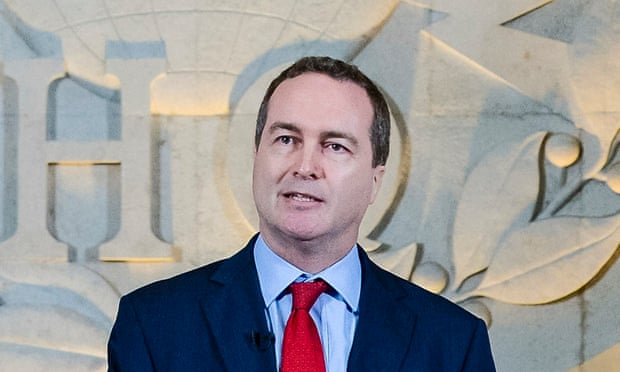 Several parts of the article are highly relevant:
The subtitle:
Hannigan oversaw a more open approach at GCHQ after the Snowden revelations exposed mass surveillance by the agency
From the article – the CORE of the issue:
Hannigan only took over at the UK's surveillance agency in November 2014 to oversee a more open approach after revelations by the National Security Agency whistleblower Edward Snowden put GCHQ on the defensive in 2013.

His sudden resignation – he informed staff just hours before making this decision public – prompted speculation that it might be related to British concerns over shared intelligence with the US in the wake of Donald Trump becoming president.
The key point here is that SNOWDEN had effects on GCHQ. ONE of those effects that led to MANY OTHERS was insertion of THIS GUY HANNIGAN.
Now – if you're following along with Q, then you know Snowden was a CLOWN OP that had a strong intention to damage NSA. But THAT is not necessarily the only reason. And to think about WHY Snowden was manipulated into doing what he did, remember that commies will try to SOW ONCE and REAP MANY TIMES. See how the suppression of AND logic keeps us dumb? THEY think multiple outcomes. WE chase our tails on the idea of WHICH outcome.
We need to GET OVER the idea that SNOWDEN did what he did for ONE REASON.
We also need to GET OVER the idea that SNOWDEN was a short-term yield. AND we need to get over the idea that we know ALL of the reasons they did the Snowden operation.
Are you with me? Let's move on.
Remember – this guy CAME IN and LEFT on controversy. Controversy is USEFUL to them.
The "leaver" tweet:
Note that both the INSERTION and REMOVAL of this guy are a PATTERN of POKE and RESPONSE due to REVELATION and MEDIA MANIPULATION. The other side uses this all the time. This is an extremely important reason why FAKE NEWS works. Fake News helps to control both the REVELATION and the MANIPULATION.
---
SIDEBAR:
Khashoggi was a perfect example. CIA commies and their DNC media CREATED and then "revealed" a fake American, a fake journalist, and in many ways a fake victim, who had been manipulated into his own MURDER – one that they controlled in several hidden ways – and could then use primary blame-casting of the set-up Saudis to manipulate American foreign policy.
The problem with Khashoggi was that the PUBLIC and REAL JOURNALISM were able to reveal enough hidden truth that the whole operation's SKETCHY NATURE became evident. It was clearly a MANIPULATION – and United States foreign policy does NOT deserve to change because of communist manipulations – even if they are OUR COMMUNISTS.
---
Back to Hannigan – particularly his INSERTION.
First of all, who is he?
Hannigan's background was not initially in intelligence. Born in Gloucester in 1965 and brought up in Yorkshire, he had been a high-flying civil servant at the Northern Ireland Office, where he was head of communications and later political director. He was involved in the peace process, credited [note media manipulation – W] with coming up with the idea for a diamond-shaped table [rolling eyes hard -W] in order to get over objections by the opposing sides about seating arrangements.

He transferred to London where he became involved in a series of intelligence jobs, including defence and liaison with the US, before going on to GCHQ, where he worked for six months as part of the handover before taking control.

Guardian article
If this looks a lot like a typical unqualified or deceptively qualified OBAMA APPOINTEE, then yeah, you're seeing it, too. This guy had no business being in charge of GCHQ. And yet he was. FUNNY, THAT.
FAKE REFORM is a very big thing with communists and OUR intelligence agencies.
So – let's look at their FAKE REFORM at GCHQ. What did the commies REALLY DO?
At the time, GCHQ, in spite of many of its secrets spilled by Snowden, remained the most secretive of the three intelligence agencies: the others being MI6 and MI5. But Hannigan expanded the press team, invited more journalists to visit GCHQ and encouraged a stream of news stories aimed at bringing the agency into the public eye. [as if any of this is going to actually solve any problems. -W]

In his first week in office, he created controversy with a column published in the Financial Times accusing US technology companies of becoming "the command and control networks of choice" for terrorists.

In March last year, he softened his criticism in a speech to the Massachusetts Institute of Technology, calling for a new relationship between the intelligence agencies and the tech companies, part of a campaign to try to secure the help of the companies in providing access to supposedly encrypted messages.

Guardian article
I could go on forever about this. Hannigan BEHAVED in the classic ways of a CLINTON or OBAMA appointee. Once you see that "saboteur" model in operation, you never forget it.
invites in reporters and other "low-grade spies" – this is extremely reminiscent of Hazel O'Leary in Energy. The left LOVES to get a diversity-based or other unqualified leftoid in at the top, who leverages a media-driven moral panic ("OH NOES! WE NEED OPEN!") or moral manic ("OH, JOY, WE ARE ALL OPEN NOW!") to WEAKEN security
immediately uses JOURNALISM to call for tech censorship using terrorism foil
immediately blame-casts to US tech companies on terror (which problem, ironically, NSA is watching), while US tech companies are simultaneously media-cast as VICTIMS of spying by the Snowden op, in order to WEAKEN the NSA. What are the commies trying to do here? What communists always try to do. Get a government function out of government, to some place they control. What the commies wanted to do was SHIFT the burden of fighting terror (which they control) from the NSA to SJWs in tech companies. (As if that would work!) Funny that those SJWs would censor the political enemies of the left. Such a coincidence.
note that Hannigan's timeline MATCHES Obama's post-Obamacare roll-out failure-excused calls for partnership with tech, that quickly turned into tech hiring of SJWs and massive censorship
BIG POINT – SNOWDEN softened up the tech companies to censorship pitch
So – are you beginning to see why they don't want a serious inquiry of this Hannigan guy? GET HIM OUT while the getting is good. Just like the lady (NOT Lois Lerner) who was responsible for the IRS scandal. Just like Eric Holder getting out of Dodge.
Resignation or job-shifting before inquiry is STRAIGHT out of the Obama manual. They needed this Hannigan guy GONE pronto, as soon as Trump was elected.
And what, finally, was the BIGGEST point?
SNOWDEN LED TO INSERTION OF SOMEBODY AT GCHQ WHO WOULD PLAY BALL WITH OBAMA IN 2016, TO ELECT HILLARY CLINTON.
---
What are our big learning points here?
Snowden was a big op with MANY OUTCOMES (AND logic), had MANY BIG LATE EFFECTS (long-term thinking), and likely will have MANY MORE that we have not yet recognized (uncertainty).
Strategery. The commies may have it. But so do we.
W