We ship big and heavy things all around the world. A brief explanation about how the process happens, and hints about how to throw a kink in the works, might be helpful since we're all talking so much about international trade.
When we first started shipping, I was a clueless bump on a log. I wanted to buy marble and glass tiles for our swimming pool/outdoor kitchen without paying retail…….. and that's how my little company started. We knew what we wanted, but the tiles were $112,000 (BEFORE installation), which was crazy and would never happen. By the time we were in business, the tile ended up costing about 7K, and we saved 4K on the marcite finishing. Not bad, eh?
Yet, I had no idea where to begin. I approached the Small Biz Administration – don't waste your time. They sent me to the FBI, for background and licensing to import/export. Therefore, I went through a vigorous background check with FBI but it was unnecessary….. because I was only importing, and sometimes, I only moved items between other countries (never touching USA soil). Finally, I called Maersk and wanted a shipping contract. Fortunately, I got a hold of David, who was forced to stifle his laughter and took me to school on shipping….. Should have called David, first.
In a math equation, we can solve for an unknown variable rather easily. For a shipping contract with Maersk, I had no idea how many containers I would import, no idea which countries they would go to, or come from, not even one specific city within the USA (different clients, different cities). For instance, a steady route from Hamburg, Germany, to Charleston, SC, twice a month, is a steady and easy calculation for a price. But I was way too erratic, Spain to Pakistan, Egypt to Los Angeles, Chennai to Montreal, and China to Minnesota. The best choice for me was to allow people on the OTHER side make arrangements and Maersk would act as my customs house for clearance of Docs and Fees.
Didn't like giving up control, but I had no choice. That's when shipping became very interesting.
To clear a container into the USA (most countries), a series of documents are required.
A. Commercial Invoice – what I paid for each item, quantity of each item, and weight.
B. Certificate of Origin – which country the material came from (China, even if the material was originally mined in Iran/India/Brazil)
C. Fumigation Certificate – More important than one can possible imagine. No weird bugs or seed pods allowed into the USA.
D. Bill of Lading or the Exporter's Customs Declaration – What the OTHER side claims they are shipping and indicates ownership of the goods.
E. Optional, Certificate of Insurance. I always buy it.
When the factory is finished with goods, they tell me about it, and they deliver the goods in a container to the export zone, awaiting loading onto a ship. I make the purchase FOB (Freight on Board), which is safe for both parties. It means the Chinese company cannot keep the freight (because it's on a ship), and I have to pay for the freight, otherwise the Chinese company will not give me the documents to clear the container in the USA.
All the doc's have to match, and when the container arrives in the USA, we pay appropriate customs duty. The container is cleared and a turned over to a freight shipper (either on rail or truck) to a larger metro area. If shipped by rail to Memphis (my closest metro), I have a choice to clear customs in Memphis. The container is unloaded from rail, giving to a truck, and delivered to me. Four hours maximum to unload, and the container goes back to the terminal. Rinse and repeat.
Shipping can be booked and paid for on the foreign side (which is best) or sent "collect" to the USA – strangely most USA companies ship "collect", because they get the time lag on the money for payment of shipping expenses. About 2/3 of the containers Kohler ships are shipped collect. It makes no sense. We book shipping on the foreign side because paying for it on the other side guaranteed space, let me ship faster, and the whole thing was cheaper. Think about how much a collect call used to cost more than a regular call, it's the same with shipping.
Shipping certificates can alo be purchased, which means I would guarantee 10/20/100 containers per month/yr from point A to point B, and gives us a better price. Shipping companies like the customers who buy certificates because it helps them plan better. Think about it. Delta Airlines would give Haliburton a discount if Delta KNEW 50 seats would be taken every Sunday night from Dallas to DC, and to return every Friday afternoon back to Dallas. Arrangements like these help companies plan their ships and airlines to make commerce easier. And yes, the guy who shows up at a Delta Airline ticket counter, last minute, paying cash, is charged a higher rate.
All kinds of containers can be "booked". Containers can be 20′, 40′ long, closed top or open top, refrigerated…… or a whole ship can be booked for large blocks of stone placed on a cargo deck, or an oil tanker or liquids tanker can be rented quite easily. Twice in my life, I've had OPEC oil contracts cross my desk. Pretty wild for a lil' girl from Mississippi. Minimum buy in was about 7 million dollars a month. No thanks.
Here's where the hiccups happen and how the customs process of clearing a container can be misused and/or work to the benefit of a particular country. 
Example #1. – When I shipped a sample to China from the USA, I would ship it via DHL or FEDEX. If China's customs did not like the idea of an American shipping a sample, it would take 6 weeks for my "mail" to clear. Imagine an American President ordering FedEx, UPS, USPS, to examine every package from China for fentanyl….. and imagine what that would do to commerce from China…… yeah, imagine that one……
Example #2. If I send a piece of marble, 12″x12″x3/4″ thick to China for matching, it costs me about $270, via USPS. If China sends the same item to me, it costs them about $40 (same imbalance from India by the way). I understand this is because of China's advantage in designation as a "developing country", with WTO. It means our post office is subsidizing the extra costs. No specific source confirmation, but it's common knowledge in our industry. It REALLY makes American biz owners angry. At one point, sample shipping was about 12% of my total expenses. The imbalance hurt our little company.
Example #3. When I was the new guy on the block, every container I had was "removed for exam". An X-Ray exam meant my little container was culled from the process and went to another building to be X-Rayed. Cost to me was about $250 and took another 3-7 days, typically, depending on how busy the port was. Now, imagine a US President who orders inspections for all Chinese containers, or higher penalties for docs which don't quite match up…. imagine how long the line would become at the X-Ray machine…… yeah, we can see it now.
Example #4.  I had one container in 15yrs which was culled from the line for an "invasive exam". It happened to be a container of my own. Thank the heavens, it was not for a client. This meant US Customs officials cracked the seal on my container, opened it up, removed the items, and checked it all. The process was infuriating. I had installers, crews working, waiting on delivery. The cost to my business was horrible. Our generous schedule was "torn asunder." It took about 3-4 weeks extra, and ruined about $5K worth of goods (which had to be replaced) because of all the shifting and repacking. Imagine if a US President ordered a thorough exam for every container from China……. yeah, the waiting line would become very, very, very, long…… and American companies would deem goods from China as unreliable.
Example #5. Over the years, we developed a reputation as problem solvers for other companies, especially when it came to shipping. One guy called me with the following story. He shipped a container of specially cut granite for 69 individual customer's kitchens (imagine 69 people calling him to complain about the delays), but the container was stopped in Seattle because a "moth cocoon" was found, allegedly with larvae inside. Customs wasn't sure about the cocoon and had to "send it out" for testing. The container was moved to quarantine and sat there for 3 months, accruing daily charges. The "moth cocoon" was preserved, while buyer and seller argued over charges. Eventually, the whole container was sent back to China, where it sat in their customs yard for another 3 months, because no one wanted to pay the $78K of Daily Customs charges to legally clear the container.
Until the owner of the company resolved the dispute, he was banned from importing. That's when I got the phone call for help. I called Seattle and, long story short, it was not a moth cocoon. The shipper wanted to save the $400 fee to fumigate a container and said they packed everything in styrofoam. Well, we all know, stone is usually shipped with treated wood, in pallets, so it raised the eye of the local Customs guy in Seattle. He ordered the container opened and found what he "thought" was a bug, which was not a bug at all. We also coordinated on the China side, sent my guy to negotiate release of the container, charges were only about $12K, and container shipped back to USA. Eventually, the 69 people in Ohio got their new kitchens, ….. about nine months later.
Now, imagine if all containers were opened and questioned for bugs, moth cocoons, or maybe…. fentanyl residue, etc. Can you imagine the logistics nightmare, containers stacking up, which would develop? It would be sooooo easy to do……..
Example #6. The longshoremen on the west coast went on strike. It was horrible and cost the US economy about 42BILLION dollars. Ships waited offshore, unable to dock, and had to be continuously refueled. God only knows what happened to containers filled with produce, meat, or grains. The longshoreman have the ability to slow-walk or quick-process as they choose. Yeah…. it would be easy to clog China's pipeline.
Example #7. I've received many phone calls from quarry owners in Turkey, all over the Middle East, Africa, who beg me to help them. The Chinese are at their doorstep, knocking. Because of preconceived notions, they think I am the wealthy American (Dallas soap opera reruns), who can save them. The Chinese leave them penniless and ruin their land. It's very sad.
Example #8. My head guy in India is actually from Sri Lanka. We worked on the flooring for the Colombo airport expansion together. Today, radical Muslims and the Chinese are targeting the port of Colombo, as a new version of Singapore's mega port. Transshipment mega-ports are incredibly important throughout the world. The 94yr old "King" in Singapore told China to screw off on a 20 billion dollar expansion, so China has turned their attention to Sri Lanka. And in this way, China surrounds India. Not cool.
Example #9. When the USA calls – things move. It's true. Forget the media and how much they hate the USA, when someone calls from the USA – shit starts to happen FAST. Hey, I was surprised, too, but it's true. The USA is still, very much, "Big Daddy".
Strange Tidbits Learned Along The Way
You know that "new clothes smell" when you buy something new from a nice department store? Yeah, it's the smell of fumigation = pesticides. It's not enough to kill you, but you might want to make sure to wash baby items, new sheets, and sweaters before wearing them.
The EPA effectively killed marble granite production and mining in the USA. For 15yrs, clients and I have pounded vodka/beers/bourbon, trying to figure out how to bring the industry home. Take a guess how we all voted in 2016?
All other countries already know about China aggressive attitude and all other countries have already taken steps to counteract China and protect their own manufacturing. IRAN has a 40% tariff against China. Brazil has a 35% tariff against ANY foreign manufacturing – 18% goes to the Federal gov't and pays their version of social security and 17% goes to the states to pay for municipal expenses, like police. Turkey has an 18% tariff against all good manufactured in China. Surprised???? Yet, America is supposed to be the bad guy?
President Trump is absolutely correct about trade imbalances and LACK of our manufactured goods being allowed into other countries. If I ship a DeWalt saw blade to Brazil, it cost me about $60 here. By the time my guy got it in Brazil, it cost about $100. Yet, for me to import a whole container from Brazil, about $20K, I only paid 3.9% customs duty. Our trade deal with Brazil is NOT reciprocal…. and you know how many people have Brazilian granite in their kitchens????
Raiding natural resources. China was paying for blocks of tea rose marble to be mined illegally from a UNESCO site in the Philippines. The land adjoining the UNESCO site was gifted to a friend of Ferdinand Marcos (remember Imelda and her shoes?). The "friend" turned up dead, killed by locals, with his hands and penis cut off. He was buried and dug up AGAIN, and propped up against his grave. That was a wild few months but point being…….. China doesn't give a damn about natural resources or environmental protections.
In another example, similar to #4, an Egyptian quarry owner became a good friend. He had 9 quarries, and even named a new one for my son. Hani and his family had a processing facility with Italian machinery, accepted for export specifications in Europe. Over the years, we endlessly discussed China raiding Egyptian quarries, and Egypt NOT taxing the Chinese when they took blocks out of Egypt (both Turkey and Iran tax China for removing natural stone BLOCKS). The people of Egypt needed the money and food, it was during the Arab uprising. AND via Chinese gov't subsidies, Chinese factories were able to process and sell Egyptian stone cheaper than Egyptian manufacturers. Sound familiar?
Wait 'til you hear this one, though. Hani loved the USA and we talked all the time. He especially loved American muscle cars. On one order for me, he did a particularly good job and I wanted to send him a thank you gift. Hani was ready with a list of desired American products. He wanted 8 pairs of Levi jeans, American t-shirts, American leather belts, and a Texas Cowboy hat. I laughed but understood. I bought all the items and sent them to Hani —- it cost him $800+USD to clear customs in Egypt. Again, bad trade policy between the USA and Egypt —– it's insane.
Special Topic, Trade with Italy and France, and to some extent, Germany and the UK. 
More than anything, the Italians and the French infuriate me in our industry. The Italians and the French operate as the pimp, to the beautiful whore we will call Iran. The country of Iran is rich is natural resources, oil and marbles, onyx, carved fireplaces and columns, beautiful things. The 1979 USA Embargo was a big fat Christmas present to the Europeans. The Europeans did not stop doing biz with Iran, only we did. We embargoed everything from Iran, save caviar and Persian rugs, so the Europeans became the middle men to the USA market.
Two generations of Americans have been paying the middlemen in Europe. MAJOR, big-time Cold Anger. I can't stand them, the middlemen.
Every day I see marble, granite and super-fine Onyx shipped from Iran to Italy and France (to some extent China). The Italians and French cut it, polish it, and sell it to the Americans for obscene prices. The French and the Italians WANT the USA to fight with Iran. They make a fortune. Truth is, the best carvers are in Iran…. and let's just say…. OSHA is not supervising the job site.
To a significant extent, the German economy was BUILT with an advantage in industrial manufacturing because the American manufacturers were prohibited from doing business in Iran……. which explains why the Germans, French, Italians, and the UK are screaming about NOT being able to do biz in Iran.
Makes more sense now, doesn't it?
When we think of Italian marble, we probably think of white Careera marbles. Yet, very few marbles actually originate (are mined) in Italy. For instance, I have a list of 89 different white marbles sold from Italy. Yet only 6 of them are different grades mined in Italy. The rest are imported as blocks from all over the world to La Spezia (mostly) and cut/shaped/manufactured in Italy….. then, resold. Yet, as China progresses, they have significantly threatened this industry in Italy.
It's in the best interest of France/Italy/Germany (and minor player UK) to keep the USA and Iran fighting with each other. We should never forget it. And if lil' ole me in Mississippi understands the problem, we can bet, for sure, President Trump REALLY understands the problem.
The problem of imbalanced trade is personal, frustrating, and makes no sense at all. The stupidity makes me want to throw things. Weekly, we see the unfairness on the ground, in our battlefield trenches, and make no mistake, it's a battle royale. It make my eyes narrow, and the cold anger, oh yeah, we all feel cold anger down to our toenails.
I've often joked (not really joking), 12 of my girlfriends could strike better trade deals for the USA. To someone like lil' ole me, a man like Lighthizer, let alone President Trump, are our country's heroes. Finally, we are fighting for fairness on a world stage. And when we get the money worked out, we can afford to be generous, domestically.
To a man like President Trump, who has far greater experience in arena of international trade, we can bet it's quite personal for him. He's been looking to settle this score for decades. And now, he's settling the score for ALL OF US.
Go get'em, Boss!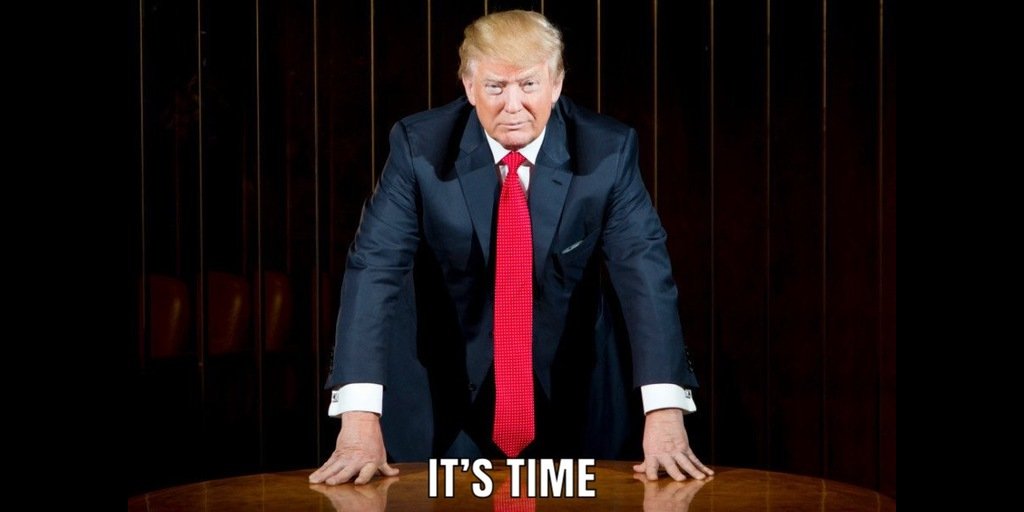 End