I had hoped that this year, we would have a GREAT holiday season, like we almost experienced last year, other than the Phony Fake Impeachment featuring Polident and Pencilneck.
And then, suddenly, I realized that the commies have made EVERY YEAR a kind of hell for our side. But LAST YEAR, lacking the China Virus – their biological grinch – they failed really miserably.
President Trump and First Lady Melania had, in 2019, what was likely THE BEST Hanukkah celebration of the First Trump Term!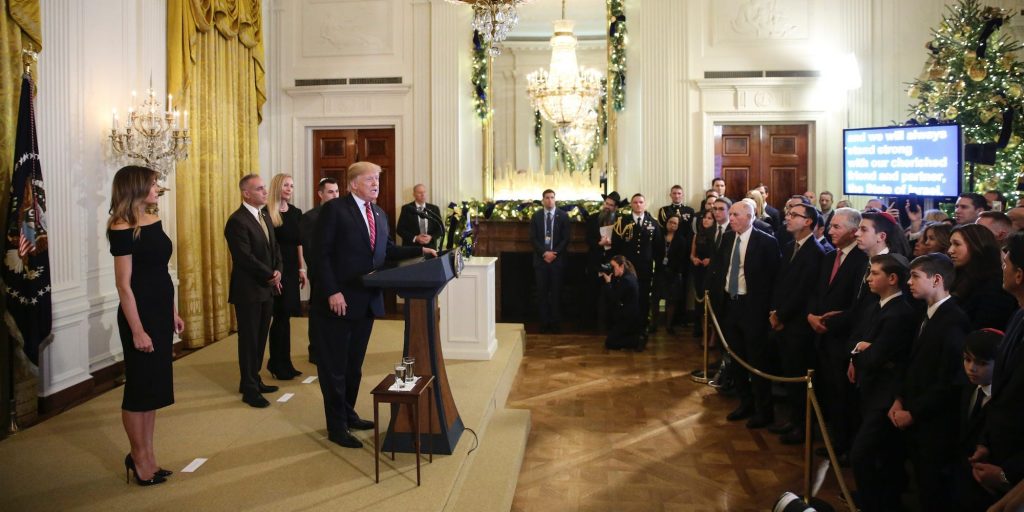 President Trump looked awesome, and Melania looked so good, the Jealous Left HOWLED in outrage, not quite sure what to criticize, but they did!
TRANSCRIPT (2019): https://www.whitehouse.gov/briefings-statements/remarks-president-trump-hanukkah-reception/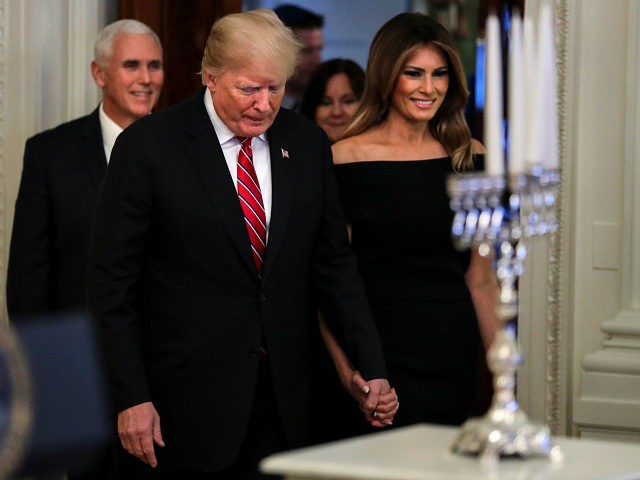 Although Melania looked great in 2018, too!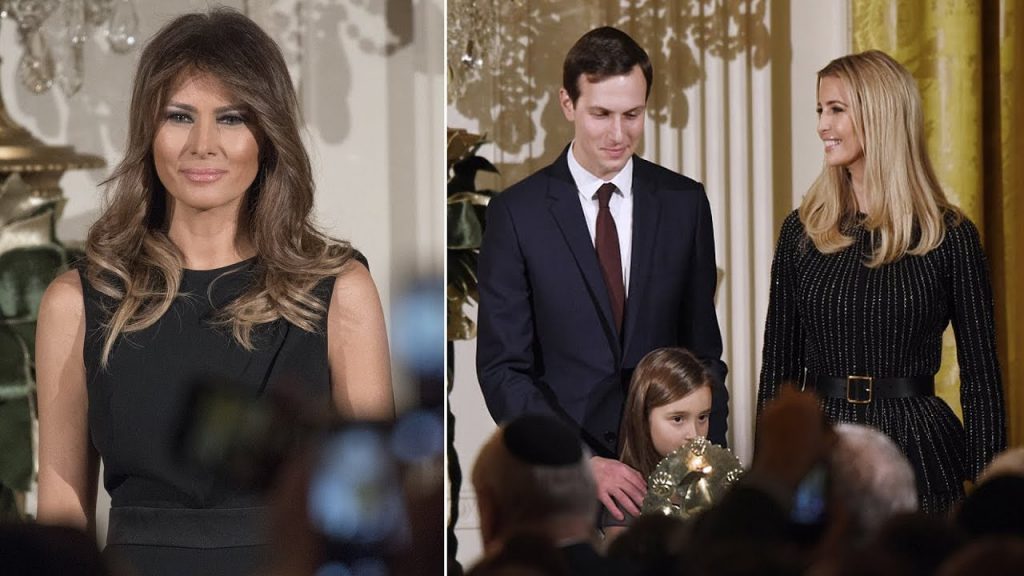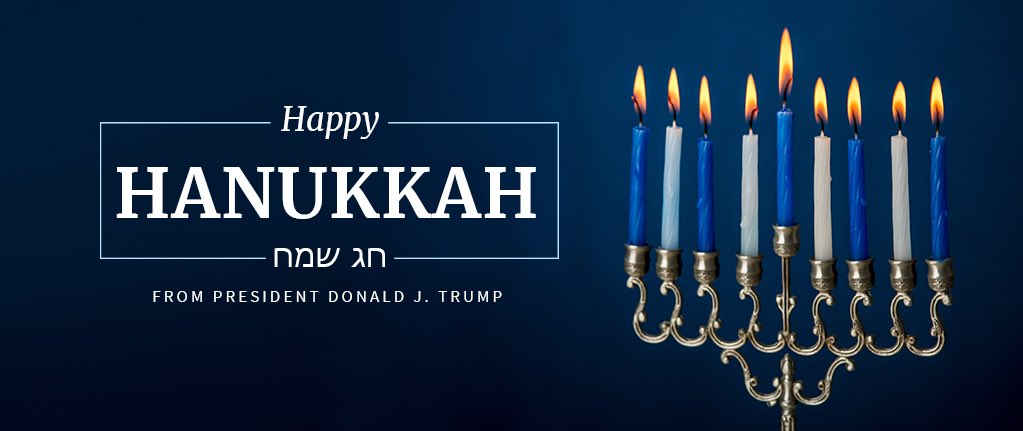 This year, it was interesting. The celebration was a day early (evening of December 9), and President Trump only made a late appearance. Some Fake News even LIED and said he didn't appear, then did "updates" later to admit that he DID appear.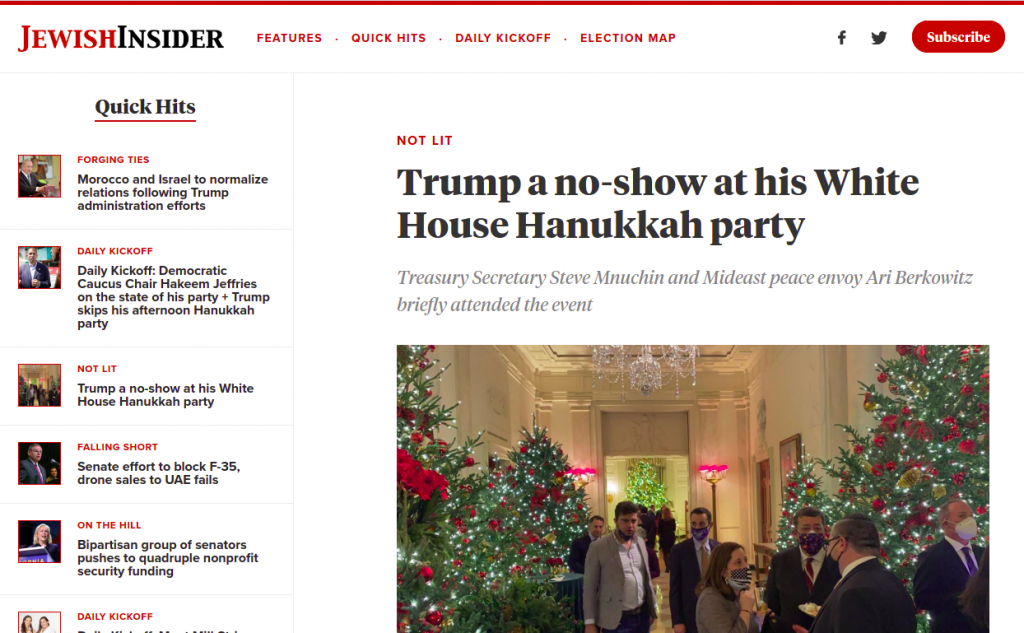 LINK: https://jewishinsider.com/2020/12/white-house-hanukkah-party-trump/
The leftist press was entirely mind-fracked by COVID, COVID, COVID, as opposed to RUSSIA, RUSSIA, RUSSIA.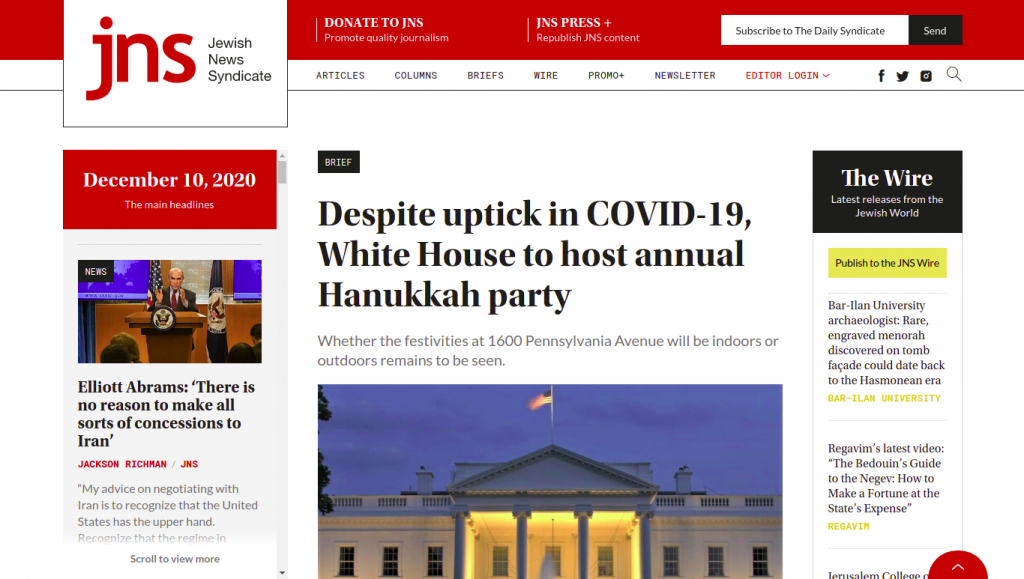 LINK: https://www.jns.org/despite-uptick-in-covid-19-white-house-to-host-annual-hanukkah-party/
Can we make that WORSE? Oh, heck, YES!!!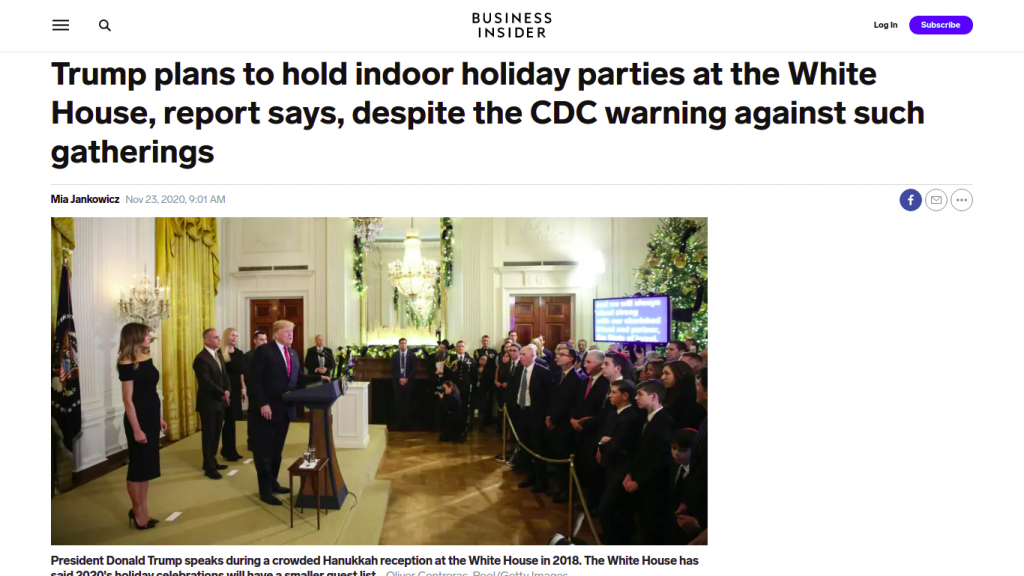 LINK: https://www.businessinsider.com/covid-19-trump-white-house-hold-indoor-christmas-hanukkah-parties-2020-11
How about EVEN WORSE? Hold my Mogen-David!!!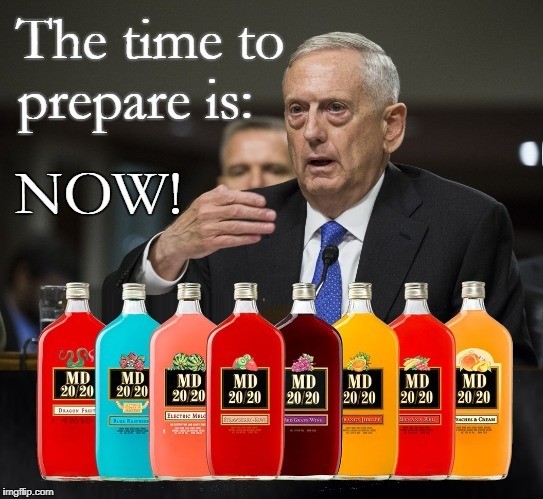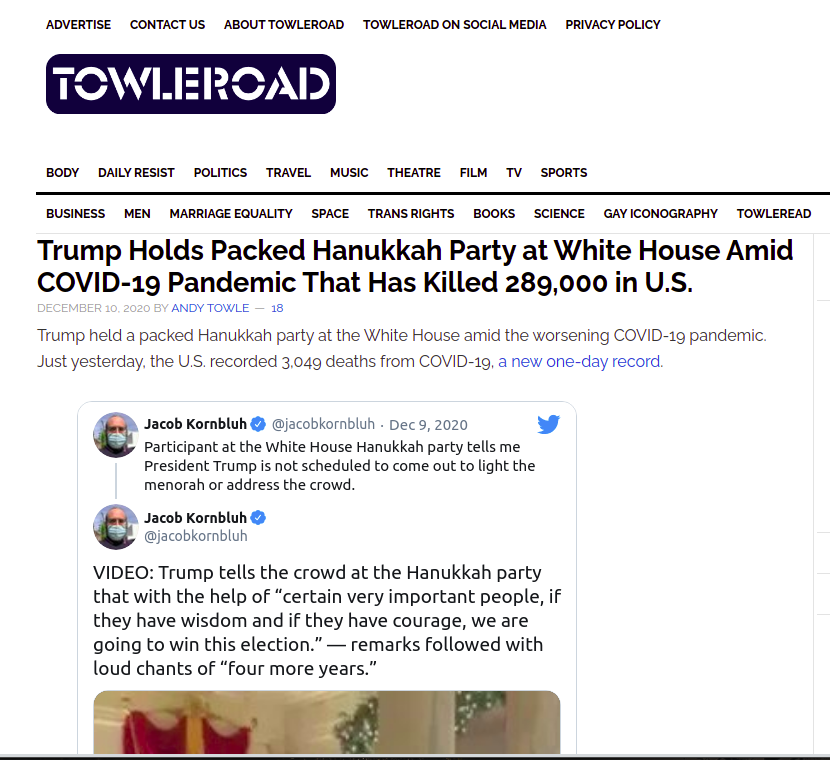 LINK: https://www.towleroad.com/2020/12/trump-hanukkah/
Yeah.
Now, not everybody was "COVID-negging" on the celebration. Some friends and supporters of President Trump were absolutely DEFIANT!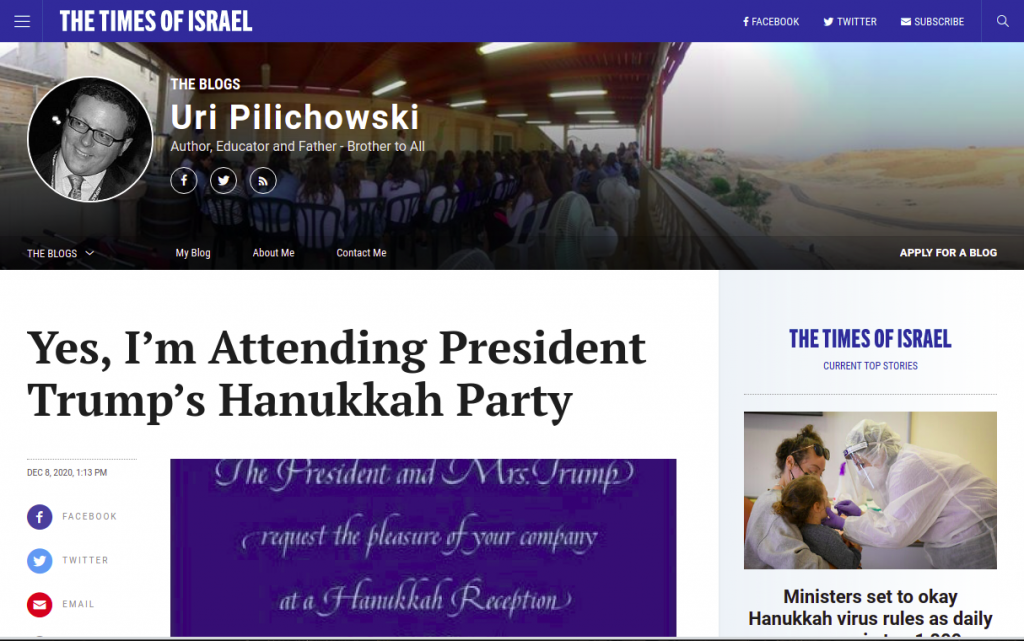 LINK: https://blogs.timesofisrael.com/yes-im-attending-president-trumps-hanukkah-party/
I mean REALLY defiant!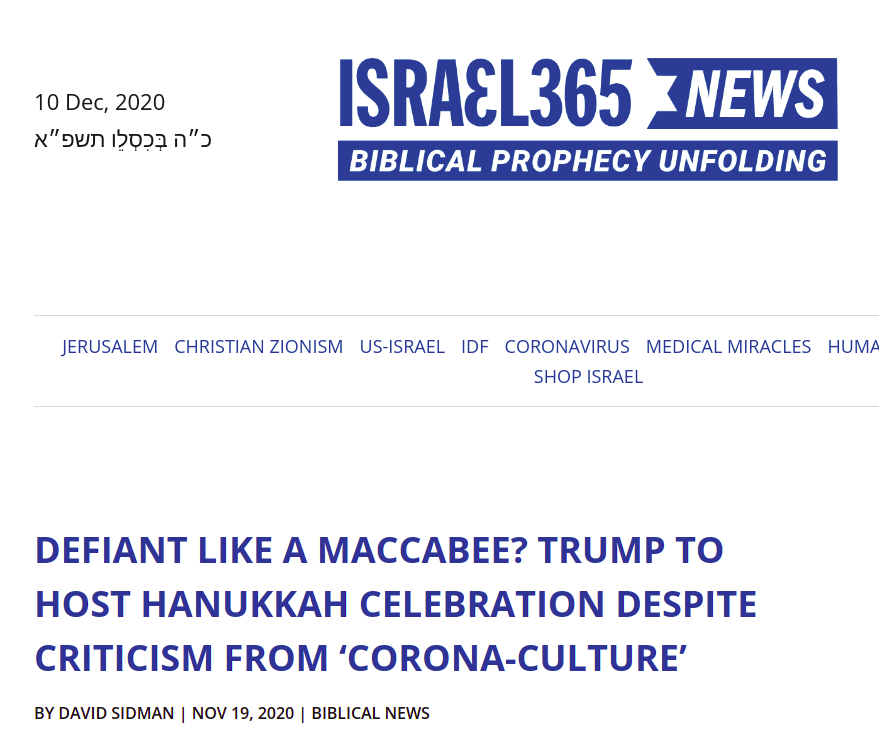 LINK: https://www.israel365news.com/161032/defiant-like-a-maccabee-trump-to-host-hanukkah-celebration-despite-criticism-from-corona-culture/
"Corona-Culture"! I love it!
Now – surprisingly – there was some ALMOST objective reporting that caught some great subtle points.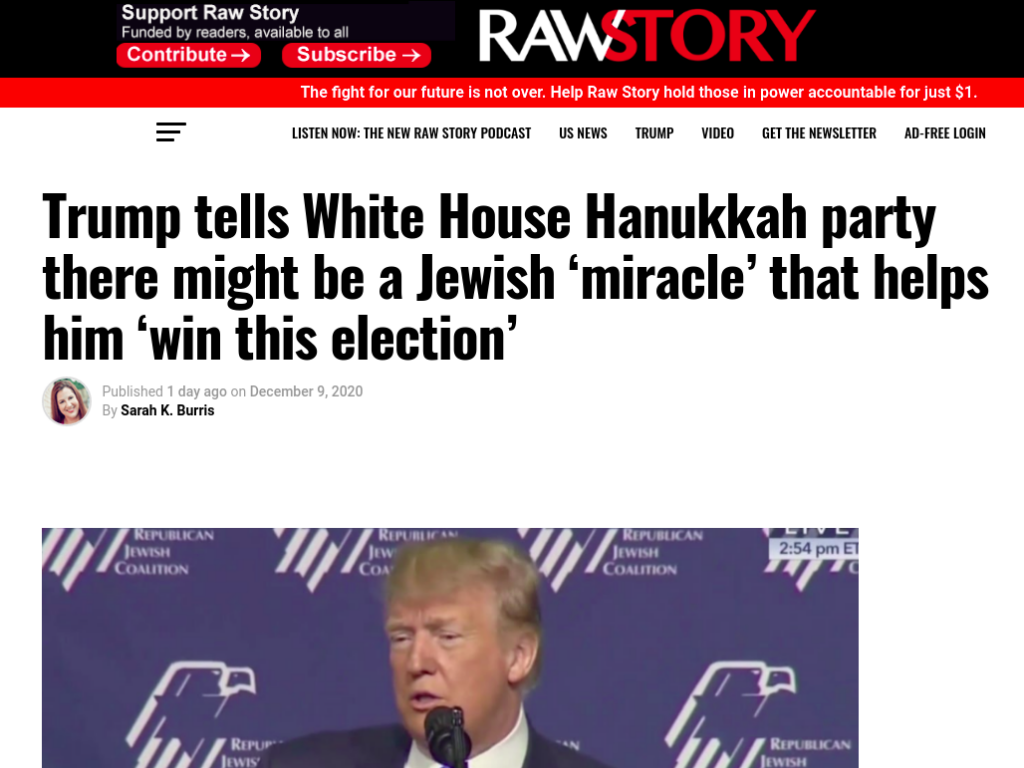 LINK: https://www.rawstory.com/2020/12/trump-tells-white-house-hanukkah-party-there-might-be-a-jewish-miracle-that-helps-him-win-the-election/
FTA:
President Donald Trump spent his Wednesday White House Hanukkah party talking about the "miracle" he's searching for after the November election.

"The Jewish people have endured a lot over the centuries but always overcame the most impossible situations," Trump said after walking downstairs from the residence wearing a coat. "Miracles are possible. Maybe we'll see one in the near future. Yes, we're not giving up, and we'll keep fighting to ensure four more years."
NOW – listen to TWO videos from this little gathering, included in the article. They are VERY hopeful. It is really worth listening to their UPBEAT TONE!
But you know – here is the thing. Here is the REAL Hanukkah gift!
I truly believe that GOD IS WITH US, and will not abandon those who are faithful and serve His cause!
Matthew 5:9
"Blessed are the peacemakers, for they will be called children of God."
Do you need a GODLY reason to WIN THIS THING?
We can elect TRUMP to FOUR MORE YEARS – and finish the job of securing peace and safety for Israel (and AMERICA – you know – as in AMERICA FIRST!) in these dangerous times, or we can stop HALF-WAY and go back to ENDLESS WARS with Joe Biden and Kamala Harris.
Peace is the prize. Let's FIGHT for it!
W
Info on Hanukkah 2020: https://en.as.com/en/2020/12/06/latest_news/1607284420_999445.html
Christmas Treat! (Promises made – promises kept! *smile*)
Merry Christmas, and Happy Hanukkah!