---
ABOVE TL;DR – DO NOT TALK TO THE POLICE
---
TL;DR – We are headed back to the Hillary Waco days, only it's a much wider target zone of victims. It is starting out with simple Gestapo tactics, but it will likely progress to violence unless DOJ and FBI are reined in. Right now, NOT TALKING TO THE POLICE is how to fight the FBI and DOJ.
---
Less TL;DR – The testimony of an FBI whistleblower is enough to see that FBI is preparing to go after ANYBODY who was near the Capitol Building on January 6, 2021. That is TENS OF THOUSANDS of people who I regard as innocent Americans. It is possible that DOJ and FBI will harass and intimidate ANY MAGA Americans who were in Washington, DC that day, and will arrest ANYBODY and EVERYBODY who marched to the Capitol Building.
This means arrest for multiple posters on this site, and harassment for many others. Indeed, it appears that FBI is preparing to match Joe Biden's "Dark Brandon" rhetoric of "Trump and his supporters must be eliminated like Hitler and the Nazis."
We must be prepared to meet this challenge, each in our own way, but all together.
Running is not an option. How you stand and fight is your choice. I choose to support ALL patriots, even those who choose differently from me.
For most of us, we are now in a Bonhoeffer moment. For others, and especially in the future, unless DOJ and FBI are stopped, we will be in a Crazy Horse moment. The decision is yours. If you are innocent, and the FBI comes after you, I will not criticize your choice in resistance.
Personally, I think that right now, SILENCE is how to fight them, when they come for you. (SEE BELOW, under PPS.)
Once again, "progressives" know who they want to destroy. And it is YOU.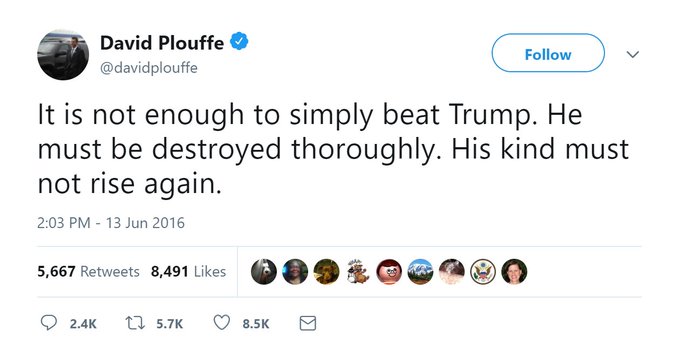 ---
Deplorable Patriot alerted us to the key tweet about the key article. This is one of many FBI whistleblowers, but he has some of the most critical information yet.
Many of you who are READING THIS, are now potentially targets of FBI suspicion, harassment, and even ARREST. It's time to PREPARE, in my opinion. Most of this is MENTAL preparation. But first, let me show you evidence that things are that bad.
LINK: https://nypost.com/2022/09/21/fbi-hero-paying-the-price-for-exposing-unjust-persecution-of-conservative-americans/
ARCHIVE: https://archive.ph/kTGYb
This is absolutely essential reading, but just to make sure that you see the part that is going to be literally LIFE OR DEATH for millions of patriotic Americans, both INSIDE and OUTSIDE the FBI, I am going to include some of it here.
That does NOT mean you should not read the whole thing – you had better, in my opinion. But I need to make sure you see the MOST important information.
Please read all of this, ESPECIALLY the specific allegations at the end of the citation.
If you are "low vision", please use THIS LINK instead, and concentrate on the part reading "Among Friend's Allegations".
---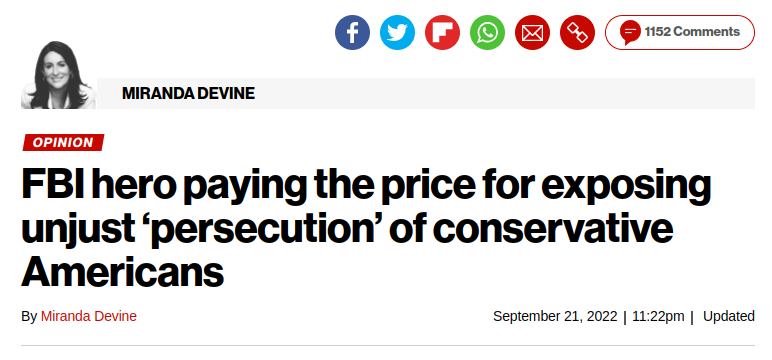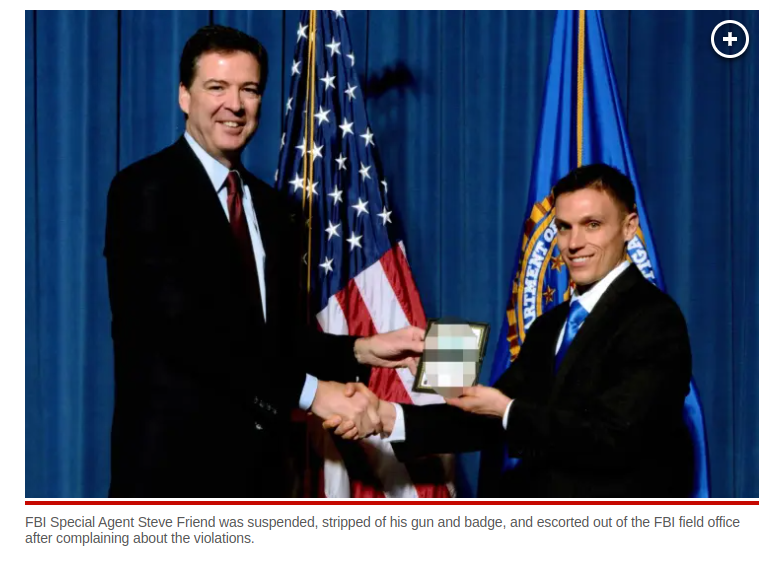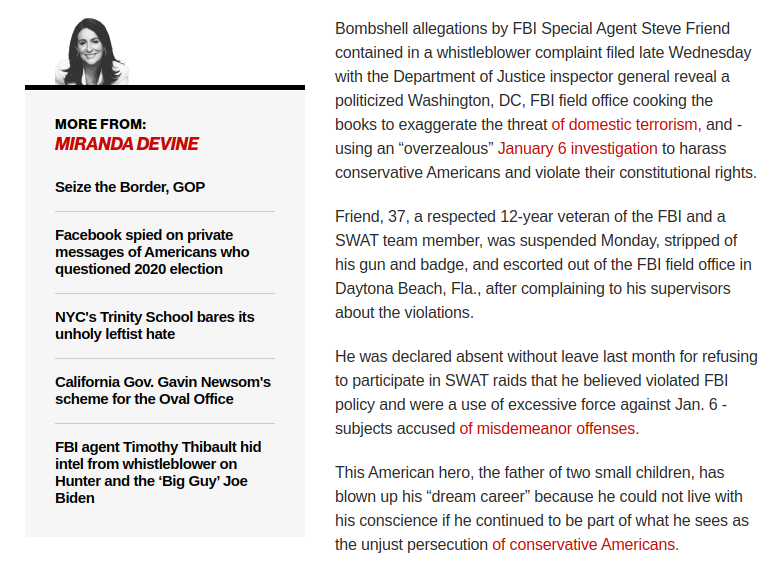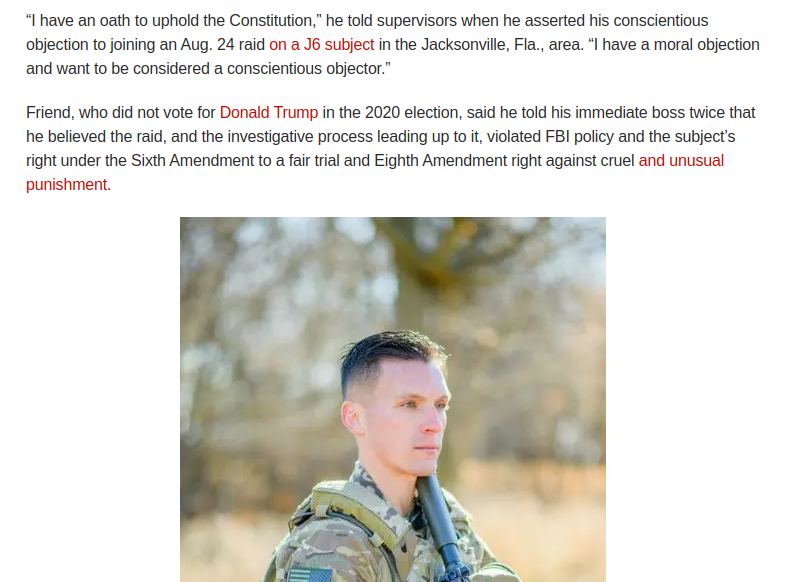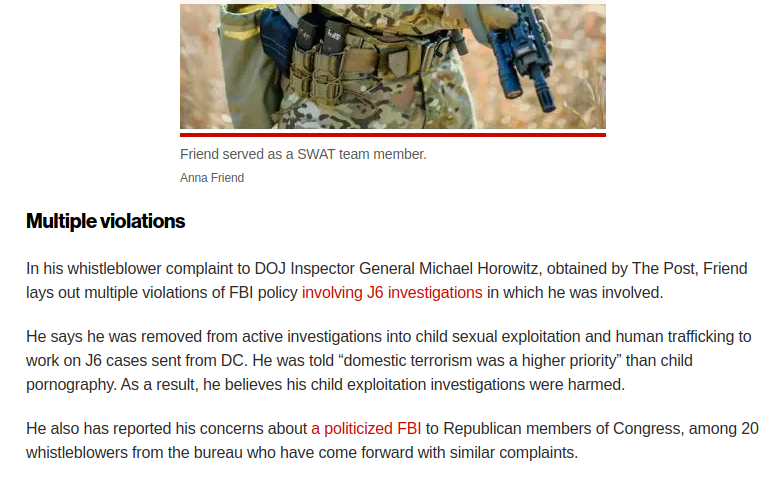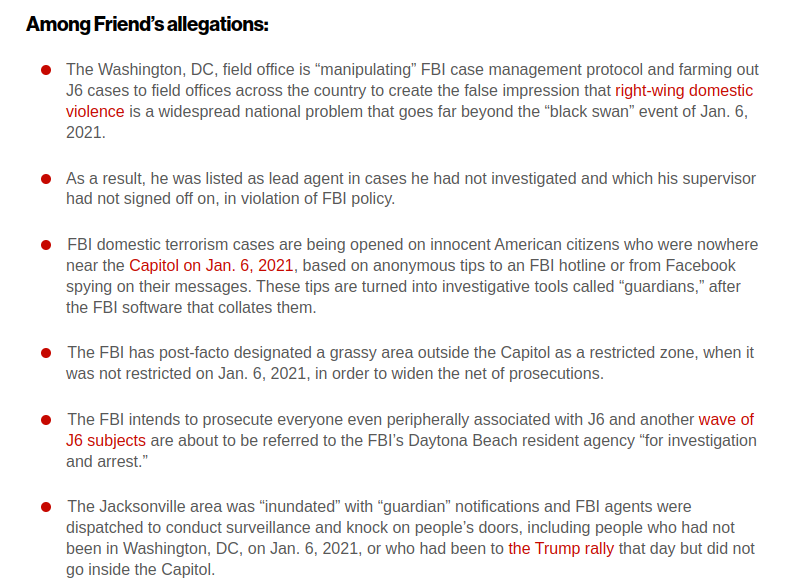 ---
We need to look at these allegations in detail, and interpret what they mean, in terms of both understanding communist strategy ABOVE the FBI, and our response.
Remember – this is not just an attack on American citizens – this is an attack on the FBI. Once this happens, the FBI will no longer be regarded as even remotely honorable by roughly half of America – and THAT is part of the PLAN, in my opinion.
FBI has been lured to its destruction.
---
The Washington, DC, field office is "manipulating" FBI case management protocol and farming out J6 cases to field offices across the country to create the false impression that right-wing domestic violence is a widespread national problem that goes far beyond the "black swan" event of Jan. 6, 2021.

WOLF: This is a rather cynical ploy. FIB management has basically rebranded "national outrage at an obviously stolen Presidential election" as a DIFFERENT widespread national problem, "domestic violent extremism". This agent Friend clearly has his head screwed on straight, and has not fallen for the brainwashing in Washington.
More than that, this is obviously how the crooked Washington Field Office and national directorate plans to indoctrinate agents all across the US, to turn them against their local citizenry. It's a very SMART move, straight out of Holder and Obama. This is a communist division tactic, which further isolates the FBI. CUNNING.

As a result, he [Friend] was listed as lead agent in cases he had not investigated and which his supervisor had not signed off on, in violation of FBI policy.

WOLF: Again, this is just typical slow burn of evil in corrupting better people, and making them insensitive to the law. This LITERALLY cuts into the "I" of "Integrity" in a very shocking way.
I will go further than Friend here. The idea that anybody goes along with this kind of FALSIFICATION of records is a travesty. People in BUSINESS don't allow this stuff, where WRONG PEOPLE are listed as having responsibility when they don't actually have it. This is LITERALLY "cooking the books".
I just smell the corrupting influence of Eric Holder here. This is from DOJ, and very likely at the behest of one or more of Obama's "Furies". All the DNC bots are pressuring DOJ and FBI to "do something" about Trump.

 FBI domestic terrorism cases are being opened on innocent American citizens who were nowhere near the Capitol on Jan. 6, 2021, based on anonymous tips to an FBI hotline or from Facebook spying on their messages. These tips are turned into investigative tools called "guardians," after the FBI software that collates them.

WOLF: This is very serious, but not unexpected. In the desperation to "get more people", FBI management is ignoring simple aspects of good investigation.
The J6 operation ("Fedsurrection", "Buffalo Jump") did not yield the desired results, which would have enabled all of Trump's supporters (a HUGE chunk of this nation, and most "patriots") to be silenced and "put on the run" using the entirety of the national security apparatus and the corporate media chorus. That simply did not happen, when patriots who went inside the Capitol building IGNORED CNN-Antifa-DeepState traitor John Sullivan's calls to "burn it down".
Realistically, only people who engaged in actual violence against police or broke into the Capitol building are morally at fault. People who were waved into the Capitol building – I'm sorry – prosecuting them is just sad justice at best. Same with "trespassing" against people on the outside. WE HAD A REGISTERED, PERMITTED RALLY AT THE CAPITOL BUILDING. The fact that the rally area was on the WRONG SIDE of the Capitol, was TOO SMALL, and was not properly marked or instructed to the crowd, was bad enough, and in my mind, part of the plot (Pelosi clearly had a role, as did McConnell). But then, when the crowd was either let into the building, or TOLD TO GO TO THE WEST WALL TO YELL by the "authorities", and then FIRED UPON – seriously. Going after such people is horrifying. This will be the downfall of the FBI – right there.
This is just more "blame the victim" – a communist specialty – but being pushed out through FBI lowers.

 The FBI has post-facto designated a grassy area outside the Capitol as a restricted zone, when it was not restricted on Jan. 6, 2021, in order to widen the net of prosecutions.

WOLF: THIS right here is exactly what I've been expecting ALL ALONG – that FIB would begin going after the innocent.
In order to set up a "precursor" for going after this larger body of Trump supporters, who protested peacefully outside the building, the corrupt DOJ and FBI management needed to pose a PHONY PROBLEM of "domestic violent extremists all over the country" – and now they have innocent people from "all over the country" to fill the bill. SICK!
But it is even worse, because if you combine this item with the previous item in this list – that the FBI is blindly going after anybody with "suspicion" of being anywhere near the Capitol building, the FBI can LITERALLY go after anybody who was in Washington DC on January 6, 2021.
That is hundreds of thousands of people – maybe a MILLION.
So YEAH – FIB management can spread this lie all over the United States.

 The FBI intends to prosecute everyone even peripherally associated with J6 and another wave of J6 subjects are about to be referred to the FBI's Daytona Beach resident agency "for investigation and arrest."

WOLF: BOOM!!! This is exactly what I was predicting.
I KNEW that they would not stop with only the people who went inside the building.
ALL OF US who were in DC that day are going to be arrested, if this shit moves forward, and I have zero reason to believe that it will stop.
The NAZIS and COMMIES of the UNIPARTY are going to come after us. It's THAT SIMPLE.

 The Jacksonville area was "inundated" with "guardian" notifications and FBI agents were dispatched to conduct surveillance and knock on people's doors, including people who had not been in Washington, DC, on Jan. 6, 2021, or who had been to the Trump rally that day but did not go ­inside the Capitol.

WOLF: BOOM!!! This is exactly what I suspected. They are going after EVERYBODY who was there to see Trump.
But it will be even bigger than THAT, because this will enable them to go after people who simply "supported Trump" and "might have gone to Washington DC on January 6, 2021", but were not actually there. All that is needed is a REPORT.
This is going to create a classic NAZI "snitch" situation. It's rather incredible.
---
SO – what is to be done?
First of all, you need to watch all of the following videos.
How and why you should not talk to the FBI.
More reasons not to talk.
What FBI agents will try to do "nicely" to get you to hurt yourself and other patriots.
More scoop about how they will try to get you to "negotiate" into meeting their lies half-way.
Ten tactics they will use on you.
Now, there are more deadly tricks you need to watch out for.
One of the January Sixth prisoners has stated that he was placed in a vehicle with a GUN on the floor of the back seat in which he was placed. If you can find a link to that case, please post it. The fact that the "J6er" lived to tell us about it, shows that he played it correctly and didn't fall for whatever trick was in play. Fingerprints on the gun? ENTRAPMENT?
It's all very FIB.
The bottom line – the DIRTY FEDS play DIRTY. Do not fall for ANY tricks.
As Wheatie liked to say, we WILL get through this.
Preparation, in my opinion, is key.
W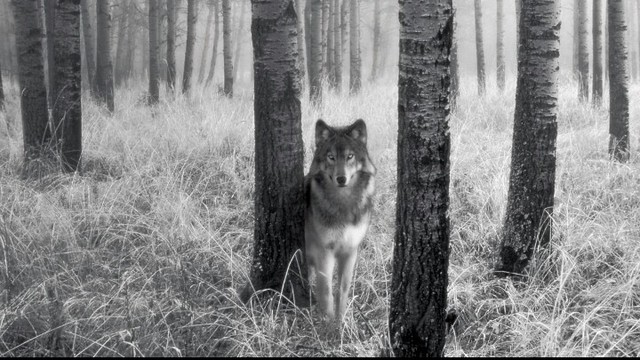 Suspicious Wolf is suspicious.
---
PS – Additional Whistleblower Kyle Seraphin
LINK: https://rumble.com/v1l37oz-interview-with-fbi-whistleblower-kyle-seraphin-part-1-ep.-1857-the-dan-bong.html
LINK: https://rumble.com/v1l5x1t-interview-with-fbi-whistleblower-kyle-seraphin-part.-2-ep.-1858-the-dan-bon.html
---
PPS – A Perfect Example – The "Triggered Vet"
Gil00 brought this comment today which illustrates exactly WHY you should not talk to the police.
LINK: https://nypost.com/2022/09/26/california-man-allegedly-plotted-las-vegas-style-mass-shooting/
---
gil00
Offline
Coyote
 September 26, 2022 13:29
"California man allegedly plotted 'Las Vegas-style' mass shooting

"A California man was arrested Sunday for allegedly plotting a "Las Vegas-style" mass shooting and threatening to kill cops, police said.
Dallas Marsh, 37, was taken into custody by SWAT officers at a Super 8 motel in Chico after detectives obtained evidence of his plot, according to a police statement."
What do you think happened here?
https://nypost.com/2022/09/26/california-man-allegedly-plotted-las-vegas-style-mass-shooting/
Last edited 40 minutes ago by gil00
3
GA/FL
Offline
Coyote
Reply to  gil00
September 26, 2022 13:39
For one thing – they didn't get the Effing Bee Eye involved – so everyone worked together to prevent a mass murder.
4
Cuppa Covfefe
Offline
Reply to  gil00
September 26, 2022 13:41
Hmmm. Dallas Marsh almost sounds like a made-up MK FF name…
Wonder if his other outfit has short hair, sunglasses, and the other FIB accessories….
3
kalbokalbs
Online
Coyote
Reply to  gil00
September 26, 2022 13:45
Who knows. For now, NOT buying the headlines.
LE "knows" a specified deadline, have the guy in custody, but won't state the deadline. Hmmm.
So where was the shooting supposed to take place? No details. Hmmm.
Dude is arrested. NO MENTION of weapons, ammunition, explosives… Hmmm.
Then, the holy grail is revealed.
Army vet. Delta Force Commander. White. Male.
HLS will be proud. Domestic white male veteran terrorist.
The only missing is, "Trump supporter".
3
Wolf Moon | Threat to Demonocracy
Online
Author
Wolf
Reply to  kalbokalbs
September 26, 2022 14:00
Definitely FIB is involved here, using a JTTF ("fusion center"). This is so that FIB can act through locals and hide out as an internal intelligence agency instead of LE.
The guy probably made social media posts. FIB has a file on him. Dude likely said something stupid. They jump him, bring him in, and he says more stupid stuff.
BUT I REPEAT MYSELF….
2
Wolf Moon | Threat to Demonocracy
Online
Author
Wolf
Reply to  kalbokalbs
September 26, 2022 14:01
EXACTLY – you nailed it – this guy fits the narrative.
I need to dump my new post – this fits right in.
1
---
This guy very likely made stupid social media posts, but was manipulated into being triggered during an interview. See how this works?
There is great likelihood that – ACTING AS INTELLIGENCE AND NOT LE (see Kyle Seraphin interviews – note what he says about the "counterintelligence" division which is SEPARATE from the criminal division) – FIB helped push this guy so that he WOULD be triggerable during an interview. Then, FIB's hands are clean. See how that works?
Do I suspect there was entrapment here? YOU BETCHA. Dude was in California – right? FIB likely has free rein to do whatever it wants in Blue Commie States.
If you listen to the Bongino interviews above, Kyle Seraphin basically explains how FBI agents will often "advise people not to say anything", to make a stupid case go away.
THE OPPOSITE CAN HAPPEN – and it likely WILL right now, as the DIRTY DEM FBI tries to create narrative cases based on social media posts.
They are trying to CREATE CASES.
Their tactic will be to bring you in and RILE YOU UP.
I REPEAT – DO NOT TALK TO THE POLICE.
Better still, PRACTICE NOW how you will not talk to them. Until you are REALLY GOOD.
Because you ARE really good.
---