This WINNING WEDNESDAY open thread is VERY OPEN – a place for everybody to post whatever they feel they would like to tell the White Hats, and the rest of the MAGA world.
You can say what you want, comment on what other people said, and so on.
Free Speech is practiced here. ENJOY IT. Use it or lose it.
Keep it civil. They tried to FORCE fake Orwellian civility on us. In response, we CHOOSE true civility to defend our precious FREEDOM from THEM.
Our rules began with the civility of the Old Treehouse, later to become the Wolverinian Empire, and one might say that we have RESTORED THE OLD REPUBLIC – the early high-interaction model of the Treehouse – except of course that Q discussion is not only allowed but encouraged, and speech is considerably freer in other ways. Please feel free to argue and disagree with the board owner, as nicely as possible.
Please also consider the Important Guidelines, outlined here in the January 1st open thread. Let's not give the odious Internet Censors a reason to shut down this precious haven.
Remember – your greatest gift to President Trump is FIVE WORDS:
I AM PRAYING FOR YOU.
Also consider The Non-Amended Wheatie's Rules:
No food fights.
No running with scissors.
If you bring snacks, bring enough for everyone.
The rule against shooting at the nukes has ANOTHER evening off.
---
Today's daily thread will be used to catch up on Q posts.
---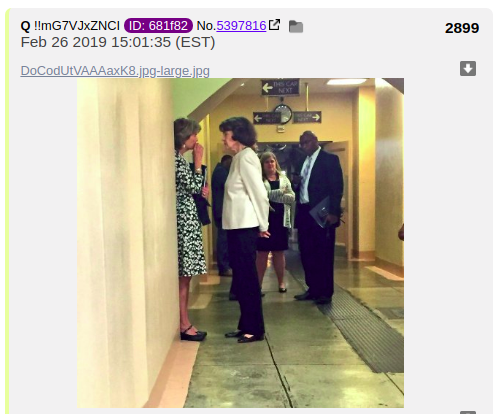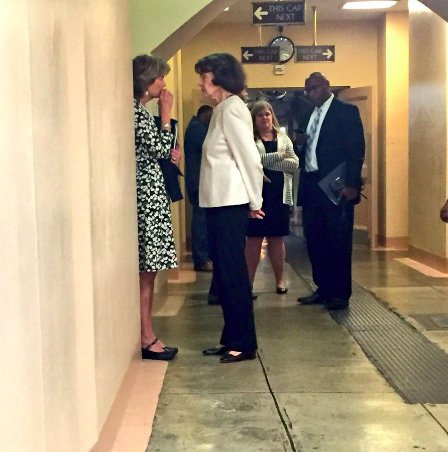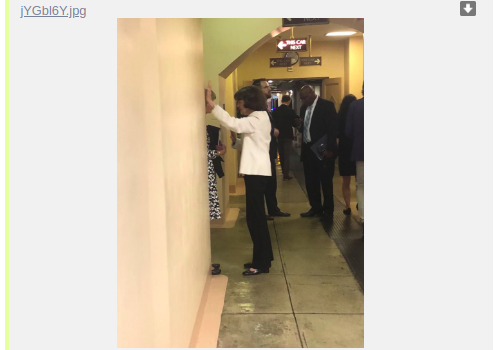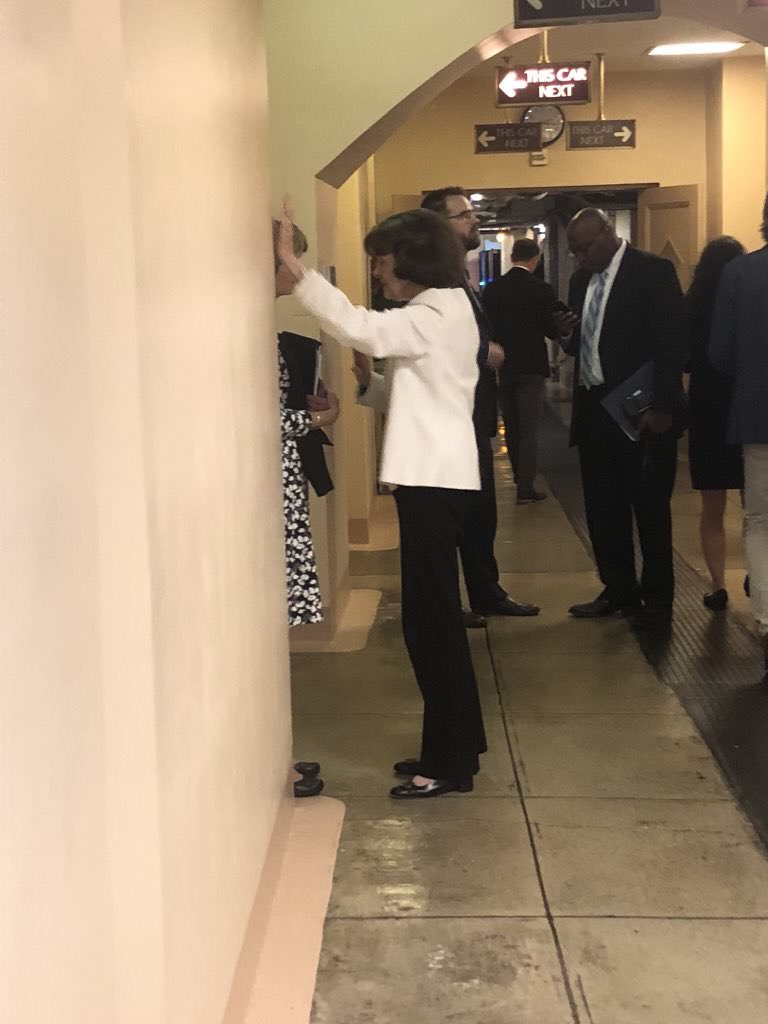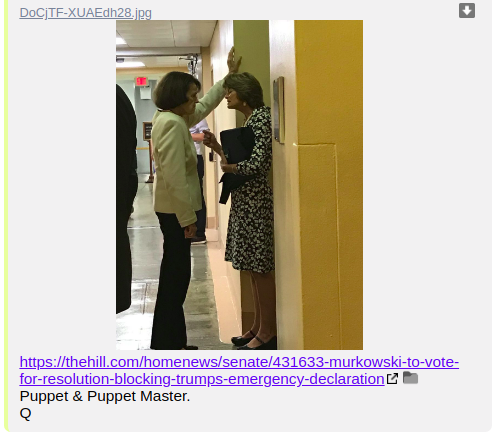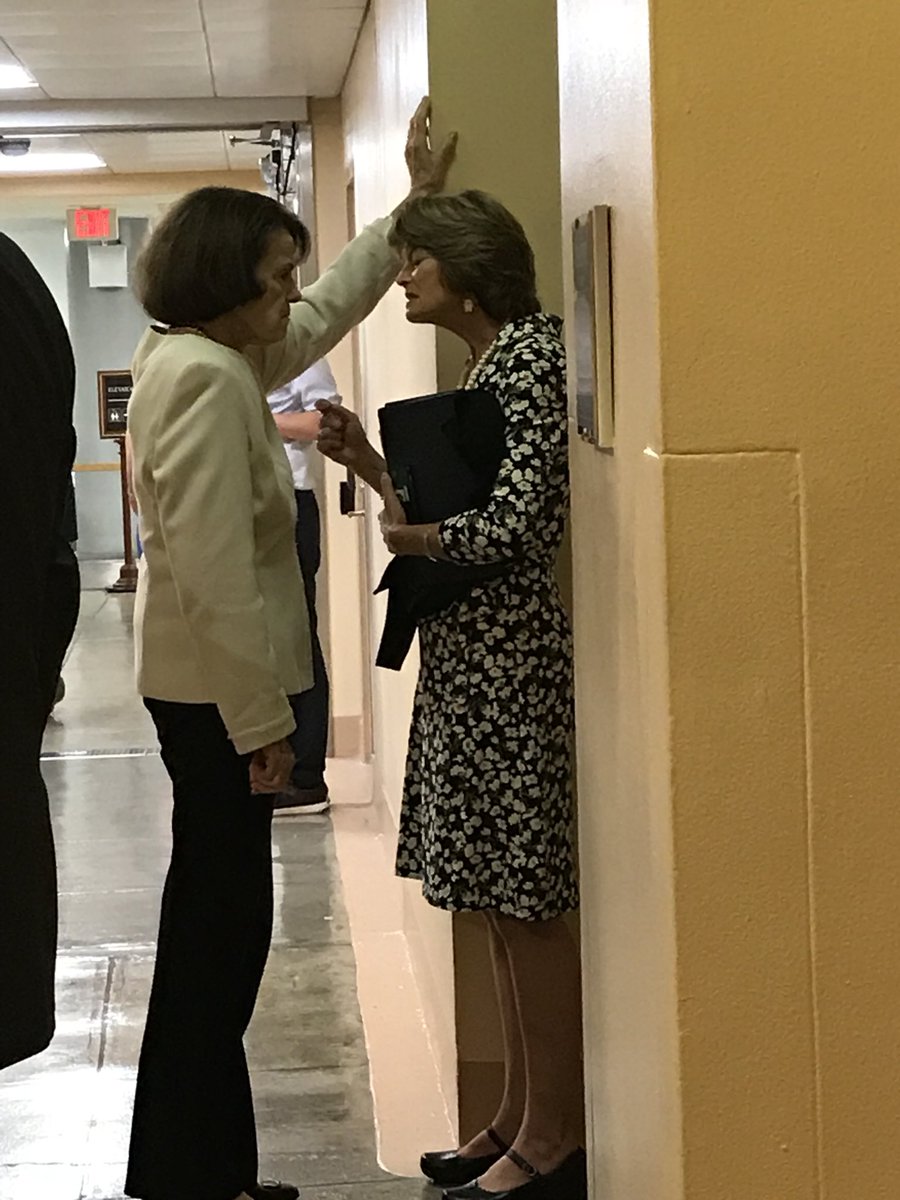 Q !!mG7VJxZNCI ID: 681f82 No.5397816 
Feb 26 2019 15:01:35 (EST)
DoCodUtVAAAaxK8.jpg-large.jpg
jYGbl6Y.jpg
DoCjTF-XUAEdh28.jpg
https://thehill.com/homenews/senate/431633-murkowski-to-vote-for-resolution-blocking-trumps-emergency-declaration
Puppet & Puppet Master.
Q

Q Post 2899
---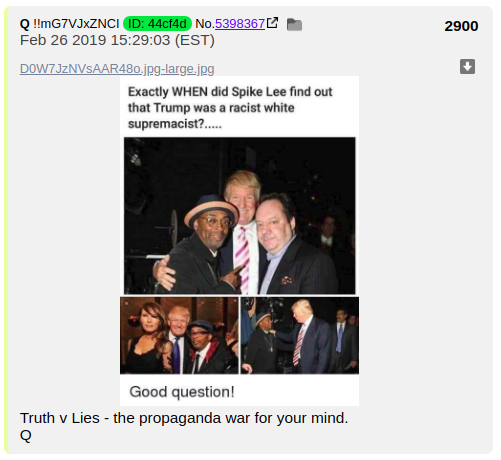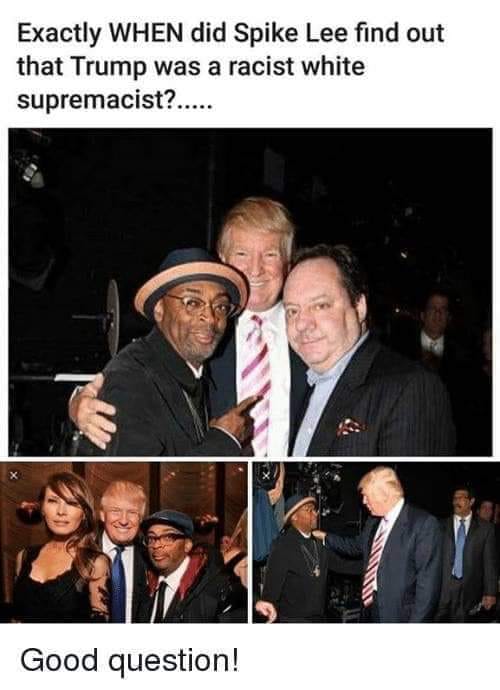 Q !!mG7VJxZNCI ID: 44cf4d No.5398367 
Feb 26 2019 15:29:03 (EST)
D0W7JzNVsAAR48o.jpg-large.jpg
Truth v Lies – the propaganda war for your mind.
Q

Q Post 2900
---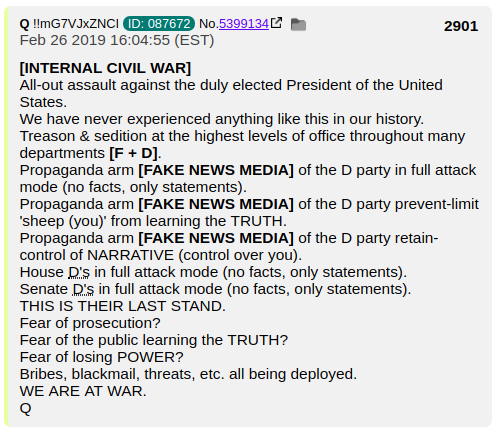 Q !!mG7VJxZNCI ID: 087672 No.5399134 
Feb 26 2019 16:04:55 (EST)
[INTERNAL CIVIL WAR]
All-out assault against the duly elected President of the United States.
We have never experienced anything like this in our history.
Treason & sedition at the highest levels of office throughout many departments [F + D].
Propaganda arm [FAKE NEWS MEDIA] of the D party in full attack mode (no facts, only statements).
Propaganda arm [FAKE NEWS MEDIA] of the D party prevent-limit 'sheep (you)' from learning the TRUTH.
Propaganda arm [FAKE NEWS MEDIA] of the D party retain-control of NARRATIVE (control over you).
House D's in full attack mode (no facts, only statements).
Senate D's in full attack mode (no facts, only statements).
THIS IS THEIR LAST STAND.
Fear of prosecution?
Fear of the public learning the TRUTH?
Fear of losing POWER?
Bribes, blackmail, threats, etc. all being deployed.
WE ARE AT WAR.
Q

Q Post 2901
---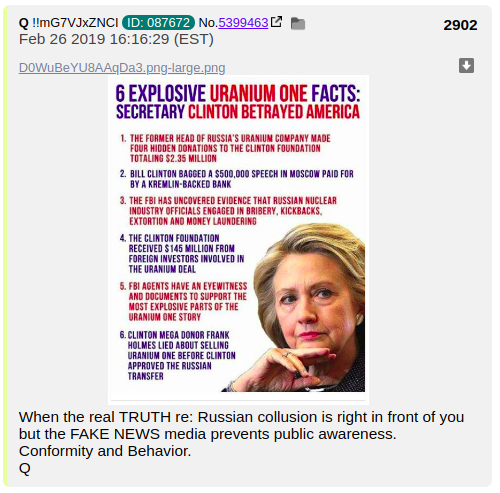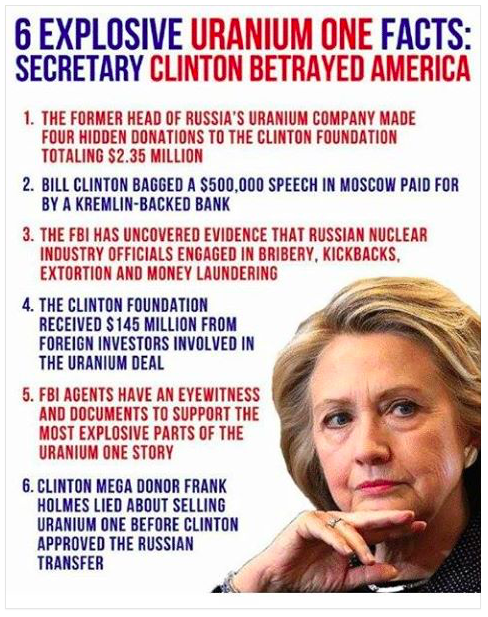 Q !!mG7VJxZNCI ID: 087672 No.5399463 
Feb 26 2019 16:16:29 (EST)
D0WuBeYU8AAqDa3.png-large.png
When the real TRUTH re: Russian collusion is right in front of you but the FAKE NEWS media prevents public awareness.
Conformity and Behavior.
Q

Q Post 2902
---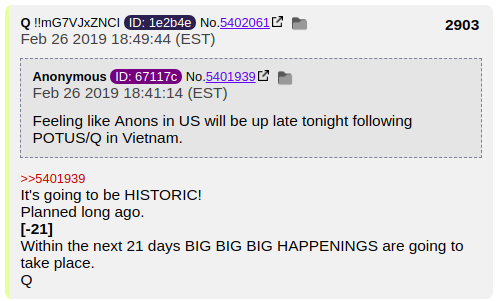 Q !!mG7VJxZNCI ID: 1e2b4e No.5402061 
Feb 26 2019 18:49:44 (EST)
Anonymous ID: 67117c No.5401939 
Feb 26 2019 18:41:14 (EST)
Feeling like Anons in US will be up late tonight following POTUS/Q in Vietnam.

>>5401939

It's going to be HISTORIC!
Planned long ago.
[-21]
Within the next 21 days BIG BIG BIG HAPPENINGS are going to take place.
Q

Q Post 2903
---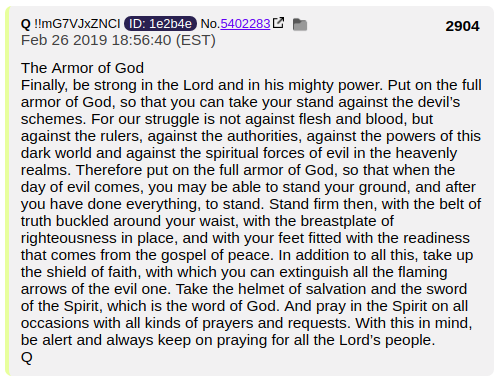 Q !!mG7VJxZNCI ID: 1e2b4e No.5402283 
Feb 26 2019 18:56:40 (EST)
The Armor of God
Finally, be strong in the Lord and in his mighty power. Put on the full armor of God, so that you can take your stand against the devil's schemes. For our struggle is not against flesh and blood, but against the rulers, against the authorities, against the powers of this dark world and against the spiritual forces of evil in the heavenly realms. Therefore put on the full armor of God, so that when the day of evil comes, you may be able to stand your ground, and after you have done everything, to stand. Stand firm then, with the belt of truth buckled around your waist, with the breastplate of righteousness in place, and with your feet fitted with the readiness that comes from the gospel of peace. In addition to all this, take up the shield of faith, with which you can extinguish all the flaming arrows of the evil one. Take the helmet of salvation and the sword of the Spirit, which is the word of God. And pray in the Spirit on all occasions with all kinds of prayers and requests. With this in mind, be alert and always keep on praying for all the Lord's people.
Q

Q Post 2904
---

Q !!mG7VJxZNCI ID: 57f18f No.5407223 
Feb 26 2019 22:54:56 (EST)
>>5406506

Test 5
Q

Q Post 2905
---
There you have it. More to be added if they appear.
Oh yeah, they're appearing. LOL!
---






Notice the weird out-of-order phenomenon – same as last time.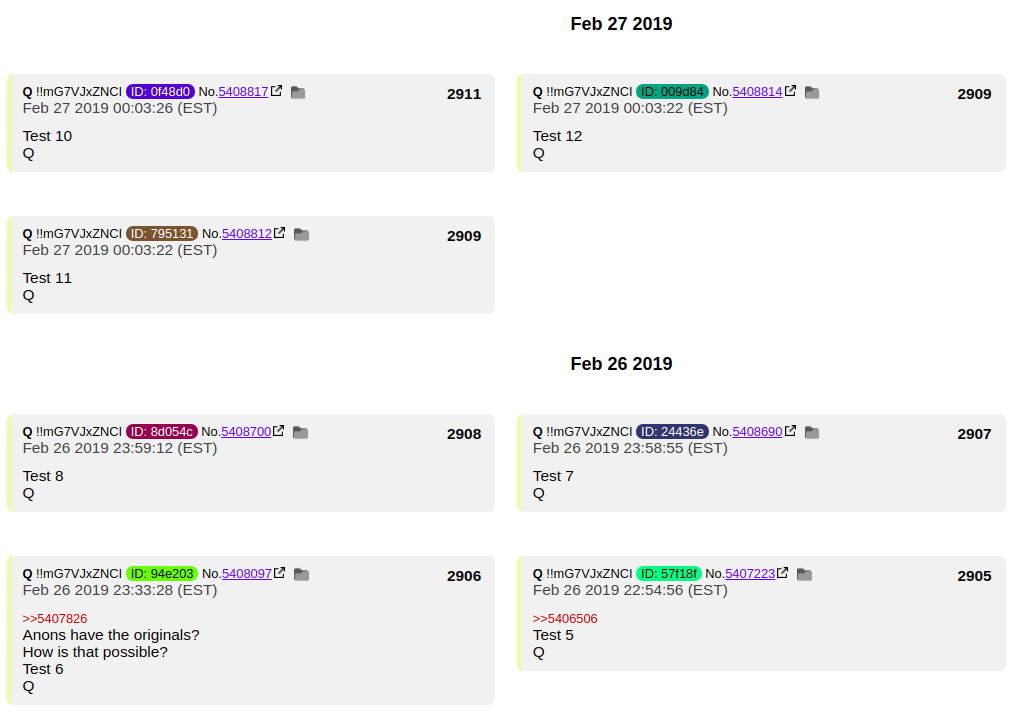 ---
W
What follows is one of the best descriptions of the communist media's "nickeling and diming" that keeps their sad FAKE COMPETITIVENESS in play. Donald Trump Jr. just NAILS the way they…..
FAKE IT TO MAKE IT.
In my opinion, the MSM and Democrats are now nothing but a CHICOM and RUCOM (remember – the communists operate FREELY in Russia) beachhead in America. They PRETEND to be what they are, and they have pretended since Stalin landed them in our media.