This FAKEBOOK FALLS FRIDAY open thread is VERY OPEN – a place for everybody to post whatever they feel they would like to tell the White Hats, and the rest of the MAGA KAG! world.
You can say what you want, comment on what other people said, and so on.
Free Speech is practiced here. ENJOY IT. Use it or lose it.
Keep it SOMEWHAT civil. They tried to FORCE fake Orwellian civility on us. In response, we CHOOSE true civility to defend our precious FREEDOM from THEM.
Our rules began with the civility of the Old Treehouse, later to become the Wolverinian Empire, and one might say that we have RESTORED THE OLD REPUBLIC – the early high-interaction model of the Treehouse – except of course that Q discussion is not only allowed but encouraged, and speech is considerably freer in other ways. Please feel free to argue and disagree with the board owner, as nicely as possible.
Please also consider the Important Guidelines, outlined here in the January 1st open thread. Let's not give the odious Internet Censors a reason to shut down this precious haven.
---
Always be able to tell our VSG this POWER STATEMENT in TRUTH:
I AM PRAYING FOR YOU!
---
AND WHAT TIME IS IT?
TIME TO….
DRAIN THE SWAMP
Our movement

Is about replacing

A failed

And CORRUPT

Political establishment

With a new government controlled

By you, the American People.

Candidate Donald J. Trump
---
Also remember Wheatie's Rules:
No food fights.
No running with scissors.
If you bring snacks, bring enough for everyone.
---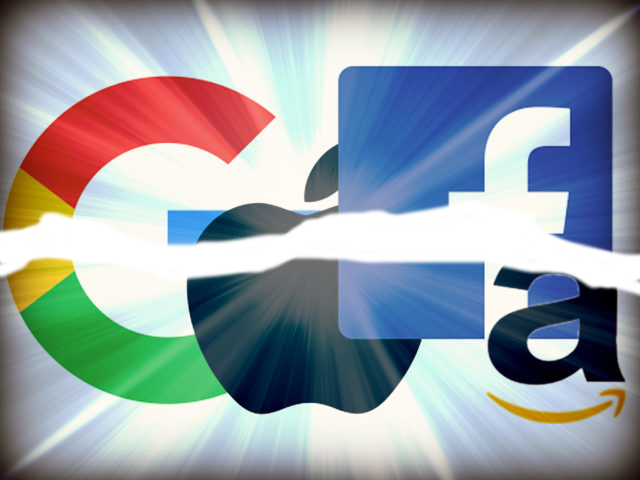 It is extremely gratifying to finally see the Silicon Valley Social Media Censors being taken to task by Senator Josh Hawley.
Link: https://humanevents.com/2019/06/19/senator-social-media-twitter-facebook-section-230-immunity/
This guy totally gets it. Silicon Valley is now a COMMUNIST THUG OPERATION, operating out of ENEMY TERRITORY in CHINA-OCCUPIED CALIFORNIA.
There was a point in time when people realized we needed to go after Section 230. I remember posting quite a bit about it. THAT was when we finally had some kind of idea WHERE to attack the beast. But BEFORE THAT, we merely recognized that something was WRONG with Silicon Valley, and they would have to be ORDERED not to censor – possibly even BROKEN UP.
Steve Bannon was the first on populism's side to prominently suggest this. What was NOT obvious THEN, but is extremely obvious NOW, is that the left's MASSIVE attacks against Steve Bannon began IMMEDIATELY AFTER he began talking "anti-trust" against Silicon Valley.
Now – after talking to Tonawanda today, I realize COMPLETELY how socialism in general, and Silicon Valley in particular, snuff out ideas that they don't like – by a very stealthy campaign to keep the discussion level of that item below some critical value that THEY UNDERSTAND.
SO – now that I understand how Google and YouTube are actually run by RED DIAPER SOCIALIST THUGS – certain things make sense – that these organizations might "farm out" the silencing of viewpoints they don't particularly want to reach whatever critical value they must not reach. And we all know that OUTSOURCING is actually a form of denial of "how it got done". When "methods" have to be used – why – just outsource! Outsourcing – oddly enough – turns out to be a form of the MAMET PRINCIPLE – "pretending not to know".
On July 30, 2017, I made the unknowingly risky decision to publish a piece SUPPORTING Steve Bannon's "radical" and "unthinkable" idea of reining in Silicon Valley censorship. It was based on the idea that SOME kind of "information anti-trust" was fully in line with Trump's form of populism – that this was almost DESTINY for the MAGA movement.
Link: https://wolfmoon1776.wordpress.com/2017/07/30/trump-the-information-trust-buster/
It was NOT HARD for me to figure out that, after ALL the left-provoking things I've risked over the Obama years, the FIRST EVER STAKING OUT of my lowly abode JUST MIGHT HAVE BEEN CONNECTED to that little article, and the surprisingly warm reception it got. (Don't trust the numbers on Twitter – more on that later.)
The intimidation actually got way worse, as in "classic thug type", but there is no way that I, personally, can positively connect it to Silicon Valley. But I simply assume that the threat came from there. I stepped on SOMEBODY'S hedge fund.
I should note that whatever I or others did in response, it ended the problem. For a while.
Great Awakening, baby. Think they don't use violence? Don't think they use threats? Think again. The bogus staged Charlottesville incident (August 11-12) and the Las Vegas Massacre (October 1) followed shortly after this.
Followed – thankfully – by the firing of Treasonous McCabe and the deployment of QAnon, due to – in my opinion – militarily significant actions by the communists in conjunction with a politically motivated COUP ATTEMPT using the FBI and the Soviet American media.
Vegas was the last straw for "puttin' up with the coup". And I'm very glad people did what was needed after that, to end that bullshit.
Go on from there, to see how I was "awakened" to censorship at Twitter. This is actually a lot of fun to read, because in it, I am SPECULATING WILDLY about all sorts of stuff that we now know was not just true, but RIDICULOUSLY TRUE. Oh, man, that was fun.
Link: https://wolfmoon1776.wordpress.com/2018/01/13/how-hillary-turned-tech-against-trump/
From there, I eventually got on the "230" bus, almost a year later. Here is a nice thread:
Archived here: https://threadreaderapp.com/thread/1034468267056930816.html
Clearly, BANNON'S idea of actually CHALLENGING Silcon Valley took hold. Red Diaper Sergey and Google pulled back from China to Communist California, and – well – now we can see that….
IT TAKES A VILLAGE OF PATRIOTS ON THE INTERNET TO SPREAD THE WORD TO EVERY OTHER VILLAGE OF PATRIOTS IN REAL LIFE.
Heck – I may just have a Sam Adams.
And ponder the beauty of my new favorite composite number, 230.
W