Kalaallit Nunaat – Start practicing how to say it.
You have to admit, never, ever, in a million years, did you EVER think the Trump Presidency would be THIS GOOD. Admit it, come on, admit it, no one saw this coming.
Mid-afternoon yesterday, we were all getting ready for the Trump Rally in Manchester, NH. I checked Twitter for new pics from our supporters and noticed a WSJ article about President Trump trying to buy Greenland. Link Full Stop. Huh? He wants to buy a country?
Buying a country? Hehe, yeah baby – There's your new GREEN Deal!!!!
The WSJ article went on to explain the idea is not as far-fetched as it sounds. Apparently, the USA tried to buy Greenland in 1867. Again, in 1946, Truman offered 100 million dollars for Greenland, but the Danes turned us down. Greenland is an
"autonomous region" owned by Denmark.
The WSJ continued. Apparently, President Trump was at a round table, meeting with leaders, somewhere, when the subject of Greenland came up. Denmark subsidizes the 50K+ residents of Greenland to the tune of 591 million dollars, annually. The drain on Denmark's purse was causing strain. Someone asked Trump if he was interested. President Trump turned the question back to the table and replied, "What do you think?"
Well, if the largest island in the world is a distressed asset, a fixer-upper, and in a great location, who else but Donald Trump could put the deal together? One tidbit, the residents of Greenland are not allowed to buy land. They only have the use of the land, to build a home/biz, whatever. The land still belongs to Denmark, making such a transaction much easier.
Well, it may have been an offhand joke at the time, but the WSJ is reporting President Trump came home and asked his WH Counsel to look into the idea. Additionally, the WSJ reports President Trump has brought up the idea of purchasing Greenland several times in Cabinet meetings. The USA has a Treaty with Denmark giving the USA almost unlimited access and use of Greenland. Treaty has been updated and amended a few times take a look at latest revisions here. Link
By the time the Trump Rally was over, about 8:40pm Eastern time, CNBC posted an article about Greenland and also referred back to the WSJ article. Link
I woke up to let the dog out about 4:00am Eastern (bewitching hour for the east coast media), and was still thinking about how terrific the rally was last night. The first 9 tweets were all about Greenland, including this one.
In fact, Greenland is now TRENDING on Twitter.
Of course, the left is knee-jerk opposed to the idea………. but in a desperate kind of way. It's hilarious to watch.
The replies and responses are pure gold!
The MSM has clearly been caught with their pants down. Pundits can't talk and they are stuttering without approved talking points from (whomever sends the talking points).
Meanwhile, others are looking at the idea seriously. This morning, suddenly, everyone is talking about GREENLAND. We want to know EVERYTHING about Greenland.
Here's a map to get you oriented: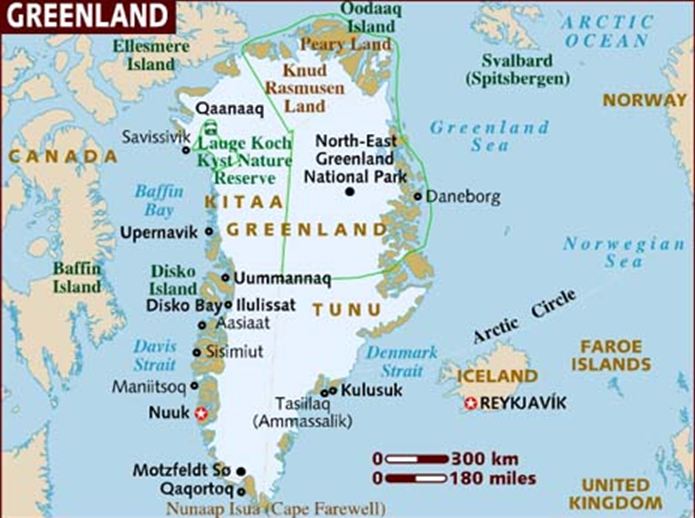 Found this article, written by Rick Mills, which is excellent: Link Rick's motto is " As a general rule, the most successful man in life is the man who has the best information"
Good Motto, we need good information. Here is some basic background about Greenland from Rick.
The population of Greenland is 56,648 with 14,719 inhabitants living in the capital Nuuk (formerly Godthab). The majority of Greenland's population live in towns along the fjords in the southwest of the country where the climate is relatively mild. The second largest city is Sisimiut, followed by Ilulissat and Qaqortoq.
Whoops, this might be a problem…..
Greenland has had "Self Rule" since June 21, 2009 (including control over minerals and petroleum) – which means that the country has assumed making the political decisions that previously come from Denmark.
Did Obama agree to giving away our stake in Greenland? Kangerlussuaq (Søndre Strønfjord) in the West or Narsarsuaq in the South, were American air bases. We still have Thule Air Base in Greenland. From the WSJ article, Pompeo was scheduled to visit Greenland in May, but the trip was canceled in because of tension with Iran. Hmmmm….
In Greenland, the story is all about minerals and natural resources. Yet, we might have another problem……. because of Greenland's new autonomous rule, but owned by Denmark. Gee Whiz, might be why the WH Counsel is looking into it. Greenland's constant reliance on Denmark for 'grants' and subsidies, is straining the relationship.
The BMP is the authoritative body for all administration in relation to the mineral resources industry in Greenland. Licensees only have to apply to one place to obtain all their necessary licenses – the BMP is very much a 'one stop shop' – ensuring efficient administration in the area of mineral resources. The BMP has the regulatory authority to review, evaluate and approve all SIA's, licenses and facilitate public hearing processes.

….. The BMP took over from the Danish authorities in 1998. (my emphasis added)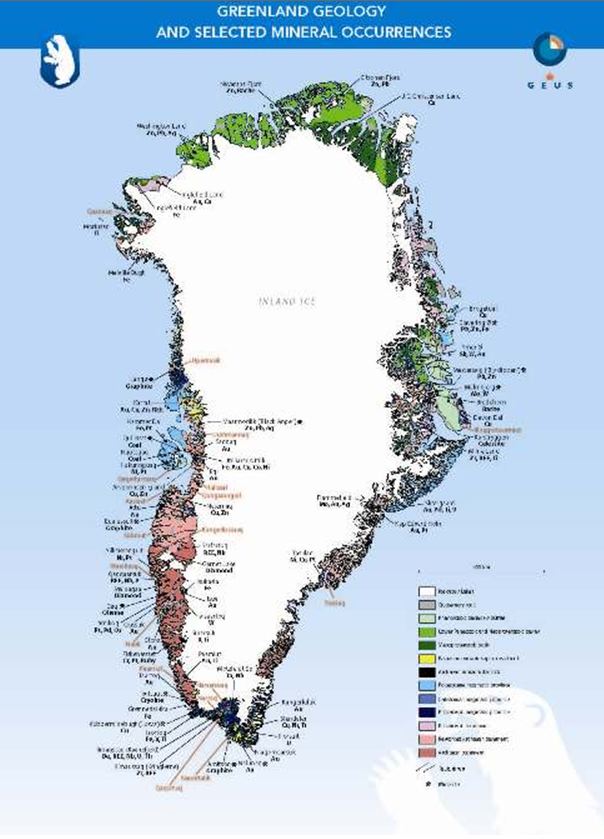 Rare earth's, coal, lead, zinc, silver, diamonds, and exploration of gas and oil makes Greenland very tempting.
*Greenland's geology is continuous with that of Canada and Northern Europe. It includes:

Archaean cratons – potential for diamonds, gold, REE
Paleoproterozoic mobile belts – potential for base metals, PGE's, gold and tantalum
Lower Palaeozoic sediments – potential for base metals
Carboniferous Cretaceous sediments – potential for coal
Lower Tertiary intrusive complexes, the Skýrgaard intrusion being the most important in terms of gold and PGE potential

Greenland's offshore geology is highly prospective for petroleum. The United States Geological Survey (USGS) estimated, in 2007, that the East Greenland Rift Basins Province could hold over 31 billion barrels of oil, gas and natural gas liquids. The USGS also estimated that the waters off Greenland's west coast could contain more than 110 billion barrels of oil (roughly 42% of Saudi Arabia's reserves).
For anyone who thinks President Trump is crazy, take a look at what the CEO's are doing. Yeah, they already know………
ExxonMobil, Chevron, Husky, Encana, the UK's Cairn Energy and Denmark's Dong Energy are among the companies that have either already won or applied for exploration licenses from Greenland's Bureau of Minerals and Petroleum for acreage.
And finally, here is the hook, and probably why our VSG is pondering the idea.
But how will Greenland pay for the responsibilities it may eventually take over from the Danish state? The main challenge to securing greater self-government is overcoming the reliance on the annual grant Greenland receives from Denmark and replacing it with revenues generated from within the country. Mineral mining and oil and gas production would ease this dependence. Fortunately Greenland is highly prospective for minerals and is hugely underexplored – the country is a new, and one of the last, frontiers for mineral and petroleum exploration.
Greenland is still reliant on Denmark, and Denmark is tired of paying for Greenland….. enter……. President Trump.
It's such a PRETTTyyyy country.
And development would make America WEALTHY again….. Hmmmm…..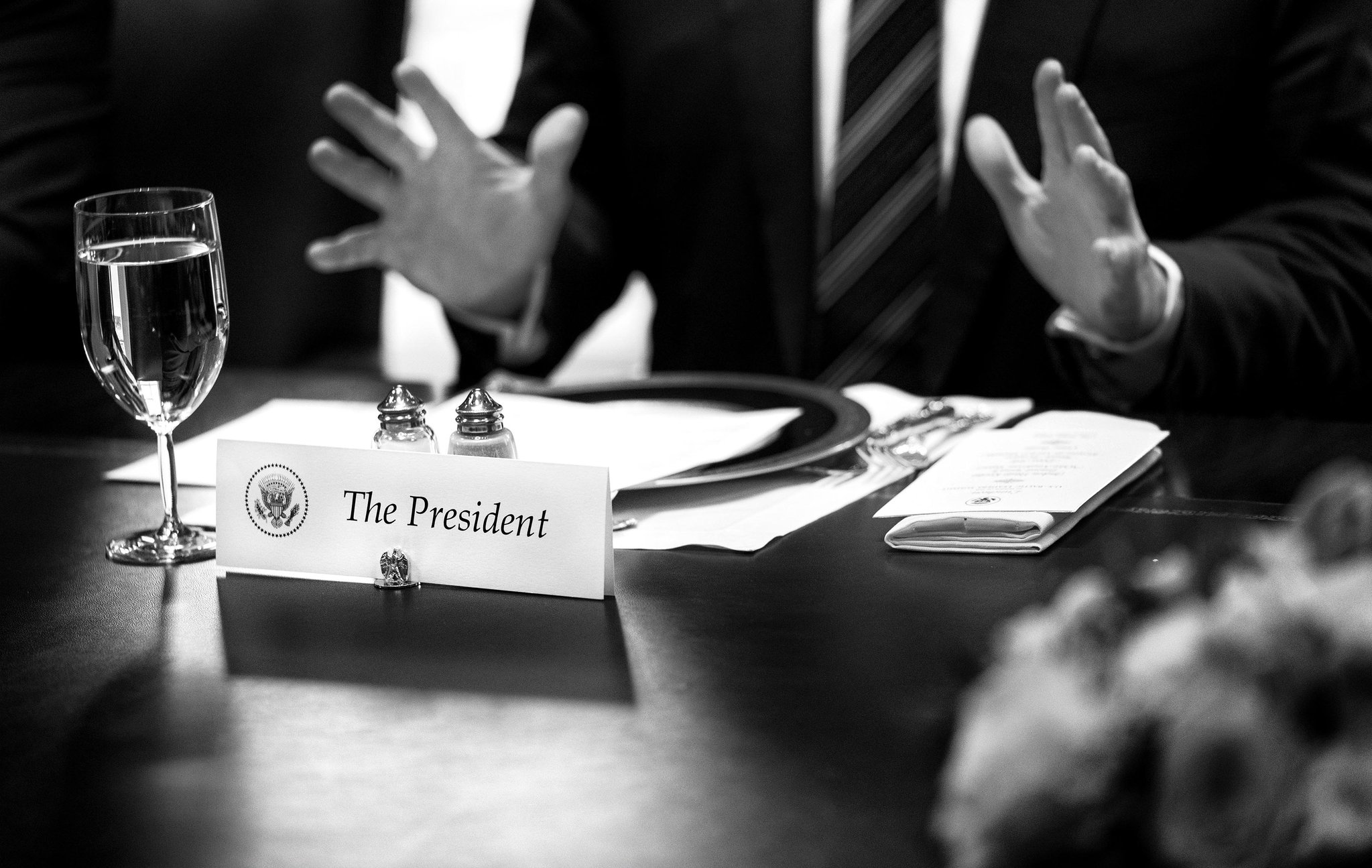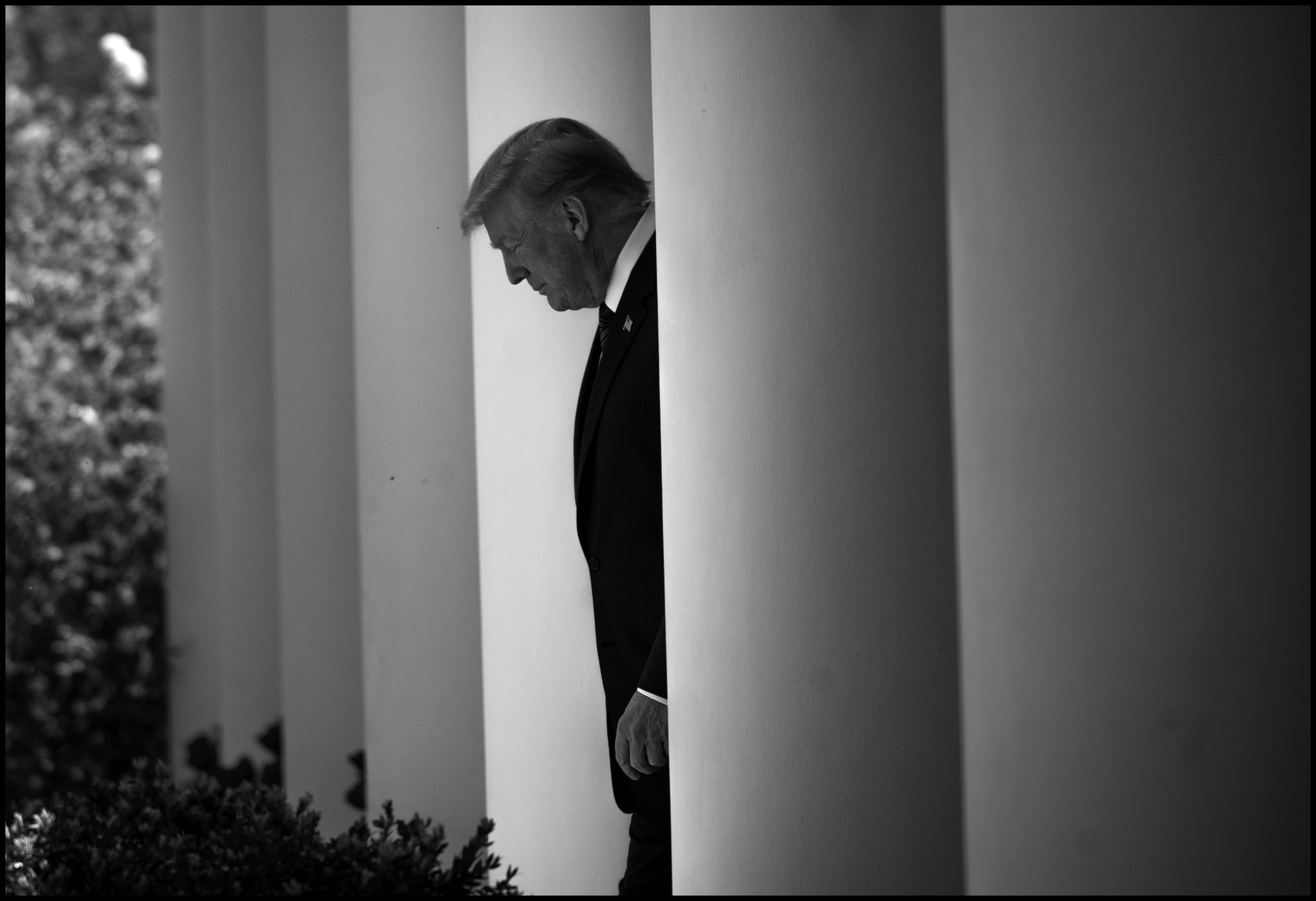 He's thinking about it……..
This morning, is was 63 degrees in south Greenland at 4:00AM Eastern time. Want to visit Greenland?
Here's their tourism website. Pack well.
Here is an hour long documentary about Greenland. The ice is 3 kilometers thick in some areas. And hey, with all the talk about Climate CHANGE, maybe we could get AOC to move to Greenland??????? Maybe? The video is great and the photography is spectacular.
What do you guys think?????