PUBLIC THREAD: Because this is meant for public consumption, I will refrain from the usual colorful language of our work threads, where I normally don't give a damn. I want people in Washington to see this article with NO EXCUSES to look away.
---
Consider this article a terrorist device – an information land-mine – which I have placed INSIDE the Washington Monument, up near the top, from where its DEADLY SAVING RAYS will pass harmlessly through all TRUTH-TELLERS and will BURN LIARS, SCOUNDRELS, and SEDITION-ASSISTING FAKE NEWS JOURNALISTS.
It's on, brothers and sisters. I say as I listen to the choppers outside my window, somewhat earlier than usual.
If you have not followed my initial outrage at Andy McCabe getting "no charges" for lying to the OIG, or the slow "coming to realization" over three more decreasingly outraged and increasingly savvy posts, then here you go – follow my schooling in the construction of information terror devices:
---
---
Within these posts, there is critical information from SUNDANCE over at The Conservative Treehouse. However, there is NEWER information from Sundance which is even MORE helpful to understand where I'm at right now.
I believe it is EXTREMELY USEFUL to read this Sundance post, in order to put the big picture together. Sundance and I are seeing the same reality from two different vantage points. Once you understand it all, Sundance ends with a very helpful metaphor for the current situation.
Please read it NOW, and then I will restate the metaphor for your convenience.
(Full Stop – read the Sundance piece, linked above.)
Here is the metaphor / prophecy / orders from Trump transcribed by Sundance / whatever:
The seditious group filled the DOJ fire truck tanks with gasoline, and then they lit the House on fire. General Flynn is trapped on the roof…. The neighborhood is shouting at fire Chief Barr "put out the fucking fire you idiots", and wondering why everyone is just watching the House burn. Meanwhile, there's several firefighters who know what's in the tanks, and they are standing, smiling, hoses at the ready, cheering-on the angry shouts from the crowd…

[pot-stirring tweet by Devil N. Barrett – i.e., this guy is one of the arsonist FAKE firefighters]

[two Trump tweets breaking out the Zippo – i.e., justice is coming, FAKE NEWS]

President Trump says: Point the compromised firehoses at the smiling firefighters while making them hold the Zippo's… then watch what happens.

The only way I can see out of this mess; the one crack in the current lock box; is the FISA court order for the DOJ to present the identified downstream consequences from fraud upon the court. The FISC might actually be the ladder truck here. With the DOJ and FBI currently assembling the investigative consequences, ie. the sequestration material, Flynn's current legal status might be identified as an outcropping of fraudulently obtained FISA warrants.

Let's hope those on the sequestration mission can return the information prior to the flames reaching the roof…

Sundance at The Conservative Treehouse
SO – if you're following all that, and not "playing stupid" like a typical lefty journalist, and not afraid to talk in a bit of "Q lingo", then you realize that what Sundance is describing is remarkably similar to "The Plan". But I'm starting to agree with Sundance that we should not simply "rely" on The Plan. In fact, we may find it prudent to MAKE OUR OWN PLANS – if only because INDEPENDENCE is being taught to us again.
Now – having been sent on a bit of an emotional "ride" by the Soviet Fake News, which published information about McCabe WALKING, but without stating the OBVIOUS REASON, I have chosen to extract my payback by rubbing the Pinocchio nose of the Fake News in THAT OBVIOUS REASON.
If you have been following our WORKING THREADS here, then you, too, know the obvious reason.
McCabe drops his suit against FBI and DOJ
almost at the same time, Barr announces that Durham is now a CRIMINAL investigation
later, DOJ announces no charges or further legal action against McCabe
Now, before I GO THERE, I want to first thank fellow Q Tree denizen trumpismine for a link to information which explained much of the FIRST two items in the list. I also want to thank three of the many people on this site – JasonD, michaelh, and Gail Combs – who proved very strongly that the DOJ has an irrefutable CASE against McCabe – that guidelines clearly call for charges.
So HERE is where we get into the meat of our accusation against the mainstream media.
We all know that the [recused] Sessions DOJ tried strongly to not only plug leaks, but to punish leaks, and to prevent new ones – and ultimately they did. The Rosenstein-Liu DOJ – not so much, with the James Wolfe leak going unpunished and covered up. Otherwise, a pretty tight ship.
But next to AG Barr, these previous DOJs look like SIEVES. AG Barr and Director Wray have PROVEN that they can keep a strong lid on investigations. Whatever you might think of these two, they have brought back the GOLD STANDARD of the old DOJ-FBI in terms of keeping ongoing investigations on the DOWN LOW. If you don't respect it, you're not paying attention.
This means, quite simply, that the reason we are not hearing leaks about "things" going on inside DOJ and FBI, is almost with complete certainty because they are running a TIGHT SHIP once again.
SO – IN THAT CONTEXT – if you combine the mysterious three items in the list above – [ 1 + 1 + 1 ] – there is no question what the answer is.
McCABE TOOK A DEAL.
And we're not talking about a "deal" that involves getting an extra scoop of ice cream at a White House function. We're talking about TALKING.
Let me spell this out so that even a CIA embed at the Washington Post like GUILTY SPYGATE HACK Devil N. Barrett can understand this.
Former FBI Deputy Director Andy McCabe is testifying against his superiors and others:
certainly James Comey
likely Loretta Lynch
probably John Brennan
certainly White House officials (remember Page/Strzok texts)
possibly Congressional aides
certainly the media contacts who understood the falsehoods being promoted
Oh, wait – wasn't there some conspiracy theory about this called "QAnon" or something?
SHEESH!
Look, friends. It is ONE THING for us to sit here and talk amongst ourselves about all this stuff, but as far as I'm concerned, that is OVER. The FAKE NEWS trolled us with "McCabe No Charges", when THEY KNEW THE TRUTH AND HID IT.
So now it's time to take our ORDERS from TRUMP, as TRANSMITTED and TRANSLATED by Sundance:
President Trump says: Point the compromised firehoses at the smiling firefighters while making them hold the Zippo's… then watch what happens.

Sundance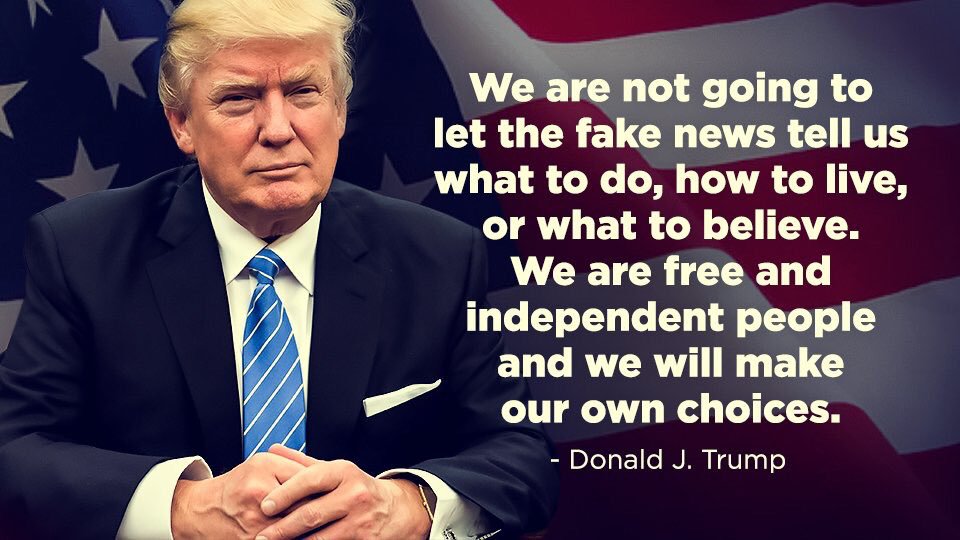 So that is what I'm doing. It is time to make these Fake News Bastards (whoops, sorry) print the truth about what is happening in SpyGate.
I mean, you wouldn't want to drop this meme on Devil N. Barrett's timeline.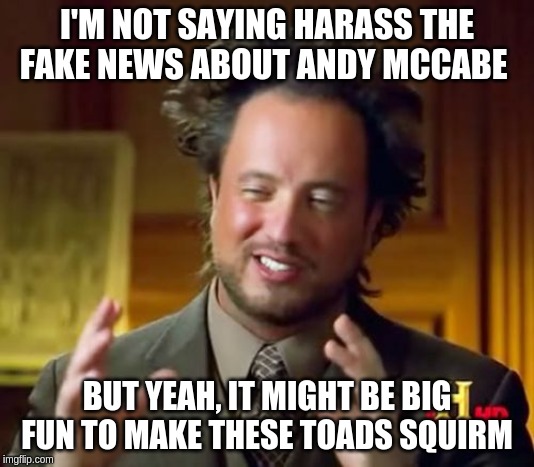 Or this one: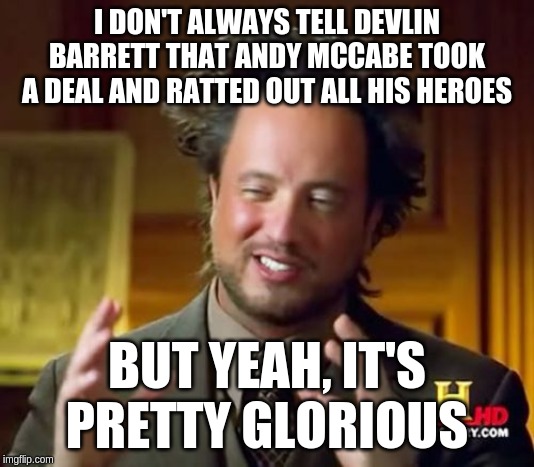 Or especially this one: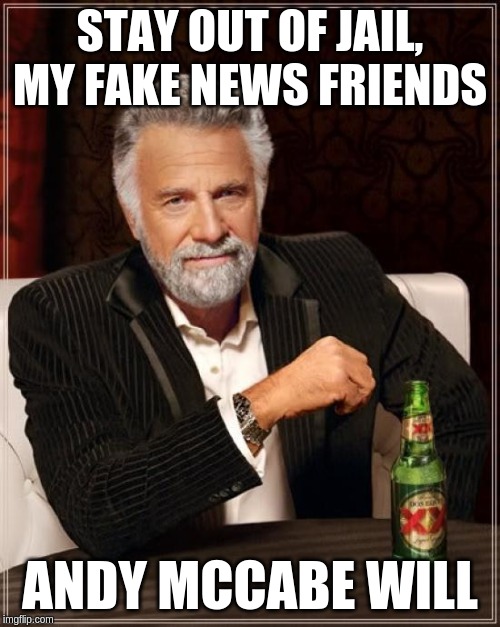 Here's to you, Ratseclisa. NOW I understand why I accidentally named you that.
W
PS – all of the above is stated CONFIDENTLY despite THIS BULLSHIT PSY-OP fed through Andrew McCarthy of the National Review to the contrary (and also laughingly at the last minute):
LINK: https://www.zerohedge.com/political/why-wasnt-andrew-mccabe-charged
Yeah, right, you stupid hack footstool-bearer of Trotskyist pseudo-cons. SPARE ME. Don't give me that complicated, hand-wringing, bu-bu-bu-bu-bu…. bullshit. Tell your idiot berg-bosses that STALINSKY and her COUP CREW still have an ice pick for them. GROW UP!
For you, Deep State Coup plotters, it's TOO LATE. No more lies. You coup plotters are going DOWN. Your desperation is showing. Now you must LIVE YOUR FEAR OUT IN THE OPEN.
And for YOU, Media Muffins, there is NO MORE RESPECT as long as you are FAKE NEWS. Start telling the truth or GO DOWN WITH THE COUP.