Seeking the Truth About Joe Biden's Two Marriages
What follows is not exactly what I thought I would write, originally. I didn't know where, exactly, this would go. I'm not even sure now, that it went where it went. It's almost too unbelievable. We may be looking at so many lies, the truth may never be found.
Or maybe it will be found, and very soon, and it will be EXTRAORDINARY.
Buckle up. We are now in uncharted territory.
---
1 – The Cheaters
Something really stinks about Joe Biden. I knew there was something strange about his relationship with Jill, after his first wife's death in a car accident. I couldn't really put my finger on it, until I read a piece by the guy who was Jill's first husband. He claimed that Jill had an AFFAIR with Biden that broke up their marriage.
---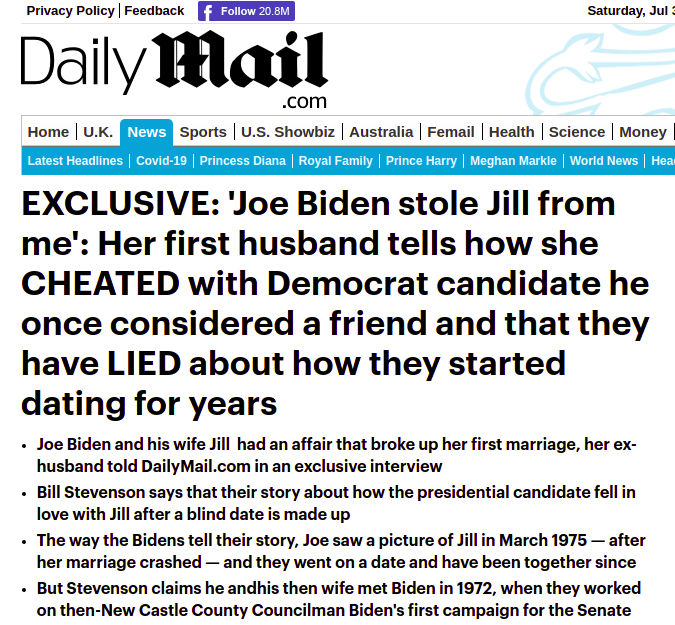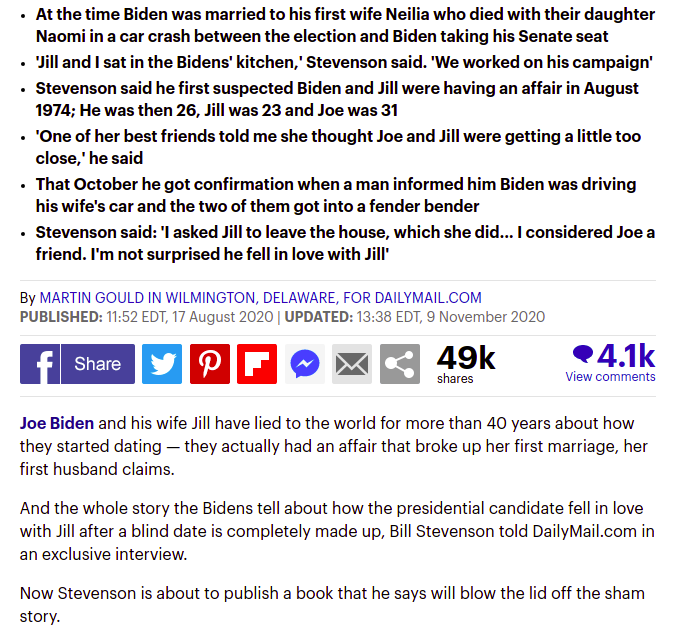 LINK: https://www.dailymail.co.uk/news/article-8635281/Jill-Biden-cheated-husband-Joe-ex-claims.html
ARCHIVE: https://archive.fo/BOn8i
---
That almost settled things, but I was bothered by the fact that the first husband seemed so POSITIVE toward Biden, despite him breaking up their marriage. That is not entirely impossible – but still, there was something strange about it that just bothered me.
Now, the thing is, the dates leave open a LOT of possibilities – including the possibility that the affair between Jill and Joe starting BEFORE Biden's first wife Neilia died. And THAT gets ugly.
But I had no idea HOW ugly.
SO – I was already suspicious that things were weird.
But THEN I saw an allegation that Joe and Jill got involved EVEN EARLIER.
Say WHAAAAT?
Sounds like rampant nasty speculation to me, but still, things ARE weird in HAIR-SNIFFER PARADISE.
Actually, I got to THAT tweet through an even more shocking tweet – a reply to it.
Let's just save that image…..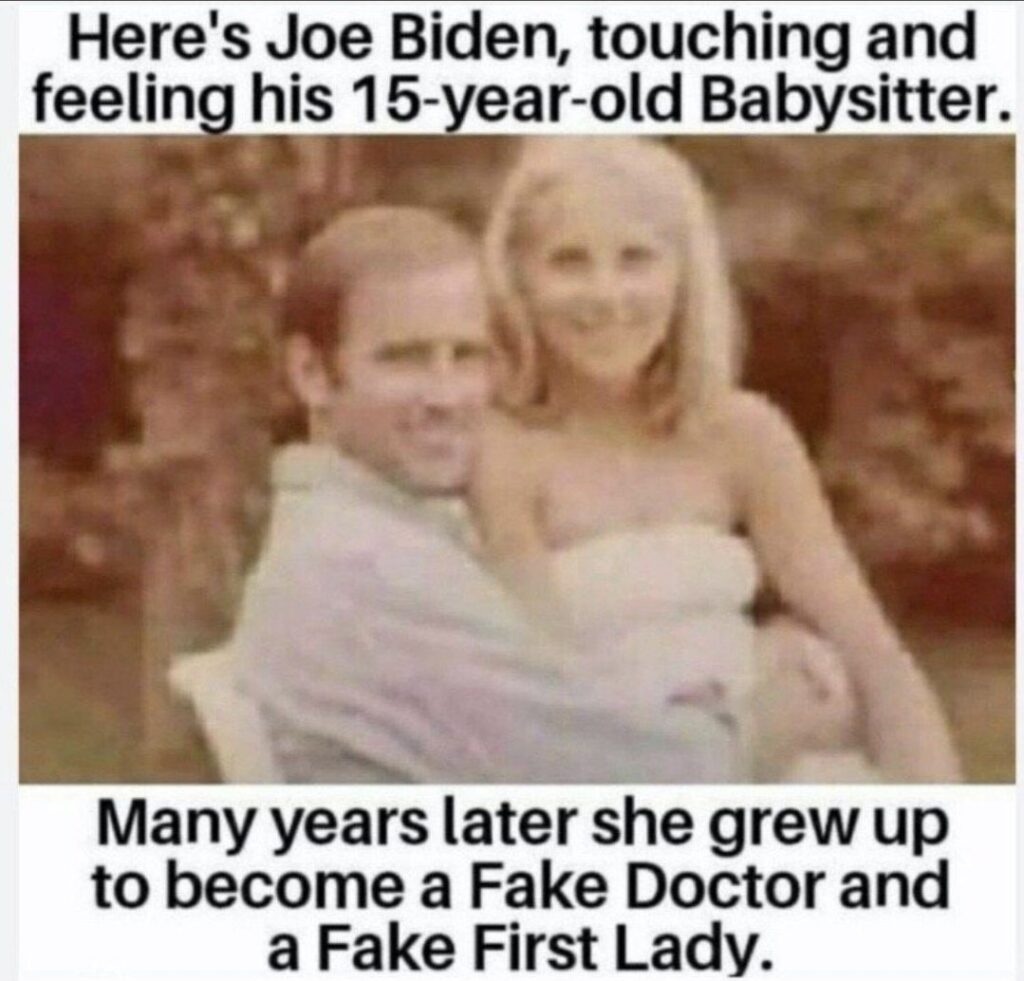 In fact, let's save that tweet, too…..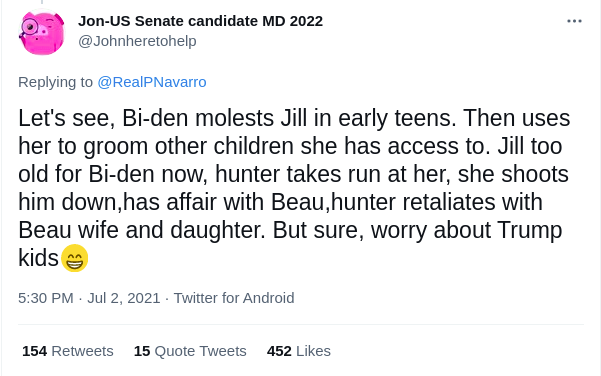 And then there was ANOTHER one in the thread.
THAT is a much better picture!
Heck – let's save that, too.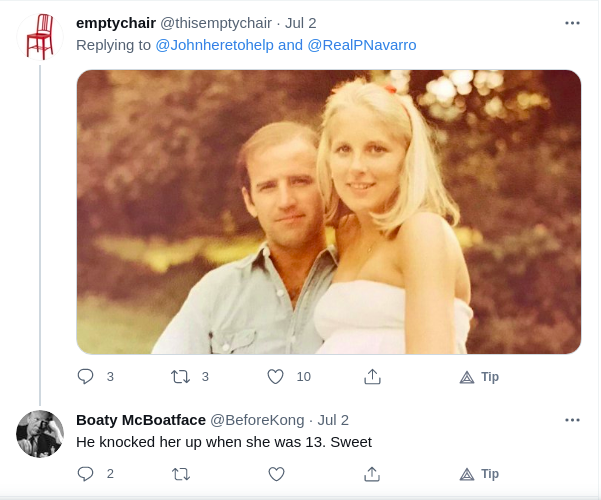 Replies to this tweet include assertions that this was taken when Jill was divorced and Neilia was gone, as well as that it was photoshopped.
Seems like an insoluble mess, right?
---
2 – Finding The Photo
Well, the truth is, this picture appears in a German online magazine, and was allegedly posted by one of Jill's granddaughters on Twitter.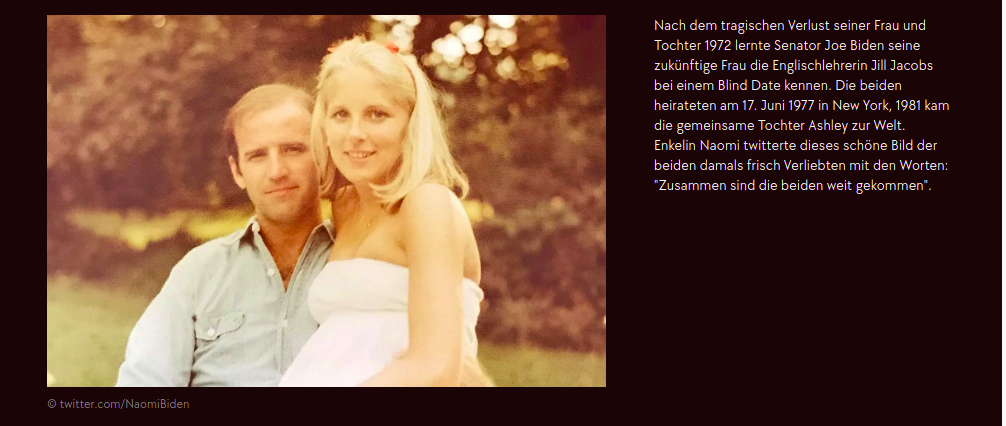 https://www.gala.de/stars/news/first-family-der-usa–das-fotoalbum-der-familie-biden_22350110-22349236.html
Nach dem tragischen Verlust seiner Frau und Tochter 1972 lernte Senator Joe Biden seine zukünftige Frau die Englischlehrerin Jill Jacobs bei einem Blind Date kennen. Die beiden heirateten am 17. Juni 1977 in New York, 1981 kam die gemeinsame Tochter Ashley zur Welt.
Enkelin Naomi twitterte dieses schöne Bild der beiden damals frisch Verliebten mit den Worten: "Zusammen sind die beiden weit gekommen".
Translated:
After the tragic loss of his wife and daughter in 1972, Senator Joe Biden met his future wife, English teacher Jill Jacobs, on a blind date. The two married in New York on June 17, 1977, and their daughter Ashley was born in 1981.
Granddaughter Naomi tweeted this beautiful picture of the two newly in love with the words: "Together, the two have come a long way".
Naomi is identified here:
Let's just save that tweet…..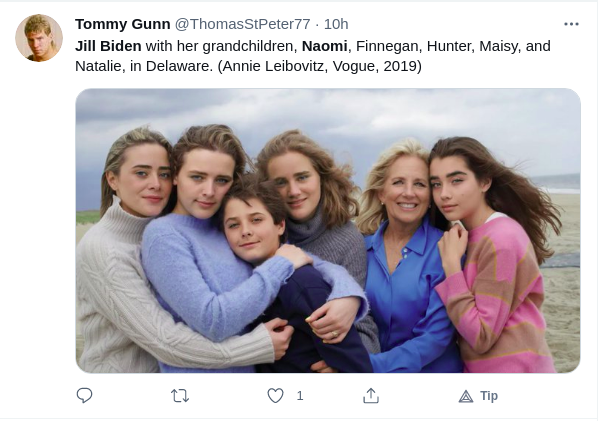 Let's just save that picture: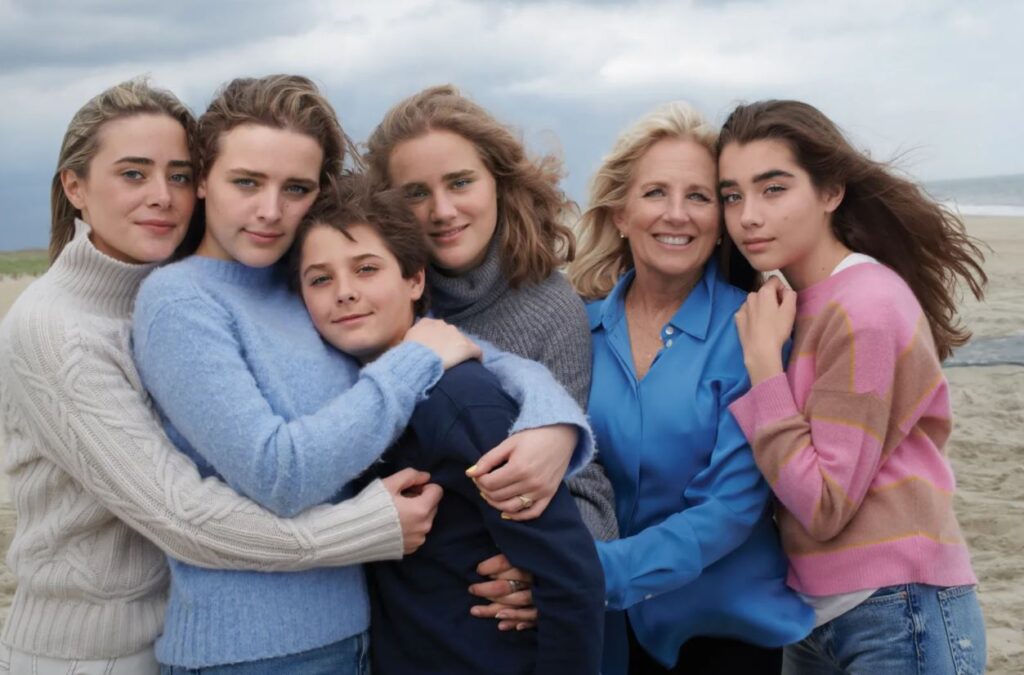 Looks like a nice family. Just sayin'.
Her name is Naomi Biden. Examples:
Turns out that she's on Twitter as (at)NaomiBiden, and she's a chip off the old block.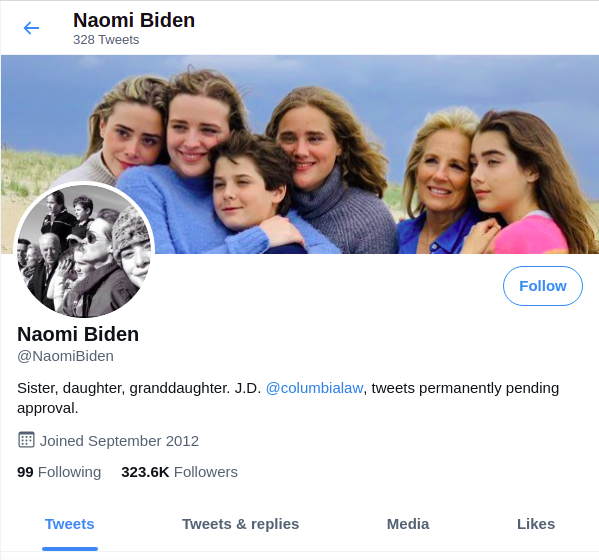 Remember that I told you that the reason that the ONE "fraud state" exception to THIS: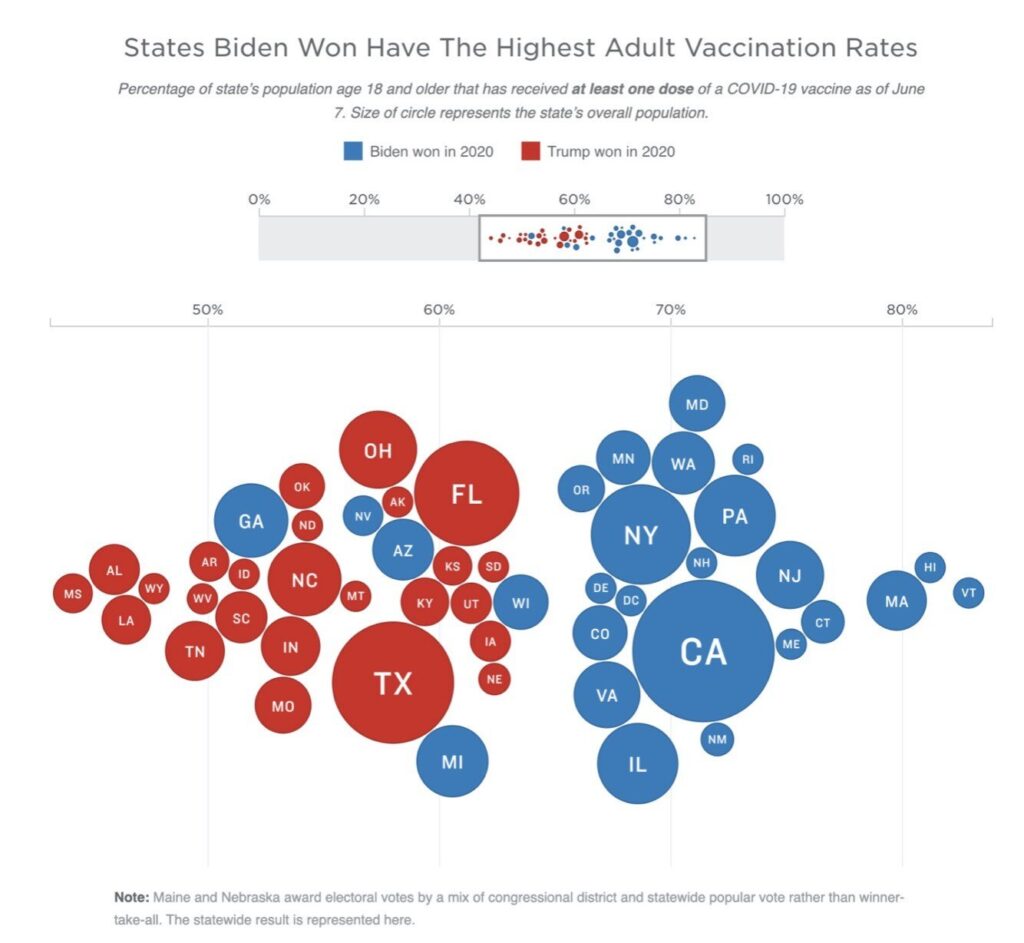 ……was because PENNSYLVANIA needed to LOOK GOOD on vaccinations?
There you go. Straight from Biden's granddaughter's mouth. When THE PARTY needs you to look good, other party members make sure it happens.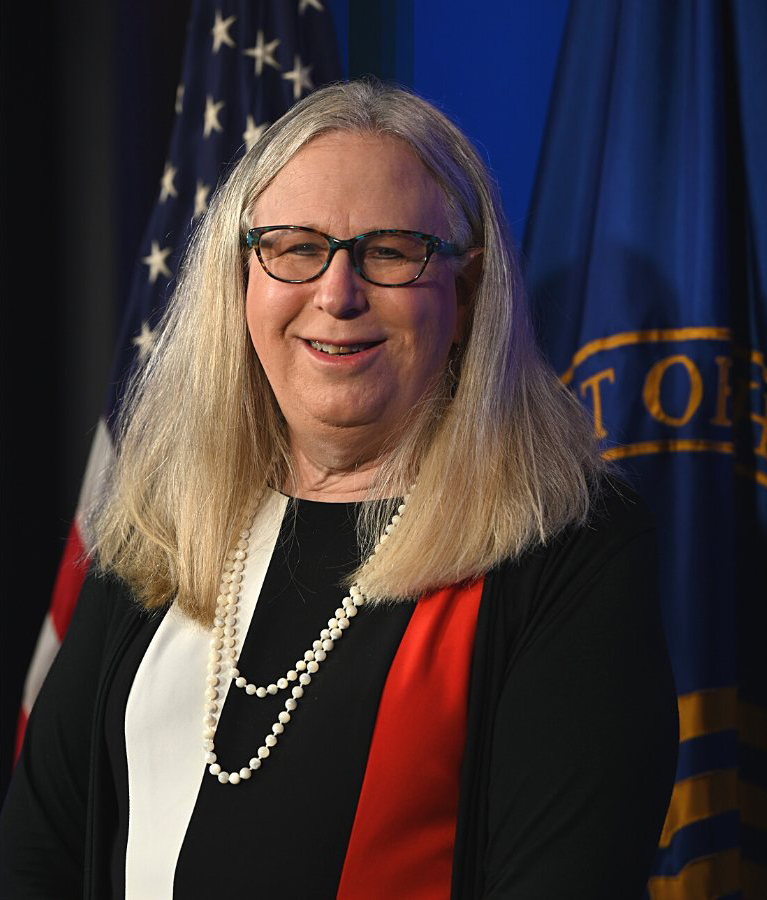 Whether it's REAL or not.
Anyway, check out Naomi Biden's Twitter timeline. Very CCP. Errr, I mean ACP.
So I kept digging through the standard Democrat Communist party line, and THERE IT WAS!
Let's just save that…..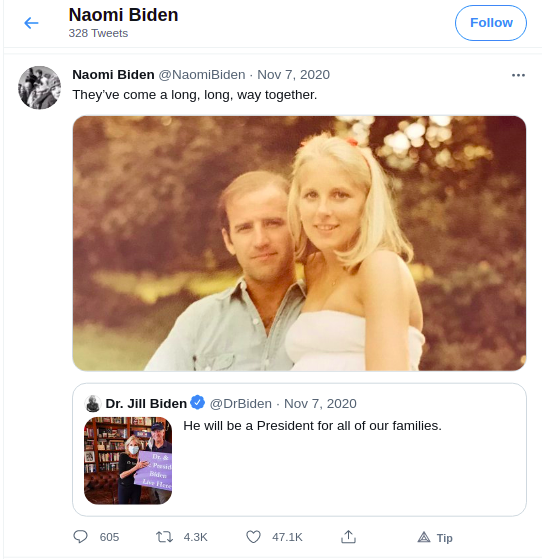 AH! We're finally THERE. We've shown that the photo is AUTHORITATIVE – meaning that it was "blessed" by being released by a Biden granddaughter. In a world of disinformation as one of the most powerful weapons of the LEFT, I don't even trust this photo to be real when released by a Biden family member. But it is AUTHORITATIVE. It was released by them AS IF it was real, to make people believe it was real.
And where THAT goes from there, we will find out.
---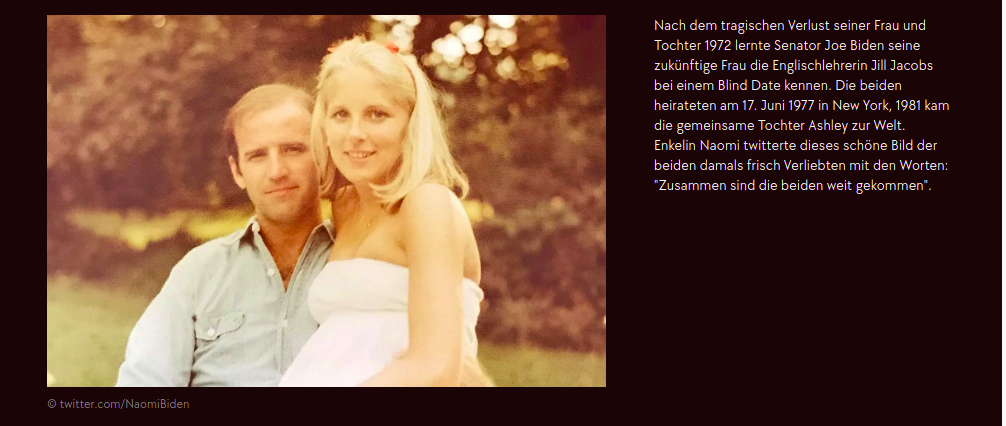 3 – How Old Is Jill In That Photo?
This is the gazillion dollar question.
We had some BETS MADE in a prior thread.
I challenged people to guess the ages of Jill and Joe in that photo, avoiding any reliance on externals – just their knowledge of humans, such as their own kids, neighbors, relatives, etc.
The exact comment was HERE: https://www.theqtree.com/2021/07/03/2021%c2%b707%c2%b703-joe-biden-didnt-win-daily-thread/comment-page-1/#comment-760607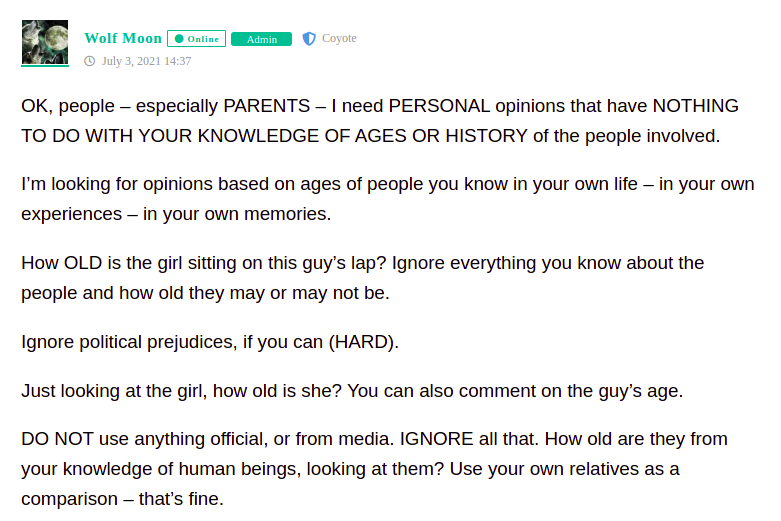 You're welcome to go look at the answers and generate statistics. My rough estimate is that most people figured she was in her late teens. The OUTLYING answers were early middle teens (13-15) and 20s. Most opinions seemed to be in the 16-19 range.
High school girl. That is our "group vision stereo consensus".
This starts to become problematic.
---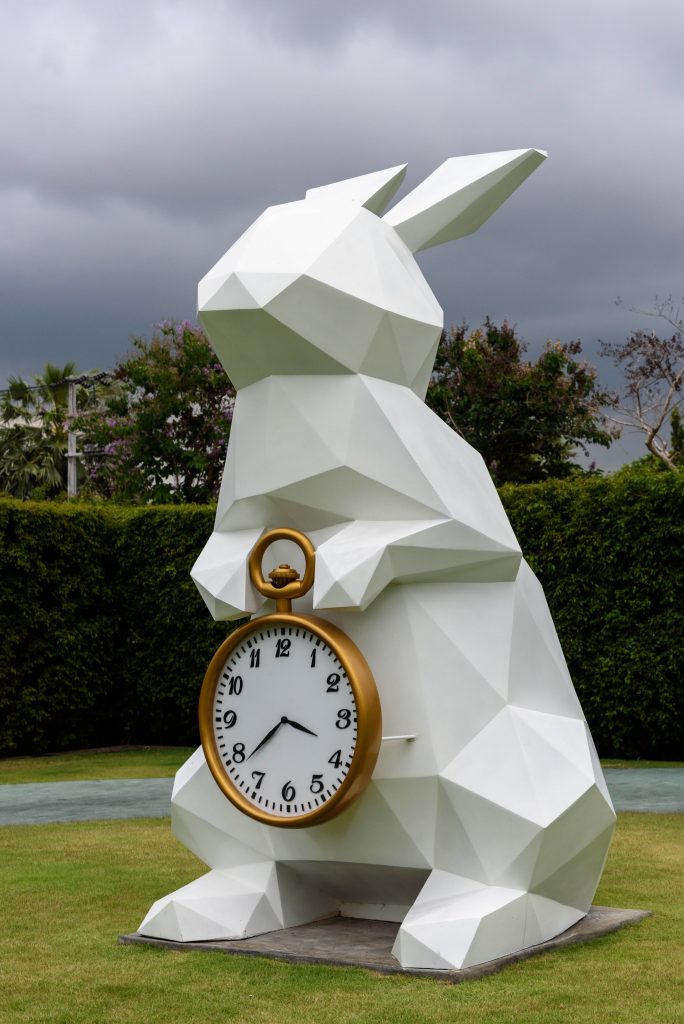 4 – The Timelines Collide
Jill Biden was born June 3, 1951.
LINK: https://en.wikipedia.org/wiki/Jill_Biden
ARCHIVE: https://archive.fo/ZquKp
She was married to Bill Stevenson on February 7, 1970, at the age of 18, 4 months shy of 19.
Thus, the picture SEEMS to be from BEFORE she married Bill Stevenson. It is extremely unlikely that the picture is from AFTER her marriage to Bill Stevenson, which ENDED in separation in October 1974 and civil divorce in May 1975.
The Bidens allege that they met during that separation period, in March of 1975. They were married on June 17, 1977.
March of 1975 would have made Jill Biden 23 years old, 3 months shy of 24 years old.
That is at the extreme of her potential age in that picture, based on the reckonings of our group. It is an extreme minority position, with more opinions at the OTHER extreme.
But let's go from there to the Bill Stevenson story – that goes as follows.
According to Bill, Jill met Joe through Bill's political support for Joe Biden.
Here is his chronology listed in the Daily Mail:
---
Joe Biden and his wife Jill  had an affair that broke up her first marriage, her ex-husband told DailyMail.com in an exclusive interview
Bill Stevenson says that their story about how the presidential candidate fell in love with Jill after a blind date is made up
The way the Bidens tell their story, Joe saw a picture of Jill in March 1975 — after her marriage crashed — and they went on a date and have been together since 
But Stevenson claims he and his then wife met Biden in 1972, when they worked on then-New Castle County Councilman Biden's first campaign for the Senate 
At the time Biden was married to his first wife Neilia who died with their daughter Naomi in a car crash between the election and Biden taking his Senate seat 
'Jill and I sat in the Bidens' kitchen,' Stevenson said. 'We worked on his campaign'
Stevenson said he first suspected Biden and Jill were having an affair in August 1974; He was then 26, Jill was 23 and Joe was 31 
'One of her best friends told me she thought Joe and Jill were getting a little too close,' he said
That October he got confirmation when a man informed him Biden was driving his wife's car and the two of them got into a fender bender  
Stevenson said: 'I asked Jill to leave the house, which she did… I considered Joe a friend. I'm not surprised he fell in love with Jill'
---
Now, I'm going to be blunt and early here – I no longer trust THIS story, either. I think it's a "Clinton special" – a substitute scandal, like Cuomo's kissing scandal, which is used to deflate the "he murdered thousands of old people on purpose for politics" scandal.

But let's play along. After all, if I'm right, and it's an "alibi" of some kind, it will be close to the truth.
Stevenson claims that Jill and Joe met through HIM (convenient) in 1972. THAT would make Jill Biden roughly 21 years old.
Leaving Jill's age aside, THAT makes a lot of sense. Now what is VERY cool is that we HAVE a picture of Joe Biden campaigning in 1972, thanks to the Daily Mail.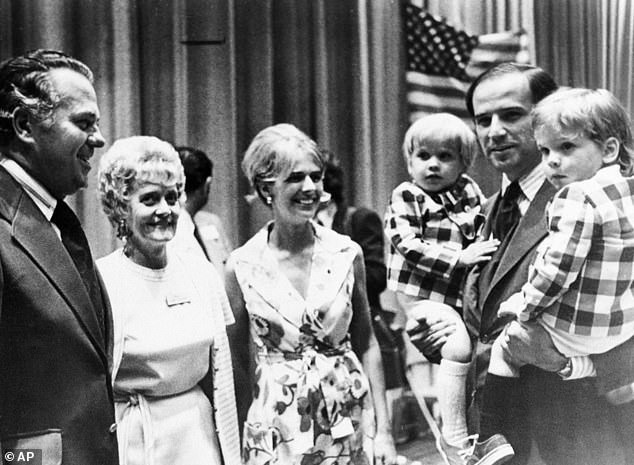 You can see Neilia – she's going to die in a car accident in December of that year, AFTER Joe Biden WINS his Senate seat in November but BEFORE he goes to Washington. Their 1-year-old daughter Naomi will die with her.
Now it may just be the clothes, but I would almost swear that Joe Biden looks a few years older in this photo, than he does in the "Jill on his lap" photo.
But all we have done at this point, really, is to introduce doubts.
But NOW, I'm going to introduce even more doubt. What if somebody came up with a PICTURE of Jill Biden during the early 1970s?
And before I forget to mention it, what if that picture comes up in a story about Bill Stevenson having a lurid affair of his own which allegedly led to multiple murders? And what if the first murder was soon after Joe Biden married his ex, Jill?
Watch out – this whole thing gets WEIRD very fast.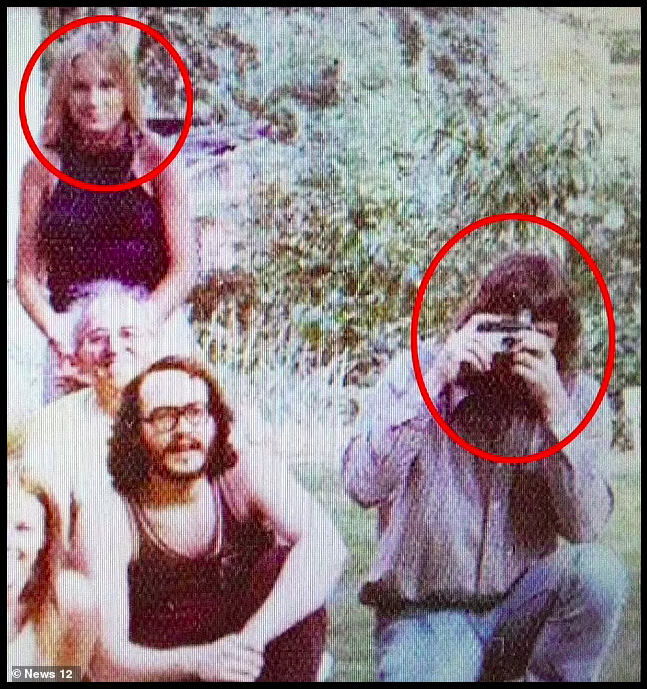 Yes – that is Jill and Bill Stevenson. Jill's style here looks very 1972-1974.
Let's look at her more closely. First 2X magnification.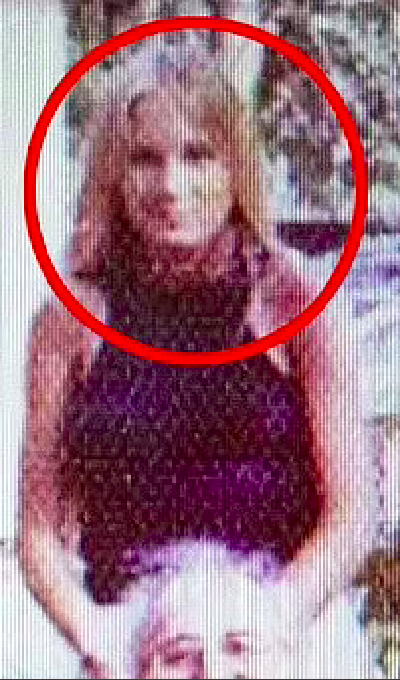 Now even closer – 4X.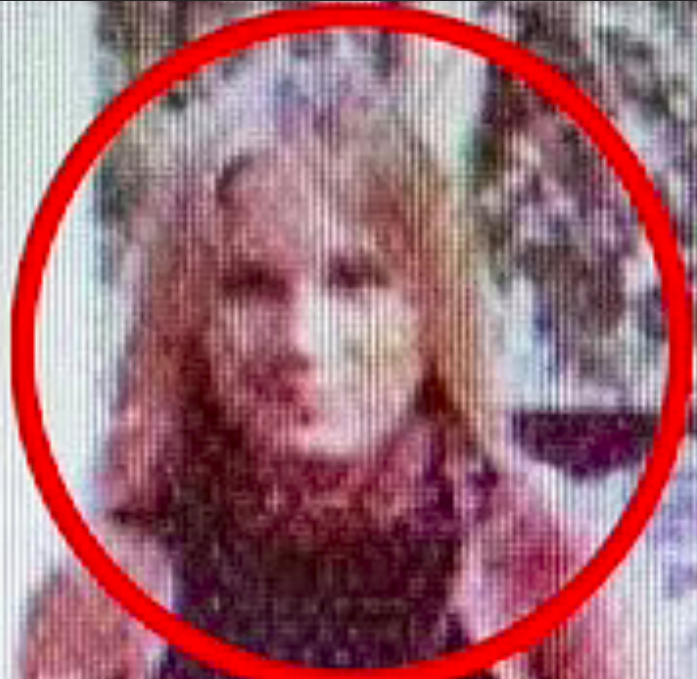 This looks like a 19, 20, or 21-year-old girl to me. That would make her a sophomore, junior, or senior in college. Perfect fit – read Jill's biography in Wikipedia. This matches both her biography and the framework of the Stevenson story.
However, she is noticeably OLDER than the picture of the girl on Biden's lap.
What's interesting to me, is that I knew girls at that time, who were AGED as in the "lap girl photo", but wore fashions like the girl in this photo, which styles were popular at the time. Same hairstyle and top – bandana around the neck – but these girls were younger – high-school aged – facially very much like the girl in the lap photo, or just a bit older.
Thus, it seems entirely possible to me, that the photo on Joe Biden's lap was taken while Jill was in high school, possibly babysitting for the Bidens. Maybe she had a prom, or a dance, and was like a member of the family at that point.
I could insert some classic movie poster about this, but you know what I'm thinking.
But then let's just set that all aside now, and see the context of that OTHER weird story from the Daily Mail.
Which newspaper may be following the angle that I'm thinking.
---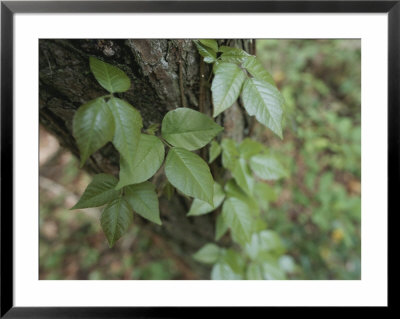 5 – The Timelines Always Get Them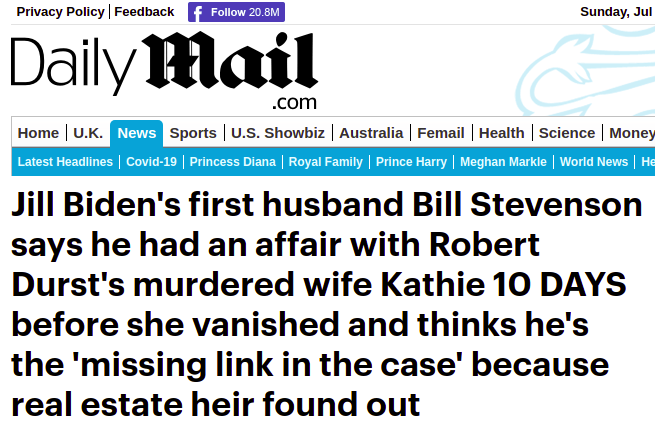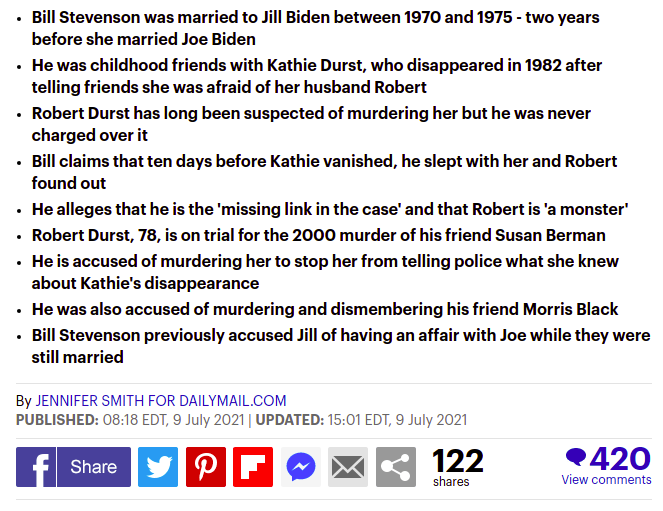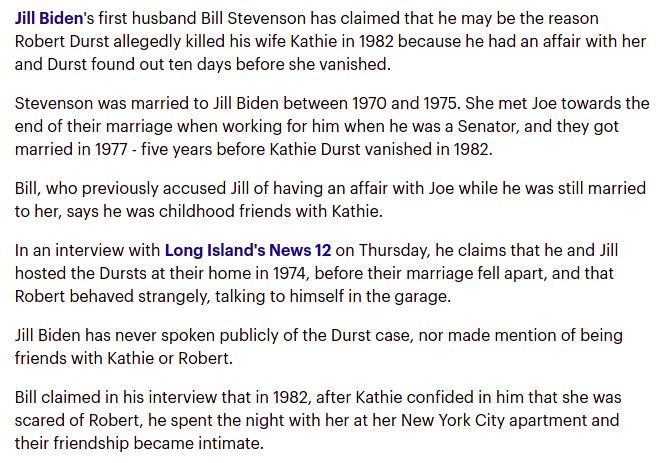 MORE at the link….including videos of Stevenson….telling his story….
LINK: https://www.dailymail.co.uk/news/article-9772651/Jill-Bidens-husband-Bill-Stevenson-says-affair-Kathie-Durst.html
ARCHIVE: https://archive.fo/7rz2G
---
Now – just check out this "memorable scene" from Stevenson…..via the article…..
Stevenson alleges that the next day, Robert showed up at the apartment 'pounding on the door' and that he slammed a wad of rolled up cash in Kathie's face. 
That's a bit of a shocker there, but before we go on, ask what better class of theories might fit that memory.
Now go on.
Ten days later, she vanished.

He thinks Robert – who has long been accused of murdering his wife but has never been charged over it – was driven to kill her after discovering their affair.

'This is something that has to be righted. I was together with them and he went crazy. I feel like I'm the missing link in this case,' he said.

Stevenson said he watched Kathie 'grow up into a beautiful young woman' after their families became friends when they were kids.

'She was that cool little sister – I watched her grow up to be a beautiful young woman.'

He says in 1974, he and Jill hosted Kathie and Robert Durst at their home.

He says Jill and Kathie 'hit it off'. 'Both very smart, they're similar people. At that age. It was hard not to hit it off.

'I remember him talking to himself in my garage. To me it was like, "oh my god."'

Years later, once his marriage to Jill had broken up and after Jill and Joe had gotten married, Kathie started confiding in Stevenson, he says.

'She said I'm having a real problem with Robert and I'm scared to death.

She said he was being violent with her. At that point, she couldn't trust anybody around her that knew Robert.

'I don't know why she picked me but I'm glad she did.

'But I do feel that I let her down. I look back at those last two months and go, "what could I have done differently."

He says he visited Kathie five times between 1981 and 1982. They stayed at Kathie's apartment in New York City and it was during that time that it became romantic.
I think the DM may be thinking the same thing I am. They have THIS as a sidebar to what I just quoted.
---
TIMELINE OF BIDEN AND DURST MARRIAGES
1970: Jill and Bill marry
1973: Kathie and Robert Durst marry
1974: Bill says he and Jill hosted Robert and Kathie Durst at their home
1974/1975: Jill and Bill separate
1977: Jill and Joe marry
1982: Kathie Durst disappears
---
Is there a connection? That might lead to "lives lost"? Read that article.
Can you guess the word I'm thinking?
I strongly suspect that SEVERAL stories are falling apart. It's not just about dementia now.
W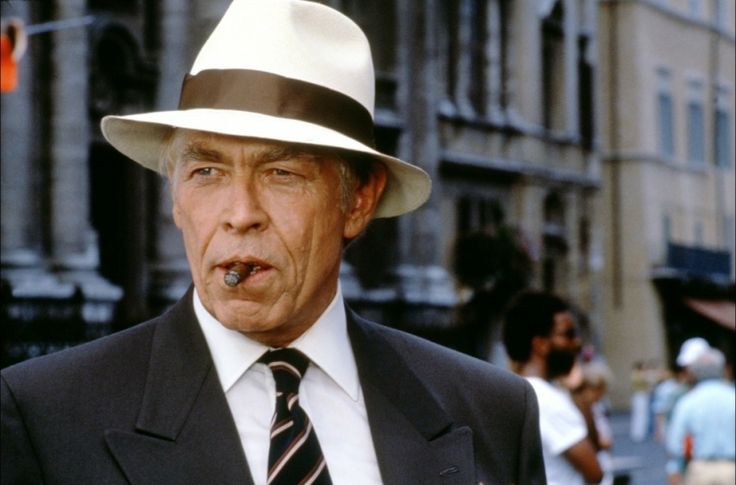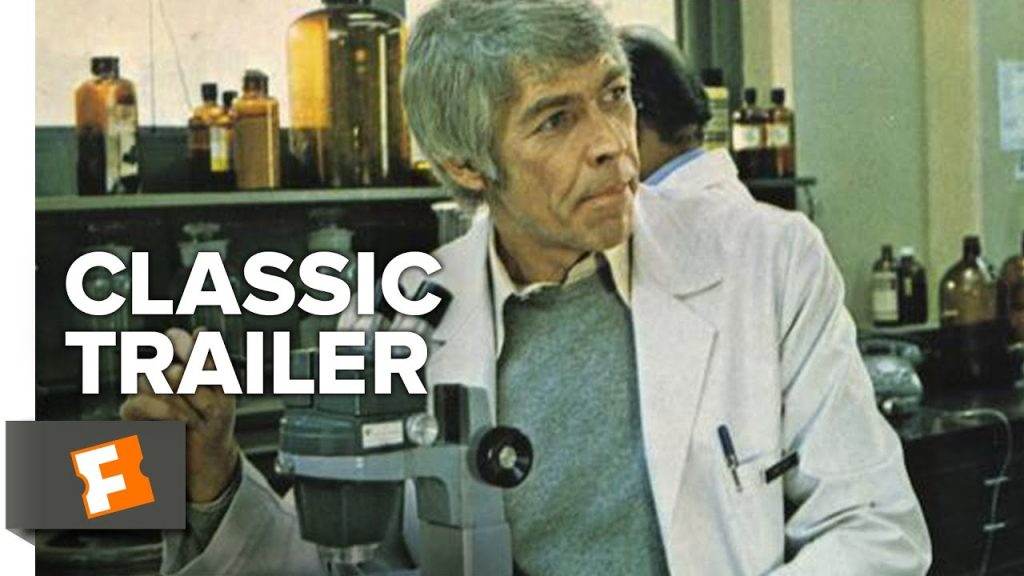 PS – check out the "record-correcting troll comments" on the DM articles. They seem professional to me.
---
References
Daily Mail Article on Jill Biden's Affair with Joe Biden:
https://www.dailymail.co.uk/news/article-8635281/Jill-Biden-cheated-husband-Joe-ex-claims.html
Archive of Affair Article:
Daily Mail Article on Jill Biden's First Marriage Relation To Murder:
https://www.dailymail.co.uk/news/article-9772651/Jill-Bidens-husband-Bill-Stevenson-says-affair-Kathie-Durst.html
Archive of Murder Article: