Was I The Reason?
I'm skipping all the boilerplate invective this week, as fun as it is. Because something just occurred to me.
At some point I got hit with a light dose of something or other. I beat a bit of a retreat but someone got to the top of the scaffolding with an American flag.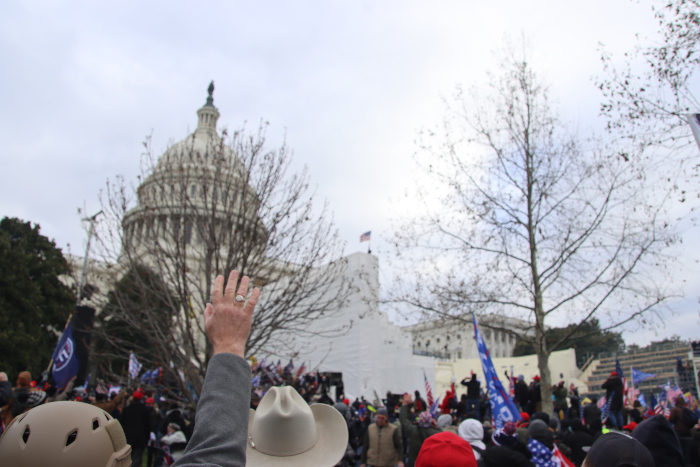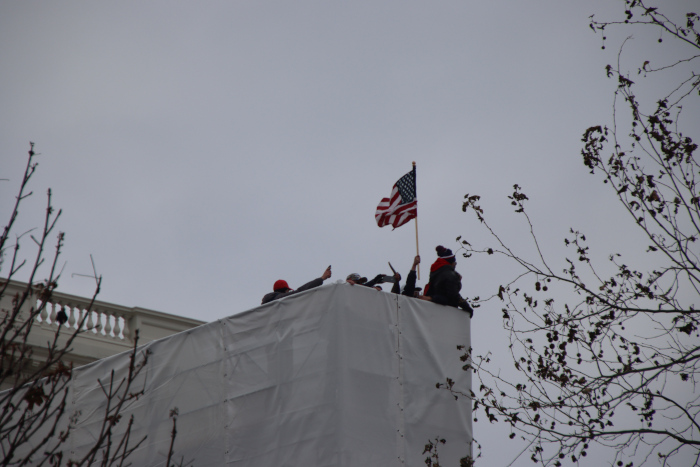 Fourth And Final Dump of Pictures
The next thing I remember, after getting close in, is a gas cartridge landing about ten feet away from me. I had already gotten light exposure twice to something that made one cough, and once to something that also stung when you inhaled it. Sticking around here would no doubt entail more than light exposure. I backed away.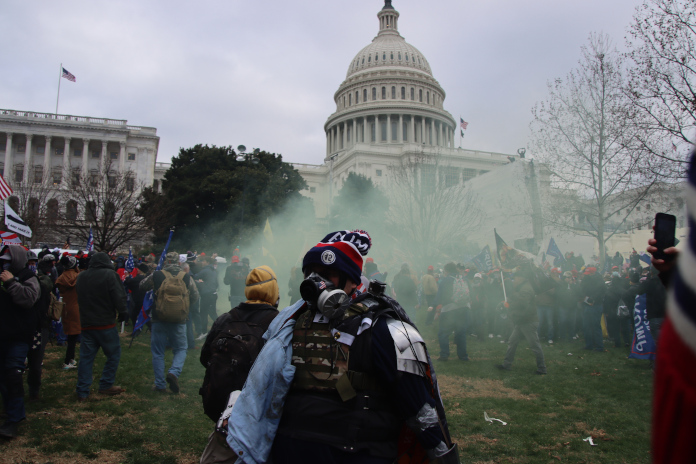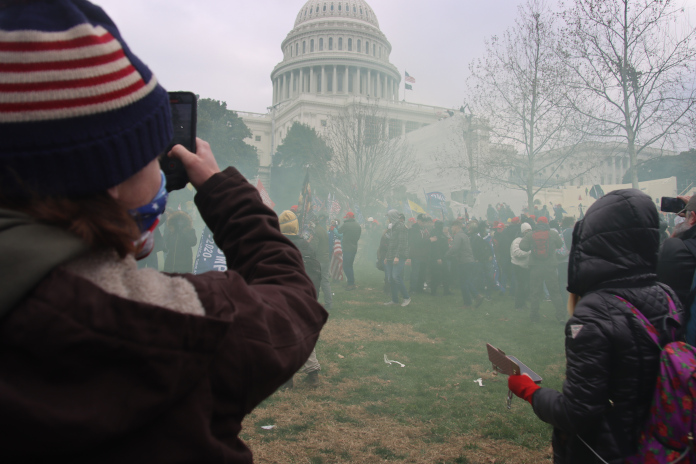 When the smoke cleared, I noticed people charging up the steps. Lots of people charging up the steps. In fact I can see them in the prior picture too if I blow it up.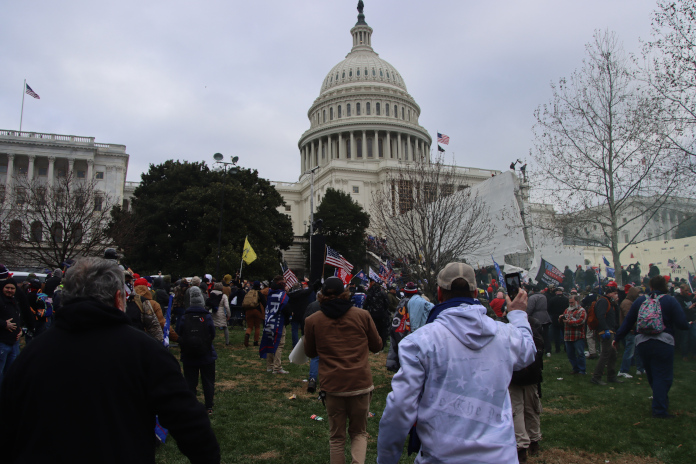 OK, that ends the quote.
Note that I missed the key moment…the moment the people on that stairway started to pour through.
They got through, right after the tear gas landed right next to me.
Let me remind you what I was doing…I was near that stairway, with a camera.
Not a phone, a "real" camera, with an 18-200 mm lens. It's a lot smaller than it sounds but still, it's gear in a way that a phone is not. Also, but not visible from the outside (unless someone recognizes the camera model), this little camera takes 32 megapixel pictures. (What I posted on the thread was considerably reduced in size!)
Was that tear gas canister…which landed less than ten feet away from me…fired specifically for the purpose of distracting me while they let the stairway people breach the line?
Maybe, maybe not. But the timing and placement of that canister and the "breach" sure makes me wonder.
The timestamp for the first picture I took after the gas canister hit was 1:19:36 MST. This picture is the first one above with the cloud of tear gas. The camera numbered it #3175.
(Note: That is almost certainly not the right time. I routinely forget to adjust the clock on my camera when I bring it out for use…which is sporadically. And the camera's clock isn't all that accurate, it slips from the correct time greatly over the span of a few months. But the time stamps can be used to establish relative timing.)
The timestamp for the last picture I took before that (#3174) was 1:17:46. It's similar to the last one in my post before the tear gas, which was #3157…that was taken at 1:17:30. (Yes, I took seventeen 32 megapixel pictures in 16 seconds…and the camera didn't break a sweat; it can do 15 per second for half a minute before the buffer fills up and it chokes. And, by the way, this is not even, by a long shot, the best camera that company makes. This is a fairly small camera whose design emphasis was portability.)
It's a damned shame I wasn't taking video. (The last video I took, 2:22 seconds worth, was of the stairway, culminating in some guy in a blue coat getting pepper sprayed. Screen capture (also in my original post) below):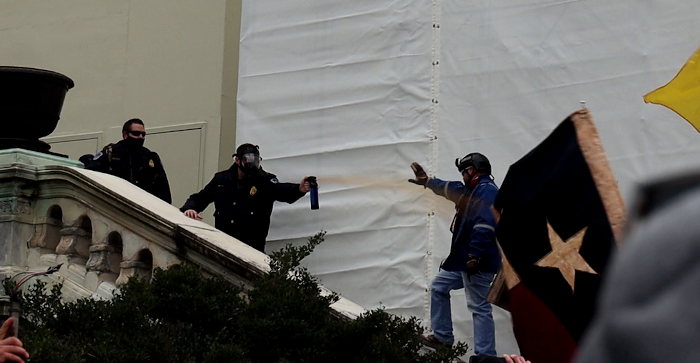 The video (numbered #2944) is time stamped 1:00:58…almost nineteen minutes before the grenade. I don't know if that's the start time or the end time. The video is 1080p and you will never see a Bigfoot video of remotely that quality.
Like I said it's a damn shame I wasn't videoing at the right time.
Of course these days everyone has a camera with them, in their cell phone, so a lot of cops abusing citizens (and "model citizens" abusing cops) get filmed by passers-by these days, to say nothing of dash cams, body cams, and so on. But at this rally, only a small fraction of people were using their cameras. Most were busy waving flags, and yelling and screaming. Some people put gopros and similar things on poles, but for all I knew they were "media" or Antifa plants or even undercover cops, and therefore harmless to "them." In fact, I'm at least a bit confident that those guys with cameras on poles were gone by the time the grenade hit.
So anyone else with a "real" camera (interchangeable lens) might have stuck out like a sore thumb.
Out of all those people, did I have to be distracted?
Like I said, I'll never know.
Ayaan Hirsi Ali on Countering Wokeism
Article is behind a "you get two free articles" paywall. The Objective Standard is a quarterly written from an Objectivist point of view; Objectivism is the philosophy originated by Ayn Rand.
https://theobjectivestandard.com/2022/08/wokeism-and-how-to-counter-it/
Lawyer Appeasement Section
OK now for the fine print.
This is the WQTH Daily Thread. You know the drill. There's no Poltical correctness, but civility is a requirement. There are Important Guidelines, here, with an addendum on 20191110.
We have a new board – called The U Tree – where people can take each other to the woodshed without fear of censorship or moderation.
And remember Wheatie's Rules:
1. No food fights
2. No running with scissors.
3. If you bring snacks, bring enough for everyone.
4. Zeroth rule of gun safety: Don't let the government get your guns.
5. Rule one of gun safety: The gun is always loaded.
5a. If you actually want the gun to be loaded, like because you're checking out a bump in the night, then it's empty.
6. Rule two of gun safety: Never point the gun at anything you're not willing to destroy.
7. Rule three: Keep your finger off the trigger until ready to fire.
8. Rule the fourth: Be sure of your target and what is behind it.
(Hmm a few extras seem to have crept in.)
Spot Prices
All prices are Kitco Ask, 3PM MT Friday (at that time the markets close for the weekend).
Last Week:
Gold $1,645.40
Silver $18.93
Platinum $864.00
Palladium $2,153.00
Rhodium $14,500.00
So here it is, Friday, 3PM MT after markets closed and we see:
Gold $1,662.10
Silver $19.13
Platinum $869.00
Palladium $2,244.00
Rhodium $14,900.00
Gold seems to be stabilizing a bit; it has climbed a bit for the past few days.
Obligatory PSAs and Reminders
China is Lower than Whale Shit
Remember Hong Kong!!!
中国是个混蛋 !!!
Zhōngguò shì gè hùndàn !!!
China is asshoe !!!
China is in the White House
Since Wednesday, January 20 at Noon EST, the bought-and-paid for His Fraudulency Joseph Biden has been in the White House. It's as good as having China in the Oval Office.
Joe Biden is Asshoe
China is in the White House, because Joe Biden is in the White House, and Joe Biden is identically equal to China. China is Asshoe. Therefore, Joe Biden is Asshoe.
But of course the much more important thing to realize:
Joe Biden Didn't Win
乔*拜登没赢 !!!
Qiáo Bài dēng méi yíng !!!
Joe Biden didn't win !!!