---
This very special
You've Got to Know SUNDAY open thread
is VERY OPEN – a place for everybody
to post whatever they feel they would like
to tell the White Hats, and the rest of the KAG!KMAG world.
---
Say what you want, comment on what other people said,
comment on people's comments.
Keep it civil.  Treehouse rules, but expect lots of QAnon.
---
See the January 1st daily thread for the rules of the road,
which are few but important.
---
Remember – your greatest gift to President Trump is FIVE WORDS:
I AM PRAYING FOR YOU
---
You've Got To "Know When"
Sunday
In researching for the prayer post earlier this week, I came across the following story of a family returning to their home town in Iraq after ISIS was finally driven out. It is told from the perspective of the young daughter and includes video of earlier interviews from the time when her family was in exile in Egypt.
This is a beautiful story of resilience anchored in hope.
https://youtu.be/7I5IPv9deKI
Assessing Situations
The lyrics from Kenny Rogers song, The Gambler, succinctly sum up the necessary task of discerning the right response to a high stakes environment. If you judge the situation correctly you can sometimes take in big winnings, just stay in the game for future wins, move on or live another day.
https://youtu.be/gDwCMxPwJ_4
See also: https://genius.com/Kenny-rogers-the-gambler-lyrics
Jesus' Parable About Investment
Jesus often taught principles of the Kingdom of Heaven using stories (parables). In the following parable, Jesus is gently directing his disciples attention away from their expectation of God's immediate judgment coming to earth, wiping out their enemies, and the restoration of Paradise for the righteous among them.
As you read through it, consider your own expectations. What you expect from God. From the White Hats. And, most important of all, what do you expect from yourself?
---
11 While he had their attention, and because they were getting close to Jerusalem by this time and expectation was building that God's kingdom would appear any minute, he told this story:
12-13 "There was once a man descended from a royal house who needed to make a long trip back to headquarters to get authorization for his rule and then return. But first he called ten servants together, gave them each a sum of money, and instructed them, 'Operate with this until I return.'
14 "But the citizens there hated him. So they sent a commission with a signed petition to oppose his rule: 'We don't want this man to rule us.'
15 "When he came back bringing the authorization of his rule, he called those ten servants to whom he had given the money to find out how they had done.
16 "The first said, 'Master, I doubled your money.'
17 "He said, 'Good servant! Great work! Because you've been trustworthy in this small job, I'm making you governor of ten towns.'
18 "The second said, 'Master, I made a fifty percent profit on your money.'
19 "He said, 'I'm putting you in charge of five towns.'
20-21 "The next servant said, 'Master, here's your money safe and sound. I kept it hidden in the cellar. To tell you the truth, I was a little afraid. I know you have high standards and hate sloppiness, and don't suffer fools gladly.'
22-23 "He said, 'You're right that I don't suffer fools gladly—and you've acted the fool! Why didn't you at least invest the money in securities so I would have gotten a little interest on it?'
24 "Then he said to those standing there, 'Take the money from him and give it to the servant who doubled my stake.'
25 "They said, 'But Master, he already has double . . .'
26 "He said, 'That's what I mean: Risk your life and get more than you ever dreamed of. Play it safe and end up holding the bag."
---
And so we come to the very heart of this exploration.
How do we assess the appropriate response when the place where we live is in outright rebellion to our Heavenly King and His ways?
Whether it's Baltimore or Broward County, Cleveland or California, the right move for you and your family will require discernment. We can all agree that these places come with a higher level of toxicity than other places.
What is a Toxic Environment?
Chernobyl comes to mind. But did you know that plant and animal life around the reactor is stronger and more diverse than before the accident? From an Institute for Creation Research article just published this week (emphasis added):
"Interestingly, in addition to this innate resilience to radiation, some plants in the Chernobyl exclusion zone seem to be using extra mechanisms to protect their DNA, changing its chemistry to make it more resistant to damage, and turning on systems to repair it if this doesn't work [added emphasis]." His observations coincide with research on the progeny of Arabidopsis plants from Chernobyl.
Several Russian scientists discovered that when exposed to high radiation there was a resistance to mutations through a more than 10-fold decreased frequency of extrachromosomal homologous recombination, major differences in the expression of genes controlling DNA-repair and for proteins removing dangerous free radicals, and a higher level of global genome methylation.
Other research on several bird species at Chernobyl found that they also have internal mechanisms for detecting free radical molecules that are a byproduct of radiation exposure and then up-regulate mechanisms for DNA repair.
Because all DNA damage was repaired more quickly, radiation-exposed birds surprisingly "may even obtain beneficial hormetic effects following an adaptive response."
It is now obvious that creatures have innate mechanisms that enable them to self-adjust to a higher range of radiation than anticipated. The existence of these systems precedes radiation exposure—Chernobyl was a unique radiation producing event—as there has not been enough time for them to have developed due to evolutionary "tinkering" via "trial-and-error" struggles to survive.
… [T]he Institute for Creation Research has been promoting an organism-focused, design-based model of adaptation called Continuous Environmental Tracking (CET). 
This model explains what organisms are doing when they adapt. The organism-focused arm of the framework hypothesizes that: organisms possess internal mechanisms that enable them to actively and continuously track environmental variables and respond by self-adjusting to changing environments—which results in their adaptation.
The other design-based arm assumes that these internal mechanisms utilize the same engineering principles that constrain how human-designed objects self-adjust to changes.
CET postulates that how organisms adapt is via innate systems with elements analogous to those within human-engineered tracking systems, namely: input sensors, internal logic mechanisms to select suitable responses, and actuators to execute responses. CET, therefore, expects that the creatures' self-adjustments would be characterized as regulated, rapid, and targeted to specific challenges.
Growing up, I was mercilessly bullied.

I hated myself because I believed their lies.

The bullies never expected, however, how strong they made me.

As an adult, I choose to be a victor, not a victim.

— #ThePersistence (@ScottPresler) August 3, 2019
---
The Foolish Servant
In the parable above, the foolish servant was a complete failure at adaptation. Maybe he saw the rebellion fomenting and buried his master's money in hopes of cashing in if the rebellion succeeded. Maybe he just was really afraid of loss and that's why he hid it.
But look at the admonition of the King to this foolish servant, "Why didn't you at least invest the money in securities so I would have gotten a little interest on it?"
Apparently, Jesus wants his followers to understand that He rewards smart risk taking for potential gain and will be more pleased with someone gaining a little in a very safe investment rather than not investing what they have been given at all.
Risky Investments: Exhibit A
"I'm not doing this just to have people vote for @realDonaldTrump. I'm not doing this just to have people vote Republican.

If I truly am a conservative activist that cares about my country, then I'm going to do this b/c it's the right thing.

This is #AmericansHelpingAmericans." pic.twitter.com/wAzpFDYUtm

— #ThePersistence (@ScottPresler) August 2, 2019

If there is anyone out there putting the gifts he has been given into good use, Scott Pressler certainly makes the list!
Over 230 volunteers have signed up to work shifts for our Baltimore cleanup.

I'm headed back to DC from Pennsylvania.

I'll send out an email tomorrow with location & parking details. #AmericansHelpingAmericans

— #ThePersistence (@ScottPresler) August 3, 2019

His work reminds me of a story that takes place during the settling of the "promised land" by the Israelites. Certain tribes wanted to settle on the east side of the Jordan river which had already been conquered. This would be allowed, but the stipulation was that they had to agree to send their fighting men to the west side to help take the whole of the land for their nation before they could enjoy the peace of their own territory.
Your wives, your children and your livestock may stay in the land that Moses gave you east of the Jordan, but all your fighting men, ready for battle, must cross over ahead of your fellow Israelites. You are to help them until the Lord gives them rest, as he has done for you, and until they too have taken possession of the land the Lord your God is giving them. After that, you may go back and occupy your own land, which Moses the servant of the Lord gave you east of the Jordan toward the sunrise." Then they answered Joshua, "Whatever you have commanded us we will do, and wherever you send us we will go."
In Scott's case, he is traveling around the country to invest his talents in whatever way benefits all patriotic Americans. He is fighting for us! May the Lord guide, protect and equip this young man for what lies ahead in his life.
Risky Investments: Exhibit B
Later in Israel's history, their land was conquered and the people were carried away captive to Babylon. God gave their prophet, Jeremiah, instructions to help them know how to respond to this upheaval.
"This is what the Lord Almighty, the God of Israel, says to all those I carried into exile from Jerusalem to Babylon: "Build houses and settle down; plant gardens and eat what they produce. Marry and have sons and daughters; find wives for your sons and give your daughters in marriage, so that they too may have sons and daughters. Increase in number there; do not decrease."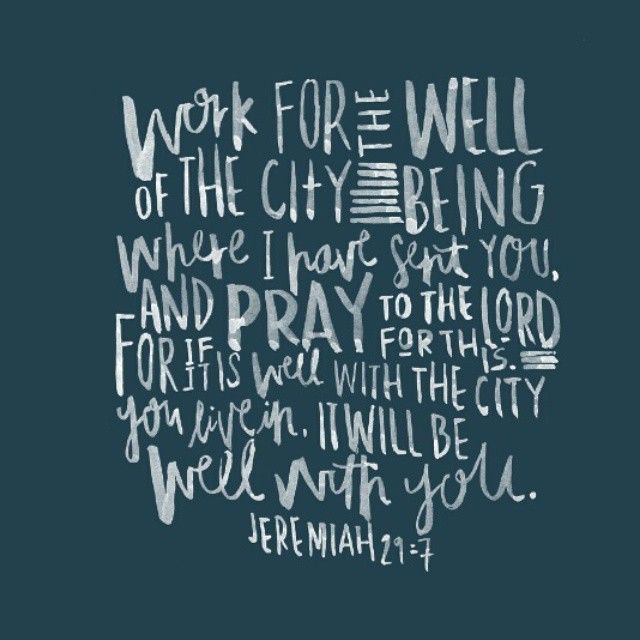 Now imagine the risk of following these instructions. What if the situation changes and you are able to return to your homeland quickly? What if the Babylonians decide to relocate you and all your work is for nothing? Quite the risky investment.
And yet, they are told to pour their sweat equity into building houses, growing food and making big families. They are to seek the welfare of the city where they have been placed–while remaining in captivity!
As it turned out, they were there for some 70 years. Those that heeded the words of the prophet would be coming out of captivity strong and prosperous.
Risky Investments: Exhibit C
In the case of the Iraqi Christian family returning to Qaraqosh (mentioned at the top of this article), they are returning to their hometown which has been bombed, looted, nearly destroyed–with about half of the original residents choosing to not return to rebuild. A different set of risks, but certainly made the choice to return and invest in the community they came from instead of seeking refuge in another, perhaps safer, place.
So back to that pesky question…
How do we assess the appropriate response when the place where we live is in outright rebellion to our Heavenly King and His ways?
I don't think there is a simple answer.
It's true that for some people there comes a point in time when they just know in their hearts it is time to leave. And for others it is just as clear that they are to stay and "pray to the Lord" on the behalf of the city God has placed them in.
Many will spend a long time working out what is right for them. But that is the journey and no one else can tell anyone what is the right path for another. I have deep respect for anyone that takes that journey. A journey of truly seeking God's highest and best purpose for them no matter the cost.
May God grant us all discernment, wisdom, and peace in the process.
Think *3
---
https://youtu.be/WtpbDDd8UVc
(just for fun!)