Before going any farther, grab a hankie and/or a box of tissues. This was real life, not a Lifetime movie, but will yield the same results.
NEVER FORGET!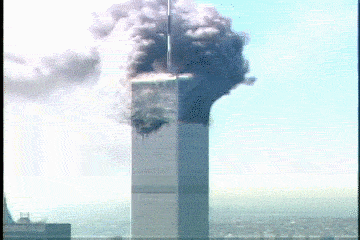 Usually, a piece of music which is upbeat and driving goes in this space. Not today. Today we remember the thousands who were killed in the worst terrorist attack on U.S. soil in our history, a day that forever changed our world. That being the case, this morning's musical offering is one so haunting and stirring that the International Olympic Committee appropriated it. (Please ignore the subtitles. This is the best of the American orchestras available on video.)
If time permits the reader, an award winning piece was composed by American John Adams using the words of the people of New York, those left behind, who wrote notes to the lost and left them at Ground Zero. The piece is very modern, but worth a listen once. Being part of a chorus singing it in the venue featured above (Carnegie Hall) was a hot, sweaty, but rewarding experience.
Okay, so here's the deal. This is the open thread. This is where we all come to get the news that other Q tree inhabitants think is worth knowing and sharing. Please, post links to any "news" stories quoted, and ask for help if you are stumped as to how to do that. We're a friendly lot. Someone will be with you shortly, and there is no reason to have to press one for English.
Free speech, and the open exchange and hashing out of ideas is not only allowed, but encouraged. If we all don't use it, we're going to lose it. A little incivility goes a long way, though. Please, avoid fighting if you can help it. (Will return to the Hollywood fight scenes on a less solemn day.)
There are a few rules here in the branches of the Q Tree. Our host, Wolfm00n, outlined them in a post on New Years Day. Please, review these rules the next time you are in a TSA line and need to remember why flight security is such an ordeal.
Fellow tree dweller Wheatie gave us some good reminders on the basics:
No food fights.
No running with scissors.
If you bring snacks, bring enough for everyone.
Steve suggests – to be accurate – no shooting at the nuclear weapons, but to be safe about it, don't event point firearms toward them. I, Deplorable Patriot, bossy chick that I am, request no teasing the animals, pets and wildlife alike.
Teasing and trolling the lefties and their bastions is always a moral imperative, but for today, we remember.
_____________________________________________________
In the eternal fight against the forces of evil and darkness, unceasing prayer is always needed. From today's Lectionary.
Third Chapter of St. Paul's Letter to the Colossians:
Brothers and sisters:
If you were raised with Christ, seek what is above,
where Christ is seated at the right hand of God.
Think of what is above, not of what is on earth.
For you have died, and your life is hidden with Christ in God.
When Christ your life appears,
then you too will appear with him in glory.

Put to death, then, the parts of you that are earthly:
immorality, impurity, passion, evil desire,
and the greed that is idolatry.
Because of these the wrath of God is coming upon the disobedient.
By these you too once conducted yourselves, when you lived in that way.
But now you must put them all away:
anger, fury, malice, slander,
and obscene language out of your mouths.
Stop lying to one another,
since you have taken off the old self with its practices
and have put on the new self,
which is being renewed, for knowledge,
in the image of its creator.
Here there is not Greek and Jew,
circumcision and uncircumcision,
barbarian, Scythian, slave, free;
but Christ is all and in all.
And from St. Luke's version of the Sermon on the Mount:
Raising his eyes toward his disciples Jesus said:

"Blessed are you who are poor,
for the Kingdom of God is yours.
Blessed are you who are now hungry,
for you will be satisfied.
Blessed are you who are now weeping,
for you will laugh.
Blessed are you when people hate you,
and when they exclude and insult you,
and denounce your name as evil
on account of the Son of Man.

"Rejoice and leap for joy on that day!
Behold, your reward will be great in heaven.
For their ancestors treated the prophets
in the same way.
But woe to you who are rich,
for you have received your consolation.
But woe to you who are filled now,
for you will be hungry.
Woe to you who laugh now,
for you will grieve and weep.
Woe to you when all speak well of you,
for their ancestors treated the false prophets in this way."
As always, prayers for the fight against that which seeks to enslave us are welcome.
Today, we remember….
I know Tom Hanks is the narrator, but this story talks about how Americans come together in the face of tragedy to help each other. It's what we do. This story was not told until much later than September 11, 2001, but still, it's pretty amazing.
Never forget.