It started with this Gospel passage proclaimed on the morning of June 27, the Thirteenth Sunday of Ordinary Time:
MARK 5:21-43
21And when Jesus had crossed again in the boat to the other side, a great crowd gathered about him; and he was beside the sea. 22Then came one of the rulers of the synagogue, Ja'irus by name; and seeing him, he fell at his feet, 23and besought him, saying, "My little daughter is at the point of death. Come and lay your hands on her, so that she may be made well, and live." 24And he went with him. And a great crowd followed him and thronged about him. 25And there was a woman who had had a flow of blood for twelve years, 26and who had suffered much under many physicians, and had spent all that she had, and was no better but rather grew worse. 27She had heard the reports about Jesus, and came up behind him in the crowd and touched his garment. 28For she said, "If I touch even his garments, I shall be made well." 29And immediately the hemorrhage ceased; and she felt in her body that she was healed of her disease. 30And Jesus, perceiving in himself that power had gone forth from him, immediately turned about in the crowd, and said, "Who touched my garments?" 31And his disciples said to him, "You see the crowd pressing around you, and yet you say, `Who touched me?'" 32And he looked around to see who had done it. 33But the woman, knowing what had been done to her, came in fear and trembling and fell down before him, and told him the whole truth. 34And he said to her, "Daughter, your faith has made you well; go in peace, and be healed of your disease." 35While he was still speaking, there came from the ruler's house some who said, "Your daughter is dead. Why trouble the Teacher any further?" 36But ignoring what they said, Jesus said to the ruler of the synagogue, "Do not fear, only believe." 37And he allowed no one to follow him except Peter and James and John the brother of James. 38When they came to the house of the ruler of the synagogue, he saw a tumult, and people weeping and wailing loudly. 39And when he had entered, he said to them, "Why do you make a tumult and weep? The child is not dead but sleeping." 40And they laughed at him. But he put them all outside, and took the child's father and mother and those who were with him, and went in where the child was. 41Taking her by the hand he said to her, "Tal'itha cu'mi"; which means, "Little girl, I say to you, arise." 42And immediately the girl got up and walked (she was twelve years of age), and they were immediately overcome with amazement. 43And he strictly charged them that no one should know this, and told them to give her something to eat.
In some Lectionaries, the bolded passage is optional to read, and just the account of Jarius's daughter is the point of the day. One Mass I cantored that weekend, indeed the presider chose not to read that segment. Essentially, the woman with the issue of blood, a character in the Gospels who appears in all three of the Synoptic Gospels, which is unique in and of itself, her story was considered to be so important that she could essentially be canceled on a given week.
(Another priest I heard talk that weekend did read the passage, but was dismissive of the incident in the midst of a father's pain in potentially losing a child. Seriously, a twelve year period is no joke. The anemia alone is debilitating.)
In both cases, the presiders – light in the loafers, if you will, although celibate, I am quite sure – mentioned that Bishop so and so – a name famous in Catholic circles, and also quite light in the loafers – said that such and such should be mentioned in the homily, and what it all meant. No mention of the woman, though.
Blah, blah, blah.
Now, this is not to dismiss Jarius and his daughter by any means, but the two stories being one in essence have the same resonance: faith, pure faith, that Jesus could work a miracle for them.
And the story of the woman who suffered at the hands of the system was either ignored or dismissed in favor of the man's story where the crisis was not chronic, but immediate.
There was another incident that escapes my head, and then there was this:
There are simply no words as to how insulting this is to women. Real women, especially those who would have loved to have been mothers, but it didn't happen for whatever reason, not to mention mothers who lactated for years. Dude, you just don't have the equipment. It ain't happening.
And then some genius decided to make a pregnant man emoji.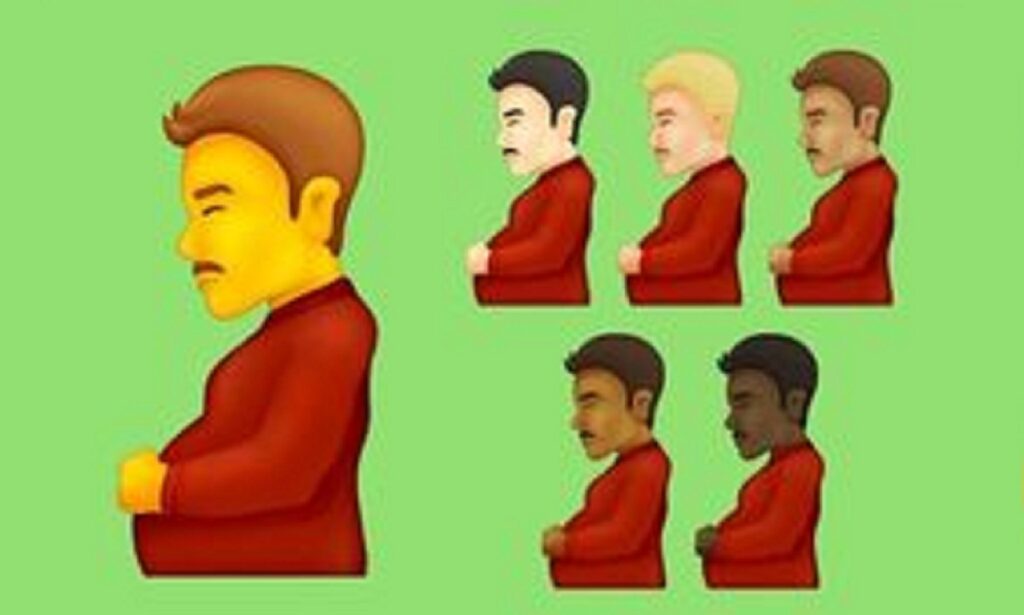 Guys, that's called a beer belly. Trust me. They run in part of my gene pool and are a precursor to diabetes among other ailments.
Yes, it is. And where are the feminists?
There's a few constitutional amendments these women need to read. Black women have been able to vote for over a hundred years.
And in all of this, where are the feminists? Where are the self described defenders of women's rights?
Oh, that's right. They are hell bent on women killing their children if their conception isn't prevented in the first place.
What is really sick about this is in looking back at the women's rights movements, women today have no idea how good they've got it, and the right to vote is the least of the issues. The suffrage/suffragette push started, actually, as an outgrowth of something far larger.
In England, and her sphere of off-shoots (that includes the U.S.), after the Cromwell years, women had no rights, and in a way that was the message of Jane Austen's body of work: to demonstrate how unfair the social standards and rules of heredity were, and how women were just treated as chattel. In Sense and Sensibility, the Dashwood women were thrown out of their home and forced to live by the charity of a relative. In Pride and Prejudice, the Bennett sisters were all tarnished by one sister running off with a man who seduced her at the age of fifteen. In Emma, her friend Harriet is the by-blow of God only knows who, and cannot aspire to a marriage of the caliber that Emma can. Life was not fair for women even among landed gentry, and their only hope to escape eventual poverty was marriage, and then the husband held all the cards, including her money – her dowry – which was a complete departure from the original purpose of a woman's fortune which was supposed to be a safety net for her and any children she had. (See Mary Kate's fortune in The Quiet Man for reference. In the west, a dowry was a pagan custom that survived in Christianity, so it couldn't have been all bad.)
In researching the suffrage/suffragette movements, it seems it started in England with fathers wanting to be sure that their daughters' money was not controlled completely by their husbands. (This is a BIG point made in the Romance sub-genre of Regency. Marriage settlements are always about how much a father provides to his daughter's new husband.)
Yes, it was all about the money, and in the United States, it was somewhat about women being able to sign contracts, and having bank accounts without a husband. Widows were grandfathered in to an extent, but women owning property was not the norm. No, that was a man's world. Women were to be the helpmates.
Forget the sexual aspect of it all and the voting rights. Women had nothing unless they were married or widowed.
That's how it started.
And, according to the notoriously not quite reliable Wiki, this happened in England.
At a political meeting in Manchester in 1905, Christabel Pankhurst and millworker, Annie Kenney, disrupted speeches by prominent Liberals Winston Churchill and Sir Edward Grey, asking where Churchill and Grey stood with regards to women's political rights. At a time when political meetings were only attended by men and speakers were expected to be given the courtesy of expounding their views without interruption, the audience were outraged, and when the women unfurled a "Votes for Women" banner they were both arrested for a technical assault on a policeman. When Pankhurst and Kenney appeared in court they both refused to pay the fine imposed, preferring to go to prison in order to gain publicity for their cause.[25]
In July 1908 the WSPU hosted a large demonstration in Heaton Park, near Manchester with speakers on 13 separate platforms including Emmeline, Christabel and Adela Pankhurst. According to the Manchester Guardian:
Friends of the women suffrage movement are entitled to reckon the great demonstration at Heaton Park yesterday, arranged by the Women's Social and Political Union, as somewhat of a triumph. With fine weather as an ally the women suffragists were able to bring together an immense body of people. These people were not all sympathisers with the object, and much service to the cause must have been rendered by merely collecting so many people and talking over the subject with them. The organisation, too, was creditable to the promoters…The police were few and inconspicuous. The speakers went by special [tram]car to the Bury Old Road entrance, and were escorted by a few police to several platforms. Here the escorts waited till the speaking was over, and then accompanied their respective charges back to the special car. There was little need, apparently, for the escort. Even the opponents of the suffrage claim who made themselves heard were perfectly friendly towards the speakers, and the only crowding about them as they left was that of curiosity on the part of those who wished to have a good look at the missioners in the cause.[26]
Stung by the stereotypical image of the strong minded woman in masculine clothes created by newspaper cartoonists, the suffragettes resolved to present a fashionable, feminine image when appearing in public. In 1908 the co-editor of the WSPU's Votes for Women newspaper, Emmeline Pethick-Lawrence,[27] designed the suffragettes' colour scheme of purple for loyalty and dignity, white for purity, and green for hope.[28] Fashionable London shops Selfridges and Liberty sold tricolour-striped ribbon for hats, rosettes, badges and belts, as well as coloured garments, underwear, handbags, shoes, slippers and toilet soap.[5] As membership of the WSPU grew it became fashionable for women to identify with the cause by wearing the colours, often discreetly in a small piece of jewellery or by carrying a heart-shaped vesta case[29][5] and in December 1908 the London jewellers, Mappin & Webb, issued a catalogue of suffragette jewellery in time for the Christmas season.[30] Sylvia Pankhurst said at the time: "Many suffragists spend more money on clothes than they can comfortably afford, rather than run the risk of being considered outré, and doing harm to the cause".[5] In 1909 the WSPU presented specially commissioned pieces of jewellery to leading suffragettes, Emmeline Pankhurst and Louise Eates.[30]
The suffragettes also used other methods to publicise and raise money for the cause and from 1909, the "Pank-a-Squith" board game was sold by the WSPU. The name was derived from Pankhurst and the surname of Prime Minister H. H. Asquith, who was largely hated by the movement. The board game was set out in a spiral, and players were required to lead their suffragette figure from their home to parliament, past the obstacles faced from Prime Minister H. H. Asquith and the Liberal government.[31] Also in 1909, suffragettes Daisy Solomon and Elspeth McClelland tried an innovative method of potentially obtaining a meeting with Asquith by sending themselves by Royal Mail courier post; however, Downing Street did not accept the parcel.[32]Emily Davison
1912 was a turning point for the suffragettes, as they turned to using more militant tactics and began a window-smashing campaign. Some members of the WSPU, including Emmeline Pethick-Lawrence and her husband Frederick, disagreed with this strategy but Christabel Pankhurst ignored their objections. In response to this, the Government ordered the arrest of the WSPU leaders and, although Christabel Pankhurst escaped to France, the Pethick-Lawrences were arrested, tried and sentenced to nine months' imprisonment. On their release, the Pethick-Lawrences began to speak out publicly against the window-smashing campaign, arguing that it would lose support for the cause, and eventually they were expelled from the WSPU. Having lost control of Votes for Women the WSPU began to publish their own newspaper under the title The Suffragette.[33]
The campaign was then escalated, with the suffragettes chaining themselves to railings, setting fire to post box contents, smashing windows and eventually detonating bombs, as part of a wider bombing campaign.[34] Some radical techniques used by the suffragettes were learned from Russian exiles from tsarism who had escaped to England.[35] In 1914, at least seven churches were bombed or set on fire across the United Kingdom, including Westminster Abbey, where an explosion aimed at destroying the 700-year-old Coronation Chair, only caused minor damage.[36] Places that wealthy people, typically men, frequented were also burnt and destroyed whilst left unattended so that there was little risk to life, including cricket pavilions, horse-racing pavilions, churches, castles and the second homes of the wealthy. They also burnt the slogan "Votes for Women" into the grass of golf couses.[37] Pinfold Manor in Surrey, which was being built for the Chancellor of the Exchequer, David Lloyd George, was targeted with two bombs on 19 February 1913, only one of which exploded, causing significant damage; in her memoirs, Sylvia Pankhurst said that Emily Davison had carried out the attack.[37] There were 250 arson or destruction attacks in a six-month period in 1913 [37] and in April the newspapers reported "What might have been the most serious outrage yet perpetrated by the Suffragettes":
Policemen discovered inside the railings of the Bank of England a bomb timed to explode at midnight. It contained 3oz of powerful explosive, some metal, and a number of hairpins – the last named constituent, no doubt to make known the source of the intended sensation. The bomb was similar to that used in the attempt to blow up Oxted Railway Station. It contained a watch with attachment for explosion, but was clumsily fitted. If it had exploded when the streets were crowded a number of people would probably have been injured.[38]
There are reports in the Parliamentary Papers which include lists of the 'incendiary devices', explosions, artwork destruction (including an axe attack upon a painting of The Duke of Wellington in the National Gallery), arson attacks, window-breaking, postbox burning and telegraph cable cutting, that took place during the most militant years, from 1910 to 1914.[39] Both suffragettes and police spoke of a "Reign of Terror"; newspaper headlines referred to "Suffragette Terrorism".[40]
One suffragette, Emily Davison, died under the King's horse, Anmer, at The Derby on 4 June 1913. It is debated whether she was trying to pull down the horse, attach a suffragette scarf or banner to it, or commit suicide to become a martyr to the cause. However, recent analysis of the film of the event suggests that she was merely trying to attach a scarf to the horse, and the suicide theory seems unlikely as she was carrying a return train ticket from Epsom and had holiday plans with her sister in the near future.[41]
Sound familiar?
Things were never that violent in the United States, but still, eventually, the woman's rights and suffrage movements were co-opted for something far more insidious: the breakdown of the family and traditional marriage forged through Christianity.
Sound familiar? (See planks of the Communist Manifesto. Number 3 and to an extent number 10)
Now, men with psychiatric issues are trying to tell us biological women that, really, we're all born eunuchs, and, well, we can pick and choose what we want to be later in life despite what set of chromosomes we are born with, and, oh, isn't it wonderful that we guys are so in touch with our inner females that we are going to do your most important job on this planet for you? Guess what ladies! We're going to birth and raise the next generation without ovaries and with borrowed eggs and wombs!
Sure.
Where are the feminists?
Where are the self described defenders of women?
Where are the loud mouthed squeaky wheels when we REALLY need them?
'Cause this men pretending to be women is about the most egregious attack on women in the most natural sense since before even Jane Austen. It's not rights which are under attack, but the entire idea of a unique sex.
And don't you guys forget it.
Women and womanhood are under attack.
Where are our self-styled defenders?
'Cause, you know, we girls raised to be ladies, mothers and the like are being pushed aside by the men who aren't really sure that they are men and the ones who don't quite appreciate the whole different sex thing.
(Sorry. Had to get that off my, uh, chest.)