Today's motivational speech from Jim Caviezel. If you have no interest in hearing about religion, please, skip the first nine, ten minutes.
Kind of hard to find something to follow that.
Well, as it happens, something popped up at American Thinker that sort of dovetails here.
Today, Lenin's heirs insistently promote equity and anti-racism, even as the results of their policies look like chaos. Public schools, having abandoned discipline, fail to graduate students who can read and calculate at grade level. Their alumni nevertheless gain admission to colleges and universities that segregate them and offer majors in rage and insurrection.

Border control is non-existent, vagrancy is explained away, crimes have been de-criminalized, and everyone must be injected with substances that are not entirely safe or effective. But rejoice brothers and sisters in the struggle, for we're eradicating inequalities and disparities.

How is it, though, that despite the wretched examples of Soviet Russia, Cuba, Venezuela, and other experiments in political and social ruin, up to and including the Biden administration, we can't shake this ever-failing philosophy?

To get a handle on the matter, we need to delve into the mentality of the "social justice" movement. The non-profit sector is a good place to start because almost all the foundations that fund human services are run by progressives. How do they operate? What do they require of the organizations applying to them for money?

To get a grant from these charities, first, you must lay out your progressive objectives. Then you must specify the outcome indicators that you will use to measure your progress. By "outcome indicators," they mean a number. The number of people or the percentage of program participants who will benefit in this way or that. You are often required to prepare a "logic model." This is a chart or diagram that depicts in schematic form what you propose to do, how you will go about doing it, and what you predict the results will be.

Do you see how analytical they are? Perhaps I should say, how left-brained they are? They're like physicists. Physicists run experiments in particle accelerators. What occurs in the cyclotron may confound expectations. Physicists then posit the existence of a theoretical particle to explain what happened. Similarly, progressives observe far more Black people in prisons and far fewer in corporate boardrooms than one would project from their proportion of the general population. They then invent a theoretical construct—"systemic racism"—to explain the matter.

Professor Victor Davis Hanson calls the progressive mentality "deductive." He says they're not "empirical." What he means is that they impose their theoretical constructs on a complex reality and proceed to carry out the dictates of their theories with the brutal logic of a doomsday machine in a science-fiction movie….

Western civilization cannot rid itself of leftist philosophies because the mentality of the left is the bastard child of our left-brained, hyper-analytic mode of thought. It is western intellect through the looking glass, a wild caricature of the western mentality.

To put a stake in the heart of progressive doctrines will require a thorough reappraisal of what it means to educate. This would go far beyond the recognition that indoctrination is not education. In the meantime, we can introduce two correctives into K-12 and higher education to lessen the propensity of our teachers and students to be deductive rather than empirical.

These are concepts that have been preserved for us in religious traditions, though they really have nothing to do with religion. One is humility. Humility does not mean piety, timidity, or submissiveness. It means allowing for the possibility that you may be wrong, that your assumptions might be faulty, or that you have drawn a conclusion prematurely. It means suspending judgment, broadening your inquiry, surveying the here, there, and everywhere of your field, and waiting to see how it all adds up.

The second concept is repentance. Repentance does not mean whacking yourself on the head with a paddle or rending your garments. It means having the flexibility to turn back from a mistaken notion. It means rethinking, regrouping, and reassessing your position, rather than trying to improve things by making them worse.

Shaking Off the Leftist Philosophy
By Sheldon Bart
Repentance is more about feeling sorrow over one's sins, but it is essentially hitting rock bottom before renewal. He's right on that point.
Are we there yet?
Matt Walsh@MattWalshBlog
The NIAID under Fauci funded experiments where aborted babies were chopped into pieces and little bits of them were grafted onto lab rats. There was no "bipartisan outrage" over that at all. There was little outrage from anyone. Until we found out that he also mistreated dogs.
10:16 AM · Oct 26, 2021
About Fauci, and the animals (please, skip if you are squeamish):
Miss Ying, the little tyrant, is #SafeFromFauci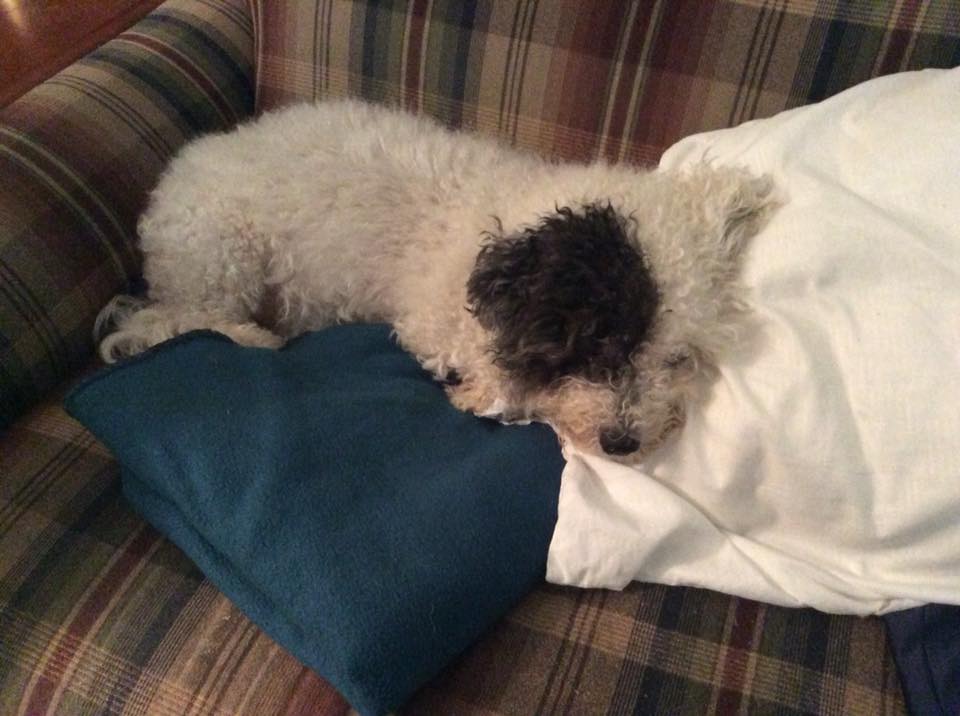 Critical Thinking 101(Expert of Expert Evaluation)@critica18495985
The brainwashing has sped up because they convinced the most brainwashed to stay home and watch TV to stay safe from the virus and the TV is the main source of the brainwashing.
12:50 AM · Oct 26, 2021
Critical Thinking 101(Expert of Expert Evaluation)@critica18495985
How long before camps go from a conspiracy theory to "yes, there will be camps but here's why they are good this time"?

Dr. Syed Haider@DrSyedHaider
Not to worry we'll rebrand them. That way no one will notice or feel bad!
1:18 AM · Oct 26, 2021
Lange@djlange
When you agree to use vax passes you are NOT GETTING EXTRA FREEDOMS for being a good citizen. You already have those freedoms – you're merely agreeing to PREVENT OTHERS from having those freedoms. You're being TRICKED into becoming accomplices of the authoritarian government.
6:33 PM · Oct 25, 2021
In other news:
And just like posting too quickly…..
Have a good day y'all.
(I hope there's this much good stuff out there tomorrow.)
(I don't remember who brought this to a daily in the comments, but thanks.)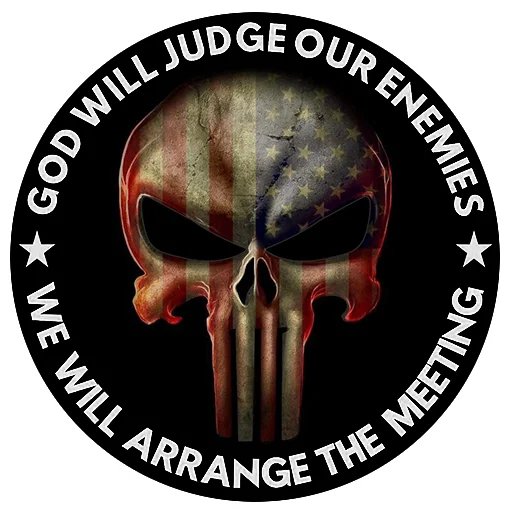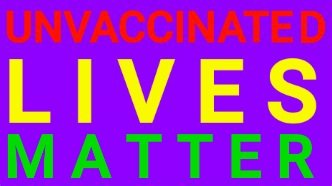 And, of course, the obligatory George Carlin: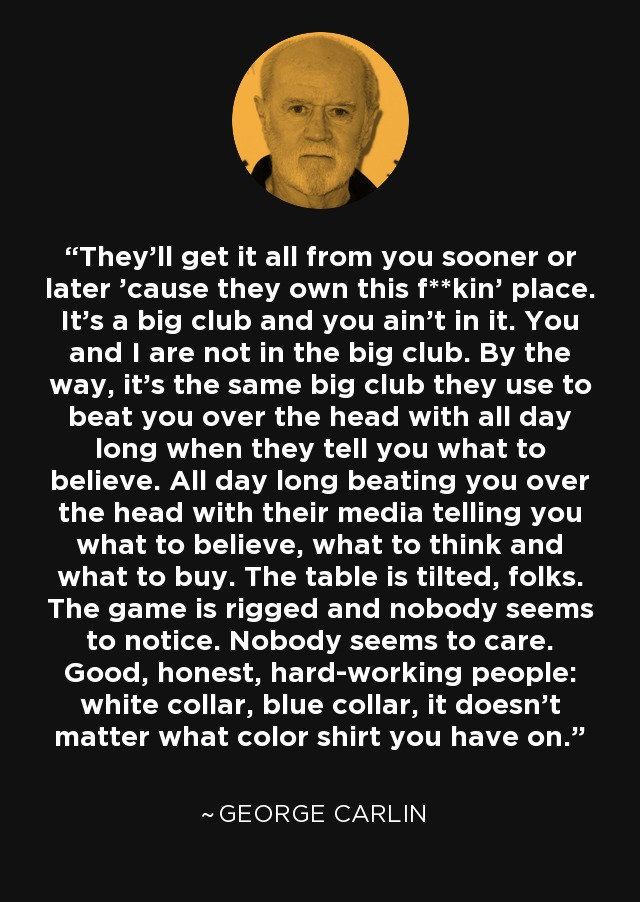 Per the Boss: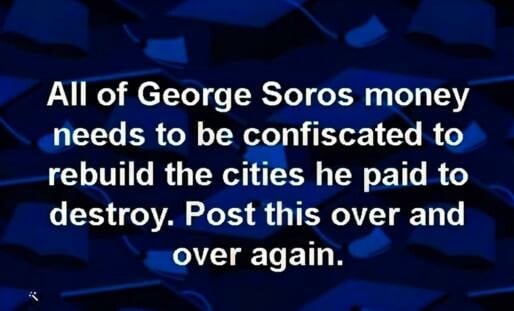 And now for the obligatory message from our sponsors:
Here at the Q tree we believe in the concept of CIVIL open free speech and the discussion that fleshes out ideas. When commenting and participating in the OPEN discussion on this thread all comments MUST NOT CONTAIN personal threats, baiting, name calling, or other anti-social words fomenting hate, violence or destruction. Our host Wolfm00n has strict rules about that.
Fellow tree dweller Wheatie gave us some good reminders on the basics of civility in political discourse:
No food fights.
No running with scissors.
If you bring snacks, bring enough for everyone
Please, stock up on blanks for celebratory gunfire, be ready to swing from the chandeliers…and no messing with the nuclear weapons.
Please remember to remain locked and loaded and ready for trouble should the insurrectionists try to invade your space.
Those who have things to say that do not fit the generally accepted limits of "civil" discussion, Wolf has provided a venue known as the UTree. You're welcome to visit over there and say hi to anyone hanging out over there. The "Rescue Thread" is also over there. In the event a rendezvous of the tree is needed, please check it out.
Auntie DePat's requests as we are all, ahem, adults, not uncivilized pygmies:
If you see something has not been posted, do us all a favor, and post it. Please, do not complain that it has not been done yet.
The scroll wheel on your mouse can be your friend. As mature adults, please use it here in the same manner you would in avoiding online porn.
Thank you so much for any and all attention to such details. It is GREATLY appreciated by more than one party here.
One other vital note:
Please, review these rules that our host Wolfm00n outlined toward the beginning of the growth of the tree itself. it won't take long.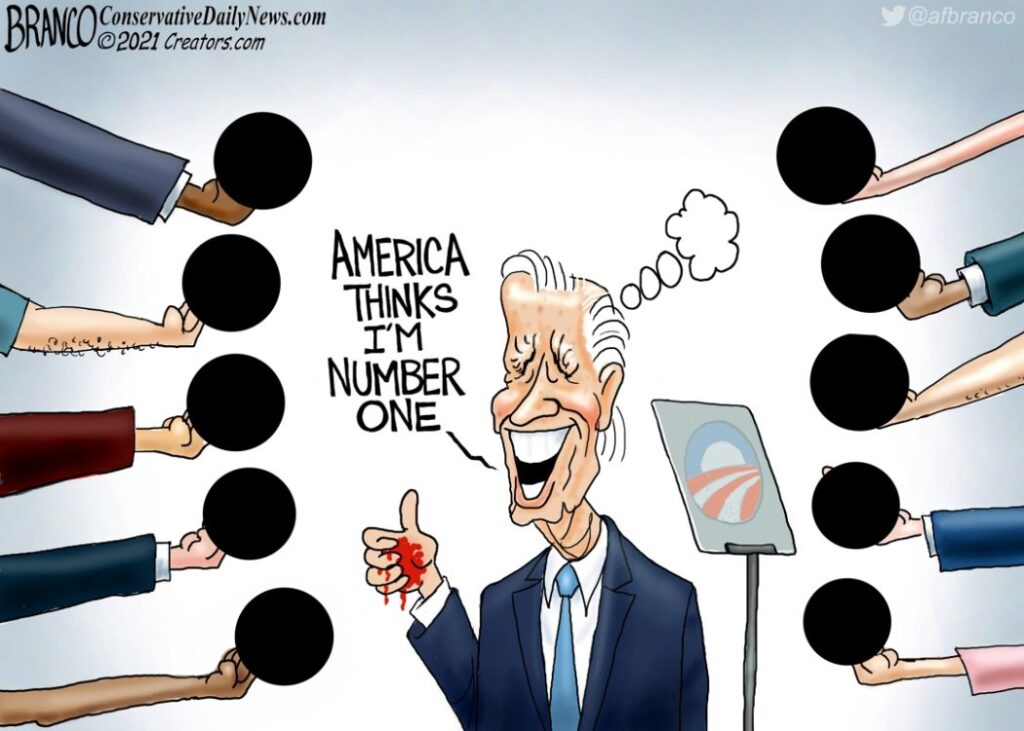 __________________________________________________
LUKE 13:22-30
22He went on his way through towns and villages, teaching, and journeying toward Jerusalem. 23And some one said to him, "Lord, will those who are saved be few?" And he said to them, 24"Strive to enter by the narrow door; for many, I tell you, will seek to enter and will not be able. 25When once the householder has risen up and shut the door, you will begin to stand outside and to knock at the door, saying, `Lord, open to us.' He will answer you, `I do not know where you come from.' 26Then you will begin to say, `We ate and drank in your presence, and you taught in our streets.' 27But he will say, `I tell you, I do not know where you come from; depart from me, all you workers of iniquity!' 28There you will weep and gnash your teeth, when you see Abraham and Isaac and Jacob and all the prophets in the kingdom of God and you yourselves thrust out. 29And men will come from east and west, and from north and south, and sit at table in the kingdom of God. 30And behold, some are last who will be first, and some are first who will be last."
"Do not be afraid to take a chance on peace, to teach peace, to live peace. Peace will be the last word of history" – St. Pope John Paul II
Holiness is this profound contact with God, becoming a friend of God: it is letting the Other work, the Only One who can really make the world both good and happy. — Benedict XVI
As always, prayers for the fight against that which seeks to enslave us are welcome.
Please include: President Donald Trump, the Q team, our soldiers in the field, special forces, tactical units, first responders and those working behind the scenes…and any and all people with family members in the hospital, COVID or not.
Wolf Moon

July 6, 2021 17:07
Thanking everybody for your patience. Whether happenstance, coincidence, or enemy action, I'm dealing with some technical issues. In addition to those, and the obvious spiritual attacks, I am dealing with the obvious site stuff in what are best maintained as unobvious ways.
I suspect we struck a nerve.
A combined technical / spiritual / strategic response by all of us will prevent this attack from succeeding. Hold the line – bite the bullet – gird the loins – bite the lip – pray for guidance, discernment, and strength – whatever YOU believe keeps the ship aright for the moment. Everything else is lower priority.
In that spirit, the Prayer to St. Michael the Archangel from Tuesday's threads, and the Breastplate of St. Patrick, not to mention the Litany of Humility are favorites recommended by exorcists in spiritual warfare.
Mama elephant takes care of business. After while crocodile.
Apparently, squirrels can swim. Who knew.