We need to WARN this community of (mostly) Americans, that WordPress is now enforcing PAKISTANI SHARIA LAW on American sites.
I kid you not.
This, my friends, is why GLOBALISM SUCKS and must be opposed until it is
GONE LIKE THE NAZIS.
Yes. The wonderful site, Creeping Sharia, that keeps NORMAL PEOPLE (not WordPress PROG COMMIES) informed about the advance of unconstitutional sharia law, has been SHUT DOWN by WordPress.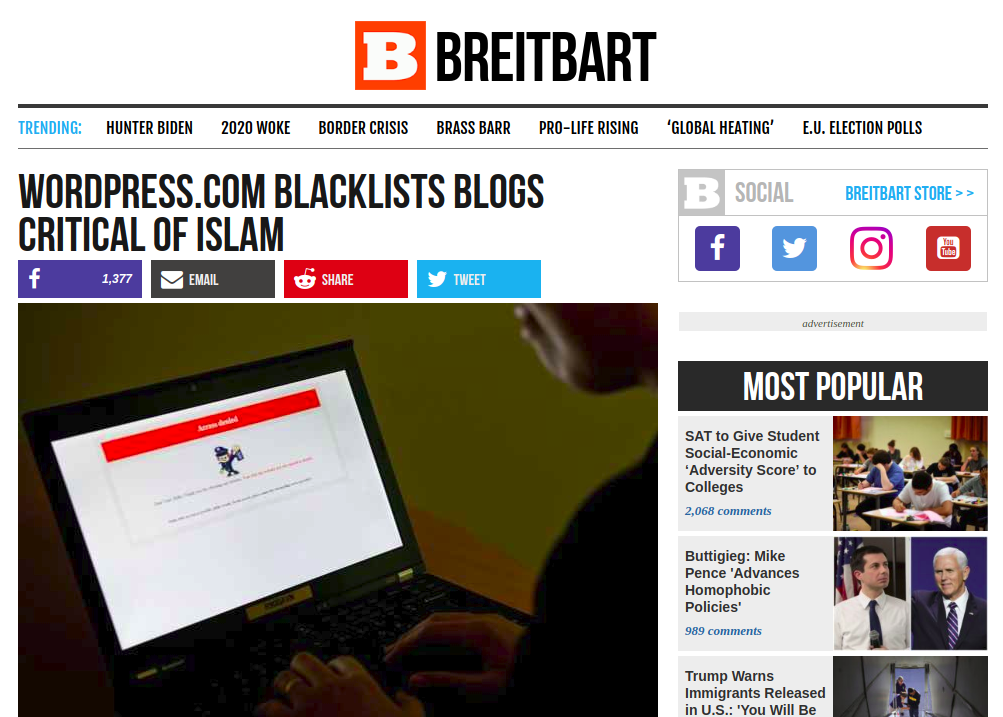 https://www.breitbart.com/national-security/2019/05/17/wordpress-com-blacklists-blogs-critical-of-islam/
The latest from Creeping Sharia on Twitter, where it has ALSO been repeatedly threatened and harassed by (at)JACKBOOT….
Or jump right to THIS RETWEET:
Here is an example of what used to be found on Creeping Sharia. There are a fair number of shapshots of Creeping Sharia on archive.fo if you check it out.
Actually, Creeping Sharia wasn't the only blog the Dhimmi Censors took out. The useful compendium Muslim Statistics was also banned:
Here is what THAT one used to look like, on the "About" page:
So WHO are these censors? It is a GLOBALIST company called "Automattic" that actually runs the WordPress COMPANY:
SO – what are WE going to do about it?
Well, one thing we are NOT going to do is SHUT UP.
Here is a tweet dealing with EXACTLY what was being used to PURGE Creeping Sharia: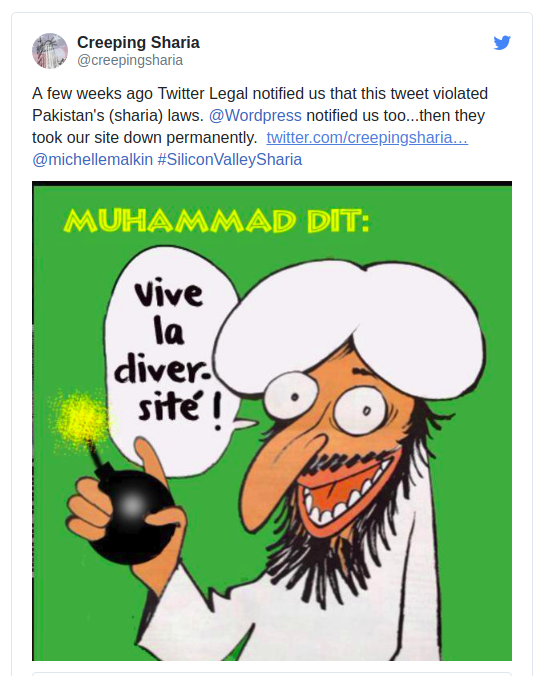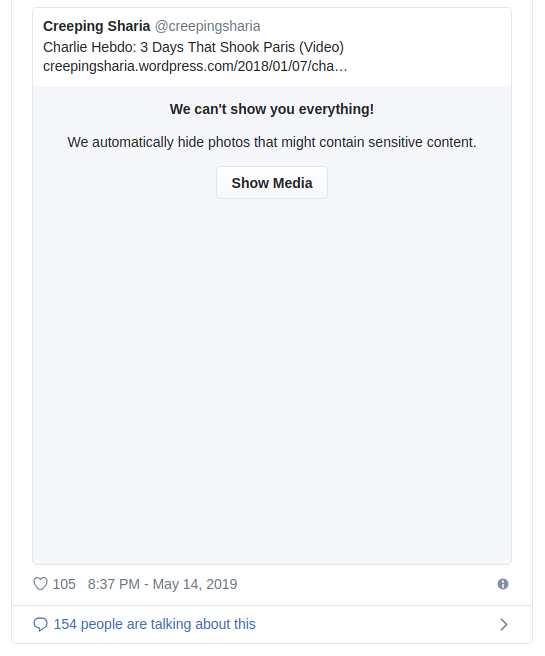 The part that can't show up is the link to the article that seems to be the "cause" of the ban:
https://creepingsharia.wordpress.com/2018/01/07/charlie-hebdo-3-days-that-shook-paris-video/
---
SO – I am already making plans to take this site elsewhere and from that location cause WordPress (and every single enemy of freedom) an enormous number of problems if we get booted. It will be fun, but it will be UGLY.
We do not give up our AMERICAN FREEDOMS without a FIGHT. And then we WIN.
W
PS – I encourage people to add to their comments all kinds of images, memes, and speech which – without violating AMERICAN Law – violate Pakistani Sharia Law in every way possible.