WARNING – Parler is NOT "Parlor"
Yes. There is a DIFFERENT place called "Parlor" that the Cabal is trying to get people to go to instead of Parler. It even gets favored in search engines and app stores. I have no idea who is behind Parlor, but it's probably GOOLAG, the CHICOMS, the WOCOMMIE SISTERS, or the KGB-CIA. *** AVOID ***
Only PARLER with an "E" is dedicated to FREE SPEECH.
By the way, I love saying WOCOMMIE SISTERS. It sounds like a BAD BAND.
Here is the REAL McCOY: https://home.parler.com/
WARNING – read this warning first
If you type your REAL NAME into any field in social media (such as "Gab" or "WordPress" or "Parler") that says "Name", you risk people seeing that name.
In fact, if you use your REAL NAME in ANY WAY in connection to a social media account, you risk being "doxxed".
So if your email address is myrealname@company.com, then any HACKER of the site knows that YOU own the account.
You MAY or MAY NOT be comfortable with that.
On Parler (formerly pronounced "par-LAY", now pronounced "PAR-luhr") you can create an account that is "really you", and you can get verified as being really you. But you don't have to do that if you want to remain anonymous.
For POLITICS, I suggest you remain anonymous. To do that, don't use your real name. Use a name like:
First Name: Joe
Last Name: Smith
User Name: joe_smith
It doesn't have to be real. It could be:
First Name: MAGA
Last Name: CHICK
User Name: AwesomeMagaChick73
Then, use an email address that is not OBVIOUSLY you.
Are we clear about this?
If you actually associate your REAL NAME with an account, even if it's "supposed to be hidden", there is a RISK that – SOMEHOW – your real name, and not your USER NAME, will be released. It could be by hacking, by accidental release of the information (you check a box that says "Show my name" and it means your NAME and not your USER NAME), or just by you not understanding that when people go to your profile, they will see your name.
Please also note that Parler obeys AMERICAN laws about privacy, speech, and all that other stuff – not European laws.
If any of this is STILL confusing to you – the idea that if you put your real name into a social media product (meaning it's on the internet) – that other people might see it somehow – then I suggest not doing anything new at this time.
Otherwise, I suggest that you NEVER type any personal information into a computer that you use for politics on the internet. NEVER. Using that rule, work out everything else, and only the intelligence agencies and who they support (such as the American communists and/or DNC) will know who you are. Because they have ALREADY stolen that information.
W
/ end warning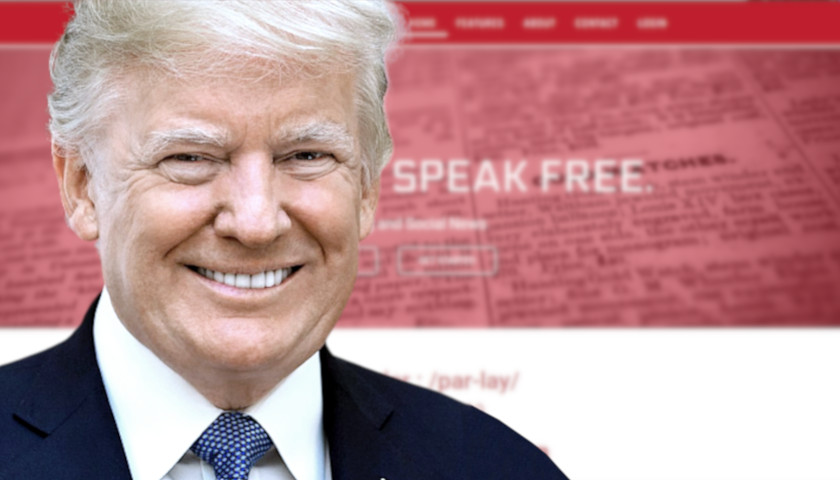 By the way, our VSGPOTUS Trump is not on PARLER yet, but I am starting to think it's inevitable, so GET ON PARLER NOW!!!
---
Assuming that you understand this warning, I then suggest that you use the same handle (meaning USER NAME) you've been using on Twitter and/or Gab and/or WordPress, simply because it makes you easier to find for your FRIENDS.
However, if you want maximum security, then you can always use a completely different user name. The choice is yours.
NOW – finally – to the point of this thread.
If you are on Parler, please add your Parler handle (spelled exactly) in the comments. We are NOT using Parler for reorganization, because GAB is more robust and "commie-proof". However, you are likely getting OFF Twitter and ONTO Parler, and we can share our Parler user names here.
Mine is the same on Parler as it is on Twitter and Gab: WOLFM00N with two zeroes in m00n.
SO – how do you GET onto Parler?
Go to this URL – https://home.parler.com
You can sign up there. Follow the directions – it's all very easy. You ONLY NEED AN EMAIL ADDRESS. But I strongly suggest deciding things BEFORE you go there:
what email address you will use
what name you will use
what user name / handle you will use
what password you will use
how you will remember your password
how you will remember which email address
Don't pick stuff you are going to forget. THE NUMBER ONE PROBLEM I see in users of social media is people picking obscure stuff and forgetting. DON'T DO THAT. Write stuff down if you have to.
Then start by going to my handle or somebody else you know. Look through my followers, and who I am following. You will see people you know. FOLLOW THEM!!!
And you are OFF TO THE RACES!!!
W
a.k.a. wolfmoon1776 on WordPress, wolf_moon on Disqus, WOLFM00N everywhere else.