NOTE: this post is mostly speculation. I am simply trying to explain why a RUMORED VIDEO could conceivably exist. Consider this an exercise in rationalization. However, the fact that it works so well, makes me think it's not completely unfounded.

– Hillary is a terrible person.

– People wanted to take down Hillary, or have the means to do so.

– Apply AND logic.

Wolf Moon
A comment by Tonawanda got me thinking.
Actually, it was an entire conversation, but it begins with Tonawanda's comment here:
https://wqth.wordpress.com/2019/07/09/dear-kmag-20190709-open-topic/comment-page-2/#comment-195042
As daughn's lucky spouse and Perspicacious One has alluded to above, the descriptions in 3376 truly fulfill every indication Q has given us so far, to the nth degree. Game over.

My default response is, if its too good to be true, it probably isn't.

And the added dilemma is the suffering endured weighed against the "too good to be true."

Liked by you and 6 other people

I want to add, that is my default response. What Q posts I believe to be the genuine, horrible truth.

Liked by you and 7 other people

Teagan

Speaking about horrible truths…have any of you seen the post about the 3 videos, all featuring HRC? If true (and i'm 50-50 on it so far)…it follows the warning about not choosing to see or know some of the "stuff" out there. Videos include blood transfusion from a pre-teen directly to HRC, sexual escapes with HRC, Huma and young girl and one so awful I cannot mention it.

Of course, we know everything possible will be done to prevent the public knowing about these videos…if, in fact, they are real. Unless someone was secretly taking them for blackmail purposes, why would there be videos of these acts?

Curious if anyone else read about them….

IMO, with all that's flooding out now (thankfully!)…there's going to be a lot of disinformation and a wise course is just to "sit back and enjoy the show", as someone once said.

Liked by you and 8 other people

Completely in line with what Q has been saying, and looking like the horrible truth.

Liked by you and 6 other people

I will have a post about this momentarily.

Like

daughnworks247

This is all so grim, if it's true.

As the plaintiff's lawyer would say, "He's got great injuries!", because the poor guy is paralyzed. Gee, to us, it doesn't look so "great" for his family.

If we're headed down a road of sick torture and heinous behavior, by powerful people, one who could have been our President, it's going to be ugly. Yet, it makes everything Q has eluded to begin to make sense.

For instance:

Some things will have to NOT be revealed.

They won't be able to walk the streets.

You choose to look or not.

Many will not be prepared for what is to come, help your neighbors, prepare them, etc.

If we are truly fighting evil, then ours is a just cause and the cause of our lifetime. I'm trying to wrap my head around it all, probably everyone here is doing the same thing, and look downfield. There will be "evidence" in the form of videos, so shocking, powerful people will attempt to cover up the video and stop the spread of the videos. It would explain the recent actions of social media to censor or infer the videos are "faked" or edited. Many will be in denial – forever.

Yet, it could lead to a rebirth of morals, noble character.

It could lead to a rush to the church (for good or bad). it could be a good thing for all of us as a nation.

As horrific as we think these actions are, justifiably so, I fear some innocent people may get swept up. We're talking about a LOT of powerful people, people in Hollywood, government, business……. all over the world. It could topple governments, lead to civil unrest, etc. We're going to have to be very careful to keep people safe during this "transition"/outting of information. And again, the dot seem to connect. Trump supporter are already subliminally trained to NOT be physically aggressive. It's going to take a LOT of temperance and patience.

Yet, it would be a good way for the judiciary to rehab themselves and regain credibility – again, the good which can come from chaos and upheaval.

Liked by you and 16 other people

Teagan

Daughn….wrote my post before reading yours…you said it so much better and I agree with every point you make.

Liked by 5 people

daughnworks247

Teagan, it's all real, now.

We're all going through the same thing.

Realization.

It's sinking in.

THIS is what we're up against.

Cloud is gone and we an see our enemy. Heck yes, I'm scared to death, but I'm holding my ground, not to cede one damn inch.

This is way too important. We MUST prevail. There is no other choice.

Still, we're trying to wrap our heads around it all.

Liked by 7 people

You said exactly what I'm thinking.

Liked by 2 people

Wonderful post, so right on in every aspect.

Liked by you and 3 other people

daughnworks247

If this is real………..

then ONE thing is absolutely certain……..

……. we must step up and be brave.

We MUST forge ahead.

There is NO GOING BACK NOW.

Narrow your eyes, find your courage and determination.

We're ALL committed.

WWG1WGA!

THIS is what it's all about.

Liked by 10 people

And looking in retrospect, you can see all the careful planning, including the role of Q with respect to us, who will be very essential in explaining this to the normies.

Liked by 3 people

singingsoul1

Daughn

It is an example when a person or persons give themselves willfully over to evil, it is called slippery slop for a reason when one enters the gray and keeps going down the path.

Once one goes down the path it is very hard to come back.

That is why one never should go into the gray and down the path.

We will never understand how one can get joy from the pain of others.

Liked by 1 person
---
I was going to write a lengthy response to Tonawanda, but I now think that it's better if I address this to everybody.
I will not beat around the bush.
I am going to assert that video 3 could very well be real, and I'm going to explain WHY I think it could be real. My very believable explanation, rooted in TRUTH by admitting that somebody "wanted the goods" on Hillary, undercuts all the "deep fake" escape attempts by Hillary and her minions, and simply puts an end to the nonsense.
I have not seen this video, but the description of it makes perfect sense if I factor in several things:
Hillary Clinton's health problems
Hillary Clinton's known obsession with hiding her health problems
Hillary Clinton's known callous disregard for others
Hillary Clinton's probable greatest vulnerability being health-related
Hillary Clinton's probable use of secret/advanced elite medical treatments
Hillary Clinton undoubtedly being the target of discrediting operations
Combine ALL these elements, and I can explain video 3 to everybody's satisfaction RIGHT NOW.
And – get this – it is exactly what Q says. Absolutely indefensible.
"A perfect discrediting operation remains fully discrediting even when one is fully aware that it was a discrediting operation."

Wolf Moon
---
---
I've had multiple discreditation operations run against me over my life – it is simply normal, smart, spy-stuff to "own" everybody with a "destroy" button. Having watched how these work, I can state with great confidence that these ops generally work by padding 10% target vulnerability with 90% "normalization of the unthinkable in the target's mind". They are PSYCHOLOGICAL TRICKERY to get the target to commit to something "foolish on film".
It is only after the failure of these sorts of methods, that really nasty methods (holding my cards on those for now) get deployed. Really callous adversaries, however, may go straight to other methods.
Generally speaking, there is some "primrose path" that is used to get the target to increasingly normalize (in their mind) something really odd. One of the primary ways is to simply "bubble" the person with people who "get it" – who understand that something is "normal" in the group of the "cognoscenti" – people who know – who can "encourage" the target.
Tom Cruise talking about Scientology on film is an excellent example. The man is AT EASE, and he talks in ways that only Scientology insiders talk. Everything he says makes sense, once one understands the lingo of Scientology. Nevertheless, it sounds like psychotic jibberish to an outsider.
Actually, the beautiful ideas of my favorite religions are kinda like that, when the people are talking among themselves in those belief systems, but I digress.
Back to bad stuff. Discreditation.
The "coup de grace" is then something which is "risky but admirable and confirming" within that group. And insider or two is typically needed to direct the target over the cliff and make sure the evidence is obtained.
What I'm saying, then, is that Hillary may have been VULNERABLE on "medical" and "health", and that in some ways, this likely REAL VIDEO is tied to #HillaryHealth.
I believe that Hillary Clinton spent a LOT of time in "secret advanced elite medical world". She managed to keep this all secret, behind her FAKE doctor, Lisa Bardack. But I think the reality was a kind of medical desperation, behind the scenes. It is within that world that she may have been very vulnerable – willing to try all sorts of weird "elite" treatments.
You see where I'm going with this?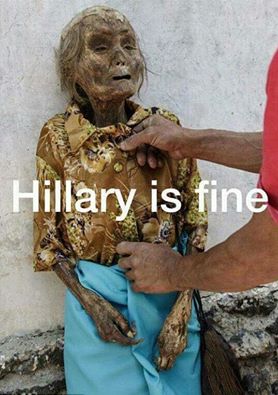 Why is nobody talking about "Video Number One" – the BLOOD TRANSFUSION from a teen boy? Because this is ALREADY being normalized to the public.
Remember my "adrenochrome post"? That was the one where I talked about the underwhelming scientific reality of adrenochrome, as well as the overstated mythology, but also (very important) the shocking truth from the "drug world" and the "medical world" (almost the same thing) that people will still PURSUE LIES and thereby PAIN, CRIME, SADNESS, and EVIL EMERGES.
Don't get too sidetracked here, but keep this thought in mind – the fact that people latch onto the mythology of adrenochrome so easily should tell you something right away about where discreditation operations look for vulnerability, and why they work so well.
The Truths, Lies, and Disinformation Surrounding a Mythical yet Very Real Substance

There is nothing more intriguing than an enigmatic character who defies political and cultural boundaries to tell great truths, yet mixes in just enough lies, fakery, shiny objects, red herrings, exaggerations and omissions to make himself or herself economically viable solely on their …

Wolf Moon, https://wqth.wordpress.com/2019/02/19/the-adrenochrome-deception/
In that post, I brought up the reality of "young blood transfusions". I noted in particular, the fact that these are now being discussed in the mainstream media, where they would have been laughed away as conspiracy theories just a few years ago.
Earlier, they said "young blood" didn't exist. NOW they say it doesn't work. See how that works?
Video One has been normalized. We may not like that, but it has become accepted as reality.
Hillary could probably almost survive a "transfusion video".
Move on to Video Two. Pedophilia – it's being NORMALIZED. There are many people who are IN POWER and who want to go back to the days of the Roman Empire, before Christianity, when powerful people abusing children for their pleasure was NORMAL.
Yes, it's a huge retreat on civilization, IMO, but there are people who WANT IT, and they are trying to grab power to GET IT.
Nevertheless, we're not there yet, and Video Two is discrediting. Elite pedophilia may be normal to our "New Roman" elite, but it is not normal to the masses, who still retain some say, thanks to TRUMP and populism worldwide. The elite media may try to normalize pedophilia, but it's not exactly working.
And NOW we come to Video Three.
Part of this depends on one of Hillary's vulnerabilities – her callous disregard for other humans.
THIS is part of the Hillary vulnerability, but it's not enough. Hillary was hit hard by her callous disregard for Muammar Gaddafi, but Hillary's media, vouched for by their loyalty to Obama's skin color, was able to say "he's a bad guy, so he doesn't count". And if we examine ourselves here for hypocrisy, then we see WHY this defense worked. We use it ourselves.
I'm not saying this is right. I'm just saying this is the reality of human psychology.
Pissing on a dead terrorist is OK. Pissing on a saint's grave is not. Unless the media reverses that. See what I'm saying? MASS PSYCHOLOGY is what matters here, absent some higher standard.
But if we can EXTEND Hillary's vulnerability to the INDEFENSIBLE – and I believe that somebody DID – probably her elite owners, who needed a "destruct button" – then she can be discredited by her callous disregard for humans.
ENTER ELITE MEDICAL TREATMENTS.
Is that light-bulb coming on now?
While it might, by some absolute miracle, be possible to explain one's way out of "ultimate 10-years-younger facial mask treatment", available ONLY to the best customers of "young blood", there is NO WAY to explain one's way out of "going all Gaddafi" over it.
THAT is the icing on the cake. The fact that humans – even the most CRUEL and CORRUPT ones like Hillary Clinton – would try to make light of something as a psychological defense, knowing in their heart of hearts that it's pretty creepy.
CAUGHT. ON. FILM.
The beauty of the scam here is that young blood almost certainly WORKS, but not by much. Nevertheless, the combination of "works a little" and "placebo effect" undoubtedly scores MILLIONS OF DOLLARS for the purveyors of the "magic". So it would not be hard to convince somebody that "direct application" works like crazy. It's HOKEY AS HELL, but it's a HELL OF A SCAM. People always fall for overly simplistic ideas like "direct application will work better".
Oh, what a scam. I should have been a medical huckster. Except that darn Jesus getting to me when I was a kid. Sneaky, too – he knew I was too much of a smarty-pants for the whole package, so he sold me on the "God mystery" first, unlike all the other kids. Whatever. Water under the bridge. I could never be a true criminal, once that stuff got in me.
Sure, that poor girl's face may have come from somebody whose body was "donated to science". Sure, it may have been some quacky elite doctor who was actually part of a discreditation team, knowing it, or even better, not knowing it. Sure, you can add the whole story of discreditation operation truth to the sad vulnerability of a health-obsessed, pedophilic, entitled, psychopathic bull-dyke.
But there you have it. SUCCESS. They nailed Cankles on both of her vulnerabilities – her medical obsession and her utter disregard for people.
It doesn't matter that these were FORCED ERRORS – they are still ERRORS.
Most Americans would not want somebody who used "youth blood transfusions" for President.
Almost nobody would want somebody who would have sex with teenagers as President.
Nobody wants somebody who would secretly undergo the absolutely most extreme, quacky, elite medical treatments.
And absolutely nobody, no way, no how, would want somebody who acted cavalier about the most sickening elite medical "treatments".
Hillary fell for "young blood", so they took her all the way to "young face", and took pictures.
A beautiful operation. No pun intended.