For many people, perhaps most, Good Friday brings thoughts of Jesus' physical suffering . . . being scourged to the point of where your internal organs may be visible through your flesh, having large spikes driven through your hands and feet, and then fighting in agony for every breath until death, while hanging from a cross.
The willingness to subject other humans to this method of execution must be the epitome of the evil cruelty inherent in mankind. For the Romans to carry out this crucifixion after finding no guilt in Jesus, even at the urging of a Jewish mob, speaks to that same cruelty.
I won't view "The Passion of the Christ", as I don't want to experience the visual reality of that horror. I suspect many others feel the same way, too.
So, why am I bringing up this issue in this manner?
As insanity inducing as the horror of a scourging followed by a crucifixion is, I don't believe they represent what gave Jesus His greatest agony at Golgotha.
At the crucifixion, the only record we have of Jesus exclaiming something in agony is when He cried out in a load voice "My God, My God, why have You forsaken Me?" What would have caused this?
I believe that since Jesus' purpose was to become the one-time sacrifice for our sin, this moment was when the sin of humanity, past, present and future, was laid on Jesus' head. Since God can't abide sin, He, the Father, took His presence away from His Son for the first time in eternity.
That's what caused this agonized outburst, far greater suffering for Jesus than the physical pain involved.
My God, My God, why have You forsaken me?
"And about the ninth hour Jesus cried with a loud voice, saying, Eli, Eli, lama sabachthani? that is to say, My God, my God, why hast thou forsaken me?" (Matthew 27:46, KJV). This cry is a fulfillment of Psalm 22:1, one of many parallels between that psalm and the specific events of the crucifixion.
In what sense Jesus was "forsaken" by God? It is certain that God approved His work. It is certain that Jesus was innocent. He had done nothing to forfeit the favor of God. As God's own Son—holy, harmless, undefiled, and obedient—God still loved Him. In none of these senses could God have forsaken Him.
The prophet Isaiah says this about the Messiah: "Surely he took up our pain and bore our suffering, yet we considered him punished by God, stricken by him, and afflicted. But he was pierced for our transgressions, he was crushed for our iniquities; the punishment that brought us peace was on him, and by his wounds we are healed" (Isaiah 53:4–5).
Jesus redeemed us from the curse of the law, being made a curse for us (Galatians 3:13). He was made a sin-offering, and He died in our place, on our account, that He might bring us near to God.
It was this, doubtless, that intensified His sufferings and part of why Jesus said, "My God, my God, why have you forsaken me?" It was the manifestation of God's hatred of sin, in some unexplained way, that Jesus experienced in that terrible hour. The suffering He endured was due to us, and it is that suffering by which we can be saved from eternal death.
In those awful moments, as evil men were allowed to do whatever they wanted to Jesus, our Lord expressed His feelings of abandonment. God placed the sins of the world on His Son, and Jesus for a time felt the desolation of being unconscious of His Father's presence. It was at this time that "God made Him who had no sin to be sin for us, so that in Him we might become the righteousness of God" (2 Corinthians 5:21).
It has been paid in full . . . It is finished.
Of the last words of Christ on the cross, none is more important or more poignant than, "It is finished." Found only in the Gospel of John, the Greek word translated "it is finished" is tetelestai, an accounting term that means "paid in full." When Jesus uttered those words, He was declaring the debt owed to His Father was wiped away completely and forever. Not that Jesus wiped away any debt that He owed to the Father; rather, Jesus eliminated the debt owed by mankind—the debt of sin.
Just prior to His arrest by the Romans, Jesus prayed, asking the Father to glorify Him, just as Jesus had glorified the Father on earth, having "finished the work you have given me to do" (John 17:4). The work Jesus was sent to do was to "seek and save that which is lost" (Luke 19:10), to provide atonement for the sins of all who would ever believe in Him (Romans 3:23-25), and to reconcile sinful men to a holy God. "All this is from God, who reconciled us to himself through Christ and gave us the ministry of reconciliation: that God was reconciling the world to himself in Christ, not counting men's sins against them. And he has committed to us the message of reconciliation" (2 Corinthians 5:18-19). None other but God in the flesh could accomplish such a task.
Also completed was the fulfillment of all Old Testament prophecies, symbols, and foreshadowings of the coming Messiah. From Genesis to Malachi, there are over 300 specific prophecies detailing the coming of the Anointed One, all fulfilled by Jesus. From the "seed" who would crush the serpent's head (Genesis 3:15), to the Suffering Servant of Isaiah 53, to the prediction of the "messenger" of the Lord (John the Baptist) who would "prepare the way" for the Messiah, all prophecies of Jesus' life, ministry, and death were fulfilled and finished at the cross.
Although the redemption of mankind is the most important finished task, many other things were finished at the cross. The sufferings Jesus endured while on the earth, and especially in His last hours, were at last over. God's will for Jesus was accomplished in His perfect obedience to the Father (John 5:30; 6:38). Most importantly, the power of sin and Satan was finished. No longer would mankind have to suffer the "flaming arrows of the evil one" (Ephesians 6:16). By raising the "shield of faith" in the One who completed the work of redemption and salvation, we can, by faith, live as new creations in Christ. Jesus' finished work on the cross was the beginning of new life for all who were once "dead in trespasses and sins" but who are now made "alive with Christ" (Ephesians 2:1, 5).
Hanging on the cross, Jesus suffered bitter agony and darkness while covered in our guilt, sin, and shame. When the act of purchasing our redemption was complete, nothing more was needed. Everything Jesus had come to do on earth was now finished. The Scriptures were fulfilled. Christ's work was done, the battle was over, the victory was won. All that God had purposed and all the prophets had foretold was complete, and Jesus surrendered Himself to death.
Through Christ's substitutionary and sacrificial death on the cross, the Lamb of God paid our debt and took away our sin. Our ransom complete, Jesus, with a resounding voice, wanted all people to hear these words—words that still ring strong today:
It is finished!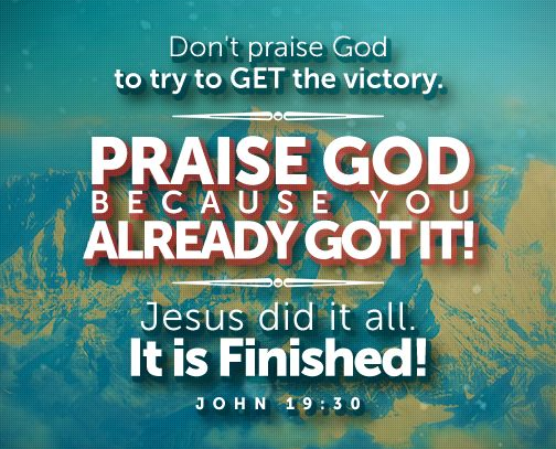 Yes. It is finished. And as one who is more than a conqueror through Jesus, "I am convinced that neither death nor life, neither angels nor principalities, neither the present nor the future, nor any powers, neither height nor depth, nor anything else in all creation, will be able to separate us from the love of God that is in Christ Jesus our Lord."  Romans 8:38-39
---
At the Cross
Alas! and did my Savior bleed
And did my Sovereign die?
Would He devote that sacred head
For sinners such as I?
Thy body slain, sweet Jesus, Thine—
And bathed in its own blood—
While the firm mark of wrath divine,
His Soul in anguish stood.
Was it for crimes that I had done
He groaned upon the tree?
Amazing pity! grace unknown!
And love beyond degree!
Well might the sun in darkness hide
And shut his glories in,
When Christ, the mighty Maker died,
For man the creature's sin.
Thus might I hide my blushing face
While His dear cross appears,
Dissolve my heart in thankfulness,
And melt my eyes to tears.
But drops of grief can ne'er repay
The debt of love I owe:
Here, Lord, I give my self away
'Tis all that I can do.
At the cross, at the cross where I first saw the light,
And the burden of my heart rolled away,
It was there by faith I received my sight,
And now I am happy all the day!
Isaac Watts (1707)